HIS Radeon HD 6870 IceQ X Turbo X Graphics Card Review
---
---
---
Andy Ruffell / 11 years ago

This past 12 months has seen a lot of new products for AMD in terms of processors, the Fusion platform and of course graphics cards. The HD 6870 has been a top seller for them since its initial launch and have kept a steady growth of sales even with higher end competitor cards being released. As with most graphics cards that are released, a reference design of sorts is used to show the performance and a custom design card follows on later down the line. The HD 6870 saw a massive boost in sales when custom coolers were strapped to the cards and with HIS branding their IceQ X fan and heatsink, it proves our point to the letter.

Being honest, eTeknix like HIS and what their products represent, and that's why you will always see HIS reviews plastered on this site. They are a company who believe in pushing the limits in terms of cooling and speed, which as we know, both go hand in hand. The faster a card gets, the more efficient cooling is needed, which is where HIS have developed the HD 6870 IceQ X Turbo with it's 975MHz core clock (900MHz standard) and 1150MHz memory clock (1050MHz standard) and funky blue cooler design.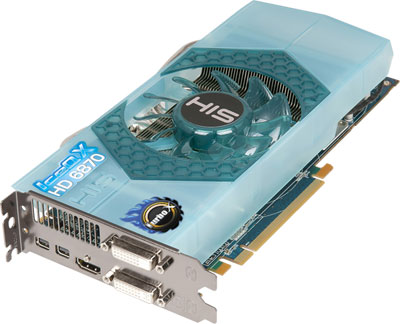 Specifications
[TABLE=class: grid, width: 100%]
[TR]
[TD]Model Name[/TD]
[TD]HIS 6870 IceQ X Turbo X 1GB GDDR5 PCI-E HDMI/2xDVI/2xMini DP[/TD]
[/TR]
[TR]
[TD]Chipset[/TD]
[TD]Radeon HD 6870 PCIe Series[/TD]
[/TR]
[TR]
[TD]ASIC[/TD]
[TD]RadeonTM HD 6870 GPU[/TD]
[/TR]
[TR]
[TD]Manu. Process (Micron)[/TD]
[TD]40nm[/TD]
[/TR]
[TR]
[TD]Memory Size (MB)[/TD]
[TD]1024[/TD]
[/TR]
[TR]
[TD]Memory Type[/TD]
[TD]GDDR5[/TD]
[/TR]
[TR]
[TD]Engine CLK (MHz)[/TD]
[TD]975Mhz[/TD]
[/TR]
[TR]
[TD]Memory CLK (Gbps)[/TD]
[TD]4.6Gbps[/TD]
[/TR]
[TR]
[TD]Memory Interface (bit)[/TD]
[TD]256[/TD]
[/TR]
[TR]
[TD]Power Supply Requirement[/TD]
[TD]500 Watt or greater power[/TD]
[/TR]
[TR]
[TD]Max. Resolution[/TD]
[TD]2560*1600[/TD]
[/TR]
[TR]
[TD]Bus Interface[/TD]
[TD]PCI Express x16[/TD]
[/TR]
[TR]
[TD]Mini Display Port[/TD]
[TD]Yes[/TD]
[/TR]
[TR]
[TD]HDMI[/TD]
[TD]Yes[/TD]
[/TR]
[TR]
[TD]DVI[/TD]
[TD]Upper Single-link DVI-D + Bottom Dual-link DVI-I[/TD]
[/TR]
[TR]
[TD]VGA[/TD]
[TD]No[/TD]
[/TR]
[/TABLE]