HIS Radeon HD 6970 MIX 2GB Graphics Card Review
---
---
---
Andy Ruffell / 12 years ago

HIS are a brand that we've seen over and over again, and usually would see us faced with a fancy card with a fancy cooler and some slightly overclocked speeds, and whilst some of that applies to the review today, we won't see any speed increases on this one.

HIS have brought out the HD 6970 IceQ MIX, which is just like your usual 6970 but with some added extras. We firstly get a card with the IceQ cooler that we're all familiar with, but with a few tweaks in regards to the design and copper heatpipe functionality, though this isn't the main point of this card.

The main aspect all comes down to the "MIX" part of it. HIS have created this card with Eyefinity users in mind who don't want to spend mass amounts of money on expensive DisplayPort monitors but instead have the use of DVI and HDMI to power their triple screen setup.

MIX also applies to a new technology that HIS have implemented to CrossSLI or SLIFire (which do you prefer?) making use of the LucidLogix technology, enabling users to mix an AMD and Nvidia based graphics card together, giving the user the best performance and features from both competing brands.

As we take a look at the card and its features, we try to see past the marketing hype and gimmicks to see if what's on offer really does what it's set out to do.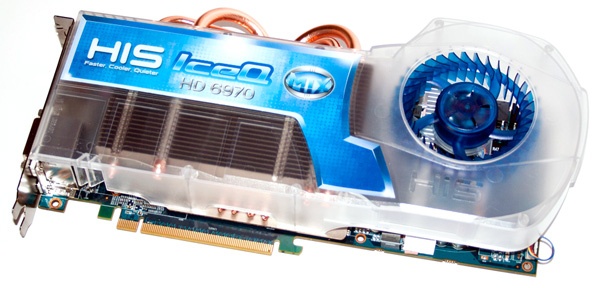 Specifications

Model Name – HIS 6970 IceQ Mix 2GB GDDR5 PCI-E HDMI/2xDVI/2xMini DP
Chipset – Radeon HD 6970 PCIe Series
Memory Size (MB) – 2048
Memory Type – GDDR5
Engine CLK (MHz) – 880 MHz
Memory CLK (Gbps) – 5.5 Gbps
Memory Interface (bit) – 256
Bus Interface – PCI Express 2.1 (x16)
DVI – Upper Single-link DVI-D
2nd DVI – Bottom Dual-link DVI-I
Mini Display Port – 2
HDMI – Yes