HP AMD Socket AM4 Motherboard Pictured
---
---
---
Samuel Wan / 5 years ago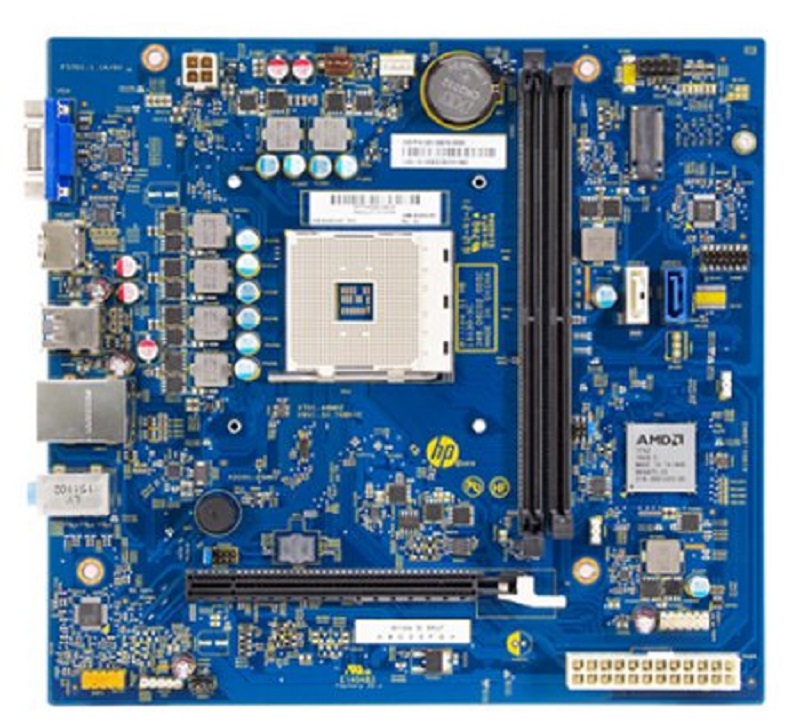 With Bristol Ridge headed towards us after the launch earlier in the month, motherboards are starting to pop up. Surprisingly, it's not one of the mainstream motherboard vendors being the first to have their board leaked. This time around, we're getting an HP OEM AM4 "Willow" motherboard meant for their upcoming desktop PC models.
As expected of the target market, the board is built to cost and doesn't boast a lot of extra functions and ports. The entry-level A320 chipset is used. Due to the low power consumption for the chipset, a heatsink isn't required for it. With AM4, AMD has moved even more of the usual chipset functions on the CPU. This just leaves a few storage connections like SATA and USB. The A320 provides PCIe 2.0 x4 lanes, 2 SATA + 1 SATA Express, 3 USB 3.1 and 6 USB 2.0 connections.
Interestingly, we are also getting our first look at the new AM4 heatsink mounting arrangement. As you can see in the image, AMD is moving towards the square configuration just like Intel has, moving away from their rectangular layout of old. Given the more expansive nature of the new 1331 pins on AM4, perhaps AMD wanted to have cooler be better oriented on top of the CPU.
Due to the budget nature of "Willow", only 2 USB 3.0 and 2 USB 2.0 ports are provided though there appear to be pins for more USB 2.0 headers. There are also 2 SATA connectors as well a PCIe 3.0 x16 slot and a M.2 A key storage slot. Memory support goes up to 2133Mhz DDR4 and likely won't support any overclocking.
Overall, it looks like the OEMs are probably going to get AM4 out in force before the holiday season kicks off later this year. Hopefully, we'll also get some desktop AM4 motherboards before the end of the year if only to check out AM4 before Zen arrives.