Huntkey launch universal all-in-one power surge protector
---
---
---
Ryan Martin / 11 years ago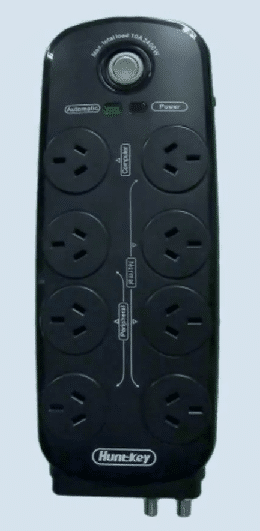 Huntkey Enterprise Group today officially released their latest universal all-in-one electrical power surge solution. The Huntkey PAA803-2 Smart Power Surge Protector guarding not only 8 power outlets but also offering surge protection for your phone as well as TV lines. A Double-break safety switch and build-in EMI/RFI noise filter also improve over-all safety and stability during operation. Moreover, the implemented master-slave controller specifically designed for computers and connected devices helps to effectively reduce power consumption.
SAVE More – Master-Slave Control
PAA803-2 provides 8 sockets in total of which 4 of them are equipped with Master-slave control. The Master-Slave Controller allows for automatic power supply  of 3 connected power sockets once the central "Computer" socket is turned on, i.e. the 3 connected peripherals such as LCD, printer, speaker will turn on and off in tandem with your PC. This design not only prolongs product life, but also dramatically reduces electricity use of stand-by devices.
PAA803-2's Specifications:
Rated current: 10 Amps
Rated Voltage: 240 VAC, 50 Hz
Max. Continuous Operating Voltage: Uc == 260VAC
Full Maximum Current: 39000A
Tel/Fax/Modem Protection
Jack Type: RJ11 (6P2C/1-IN, 2-OUT)
Energy: 198 Joules
Coax Cable Line Protection:
F Type Connection
Normal Impulse Discharge Current: 10KA (8/20us, 10 times)
Source: PR