HYTE Y60 All-White PC Case Review
---
---
---
Peter Donnell / 1 month ago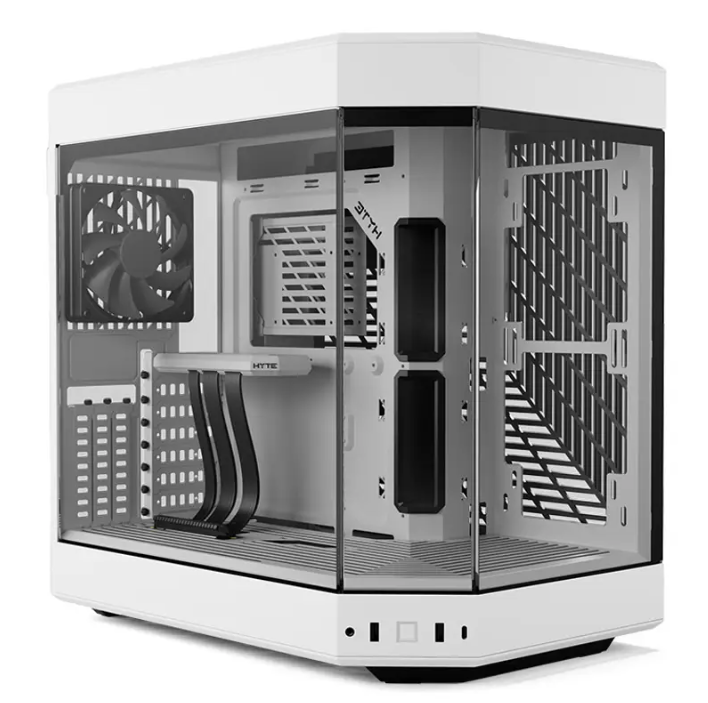 The HYTE cases have long been a favourite of the flexing /r/PCMR redditors, with its premium aesthetics and build quality, as well as its relatively high price. However, it seems we're a bit late to the party with this one, but we've finally been able to get one into the office to take a closer look at what all the fuss is about. As much as I've seen and appreciated these cases online, until today, I'd never actually seen a HYTE case in person! It's not cheap at £209.99, but looking at the picture above and the feature list below, it's absolutely packed with amazing features that certainly make it very appealing.
HYTE Y60
The HYTE Y60 comes in a few variants, with a black, a white and a red version being the most common, but we have the rarest of them all, the Snow White version which has a white interior and exterior. However, all versions come with the same vertical GPU mounting system with PCIe 4.0 riser cable, three sides of tempered glass for wrap-around views, three pre-installed FE12 fans, and impressive hardware support for showing off your latest hardware in all its glory.
HYTE Y60 Features
3-Piece panoramic glass with 3 times more satisfying plastic wrap removal.
We know how much you just spent on that GPU, so we threw in the riser cable.
Cold floor cooling keeps thermals lower than a partly cloudy day with a light breeze and you without your jacket.
No corner pillars. The Y60 features a 3-piece panoramic tempered glass design for the ultimate photo and display potential. See your build the way it was meant to be seen from the left or right side of your desk with a simple turn.
Vertical GPU mount.
A protective riser cable canopy integrates beautifully into the case, allowing for half-height PCIE cards behind the throne of the vertical graphics card. The protective shroud is the first of its kind, made specifically for the Y60.
Segment cables from thermal components and turn your PC into a work of art.
Eliminate hot spots with sweeping lateral vents from fans tastefully tucked into the basement of the Y60.
The three pre-installed Flow FE12 fans with fluid-dynamic bearings provide whisper-quiet operation.