i-Rocks Golem K50E Gaming Keyboard Review
---
---
---
Peter Donnell / 6 years ago
Introduction
---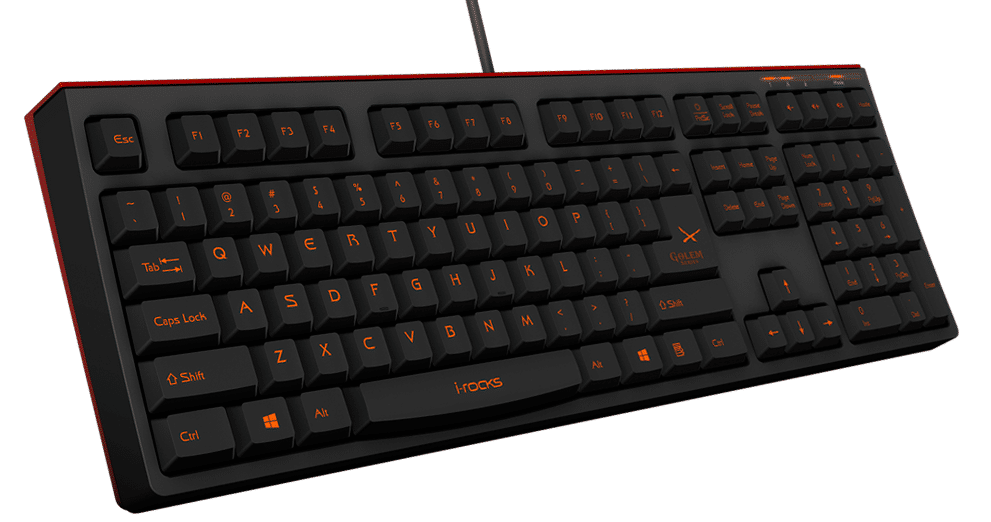 It has been almost a year since I reviewed the fantastic i-Rocks Rock Series K10 Gaming Keyboard, which I still regard as one of the best budget friendly gaming keyboards money can buy. Today is a special day, as it marks the second time I've got my hands on an i-Rocks keyboard and if it's even half as good as the first one, we should be in for a real treat.
"The i-Rocks K50E uses a unique Scissor-Structure that combines two pairs of parallel arms and a high key stroke of 3.8mm to provide a comfortable typing experience. Thanks to the new keycap design and Scissor-Structure, the force needed and the noise produced per key press are lowered which in turn increases the speed and amount of accurate inputs during battle. The membrane base has a lifecycle of up to 30 million presses making this keyboard durable for every type of gamer."
Equipped with a new keycap design, scissor switches, which are regarded as a step up from membrane and a different take on mechanical style switches, LED lighting, anti-ghosting and more, the K50E is certainly well equipped, so let's get right to it and take a close look at what this new keyboard has to offer.
Features:
Unique High Scissor-Structure for comforting and stability
3.8mm key stroke and Illuminated function to suit gaming needs.
Supports simultaneous activation of multiple keys, no ghosting and jamming
Adjustable responsiveness to adapt to needs of individual games
Windows and App keys disabled in gaming mode to prevent accidental activation
Plug and Play, no drivers required
Specifications:
Interface: USB or PS/2
Keys: 108 ( By language)
Key stroke : 3.8 ±0.3 mm
Key force: 55±15g
Anti-ghosting:
24Keys in PS/2 (In main area)
13Keys in USB (In main area)
Switch life: about 30 million life cycles
Membrane key-switches with Scissor-Structure.
Illuminated ON/OFF function
Electric current: 300 mA maximum
Voltage: DC5V
USB cable length: 180 cm
Dimensions: 447 (L) x 144 (W) x 33 (H) mm
The packaging is not something I care too much for, but the i-Rock K50E box is really nicely designed and it's clear this is targeted at a gaming audience.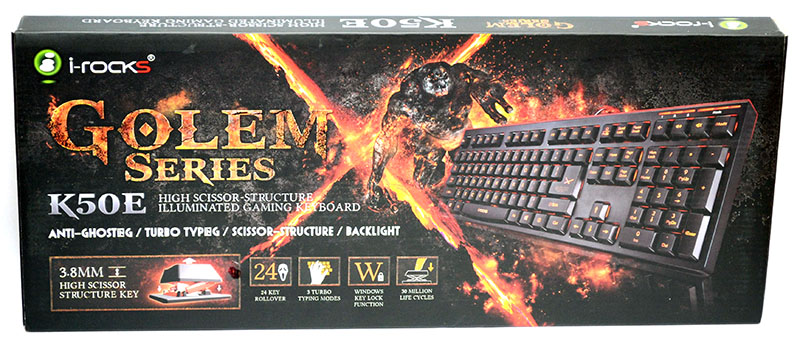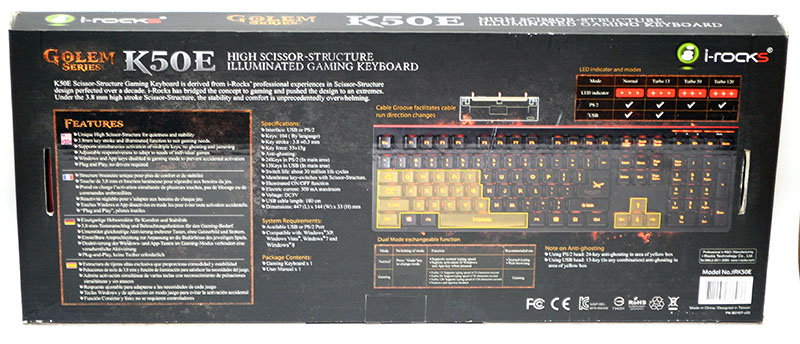 The keyboard comes hard-wired with a good quality cable.

The keyboard is USB, but interestingly, i-rocks has also included a USB to PS2 adaptor for maximum compatibility.

The first thing I noticed are those lovely key caps, with a nice big and clear font on them. More often than not, we see very similar key caps on most keyboards, but these ones do look pretty cool.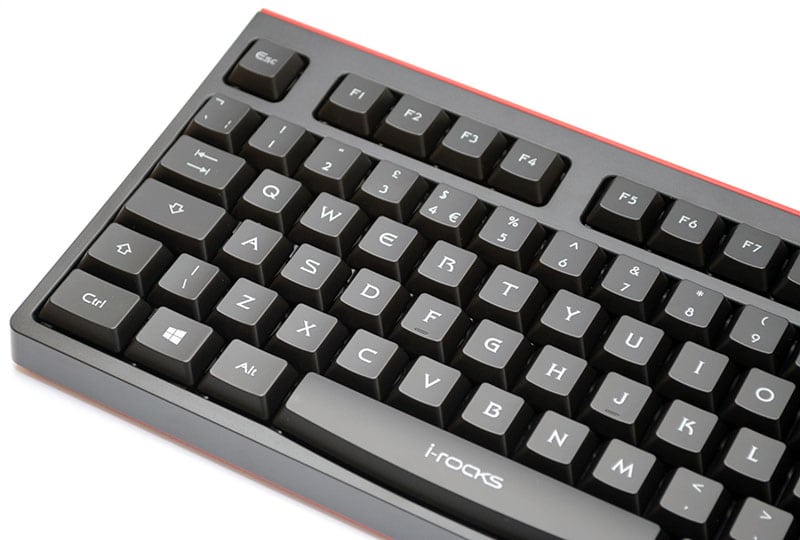 The scissor-switch keys have a nice travel distance to them and due to the design of the keys, they're also set just a little bit lower into the chassis than most keyboards, giving them a nice sleek profile, without sacrificing their action.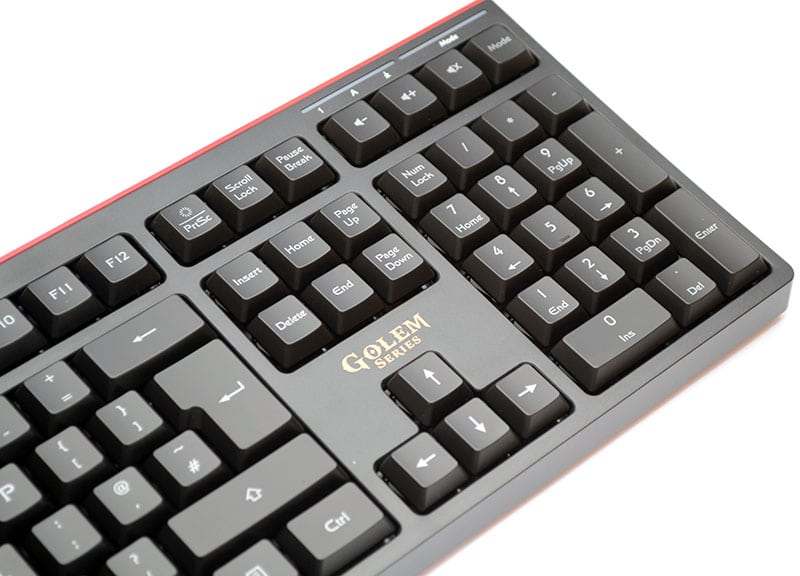 Overall, the keys are all pretty standard in terms of layout, so it feels pretty natural to use for the first time and the ergonomics feel spot on.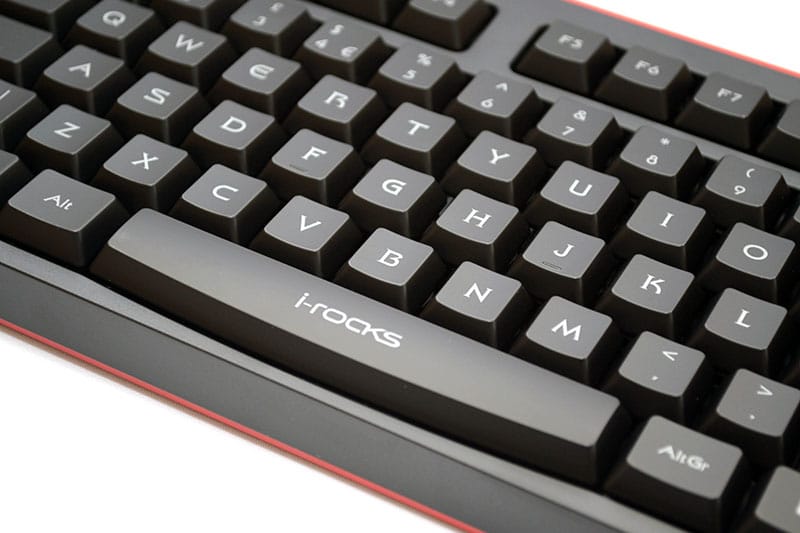 One thing that did grab my attention is the addition of dedicated volume controls at the top, I would have also liked to multimedia controls, but these are still welcome additions none the less.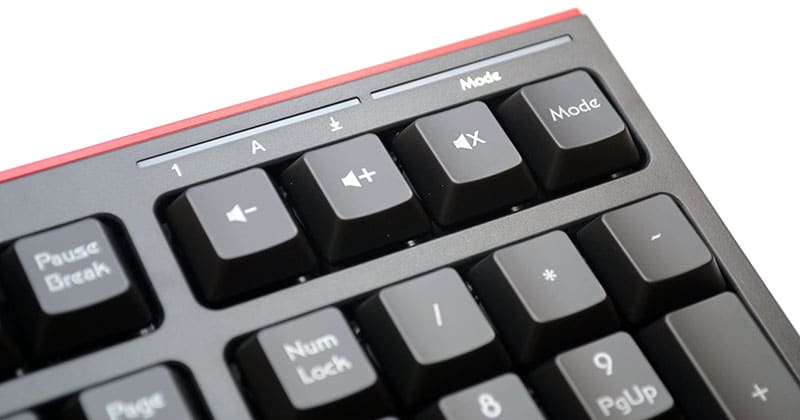 The PrtSc button also doubts as the control switch for the LED lighting, so you can quickly adjust it without additional software.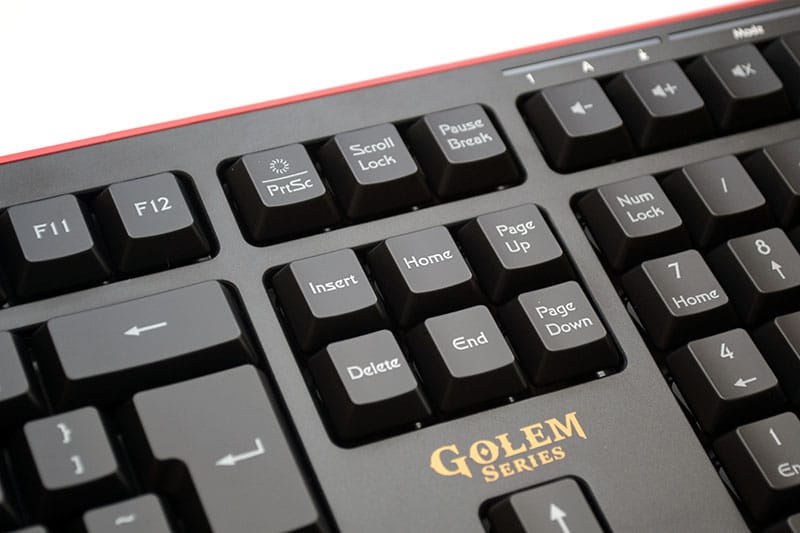 The matte finish black plastics are giving a slight hint of colour by the red trim around the base of the keyboard. You can also see how low profile this keyboard is, with an almost flat layout from front to back.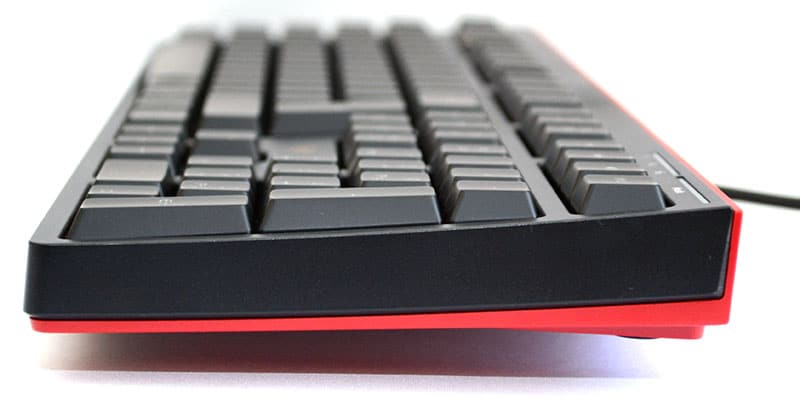 On the underside, you'll find four rubber grips to help prevent it from sliding around your desk. There's also a cable track at the back to help you route the attached USB cable in the direction that best suits your setup.

There's a pair of tough plastic feet at the back to raise the typing angle of the keyboard and these also feature rubber grips so that you're not losing any traction when you deploy them.