ID-Cooling Auraflow X 360 AIO CPU Cooler Review
---
---
---
Mike Sanders / 4 years ago
A Closer Look
---
At this point in the review, we will take a closer look at all of the individual components and then also when aspects of the assembly are made. This should help give an idea as to the quality and any design flaws (if any) that may exist in the ID-Cooling Auraflow X 360.
Fans
As this is a 360 cooler, as you might expect, you are provided with 3 120mm radiator fans. These are ID-Cooling's own design and, in truth, initially look rather bland. The black colouring with off-grey blades does not appear to have anything special going for them in terms of aesthetics. Additionally, the small 'design' which can be seen on the tips of the fan blades is perhaps a little too subtle to notice at a glance. The fact is that despite the image below and the location I've described, you're still probably going to need 10 seconds to understand what I'm referring to.

We should also add something of a caveat at this point. Having reviewed ID-Cooling fans before, generally speaking, they perform well but can be rather noisy doing so. We do, therefore, hope that having 3 fans together that the noise levels shouldn't be too obtrusive. At least in terms of the aesthetics though, while a bit dull, there's nothing to fault here.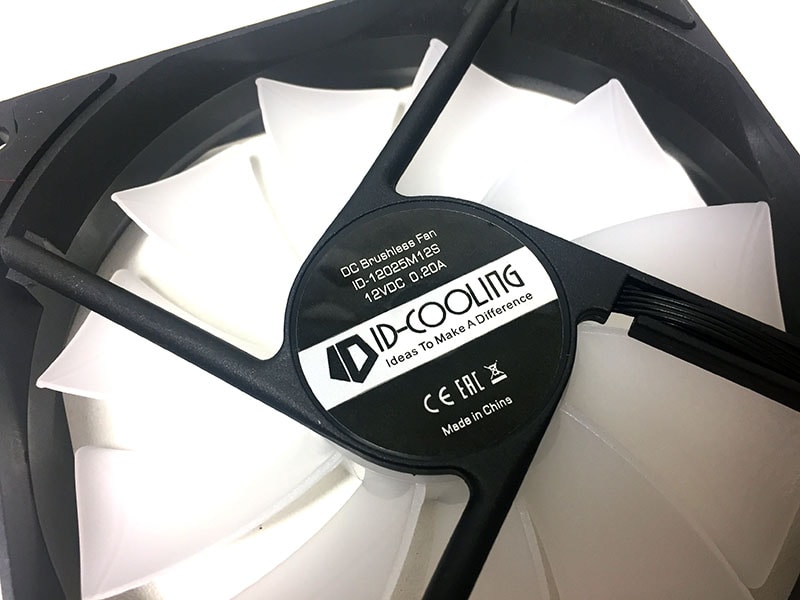 Pump Head
The pump head carries a design we have seen throughout the Auraflow range of coolers. That isn't, incidentally, a criticism as we have always found this to operate well in the past. As you will note in the image below, you have the logo to the top with a ring outside of it. When powered up, RGB lighting effects are used here to give it a little presentational punch. Albeit, I think it looks rather good as it is.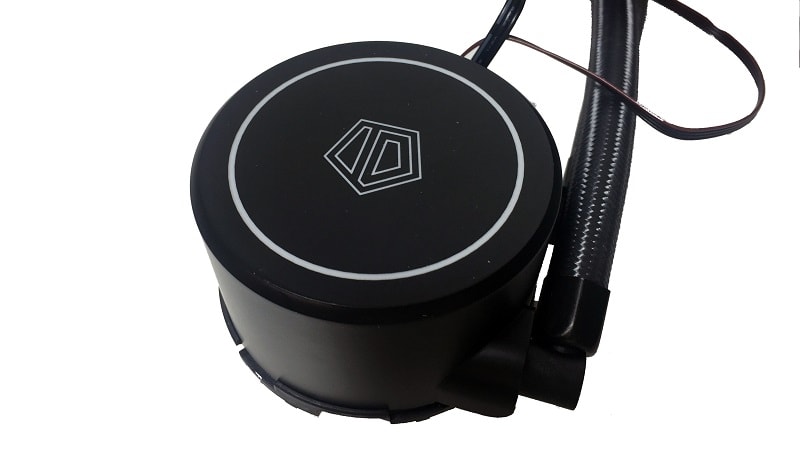 The contact plate for the pump head is rather large. Don't forget, however, that this is compatible with the AMD Threadripper processor (which is pretty bulky in itself). Therefore, regardless of what processor you use, you should find no problems with this ensuring that the heat is successfully shuffled away to the radiator with it's nice large, copper coated, contact plate design.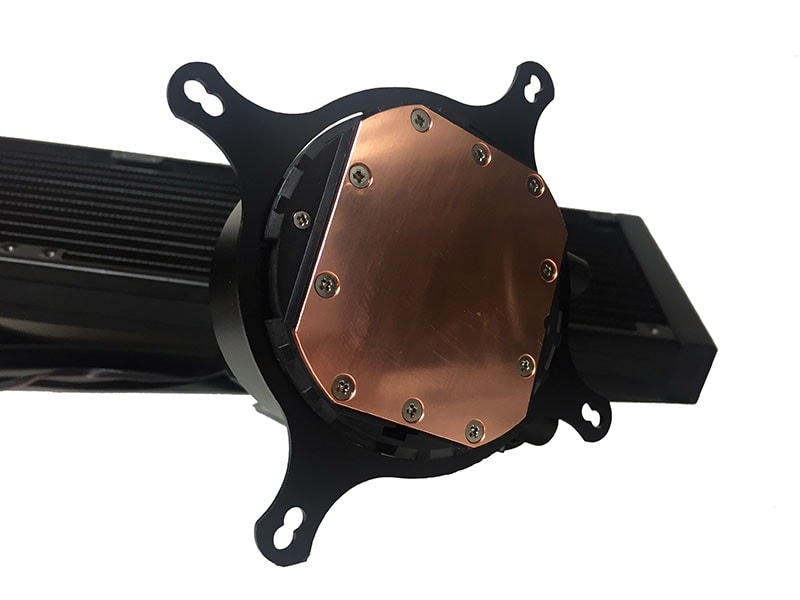 Radiator
The radiator itself is rather bland and if it wasn't for the ID-Cooling branding to the side, it wouldn't look any different to the vast majority that we see. I'm not being mean, that's just a fact.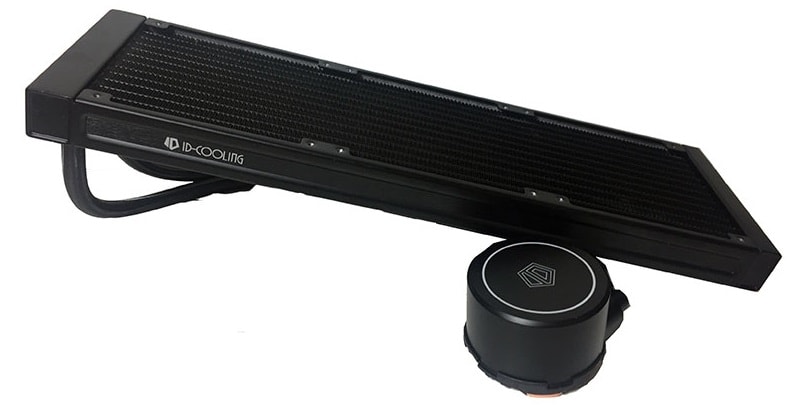 On the positive side of the aesthetics, the logo is nice and solid. In addition, the size and placement make it notable, but not detracting from the overall design. The pipes leading to the hose feel nice and durable while also having plenty of 'flex' to help you get this where you want it without too much trouble.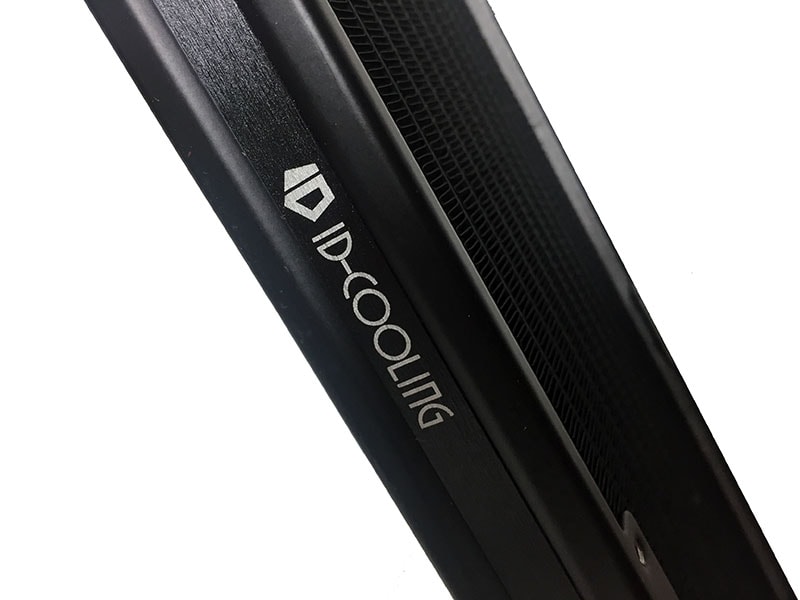 RGB Lighting And Fan Controller
While the ID-Cooling Auraflox X 360 is sync compatible, it does come with a manual controller. This can be fitted via a Molex adaptor and provides you with a nice range of functions to the fan/pump head RGB settings. Admittedly, the controller does feel a little cheap and the pinheads particularly feel a little delicate. On the whole, however, this is a design we've seen before and, to date, we've never had any problems with it.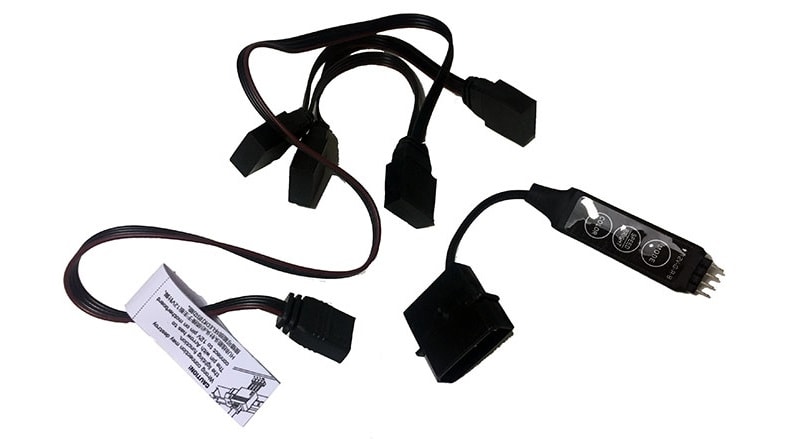 Overall Design
On the whole, while the majority of the aesthetics are not exactly anything to get too excited about, there is nothing to be worried about either. Yes, other brands do push the boat out in terms of 'razzmatazz', but ID-Cooling has never been about that. Their ethos is providing consumers with the best product possible for the lowest price achievable without compromising on quality. In that regard, the ID-Cooling Auraflow X 360 looks more than solid.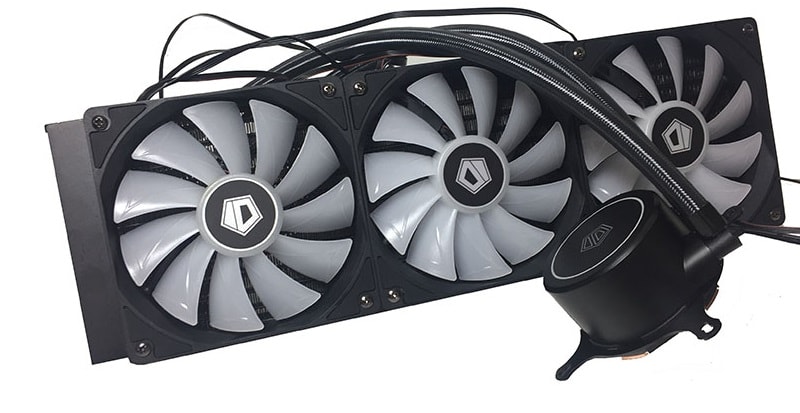 In Action
When it comes to RGB lighting effects, it can at times be hard to put into words how they are presented when in a 'real-world' situation. When we had the cooler fully fitted and running on our system, however, we found the lighting effects to be nice, but perhaps a little too understated for their own good. Additionally, the number of cables and 'piggyback' connections will make management very necessary.
We have provided a short video below if you wanted to see some of the RGB options and transitions available. While not perfect, this should give you a good idea as to the lighting levels and how they function.