ID-Cooling SE-224-XT ARGB Air Cooler Review
---
---
---
Mike Sanders / 2 years ago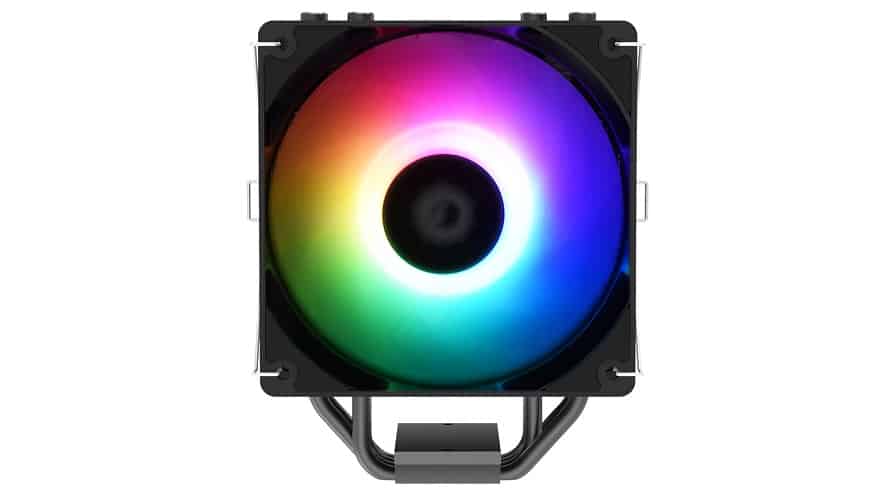 ID-Cooling is a brand well-known for producing efficient cooling solutions that often pack a much heavier punch than the price tag would suggest. In this instance, and as part of one of their latest releases, we look at the SE-224-XT. A traditional style air-cooler packing some amazing ARGB lighting effects!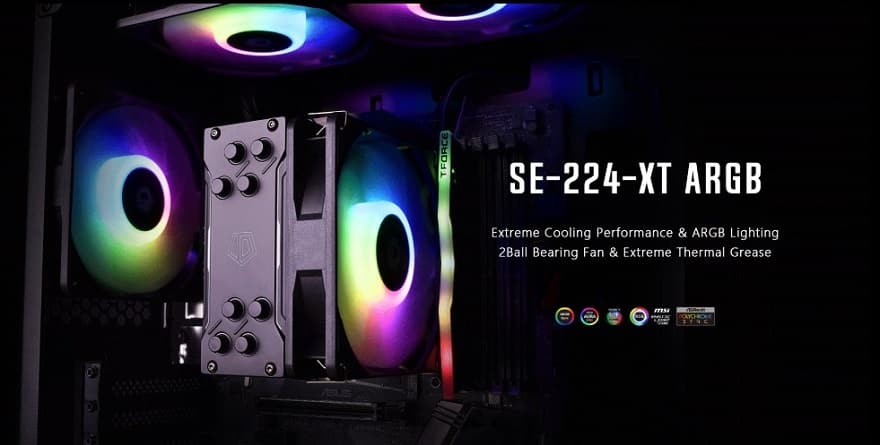 ID-Cooling SE-224-XT ARGB
Available in both an ARGB and 'Basic' variant, having both at our disposal we decided to check out the ARGB version. It should, after all, be pretty much identical to the 'Basic' model while still providing you with performance testing results that can cut both ways!
Plus, we get to check out that amazing ARGB lighting for those of you looking for the more premium model of the two!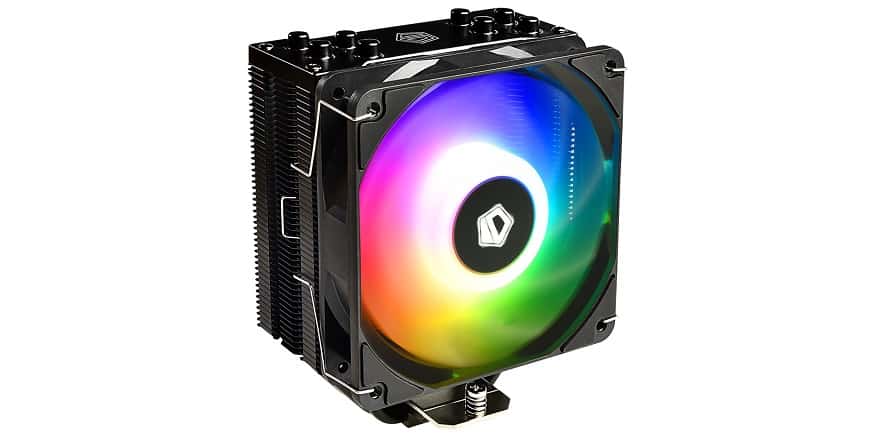 Specifications
For more in-depth specifications, please visit the official product page via the link here!
Socket Compatibility
Exterior Packaging
The packaging carries the black and orange branding that has become well associated with ID-Cooling. To the front, you have a nice large image of the cooler with that amazing ARGB lighting in action.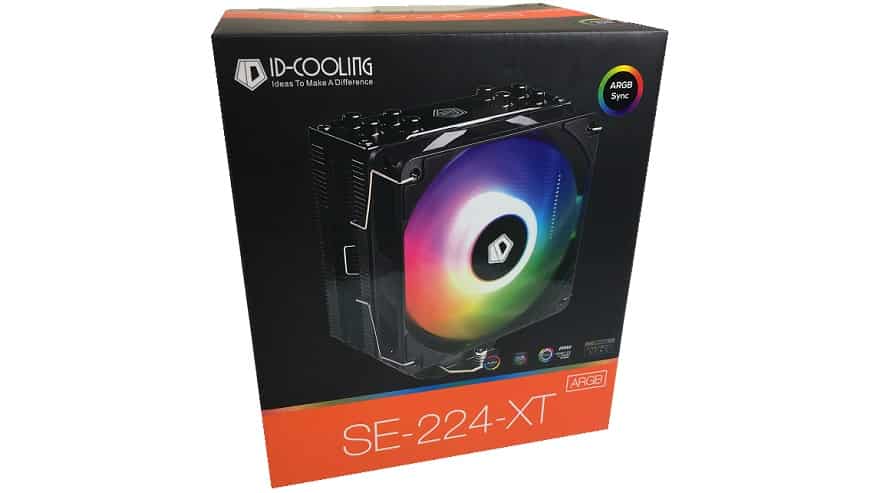 Sadly, beyond this, the packaging doesn't go into much detail or specifications regarding itself. There wasn't much to indicate the key features and even the basics such as what processor sockets this supports is in very small writing to the side.
So, while the front is big and bold, the rest of it is sadly more than a little threadbare.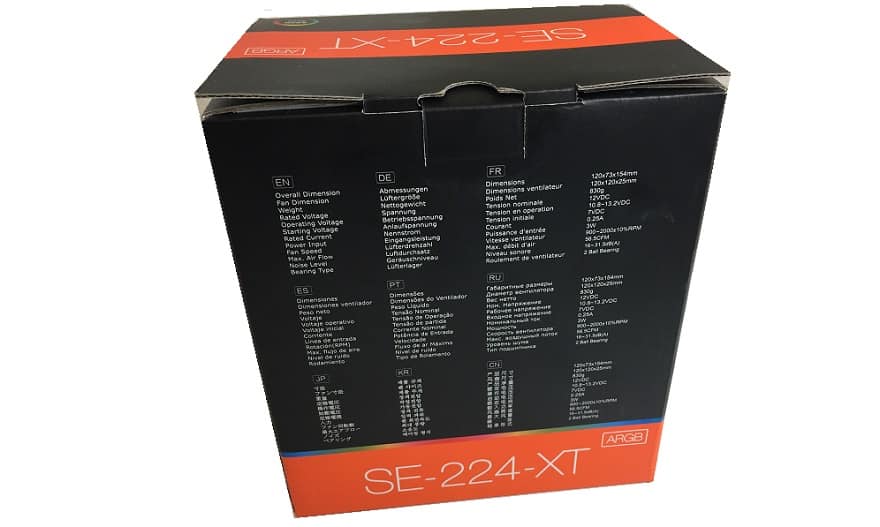 What's in the Box?
In terms of accessories, ID-Cooling provides you with everything you could want (with the exception of a screwdriver) right out of the box. You are provided with all the main mounting connections for the various processor platforms, a manual RGB adaptor (more on that later in the review), two sets of fan clips (presuming you might, at a later stage, wish to 'double-up' on your fans) and a tube of their own branded thermal paste.
All contained within a cardboard box, it's again, a little basic, but more than good enough for what you need!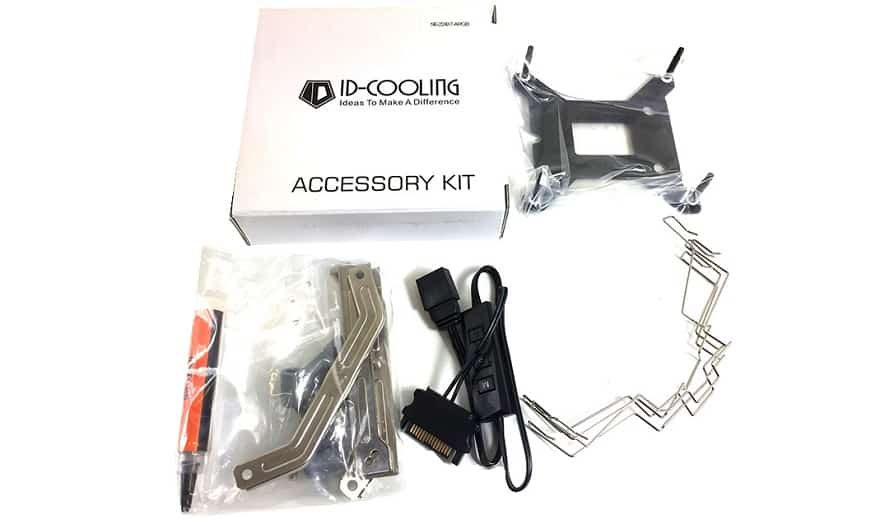 ———————–
A Closer Look
With the fan stored separately to the main radiator when unboxed, it seems logical to start with the largest single part.
The radiator has a nice black-gloss finish with the vents being in a nice sizeable number, but while keeping well spaced to allow the airflow to do its job!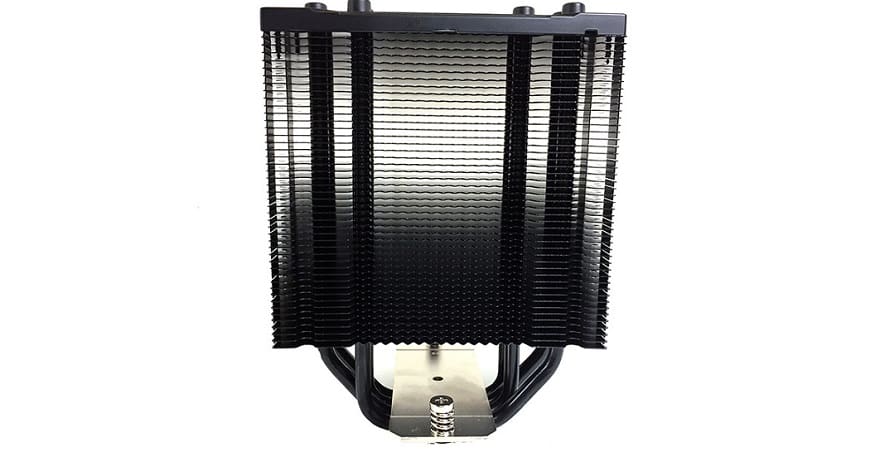 The base of the radiator shows 4 pipes (leading from each side) which again sticks with the black coloring. A look that, overall, adds to the nice sleek aesthetic of the design.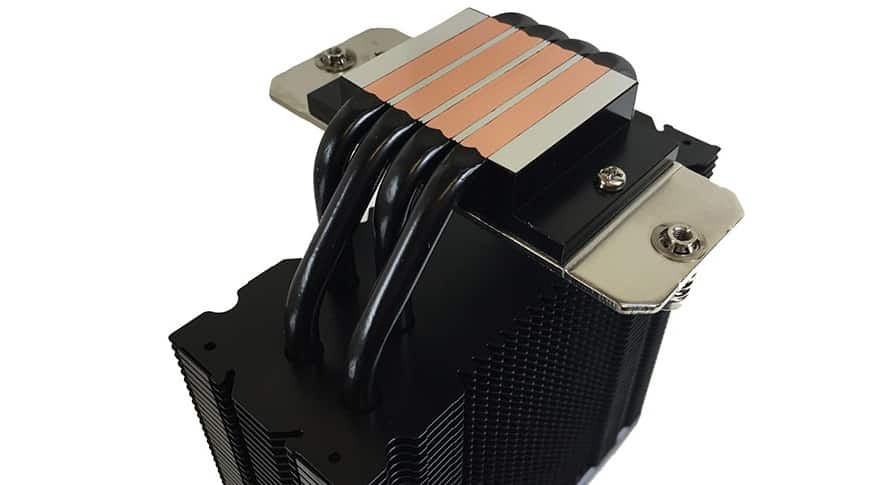 Contact Plate
The contact plate is nice and large with the copper pipes exposed to allow for some nice, direct, heat transition. Admittedly, there are a number of minor gaps to the edges of the pipe which may impact upon it achieving a potentially better temperature control if they were not there, but on the whole, this looks well suited for either Intel or AMD desktop processors!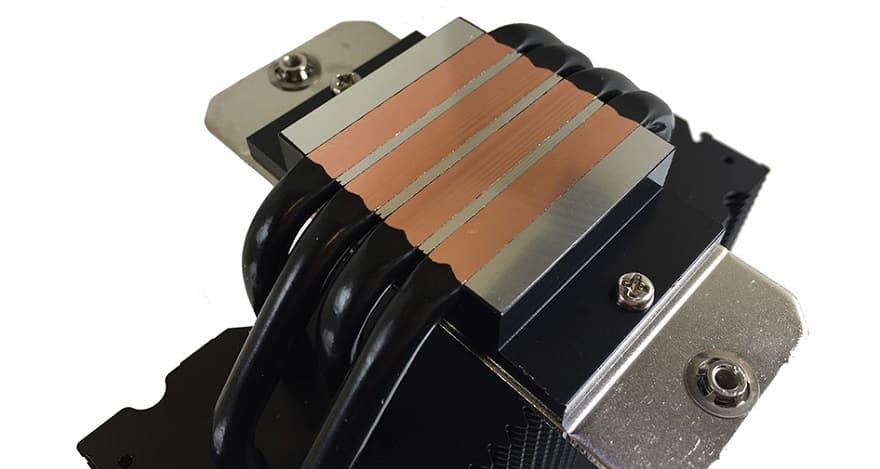 Fan
You are provided with a single ARGB fan which, as you can see in the images below, is manufactured by ID-Cooling themselves.
In terms of the design, the fan itself has a rather generic appearance, but it will undoubtedly kick into a new gear when that ARGB lighting is turned on!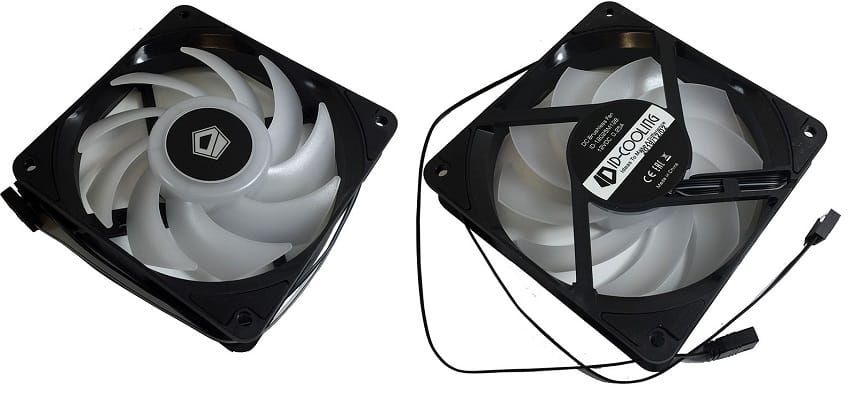 Overall
With the fan installed, the ID-Cooling SE-224-XT looks excellent. The gloss black finish with the white trim really gives it a stylish appearance for what is essentially a budget-focused air cooler. A market where (generally speaking) design options are always limited.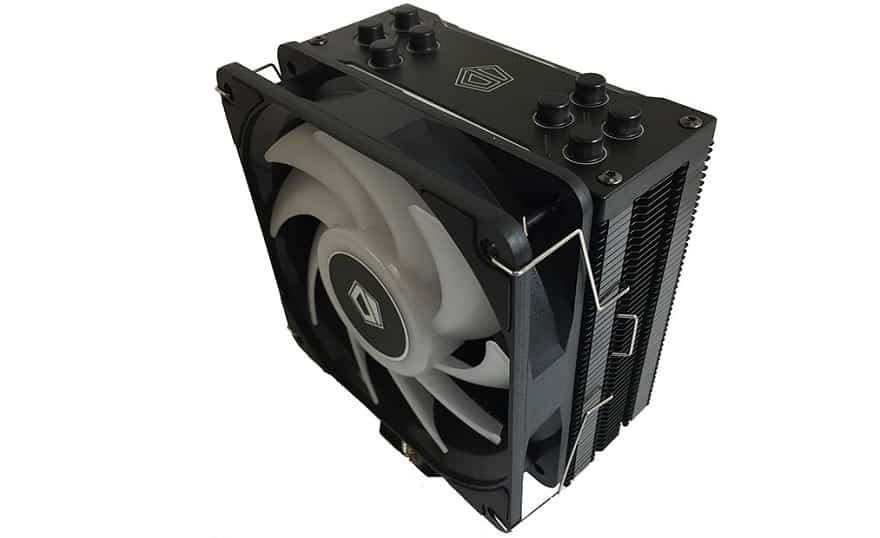 The 120mm fan provides excellent coverage for the radiator and with you being able to install it on either side, it shouldn't give you any problems with RAM compatibility.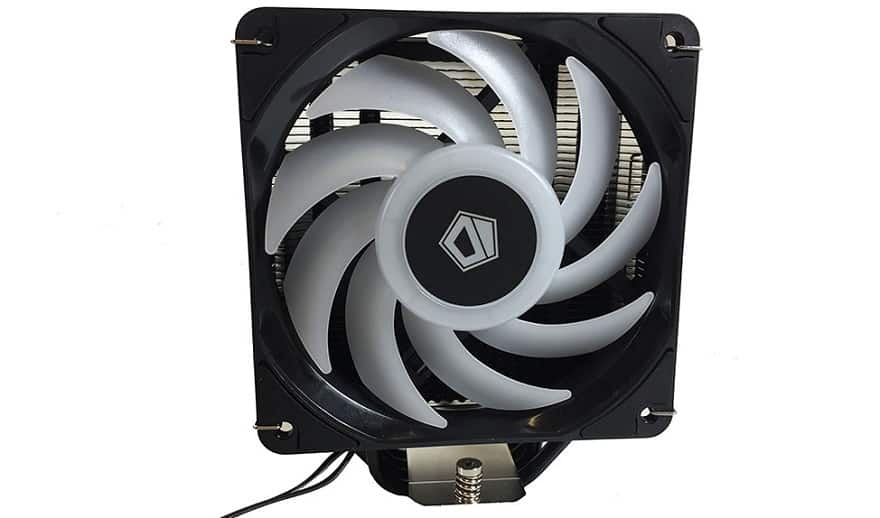 While on the subject of the size, it is, on the whole, a rather compact design. Standing not unusually tall and perhaps thinner than you might expect to see, this should fit into practically any kind of desktop system while not 'crowding out' your other components.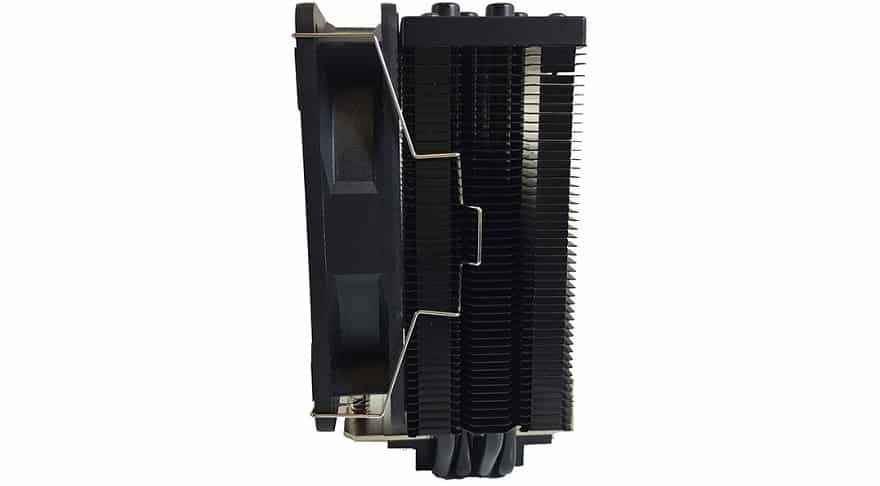 To the top, you can see the ID-Cooling logo to the center which looks pleasantly understated, but still bold enough to catch your eye.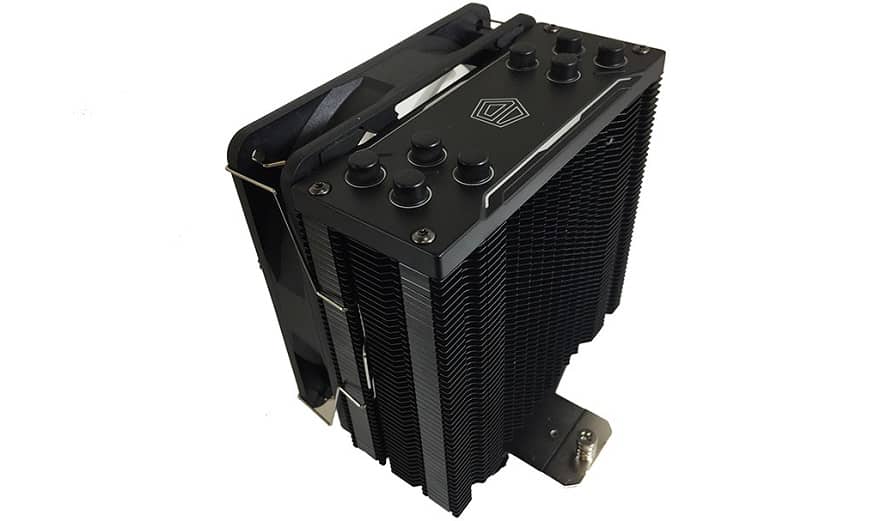 So, on the whole, and without this attached to our test system yet, so far I'm very impressed with the design and aesthetics of the ID-Cooling SE-224-XT. How is it to install though? Well, let's take a look!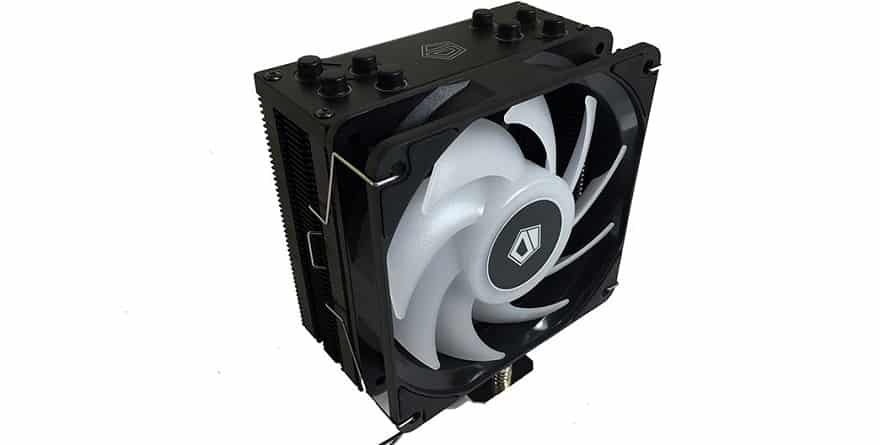 ———————–
Installation
As if often the case with any type of cooler, having a good and detailed manual can be an invaluable tool. Fortunately, having experienced many ID-Cooling products in the past, we knew that while it would be a little light on the written details, the diagrams would be excellent.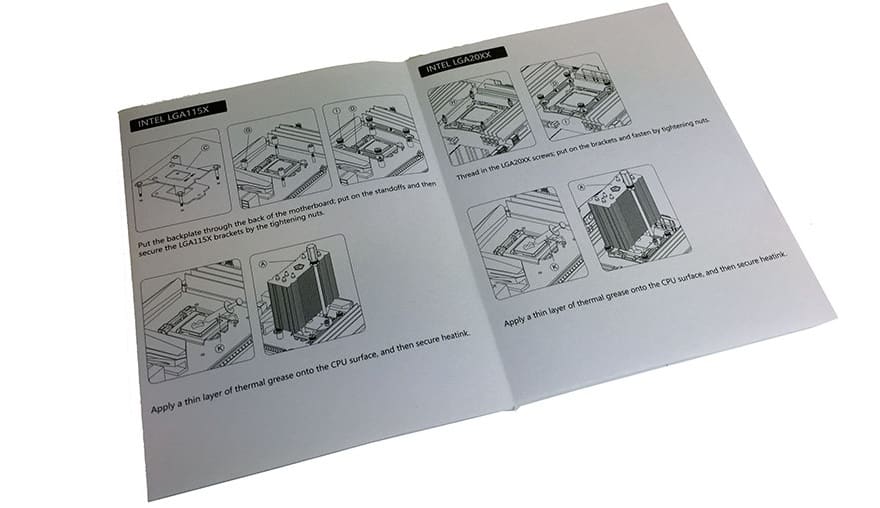 Mounting
The mounting system is (thankfully) a rather straightforward processor. ID-Cooling has not attempted to reinvent the wheel here and has stuck with a method that is both tried and tested!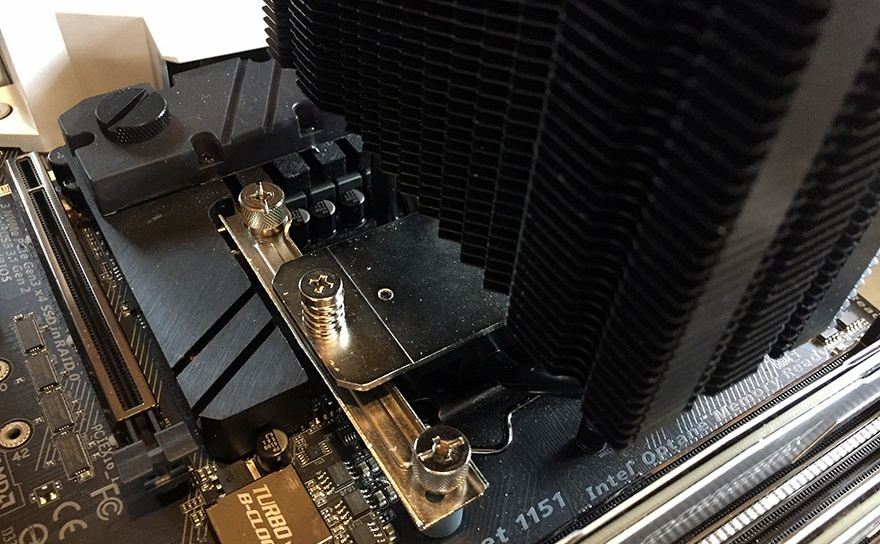 You do have to install the main radiator before you can attach the fan, but that isn't uncommon for the vast majority of air cooler designs.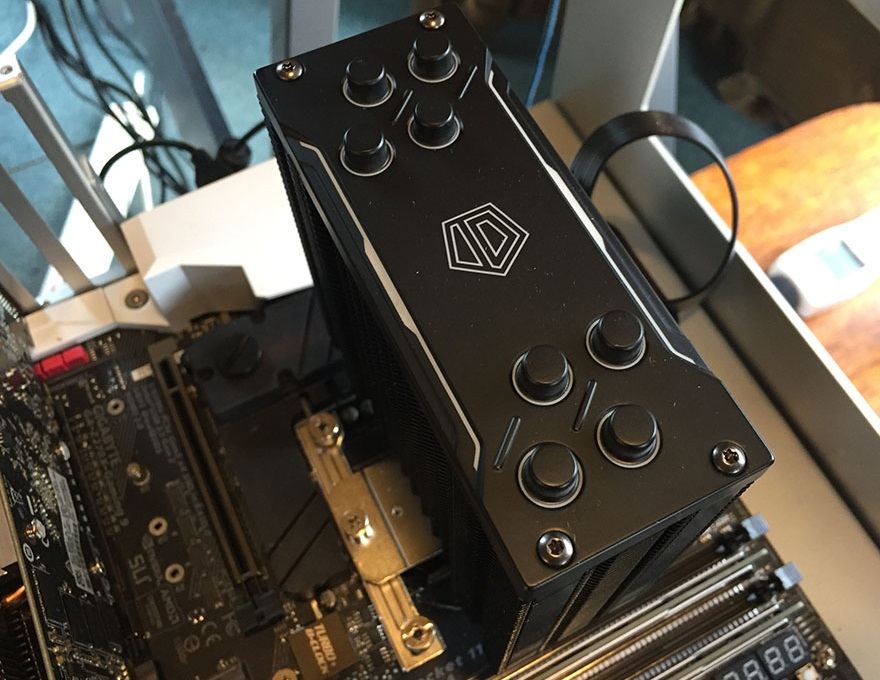 Fortunately, ID-Cooling has again adopted a well-known fan mounting design with a simple metal clip attachment on either side hooking onto the radiator.
In regards tot he ARGB lighting effects, you can attach the necessary cables to your motherboard (if compatible). Alternatively, however, if your motherboard does not support RGB lighting, then ID-Cooling does provide you with a SATA connector.
While the connector itself offers only relatively basic functionality, it is always great to see it included! Put simply, not all of us have motherboards with ARGB ports!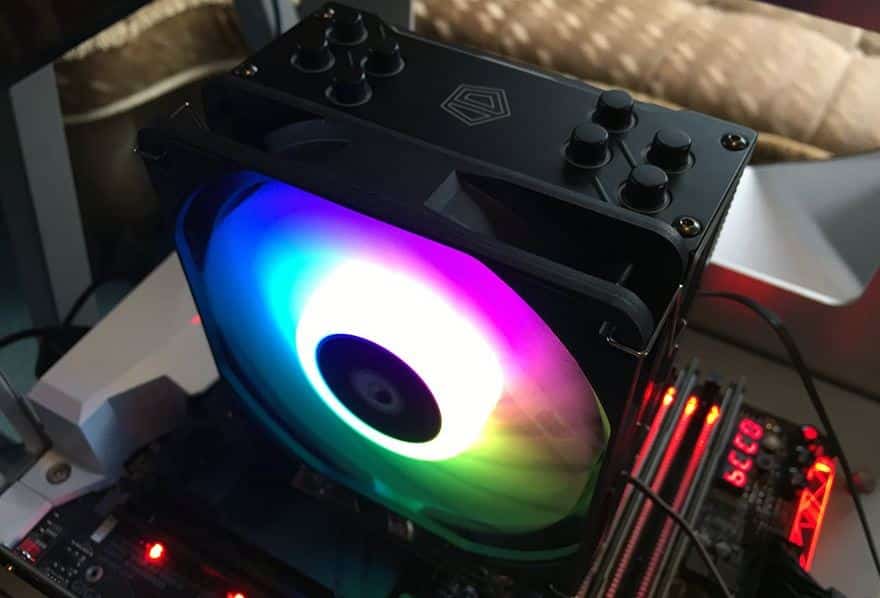 Overall Thoughts
From out of the box and onto our system, this cooler took us around 10 minutes to install. A figure that is a little below the average required for coolers that specifically come with ARGB lighting effects. After all, more cables generally equals more time required to set it up.
While there is nothing new or exciting in the method of which you install it, I again applaud ID-Cooling for sticking with what works. This is a mounting design that anyone with some experience with coolers would probably be able to wing without consulting the manual once. For beginners, this is about as easy as it gets with the exception of push-pins (and even they're not simple all the time).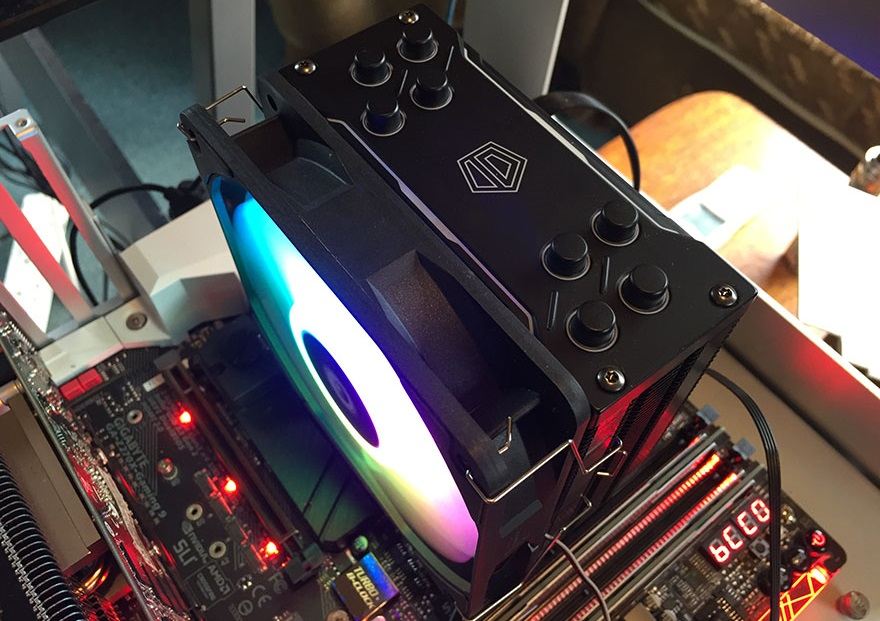 ———————–
Test System & Methodology
As you may appreciate, we review a lot of coolers here at eTeknix. As such, our prior results sheet was getting more than a little crowded. We have, therefore, applied a new system in which we have picked those coolers we consider most popular or most relevant to this design. Please note that we re-tested the Noctua NH-D15S as our base benchmark for cooling results.
Test system:
Gigabyte Aorus Gaming 9 Z270
Intel Core i7-7700K Delidded w/ NT-H1 under IHS
Radeon R7 Passive GPU with 2GB VRAM
16GB Crucial DDR4 2400 MHz (only swapped to 8GB in the unlikely event of RAM compatibility issues)
512GB OCZ SSD
be quiet! Dark Power Pro 800W
Lian Li T80 Test Bench
All testing conducted using NT-H1 thermal paste
We'd like to say a big thank you to Gigabyte, Noctua, Crucial, Intel, OCZ, be quiet!, and Lian Li for providing us with the above testing equipment and their on-going support.
Testing Methodology
We always use Noctua Noctua NT-H1 thermal paste to make sure testing reveals the efficiency of the tested coolers not the efficiency of the bundled thermal paste
Prime 95 is run for 10 minutes to calculate "load" results
Unigine Superposition is run for 10 minutes to calculate "gaming" results
The average temperature across all cores is taken
Fans are left to operate at default PWM profile speeds unless otherwise stated
For water cooling tests, all pumps have been operated at 12 volts unless otherwise stated
Ambient temperatures should be between 21-23 degrees in all our tests unless otherwise stated
Acoustic measurements are taken 10cm horizontally and 10cm vertically away from the CPU cooler with the VGA fan disabled
Stock tests are performed using "out of the box" settings for the CPU
Overclocking tests are performed with the CPU set to 5 GHz and 1.345v
All coolers were tested under identical settings unless otherwise stated.
There is approximately a 1-degree Celsius margin of error in our temperature recording software CPUID HW Monitor
There is approximately a 1.5dBA margin of error with our Benetech GM1351 decibel meter
In all these graphs we may have a few "reference" results of particular products that do not fit within that category for comparative purposes.
Software Used
———————–
Performance
With the ID-Cooling SE-224-XT essentially being a reasonably budget-focused air cooler, we didn't expect it to compete with some of the biggest and best around and, of course, it did not. Despite that, however, it still managed to provide some more than respectable results in our testing. It even managed our overclocked testing without any fuss or drama!
So, how did it perform on the whole? Well, about as expected really. Well, at least based on our good experience with ID-Cooling products. Although finding itself near to the top of our temperature and acoustics tests, a closer look at the results show that none of the results are bad and, who knows, perhaps they're a lot better than you might have initially thought.
Stock Temperatures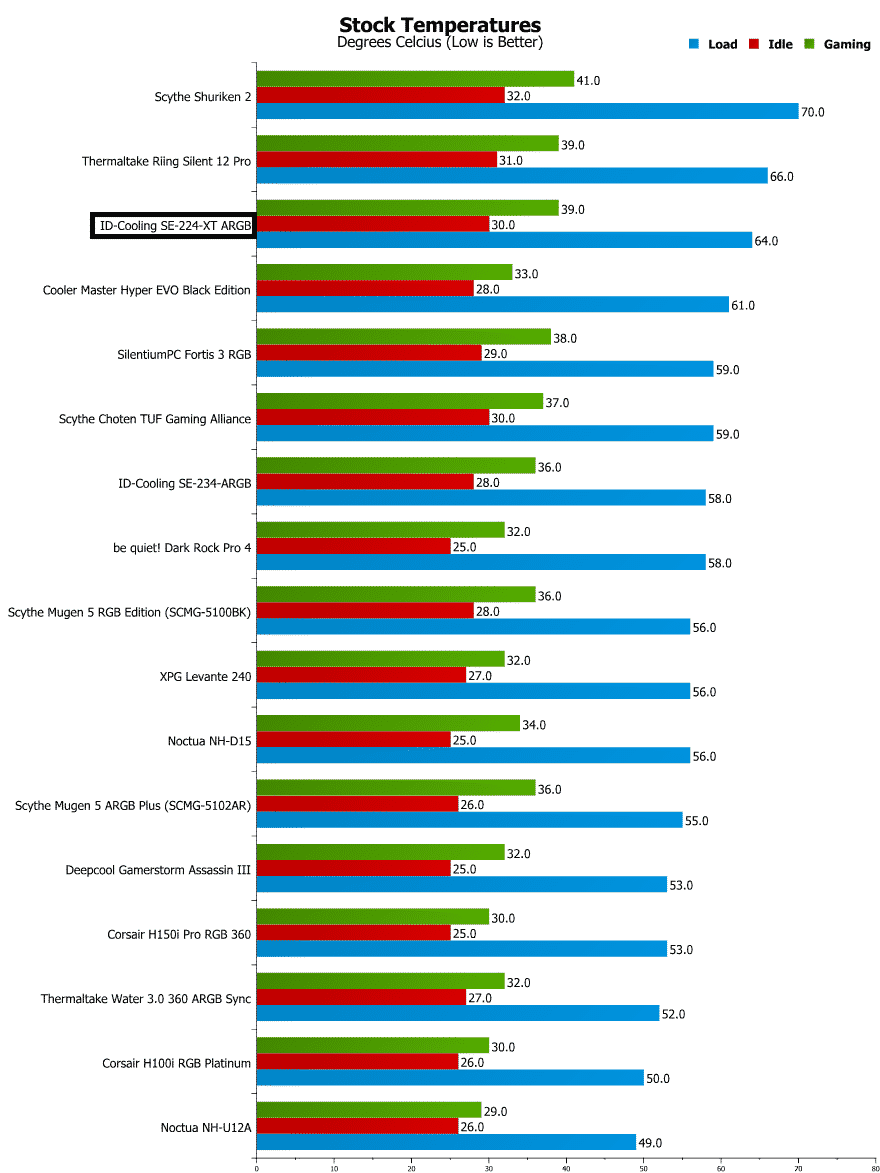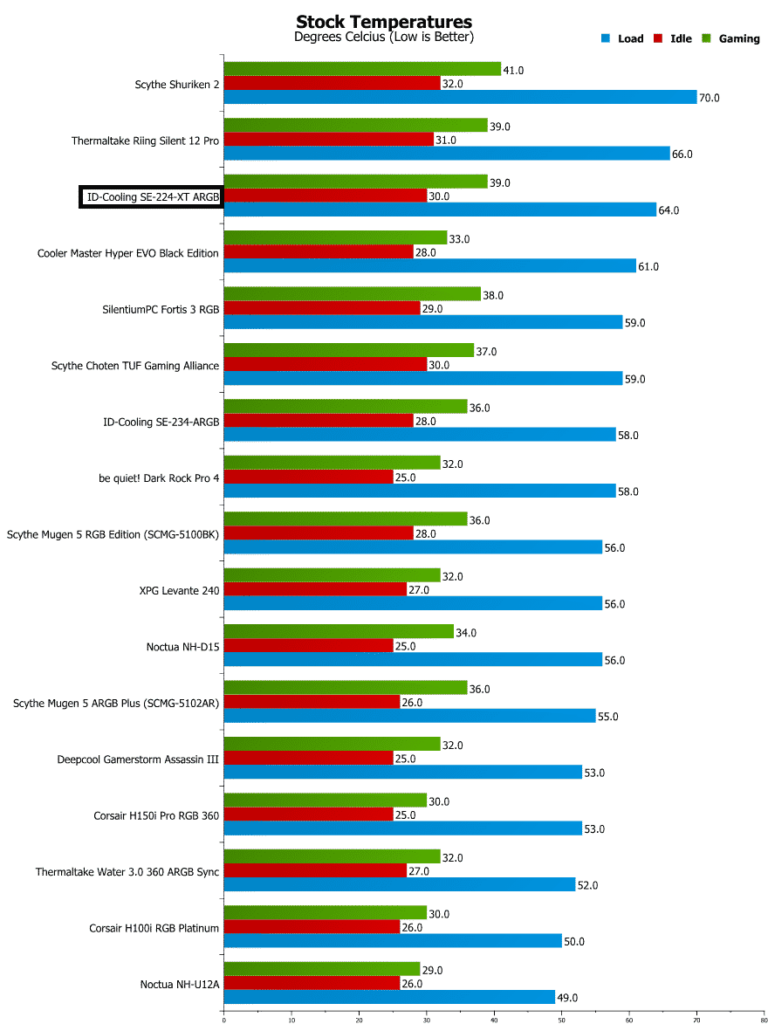 Stock Acoustics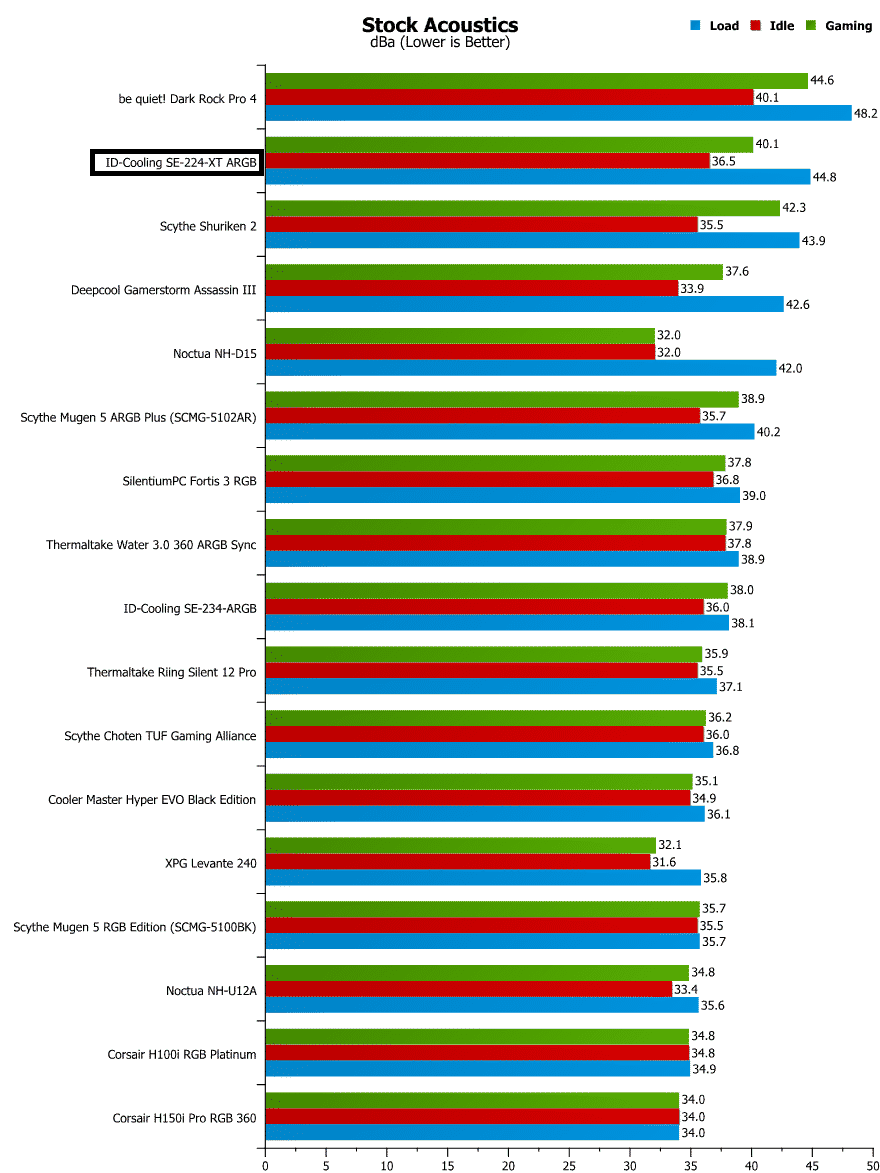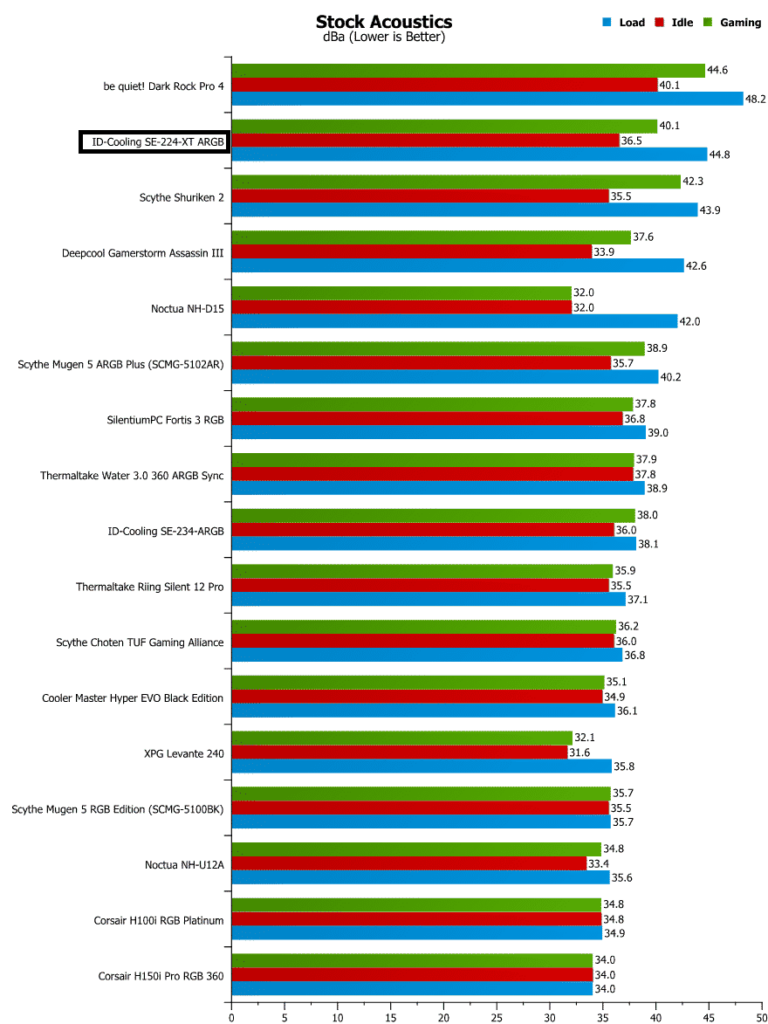 Overclocked Temperatures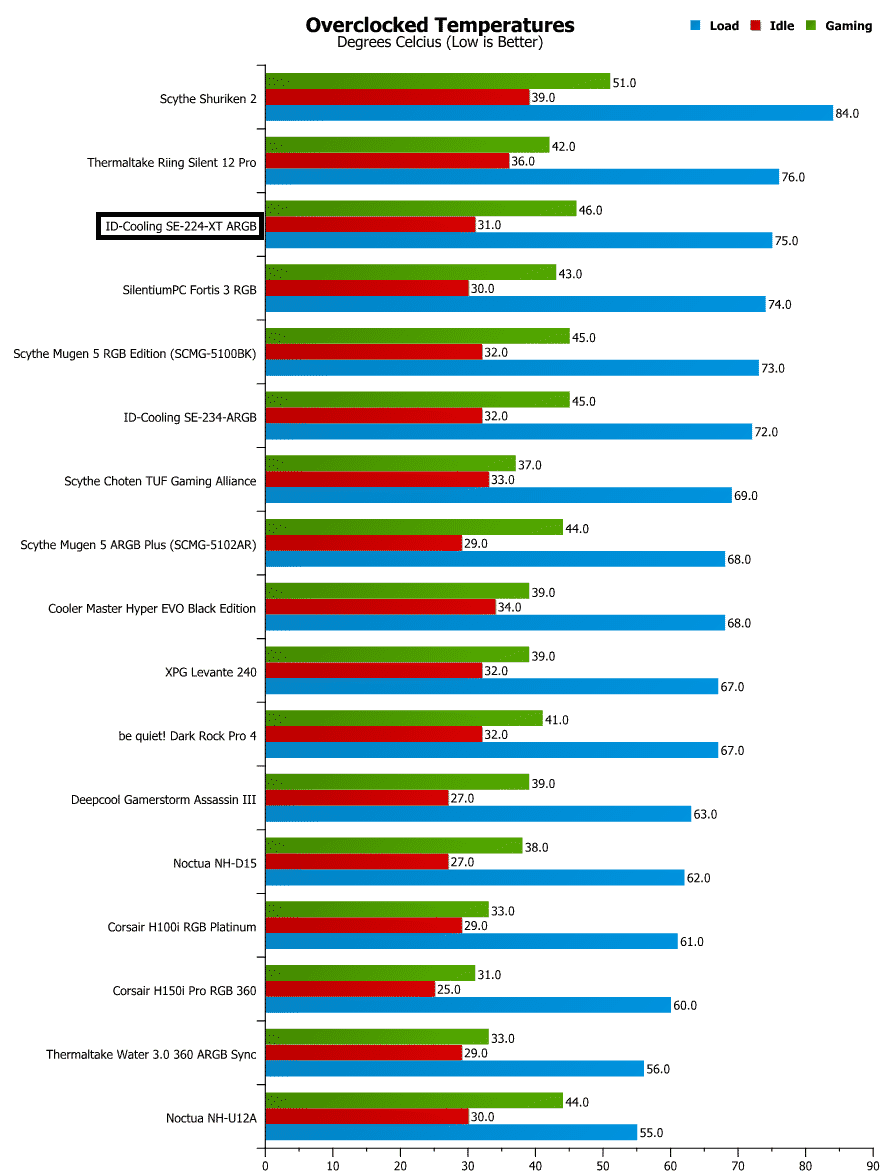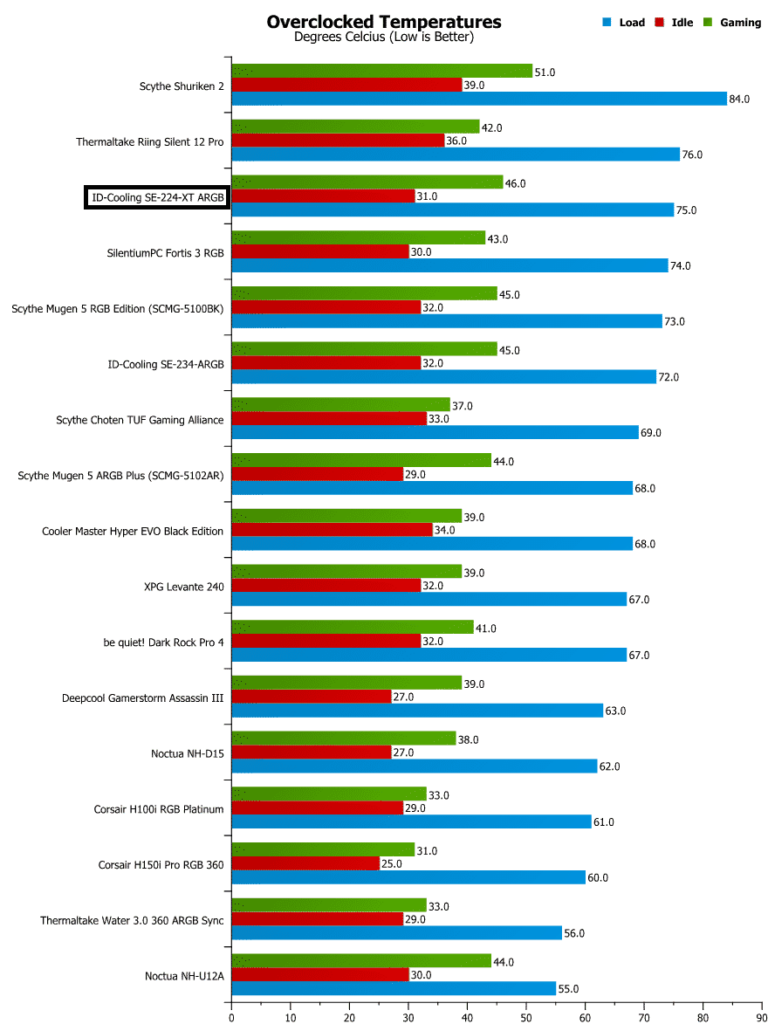 Overclocked Acoustics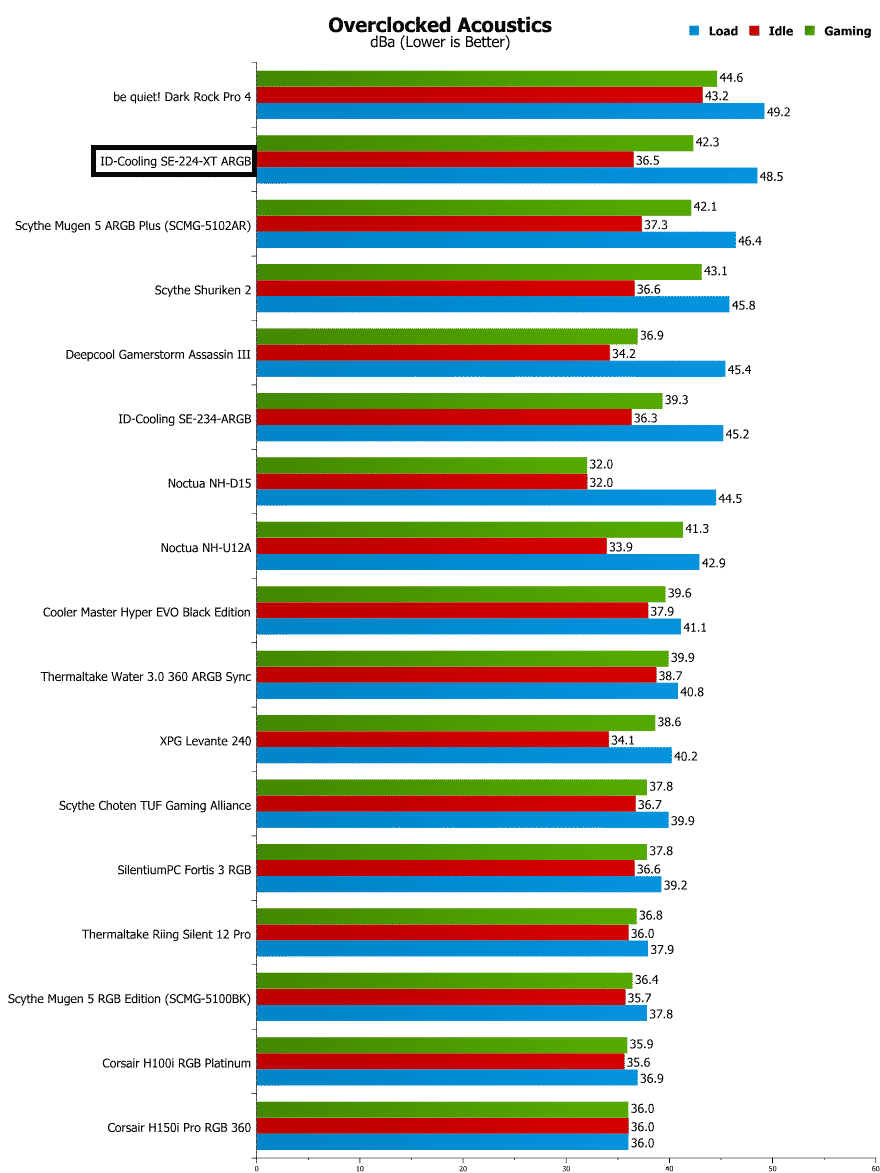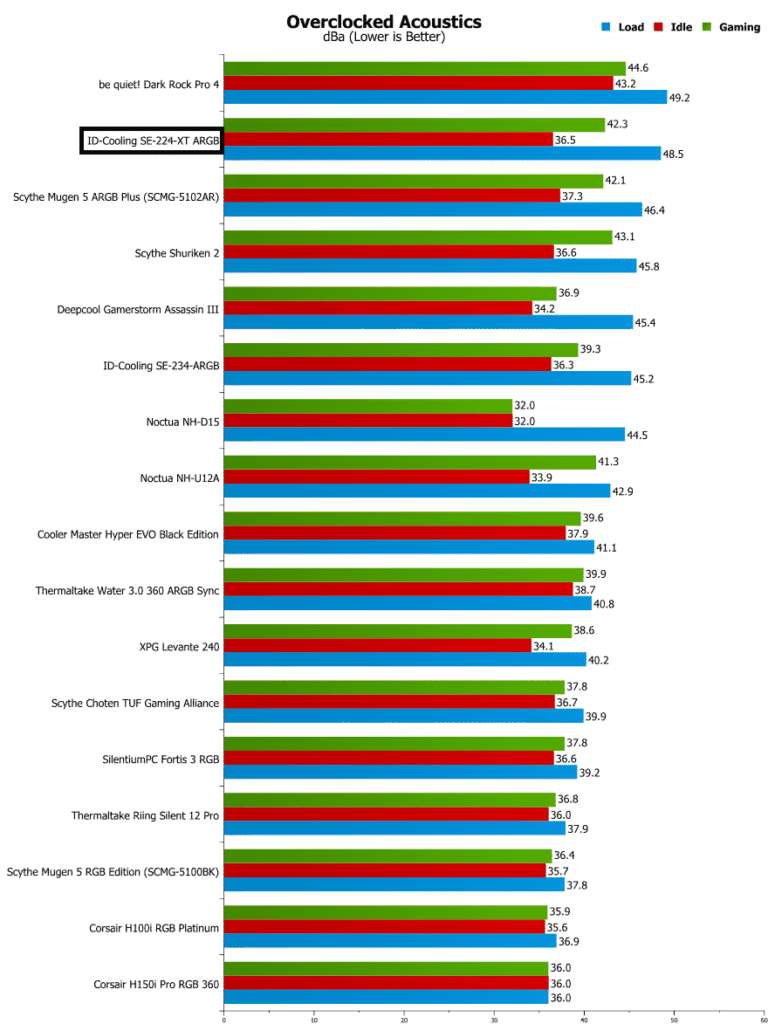 ———————–
How Much Does it Cost?
At the time of writing, no price was available for the ID-Cooling SE-224-XT ARGB cooler. We would, however, expect it to retail for something in the region of £35-£45. Roughly around £5-£10 more than the 'Basic' model which doesn't feature any RGB lighting.
Now, at this price point, it's clearly a pretty busy market to be throwing your product into. The ID-Cooling SE-224-XT ARGB does, however, have some notable advantages. In terms of performance, it's at least as good as the vast majority of its competition. While, with the ARGB lighting, offering something that many of them don't!
Overview
Put simply, I like this cooler. While aesthetically very pleasing (with the ARGB on or off) it's the fact that, as I mentioned earlier in the review, ID-Cooling hasn't attempted to re-invent the wheel with this cooler.
What they have done is to take their existing designs (which work well), add a few improvements and then top that all of by providing you with an ARGB capable fan. In terms of relatively inexpensive cooling products, this does everything you could want of it!
Should I Buy One?
As we noted above, the price point in which the ID-Cooling SE-224-XT ARGB finds itself in is a very busy market indeed! You'll literally be tripping over coolers all vying for your budget-focused business.
The ID-Cooling SE-224-XT ARGB, however, offers a lot of features that many of them don't. It's easy to install, excellent to look at and, above all, offers a level of functionality more associated with significantly more expensive products.
Pros
Genuinely nice and strong aesthetics
ARGB capable fan with a manual adaptor for those of you without a compatible motherboard.
Easy to install
Solid temperature and noise control
Provides excellent 'bang for buck'
Cons
Neutral