ID-Cooling ZoomFlow 240 AIO Liquid Cooler Review
---
---
---
Mike Sanders / 3 years ago
Introduction
---

ID-Cooling ZoomFlow 240
We here at eTeknix really like ID-Cooling products. They are, however, a brand that some perceive a little unfairly. To many, they come across as a 'cheap brand' and as such, by proxy, their products can't be very good. In fairness, for many things (PC and otherwise) that can often be true. In our opinion though, this brand deserves better consideration.
Yes, they do tend to market their products towards the lower end of budgets, but having reviewed many of them over the years, we have rarely not been mightily impressed by their performance. Despite that though, it has been a little while since we checked out any of their coolers.
As such, we are delighted to have a brand new ZoomFlow 240 cooler. This cooler is a 240mm AIO liquid system which incorporates, at least on the box, some very impressive RGB lighting effects.
If you are one of those people who have mixed feelings about ID-Cooling, could this be the product to change your mind?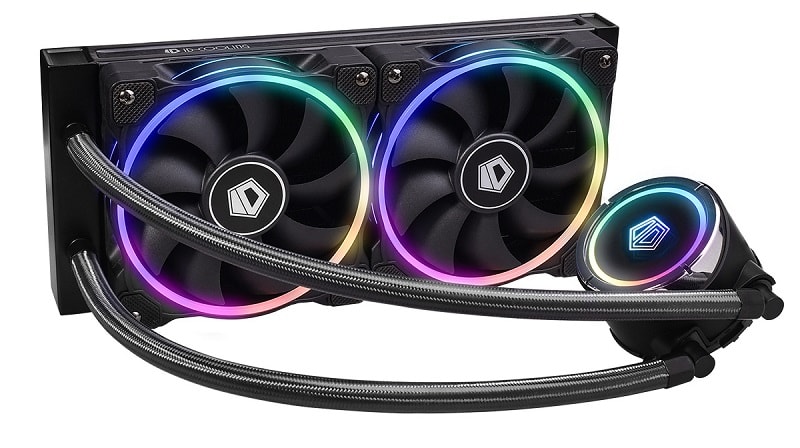 Features
One of the main key features of the ZoomFlow 240 is that it has RGB lighting. This is controllable by either your motherboard (if compatible) or via a remote control. It is, however, of course still a cooler with an important job to do!
Addressable LED Lighting Design.
Synchronizes with Motherboard RGB.
Premium Sleeved Tubing.
High-Performance Pump Design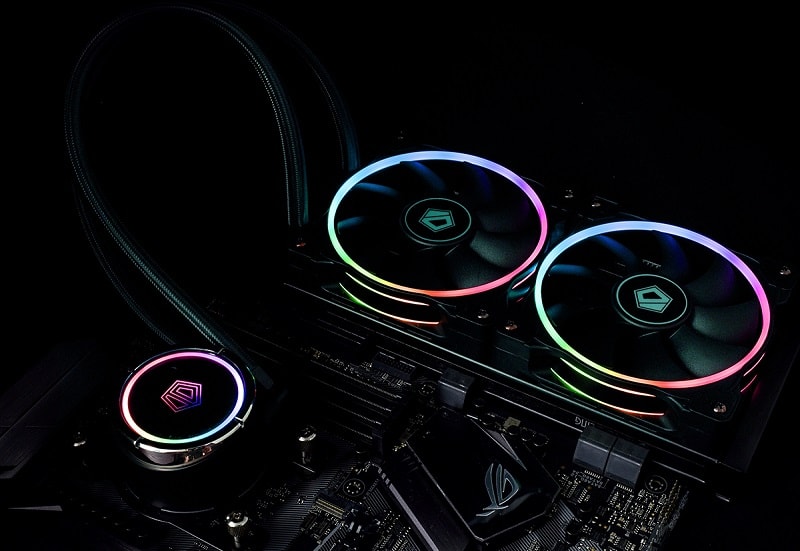 What ID-Cooling Had To Say
Technical Information
For more in-depth technical specification, please visit the official product page in the link here!
Exterior Packaging
The front of the packaging provides you with a nice, clear, bold, image of the cooler as a whole with that all-important RGB lighting on display. In terms of information, it's concise and to the point. The space used isn't entirely optimal as the bullet points could certainly have been a little bigger and easier to read. In terms of what you want to know at a glance though, the front of the box has you covered!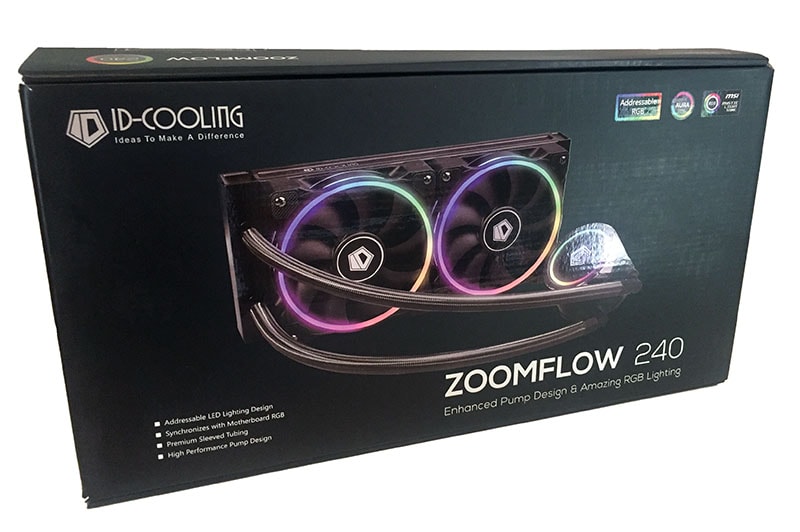 The rear of the packaging is a little boring if we're honest. The information it does give you though it all relevant and largely everything you need to know. This includes specifications on the cooler including the pump block, pump and fans as well as the compatible sockets for this cooler.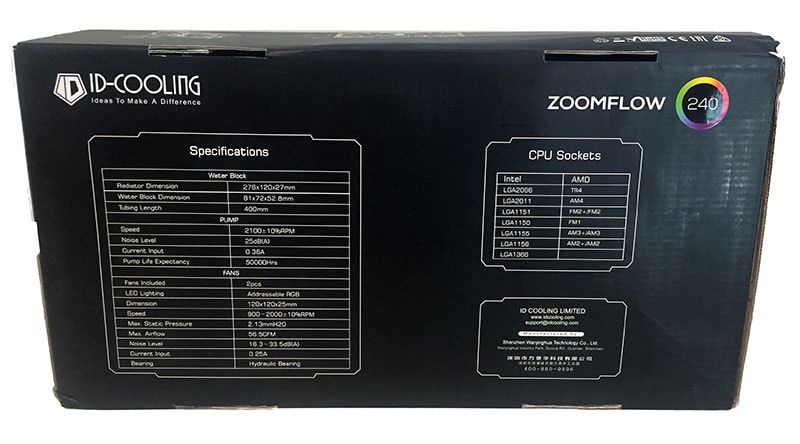 Surprisingly, the side of the packaging is where you'll find all the specific 'feature' details on the product. This is nicely presented although, again, it is strange why they decided to put this on the side rather than nice and big on the back of the box.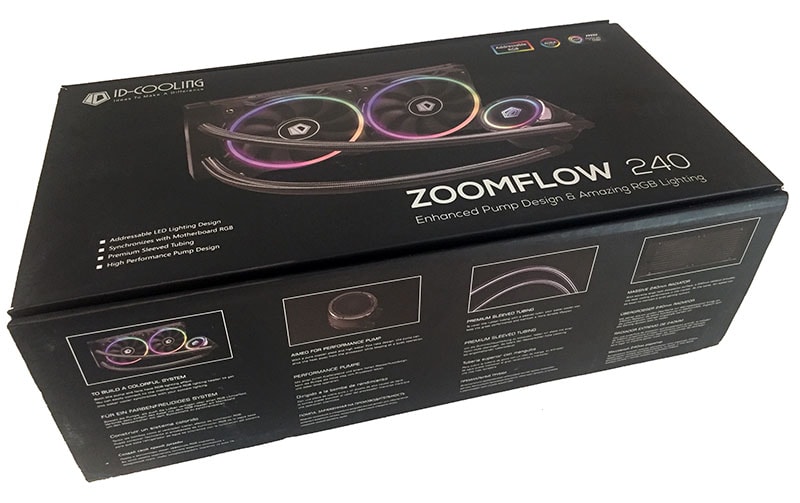 Finally, the other side of the packaging has some technical drawings of the cooler which include the dimensions when fully installed. Overall, the information provided throughout is good. Where they have decided to put it, however, is a little strange and, as above, we can't help but feel that the back of the packaging is a little too bland for its own good.