Inateck BP2001 Wireless Portable Speaker Review
---
---
---
Peter Donnell / 8 years ago
Introduction
---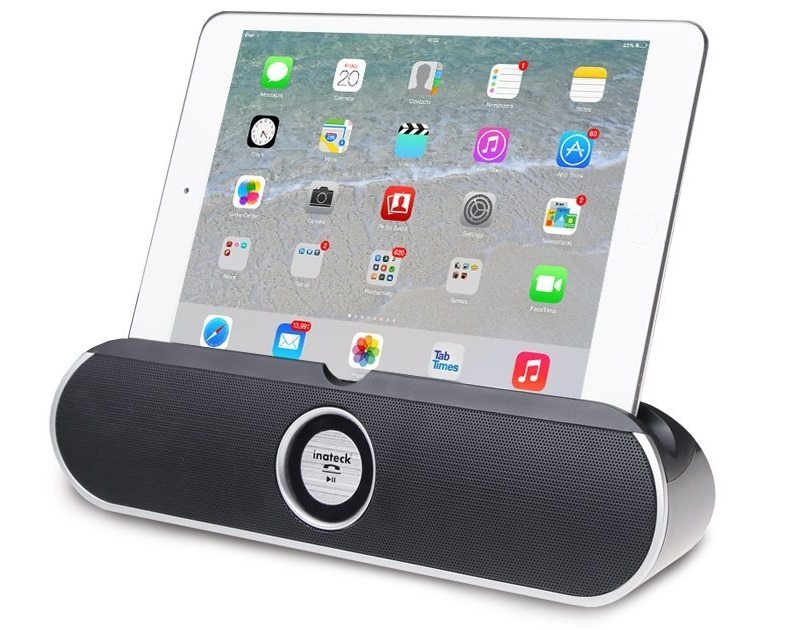 Inateck may not be a common brand name, at least not yet, but they've got a great range of low to mid budget products that certainly caught our attention. While many of us love the high-end flagship products, sometimes we just need something affordable, that does the job we need with ease; the Inateck wireless Bluetooth speaker we're reviewing today is one of those products. It's got a fairly straight forward job to do and it's not likely a product you need to put much thought into either. If you need a stand for your tablet, but you also need a wireless speaker to enjoy your music, or hands-free calls in the office, at home or wherever, then you'll most likely be looking at this device or something similar on a popular shopping site such as Amazon. So just what do you get for your money?
The Inateck Wireless Bluetooth Speaker is a nicely designed unit. It has a hard black speaker grill on the front of its extra wide design, as well as a little bit of silver trim around the edge and around the control switch on the front.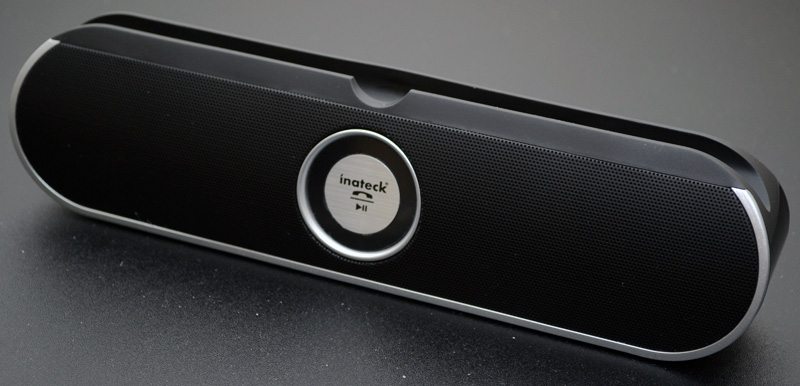 The wide design makes the Inateck ideal for mounting your smartphone or tablet on the top of the speaker. There's a hard rubber slot that runs the full width of the device for maximum compatibility with a wide range of devices. There's also a small cut-away in the middle, which makes accessing the home button on tablets such as the iPad a whole lot easier.

There is only one control on the front of the device, which can be used to play or pause music (via Bluetooth), answer or reject calls, or redial the last number on your paired device.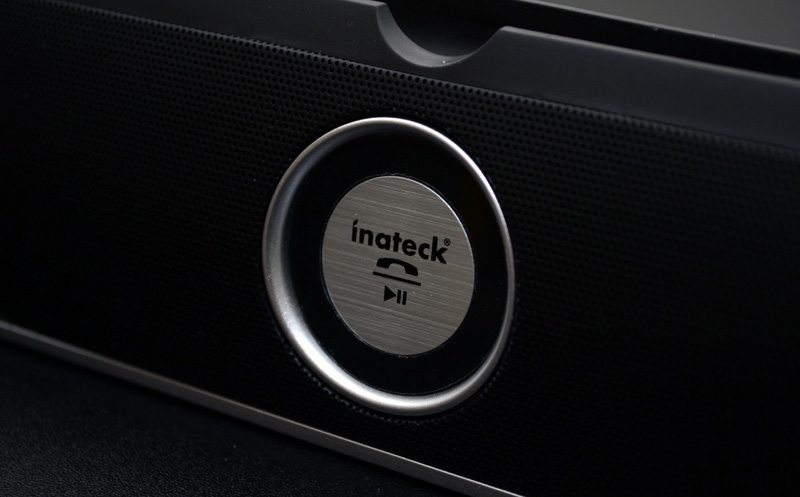 The base of the speaker is wider than the top, giving a little extra stability to the speaker, but it's not so thick that you couldn't chuck it in your backpack.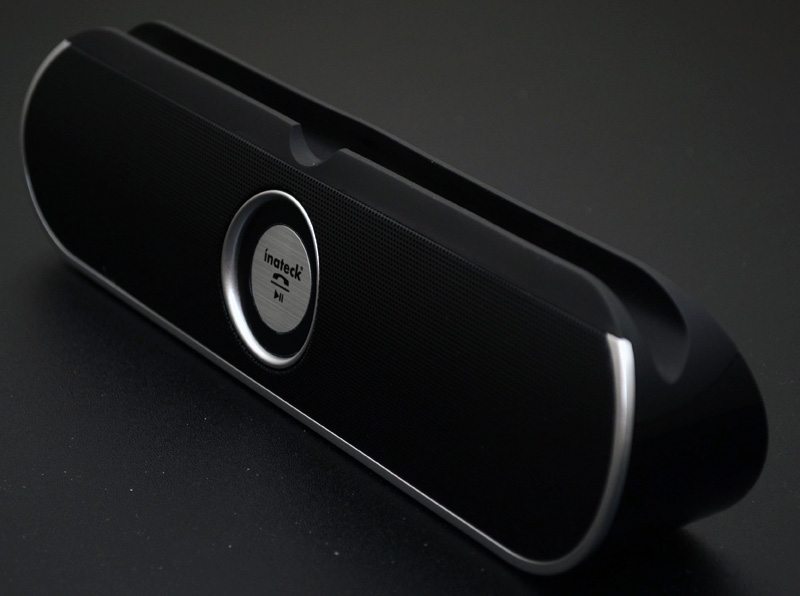 Around the back, you'll find a fold out speaker bracket and the I/O ports.

There's a master power switch on the back to help save power, an AUX line-in jack and a DC5V port for charging the built-in battery.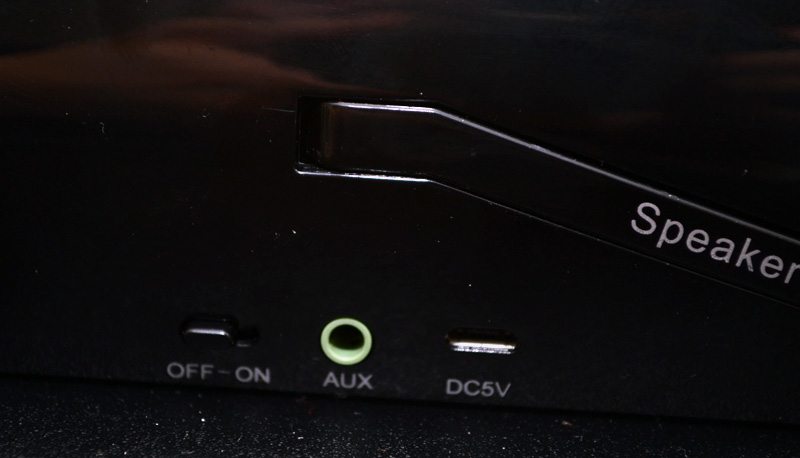 The speaker bracket is very handy, as putting a 10″ tablet on the top of the speaker in portrait mode could make the whole setup prone to tipping; a problem easily solved by deploying the bracket.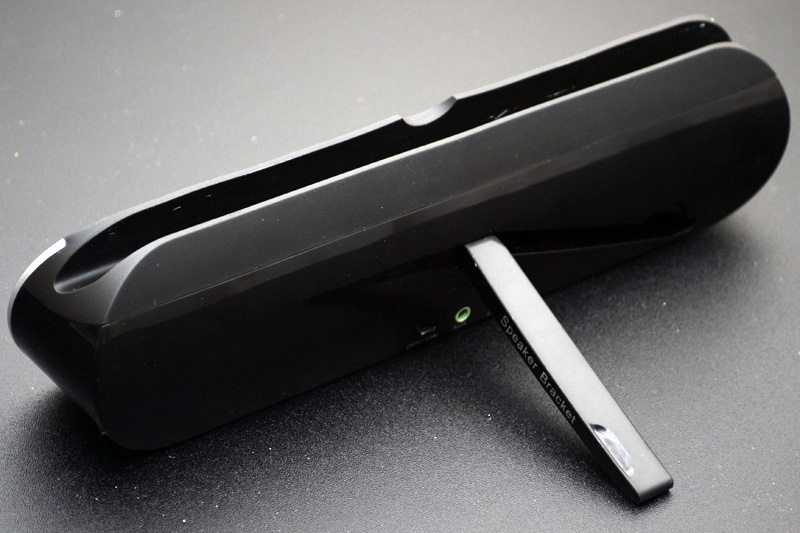 Included in the box you will also find a USB to Micro-USB cable, which is perfect for keeping the speaker charged, as well as a 3.5mm cable for connection devices such as MP3 players.