Inno3D GeForce GTX 1080 11Gbps and GTX 1060 9Gbps Cards Unveiled
---
---
---
Ron Perillo / 6 years ago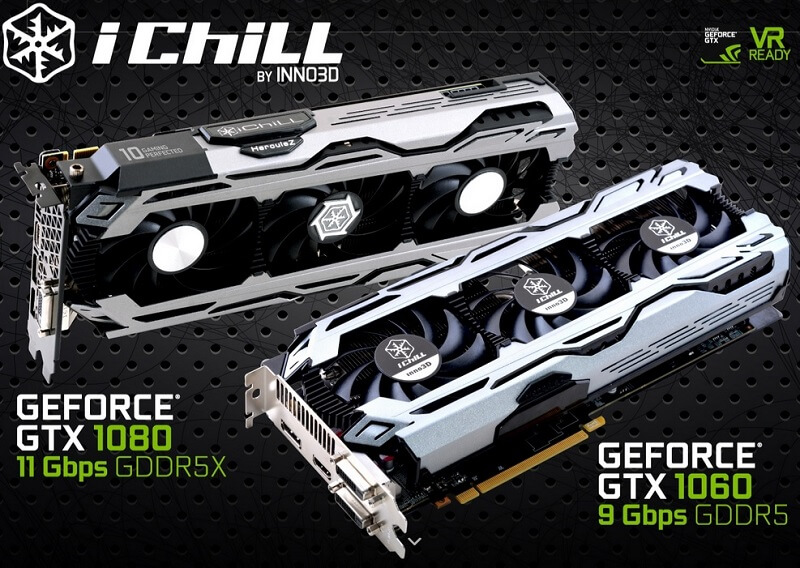 NVIDIA has released faster memory variants of their GeForce GTX 1080 and GTX 1060 graphics cards just in time to counter the latest refreshed Polaris GPUs from AMD. Inno3D is releasing three video cards for their iChill line including two GTX 1080 11Gbps graphics cards as well as one GTX 1060 9Gbps option.
The iChill GeForce GTX 1080 11Gbps X4 (Part No.: C108X4-2SDN-P6DNX) has an impressive cooling system comprising of 3x 6mm plus 2x 8mm high-heat flux heatpipes distributing heat from the GTX 1080 GPU core into the 123 piece aluminum fin array. This heat is then dispersed via three iChill X4 92mm turbine fans topped with a fourth 50mm fan to maximize the air cooling as much as possible. It is also outfitted with the iChill HerculeZ backplate for PCB shielding in the rear. The RGB LED on the side also indicates the the status load. It comes factory overclocked with a base clock of 1759MHz and a boost clock of 1898 MHz. The memory has also been slightly overclocked further to 11.4Gbps, netting a bandwidth of 364.8 GB/s.
The iChill GeForce GTX 1080 11Gbps X3 (Part No.: C108X3-2SDN-P6DNX) on the other hand has a similar cooling solution with the exception of using iChill X3 92mm scythe bladed fans and lacking the fourth 50mm fan on the side. It also shares most of the same features as the iChill GTX 1080 11Gbps X4, including the RGB LED load indicator, removable fan shroud for easier cleaning, 8+6-pin power connector, 6+1 phase VRM, and backplate. It even runs at the same core and boost GPU clocks as the GTX 1080 11Gbps X4 version.
For their Radeon RX 580 killer, Inno3D has updated their iChill GeForce GTX 1060 6GB 9Gbps X3 into version 2 (Part No.: C106X2-3SDN-N5GSX), running a 1556 base clock that boosts up to 1771 MHz  with a 9Gbps memory for 216GB/s of bandwidth. It uses a single 8-pin power connector and is outfitted with a similar removable shroud and 92mm scythe bladed fans as as the GTX 1080 X3.