Inno3D GTX 980Ti iChill Black Graphics Card Review
---
---
---
John Williamson / 7 years ago
Introduction
---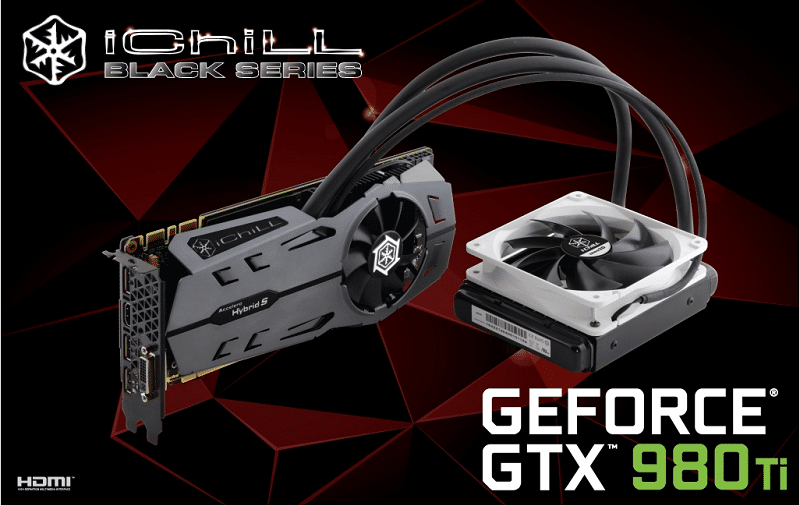 Closed-loop liquid coolers have become extremely popular in the CPU market due to the cleaner build, and greater space around the CPU socket compared to traditional air cooling hardware. This means you can install an all in one liquid cooler without having to make concessions in terms of memory compatibility or worry too much about your motherboard's PCI-E arrangement. As you might expect, all in one liquid coolers have progressively moved into the GPU sector to offer improved overclocking headroom and a lower noise output. There are some interesting parallels between CPU and GPU all in one liquid cooling though which needs to be addressed.
Firstly, many air coolers like the Noctua NH-D15 can outperform Asetek units, while being much quieter. It's a similar picture with graphics cards because proficient air cooling setups including the Gigabyte Windforce X3 and Sapphire Tri-X provide a superb noise to performance ratio. Liquid cooled graphics cards have a price premium and involve a more complicated installation process. It's important to remember that Maxwell is a very mature and efficient architecture which allows vendors to enable a 0dB idle fan mode. Despite my own qualms about closed-loop liquid cooling, it's fantastic to see products which cater to a different target market. There's clearly a demand for pre-assembled liquid cooled graphics cards, and their appeal is bound to grow in the next few years.
Today, we're taking a look at the Inno3D GTX 980Ti iChill Black which utilizes a very powerful hybrid cooling solution. The GPU incorporates a traditional fan which only switches on during heavy load, in addition to a 120mm fan/radiator combination. The Arctic Cooling radiator fan is constantly on but has a very low RPM curve to maintain silent running. This impeccable hardware allows for an impressive core clock of 1203MHz and default boost reaching 1304MHz. The memory has also been increased to 7280MHz. As you can see from the chart below, this isn't the greatest configuration we've encountered from the factory, but it's exceedingly fast and should be a top performer. It will be fascinating to contrast this graphics card with the marvellous Inno3D GTX 980Ti X3 Ultra DHS which opts for a hefty air cooling design.
Specifications:
Packing and Accessories
The Inno3D GTX 980 Ti iChill Black comes in a huge box to properly house the closed loop cooler's tubing and protect against leaks during shipping. Honestly, the picture doesn't provide an accurate depiction of the packaging's size. I have to commend Inno3D because they have taken the precautionary steps to reduce the possibility of damage occurring and utilized strong foam inserts as cushioning materials. The box itself features an attractive render of the GPU, and outlines its specification.
On the rear portion, there's a brief synopsis of NVIDIA's Maxwell architecture. I'm a bit surprised to see the back doesn't contain any information about the liquid cooling solution and the acoustical benefits compared to NVIDIA's reference cooler.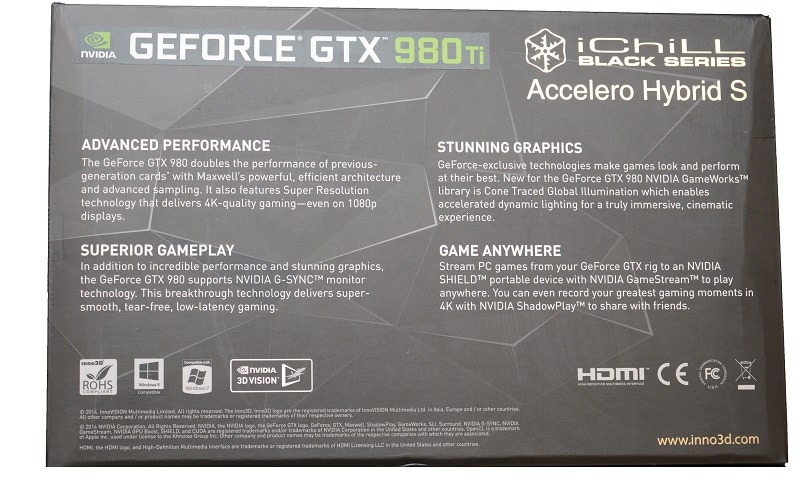 In terms of accessories, the graphics card is bundled with mounting screws, 6-pin PCI-E to molex adapter, case badge, DVI-D to VGA adapter and installation guide. There's also a driver's disk which you should disregard, a copy of 3DMark, and other documentation. This is a great selection of items and provides everything you need to get started! The mouse mat is surprisingly high-quality and relatively thick.