Inno3D Unveils its 3060 12 GB Series Starting at $329!
---
---
---
Mike Sanders / 9 months ago

INNO3D has confirmed the launch of its GeForce RTX 3060 TWIN X2 / OC and iCHILL X3 RED which adds to the RTX 30 Series line-up powered by the advanced NVIDIA Ampere architecture. Founded in 1998 with the vision of developing pioneering computer hardware products on a global scale. Fast forward to the present day, INNO3D is now well-established in the gaming community known for its innovative and daring approach to design and technology.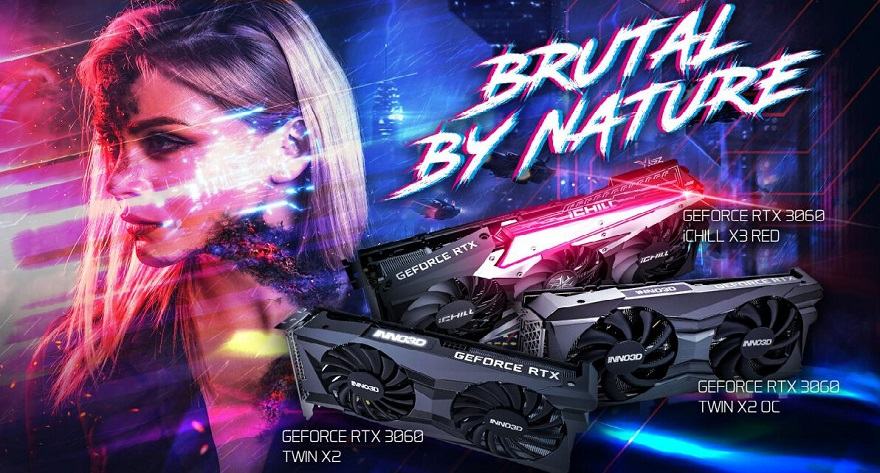 Inno3D Nvidia 3060 Graphics Cards
With its efficient, high-performance architecture and the second generation of NVIDIA RTX, the GeForce RTX 3060 brings amazing hardware ray-tracing capabilities and support for NVIDIA DLSS and other technologies, and is priced starting at $329. Like all RTX 30 Series GPUs, the RTX 3060 supports the trifecta of GeForce gaming innovations: NVIDIA DLSS, NVIDIA Reflex and NVIDIA Broadcast, which accelerate performance and enhance image quality. Together with real-time ray tracing, these technologies are the foundation of the GeForce gaming platform, which brings unparalleled performance and features to games and gamers everywhere.
Inno3D has confirmed the 4 following models released under the Nvidia 3060 (12GB) branding:
RTX 3060 ICHILL X3 RED
RTX 3060 TWIN X2 OC
RTX 3060 TWIN X2
Inno3D iCHILL X3 RED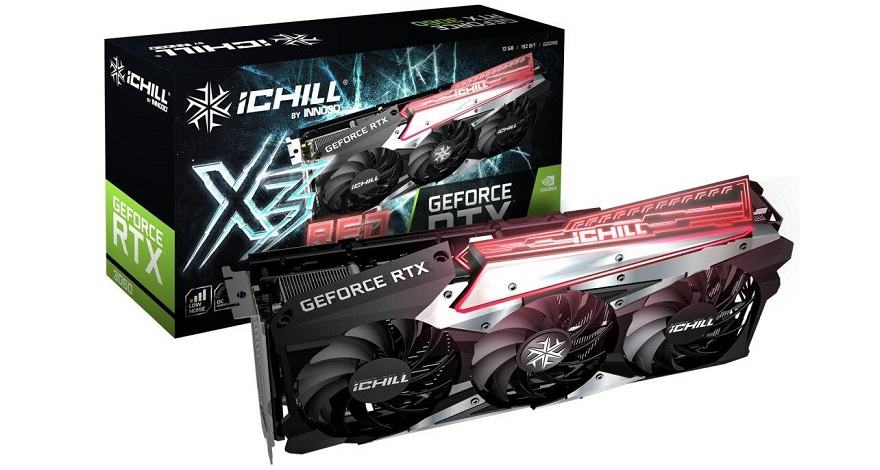 Like the GeForce RTX 3060 Ti, the GeForce RTX 3060 is also equipped with the iCHILL X3 RED cooler. The iCHILL X3 RED lights up red LED without RGB control as it does not require this – the red look gives your PC system a mean devilish theme. It has been a huge hit which has seen many mods seeing pure red. With factory overclocking and armed with a plethora of NVIDIA features such as Ray Tracing Cores and Tensor Cores it allows you to play your top games, annihilate your opponent while also showing off your new system build.
The fan takes DNA from the 9cm triple fan design used by the RTX 3090, 3080, and 3070 iCHILL X3 with asymmetrical facia, and with scythe blades to maximize airflow and optimized to operate in low fan speed conditions. The iCHILL X3 RED comes with 6 copper heat pipes with a heat pipe length of 1371 mm and a total surface area of 832207 mm². For added LED effect we've included two tail fin modules, one with logo and one blank for customization so that you can customize your rig for the perfect IG post.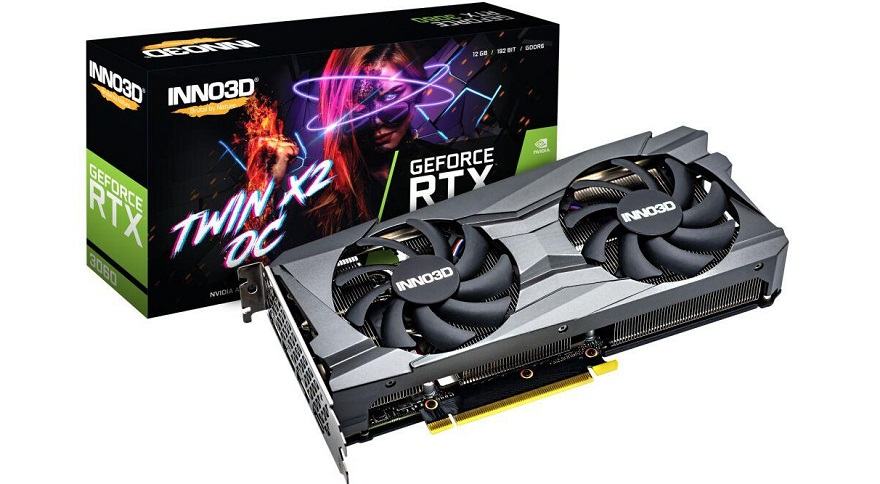 TWIN X2 / OC Power
The legend continues now also with INNO3D GeForce RTX 3060 with twin 9 cm scythe fan blades and with 4 copper heat pipes for the OC version to keep the card performing at an optimal level, this is especially important when the factory overclocked OC version is tackling the most demanding of games. We know most of INNO3D gamers are very creative with their system build and how they wish to place the card on the motherboard. Some positions play on gravity and the weight of the card may cause unintentional bending adding protection to your gaming weapon so we've added an INNO3D back plate to reinforce the graphics card which allows you to place it in any position without worry.
Years of R&D has allowed INNO3D to make technological advancements, continuously pushing the boundaries and bolster their expertise in the GPU industry. It has elevated INNO3D to a point that makes a difference for high-end gamers and design creation professionals achieving high performance with outstanding temperature control and at super quiet noise levels.
For more information on all the above graphics cards, you can check out the official Inno3D website via the link here!
What do you think? – Let us know in the comments!