INSTRUMENT 1 Leaves Kickstarter – Now Available for Purchase
---
---
---
Peter Donnell / 5 years ago
The Kickstarter hit INSTRUMENT 1 from Artiphon is now available for all to buy! If you don't remember the hugely successful campaign, where it managed to raise over $1.3 million, the INSTRUMENT 1 is a completely new kind of musical instrument created by the innovators at Artiphon.
"Strum a guitar, bow a violin, tap a piano, loop a beat – on a single instrument. An intuitive way to create music and play any sound."
Even a successful Kickstarter doesn't always mean success, and getting something out of the beta hardware stage can be tricky. However, Artiphone seems to have figured out the manufacturing and scaling of the device, and now that it's on the market, you no longer needed to be a backer to get your hands on one.
Play any instrument, style, and sound with a single device that connects directly to your smartphone, tablet, or computer.
Our patented multi-instrument technology transforms the INSTRUMENT 1 into a guitar, violin, bass, piano, drum machine… it's any instrument you want it to be.
Plug in and play 100's of apps like GarageBand with universal musical gestures: strumming, tapping, bowing, sliding, and more.
Digital string-like interface works with any MIDI-compatible software.
The unique ergonomic design can be held in multiple positions, and is fully ambidextrous.
Design new instruments and custom tunings via the Artiphon companion app.
It's compact, portable, durable, self-powered, and simple.
Designed and engineered in Nashville, TN.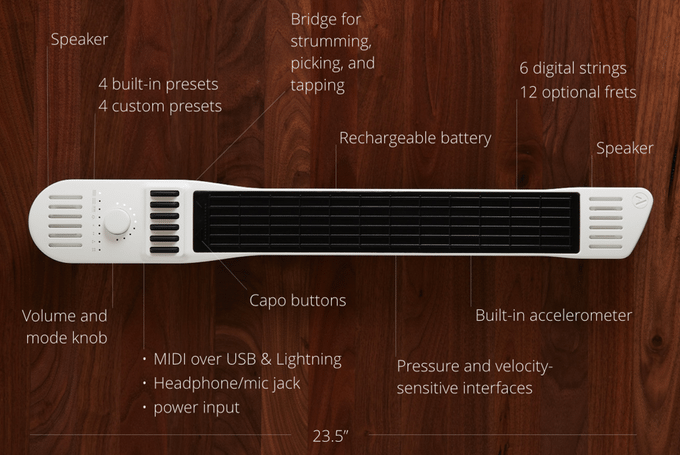 The new instrument is as crazy as they come, it's a hybrid midi-guitar piano synth controller, like guitar hero on steroids and yet so much more. It's compatible with just about every major mobile and desktop music creation software too, so there's really no limit to what it could be used for.
The INSTRUMENT 1 is available directly from Artiphon for $399.