Intel Details 7nm Process Rolling Out At Fab 42
---
---
---
Samuel Wan / 4 years ago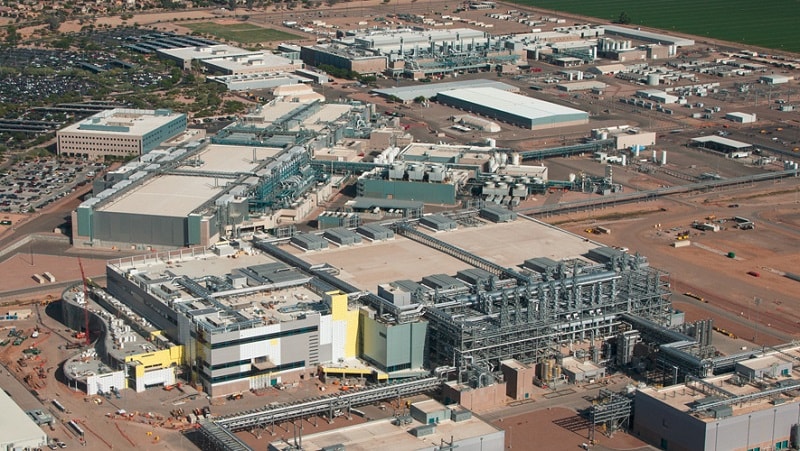 One of the aspects that make semiconductor manufacturing unique is the long-term planning and research that goes into it. Companies often have to prepare for new process nodes years in advance and predict how much demand there will be when their facilities finally come online. Despite not having made any commercial 10nm chips yet, Intel has announced plans to tool up their Fab 42 facility for their upcoming 7nm process.
First started in 2011, Fab 42 was completed later in 2013 but has sat empty since then. No 14nm or 10nm chips were being produced at the fully complete facility. As part of the $7 billion dollar investment announced earlier this week, the fab will be getting actual semiconductor manufacturing equipment to fill it up at last and make use of the building. While there is no word on a timeline, I would not expect 7nm chips until the very tail end of this decade.
The most interesting thing about the whole deal is the jump straight to 7nm. One of the big reasons is that 14nm and 10nm demand isn't all that high. Despite keeping their manufacturing facilities private for decades, Intel recently opened up their fabs to third parties to make use of spare capacity. With low demand, there simply wasn't any reason to spin up any new fabs just yet. Given this situation why is Intel investing in a new fab? While the company has remained silent, we do have some idea of what might be going on.
One dynamic has recently reared its head is with the difficulties in production on new nodes. Both 14nm and 10nm faced delays due to low yields which meant a slower launch and more time spent on the node. Due to lower yields, fabs have to spend more time on each process node to meet demand. This means if Intel wants to start production on a new node, it has to do so without disrupting the current fabs which are needed on the current node due to yield issues. This, of course, means more fabs to give the flexibility need to bridge transitions.
The other change is due to PAO which is their new three cycle though there signs pointing to 4 years now. In the past, Intel has retooled labs quickly to new processes under their Tick Tock, with a two year cycle. A simplified example would be 4 fabs, with 2 in production and 2 retooling under the 2 year cycle. With PAO, it appears that there will be an optimization process stage which takes up a node. This means just as the 14nm fabs wind down and the current 14nm+ fabs are running, there might not be enough time for the 14nm fabs to retool to 10nm before it is required, necessitating more fabs.