Intel Confirms 8th Gen Processors on 14nm 15% Faster than Kaby Lake
---
---
---
Samuel Wan / 4 years ago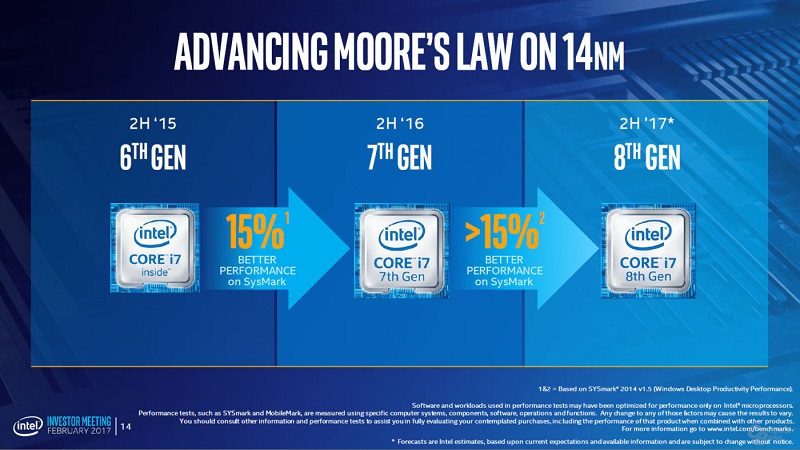 Just as they are finishing the launch of their 7th generation processors, Intel is already gearing up for their next instalment. During their annual Investor Day in California, the company revealed some tidbits about their upcoming 8th generation processors. In a surprising twist, Intel has decided to stick with the 14nm+ node for yet another generation instead of going to the 10nm node as promised.
Officially, Intel has claimed that 10nm will be used for Cannon Lake, However, it appears that the 8th generation processors we all thought were going to be Cannon Lake will actually be on 14nm+. This is somewhat verified by previous leaks that suggested Cannon Lake would be 10nm but arrive only for the mobile market. The desktop 8th generation segment would be served by Coffee Lake on 14nm+. Perhaps due to the mobile nature, Intel won't be calling Cannon Lake processors 8th gen. While not fully confirming the leaks, today's release does support a split in the lineup. It does sound the death knell for the new PAO three-year cycle as it appears this current cycle will take at least 4 years.
The other big news to come out is the fact that the 8th generation processors will be 15% faster on average than the corresponding 7th generation Kaby Lake processors. As we know, there is not going to be an architectural change so these gains are likely clock speed based due to an even more mature 14nm+ process. This mirrors the dynamic we say moving from Skylake to Kaby Lake with no IPC gains, higher clocks and slightly better efficiency. Finally, Intel is confirming that the 8th gen processors will release sometime in 2H 2017. Don;t expect anytime soon though as I suspect like Kaby Lake, the launch will actually be in Q3 2017. Even if Intel needs the 8th gen chips out early to combat AMD's Ryzen, they simply might not be ready just yet.