Intel Arc A380 is Now Mining Compatible (But it's Pretty Crap At It!)
---
---
---
Mike Sanders / 7 months ago
With Intel Arc A380 graphics cards finally arriving in Western markets (well, North America at least) it was clearly only a matter of time before someone was going to see what its cryptocurrency mining capabilities were like. – And following a report via Videocardz, we have our answer and it's a bit of a good news/bad news situation.
The bad news is that following a new update to Nanominer, Intel's Arc A380 can now mine Ethereum (sort of). – The good news is that it's so bloody useless at it that it's doubtful the GPU will ever represent even a mildly tempting proposition!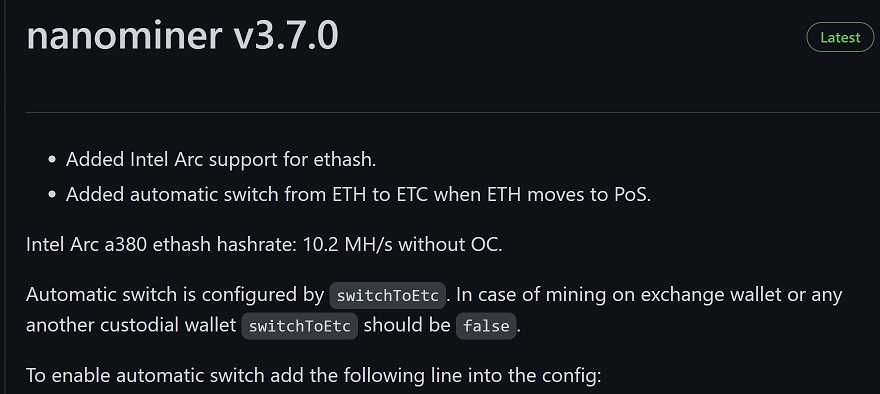 Intel Arc A380
The Intel Arc A380 primarily suffers from three key issues when it comes to Ethereum mining. Firstly, it has a rather limited 92-bit memory bus. Secondly, it doesn't feature many compute cores. The third issue is that although the GPU comes with 6GB of VRAM if this is utilised in any kind of actual display capacity, the system resources will eat up just enough of the memory to make mining the more modern variant of Ethereum impossible. – In other words, your only option is Ethereum Classic (ETC) which is clearly a lot less desirable.
Putting all this together, however, with a hash rate of just 10.2 MH/s combined with its 75W power consumption, this makes the Intel Arc A380, roughly speaking, perform at about 25% of the 'ideal' ratio.
So, can the Intel Arc A380 be used for mining? Well, the answer is yes. – On the plus side though, it's monumentally awful at it!
What do you think? – Let us know in the comments!