Intel Core i7 5960X "Haswell-E" Processor Review
---
---
---
Ryan Martin / 8 years ago
Introduction & What's New?
---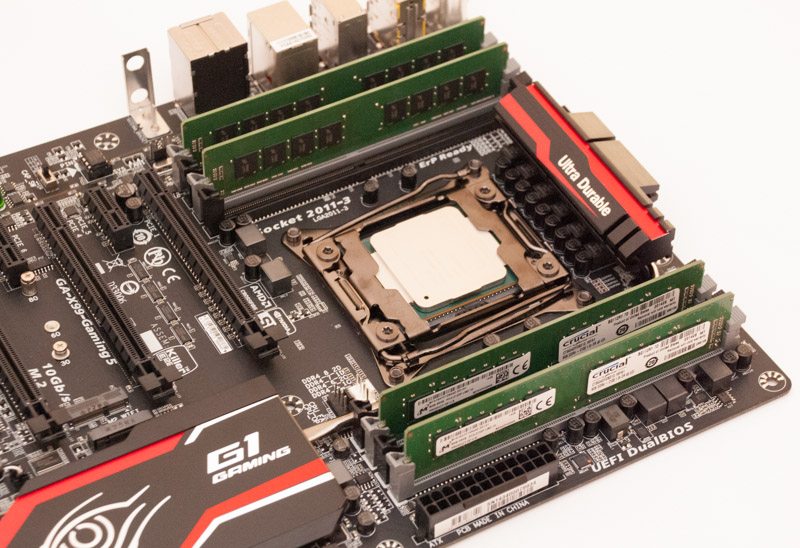 The Intel Core i7 5960X, codename Haswell-E, is probably 2014's worst kept secret. As I am writing this review the full specifications, pricing and pictures of just about every X99 board in existence have already been made public and the NDA is still a few days off. Product launches like this make me wonder what purpose NDAs even serve when they appear to not be worth the paper they are written on. Anyway, politics aside, today we can present your our Intel Core i7 5960X review – at least pretend to be surprised! Intel's High End Desktop Platform is about to get its first core upgrade since the transition from X48 to X58 when Intel made the leap from 4 to 6 cores, that occurred in 2010. Nearly 4 years later and Intel's HEDT is making the shift from 6 cores to 8 cores with Haswell-E.
What's special about Haswell-E apart from the increased core count? Well the X99 platform Haswell-E  brings support for DDR4, SATA Express and M.2 (just like Z97 offers), up to 40 PCIe 3.0 lanes and of course 8 core CPUs. If you're in the market for an upgrade this certainly isn't going to be cheap, new memory, new storage drives, a new CPU, probably a new power supply…..but I digress. Let's dive straight into the goodness of the Core i7 5960X. Today we are chucking it on a brand new test system, powered by Gigabyte's X99 Gaming 5 X99 motherboard and 32GB of Crucial's fresh-off-the-production line DDR4-2133.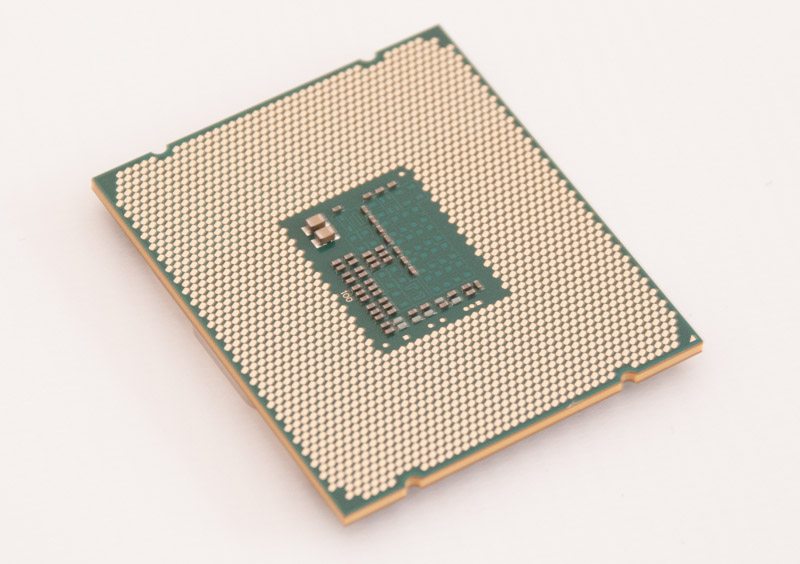 Comparing Intel's Core i7 5960X to the Core i7 4960X and Core i7 3960X shows some striking similarities. They obviously all share the LGA 2011 package but there are subtle differences. Notably the Core i7 5960X uses a different integrated heat spreader design to the other two.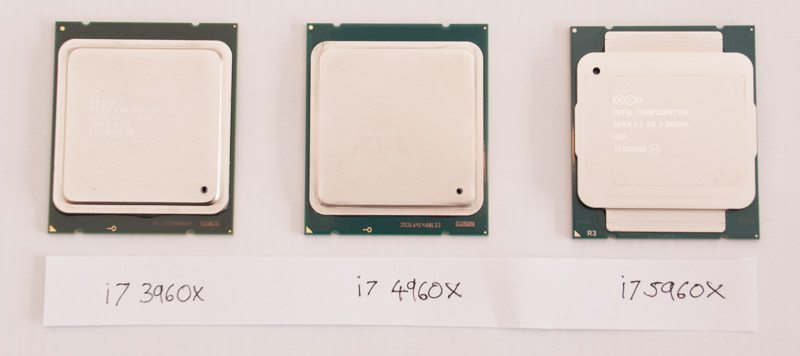 Moving on over to the rear of the CPU and we actually see a steady decline in the number of built in components. The transition to each newer CPU decreases the number of transistors and other components but we also see an increase in the number of pins. You can see this by comparing the size of the green spacing on the 3960X to the 5960X.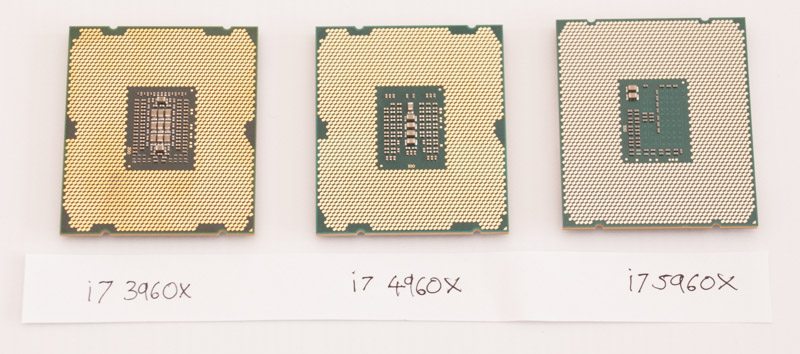 Being a new CPU with a new memory controller this is not compatible with X79 despite still being a LGA 2011 package. Haswell-E takes the LGA 2011-3 package while Sandy Bridge-E and Ivy Bridge-E takes the LGA 2011 package. To prevent people putting the wrong CPUs in the wrong boards Intel has changed the locking points on the CPUs as you can see below.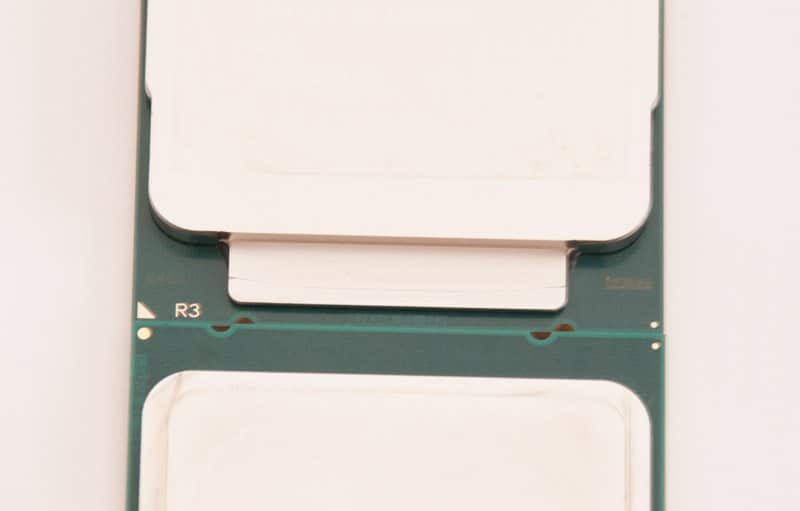 Intel's Core i7 5960X comes with a 3GHz base frequency and up to 3.5 GHz with turbo. There's also native DDR4 support for 2133MHz memory but we are hearing 3000MHz and more is possible with a little bit of tweaking. The other notable thing is a beefy 20MB of shared L3 cache, the most we've ever seen on a consumer Intel processor.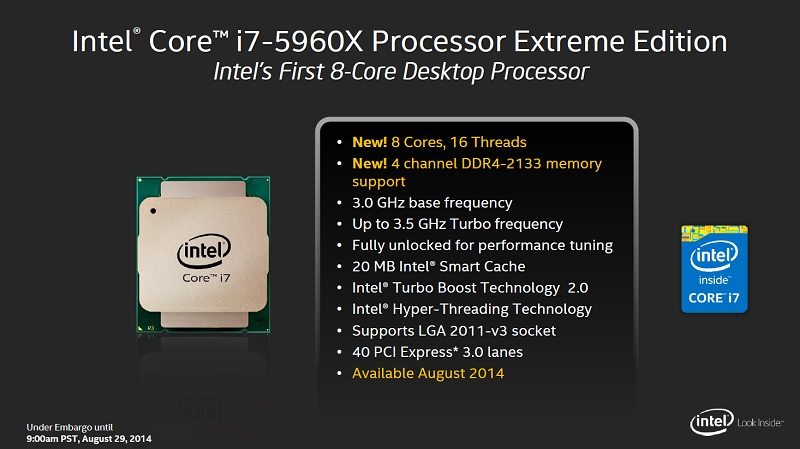 Looking at the processor die we can see that it is very different to Haswell for two main reasons: there are 4 more cores and there are no integrated graphics. The new memory controller offers support for only DDR4, there's no DDR4 and DDR3 combo support like some of our readers may remember on the AMD AM2+ platform.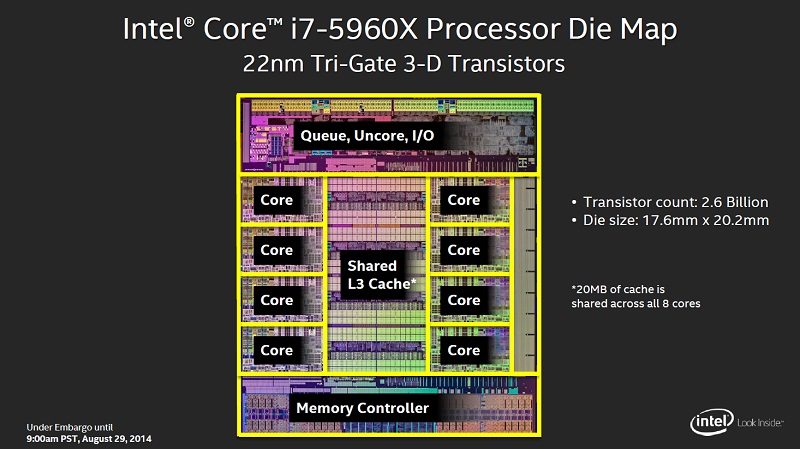 Intel's main audience for the Core i7 5XXX series are existing HEDT customers, whether they be X79 or X58. Comparing to X79 Haswell-E and the new X99 chipset brings more cache, more cores, more PCIe lanes, a higher TDP, a different socket, more SATA ports, Thunderbolt support and BCLK overclocking support from the chipset, a feature we also saw moving from Ivy Bridge to Haswell on the mainstream platform.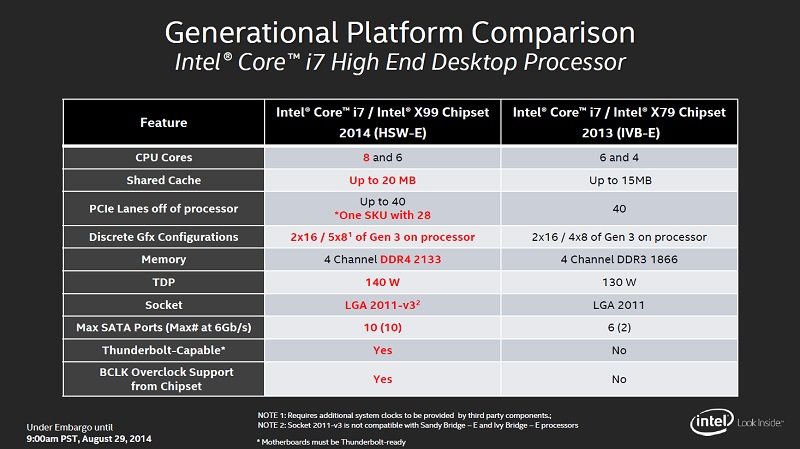 Like Intel's previous Extreme Edition CPUs the Core i7 5960X has that $1000 price tag while the Core i7 5930K and 5820K come in for much cheaper. Unlike with Sandy Bridge-E and Ivy Bridge-E going for the 5930K no longer gives you all the performance of the 5960X for less money, the Core i7 5930K has two less cores. The Core i7 5820K also offers less PCIe lanes than the 5930K so each CPU has its own functional purpose: the model separation is better.