Intel Core i7-7700K Kaby Lake Processor Review
---
---
---
John Williamson / 6 years ago
Introduction
---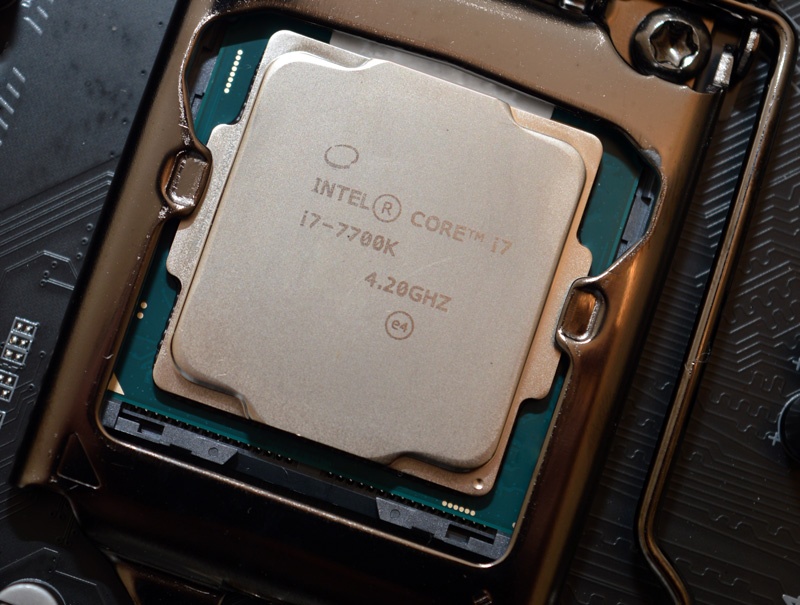 The Intel Core i7-6700K has become a firm favourite among PC enthusiasts despite the performance improvements being fairly slim compared to the previous generation, Intel hasn't been under any pressure to go beyond the status quo and introduce models outside of the HEDT platform with extra cores. Evidently, the company has fixated on power efficiency savings instead of a revolutionary step forward in instructions per clock. To be fair, the lack of competition from AMD allowed Intel to adopt a more conservative approach and their products still dominate the market. As a result, the i7-6700K's pricing left a lot to be desired and often hovered around the £320-£350 price bracket. Thankfully, the situation is changing and AMD's upcoming AM4 platform could instigate a pricing war and make AMD processors a viable option once again.
Intel's Core i7-7700K is designed to replace the existing i7-6700K and employs an identical 91W TDP as well as a 4-core, 8-thread configuration. This time, the base frequency has been bumped up from 4.0GHz to 4.2GHz while the turbo extends from 4.2GHz to 4.5GHz. As you might expect, the same amount of level 3 cache is deployed and there's backwards compatibility with existing Z170 motherboards providing the latest BIOS has been flashed. Interestingly, the official memory support is DDR4-2400 although this isn't that important since DIMMs have much faster XMP profiles. The only other change is the Z270 platform's 24 PCI-E x16 Gen 3 lanes which support more connectivity protocols including USB 3.1 Type-C, Thunderbolt and U.2. After the long wait, is Intel's new enthusiast CPU worth buying? Let's find out!
Specification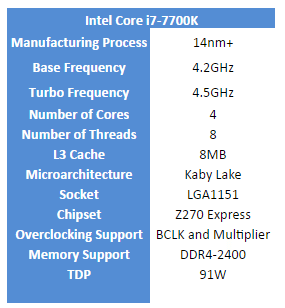 What's New?
The company's 7th generation CPU series codenamed Kaby Lake doesn't follow the usual Tick-Tock release cycle. Previously, Intel would perform a die shrink and enact an architecture change before refining the process to enable better performance. In a disappointing turn of events, Kaby Lake is simply a default frequency boost which is made possible thanks to the 14nm+ manufacturing process. According to Intel, the improved fin profile, transistor channel strain and integrated design are enough to provide greater stability and uphold the higher 4.5GHz turbo clock.
On another note, Kaby Lake is the first processor range to support Intel's Optane technology which is a premium form of non-volatile memory. Essentially, this allows Kaby Lake owners to access affordable, high-density memory offering speeds up to 1000 times faster than NAND. Not only that, the 3D XPoint design can utilise 10 times the capacity of DRAM within the same surface area. The system works by slicing submicroscopic layers of materials into columns which contain memory cells. Then, the layers connect using an innovative cross point structure of perpendicular wires. The Optane technology has an extremely low latency measured in nanoseconds which could revolutionise computing in the near future. Also, the non-volatile memory can retrieve data even after a power outage.
The latest Intel Graphics HD 630 introduces support for VP9 decoding and 4K HEVC 10-bit decode/encode. Of course, there's still 1080p HEVC decode/encode which became an integral part of Skylake's video functionality. Apparently, Kaby Lake can decode 4K-resolution content at 60 frames-per-second with a bit-rate up to 120Mbps. The architecture has native support for HDCP 2.2 and Microsoft PlayReady 3.0. Therefore, it's possible to view 4K Netflix streams through the Edge web browser on a Kaby Lake processor. The iGPU has some minor improvements when it comes to gaming although it's still pretty weak in comparison to discrete solutions.
DISCLAIMER: This is a retail CPU that was not provided or supplied by Intel Corporation. Therefore, as we have no NDA with Intel, we are available to publish any content we see fitting.