Intel Core i9-9900K 8-Core 16-Thread Processor Review
---
---
---
Peter Donnell / 3 years ago
i9-9900K
The latest CPU from Intel is here at last, and it's built to be a full-on fire-breathing beast when it comes to performance figures. Firstly, this is the counter-attack from Intel we've been waiting for, as the battle of the cores rages on. We saw Intel leap to 6 cores with their previous release on Z370 motherboards, and now they're pushing the core count up to 8, putting it on par with that of the high-end Ryzen solutions. However, Intel has already won the GHz battle, as this chip runs up to 5 GHz Turbo. Of course, we've already seen stories of extreme overclockers pushing past that figure.
How is that Possible?
When you up the clock speeds by so much, you naturally increase the heat the CPU produce. Couple that with cramming 8 cores into the standard 1151 chip form factor, and you've got more heat. With that in mind, this chip is rated by Intel with a thermal specification of 100c. I don't normally discuss heat before the benchmarks, but we had seen this CPU run pretty toasty before we got our own sample. As far as we can tell, that's normal for it, and doesn't seem to impact the performance negatively. However, we'll have to get it underwater in the coming weeks and see if we can really push some bigger performance figures.
Specifications
CPU Cores: 8
Threads: 16
PCI Lanes: 24
Base Clock: 3.6 GHz
Max Turbo: 5.0 GHz
TDP: 95W (Stock clocks)
Thermal Specification: 100c
Lithography: 14nm
For in-depth specifications, please visit the official product page here.
Features
Unlocked CPU for overclocking
Intel Turbo Boost 2.0
Built for 4K UHD gaming and streaming performance
Supports both Z370 and Z390 motherboard chipsets*
Socket LGA 1151
Intel Optane Memory support
AES-NI encryption
vPro technology
TXT
Device Protection with Boot Guard
VT-d virtualization technology for directed I/O
Hyper-Threading technology for 16-way multitasking
"*Although the Intel 9th CPUs are compatible with a range of Intel 300-series motherboards utilizing the LGA 1151 socket, for optimum power delivery, maximum performance, & the best possible overclocking experience, we recommend using a Intel Z390 motherboard with these processors." – Intel
What Intel Had to Say
Experience exceptional performance, immersive entertainment and simple convenience with 9th Gen Intel Core processors. The i9-9900K processor extends all the capabilities that users love from previous generation CPUs with even more advanced innovations that deliver new levels of performance immersing you into your computer on a variety of form factors. The i9-9900K features all the latest Intel technologies to allow you to have the best computing experience, and this particular CPU is unlocked allowing you to overclock it to your gaming or production needs for additional performance headroom. 8 physical cores combined with Intel's Hyper Threading Technology provides you with a colossal total of 16 processing threads so you can multitask like a pro." – Intel
What's in the Box?
The box we got isn't the retail box, but we love that Intel has made a stylish little package for it. It's pretty cool, but consumers get that funky 3D package pictured above.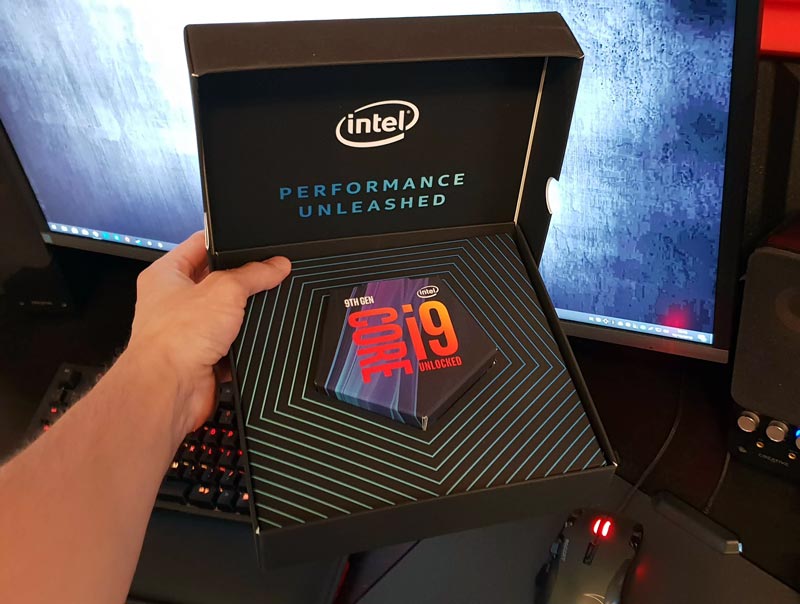 The CPU looks like any other in the 1151 range, with the usual dimensions to fit that socket. Even the underside remains pretty much the same despite the core change count.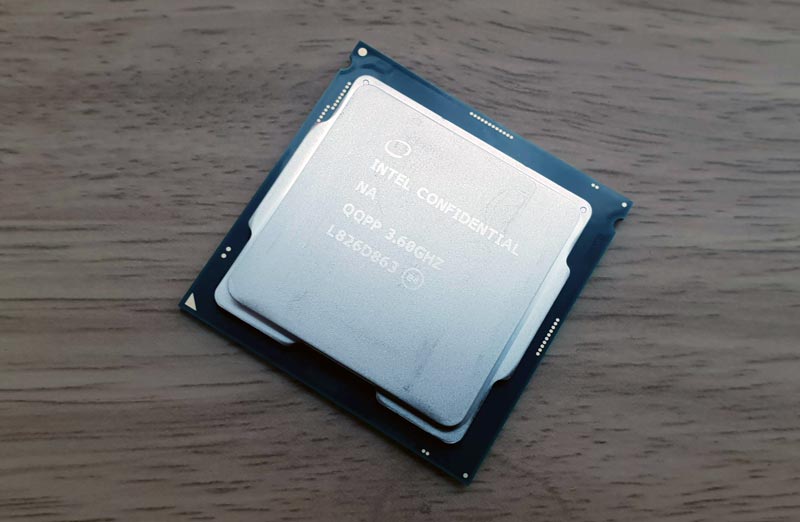 What's the main difference then? Well, they soldered the CPU lid this time, rather than using TIM. This was no doubt in direct response to the chip being hot, and it's about time Intel got back to this way of building CPUs. Enough of this though, let's get to the main attraction and see what this £600 8-core monster can really do!