Intel CPU Prices Jump Significantly as 14nm Shortages Persist
---
---
---
Ron Perillo / 4 years ago

Massive Price Hike on Intel CPUs
If you are planning on building an Intel-based system lately, chances are you would have noticed the significant price jump. A quick glance at PCPartpicker UK shows a clear ramping up of prices starting at the beginning of August. Take the flagship Intel Coffee Lake Core i7-8700K for example. At the beginning of the year, we can see that at its peak, the pricing hit around ~£350 in the UK, with the lowest price at £292 and most are around £325-330.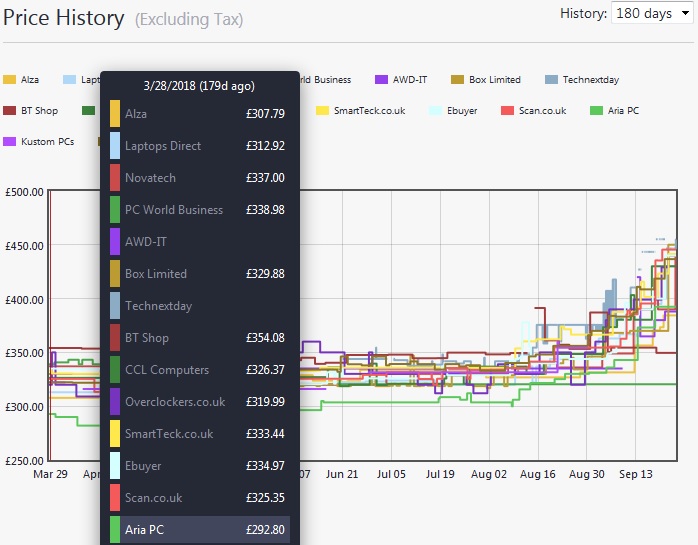 Now a few months later, the latest data for September shows the majority of prices have skyrocketed well past the £400 park. In fact, the lowest price is £320.35, but the second lowest price is £384.40. The highest price being £449.99. These are from familiar UK stores as well. During that period, the price of the same Intel Core i7-8700K CPU via OverclockersUK jumped from £319.99 to £439.99!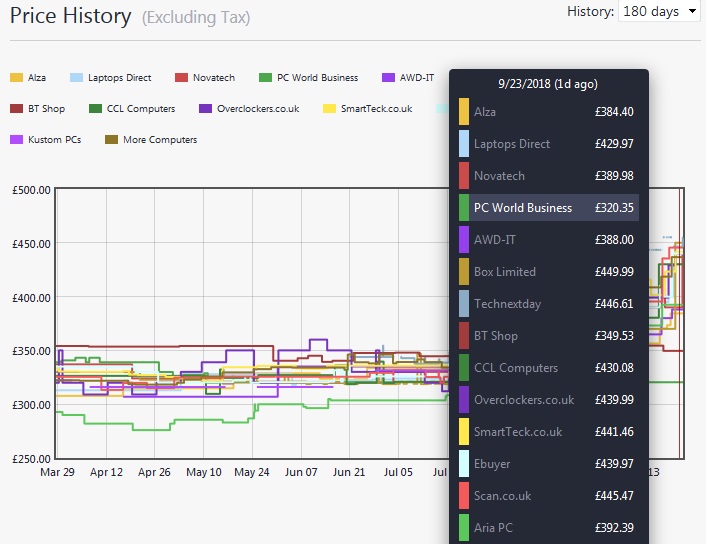 What About Other Markets Outside the UK?
This is not an isolated incident as even Dutch website Hardware.info reports noticeable price hikes. Even just comparing from the beginning of the month until now. They note that the i7-8700 jumped 33% from September 1st and is now priced at €425 from just €319. The i7-8700K up 20% from €349 to €420.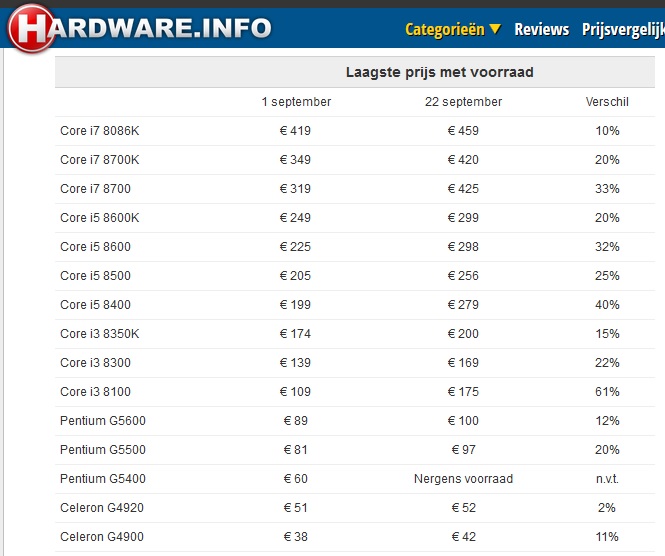 Meanwhile, US prices for the most part are relatively stable in comparison to the EU and UK prices.
However, building a PC is bound to get even more expensive for those in the US as the Trump Administration pushes for $200B worth of tariffs for Chinese imports. This will involve 10% on top for several parts used in builds such as video cards, cooling fans, etc starting September. This is set to increase up to 25% by January 2019.
What is Causing This Price Hike?
The most likely culprit is the 14nm supply production issues. With Intel delaying the 10nm production, their chipsets and processors are all using 14nm and their output capacity is overwhelmed. This is not the same Intel which for years had a manufacturing advantage over their competition after all. They have even reportedly considering 22nm to meet the chipset orders. According to Hardware Info, they have done this with their entry level H310 chipsets.