Intel Discontinue over 24 Processors by Q1 2012
---
---
---
Luke Hill / 11 years ago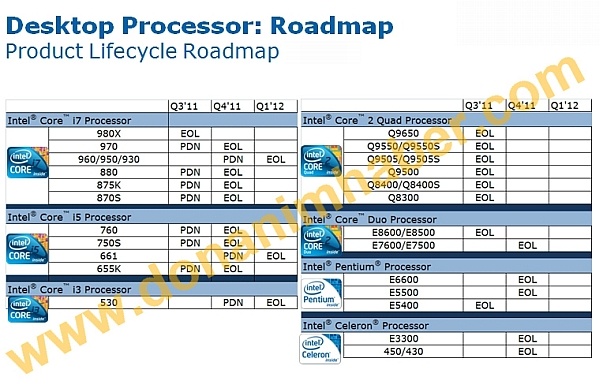 A slide showing the product lifecycle roadmap of over 24 'older' generation Intel processors shows that all of them are heading towards the EOL (End Of Life) stage by Q1 2012. The EOL status means that Intel will stop taking orders for that particular product meaning that the OEMs and vendors will not be able to order any more of that particular processor. Intel will continue to clear the outstanding orders before halting production completely. The EOL status of any CPU doesn't affect the warranty terms as they will still be intact.
Previously popular processors such as the LGA 1366 Core i7 980X, 970, 960, 950 and 930 will all reach EOL by Q1 2012 with the first two reaching it by Q4 2011. The LGA 1156 Core i7 880, 875K and 870S will all reach EOL in Q4 2011, along with their Core i5 760, 750S and 655K counterparts. The Core i5 661 and Core i3 530 do manage to last a little longer reaching EOL in Q1 2012. The majority of LGA 775 CPUs still in the market are heading towards EOL. Thirteen LGA 775 Core 2 Quad and Core 2 Duo CPUs including the Q8300, Q9650 and E8600 will all reach EOL in Q3 2011 while the E7600 and E7500 manage to last until Q4 2011. Three LGA 775 Pentium and three LGA 775 Celeron processors will all reach the chop by Q4 2011.
Some processors such as the LGA 1156 Core i7 875K are currently in the PDN (Product Discontinuation Notification) stage meaning that Intel are notifying OEMs and vendors to submit their last orders before these prodcuts reach EOL status in a short time period.