Intel Has Been Displaying Prototype Thunderbolt Flash Drive
---
---
---
Ryan Martin / 10 years ago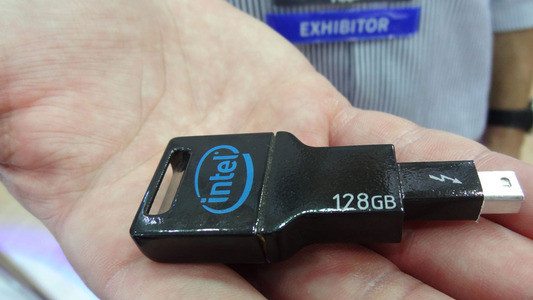 When we think of cheap portable storage, USB flash drives, USB sticks, flash drives and thumb drives (and whatever else you like to call them) all come to mind. The core of this design is NAND flash accessible via the USB interface. Yet Intel is looking to change the game by making Thunderbolt a new standard of the flash/thumb drive.
Last week Intel was displaying its prototype to PCWorld at the Computex 2013 show. This prototype was a 128GB Thunderbolt flash drive that uses bandwidth of up to 10Gbps compared to 5Gbps on USB 3.0. The thumb drive uses a Sandisk 128GB SSD and plugs directly into a motherboard thunderbolt plug removing the need for an expensive thunderbolt cable. Intel is probably hoping that Haswell can accelerate the uptake of its Thunderbolt technology but with Thunderbolt still only being available on premium motherboards, like the Gigabyte UD7, we don't expect mainstream uptake to happen anytime soon and no doubt these types of Thunderbolt flash drives will be extremely expensive luxuries for a small number of end users.
What do you think of Thunderbolt flash drives? Will they ever catch on? Or does Thunderbolt technology need to drop in cost for that to happen first?
Image courtesy of PCWorld.com