Intel Releases Core i3-8130U Low-power CPU
---
---
---
Samuel Wan / 5 years ago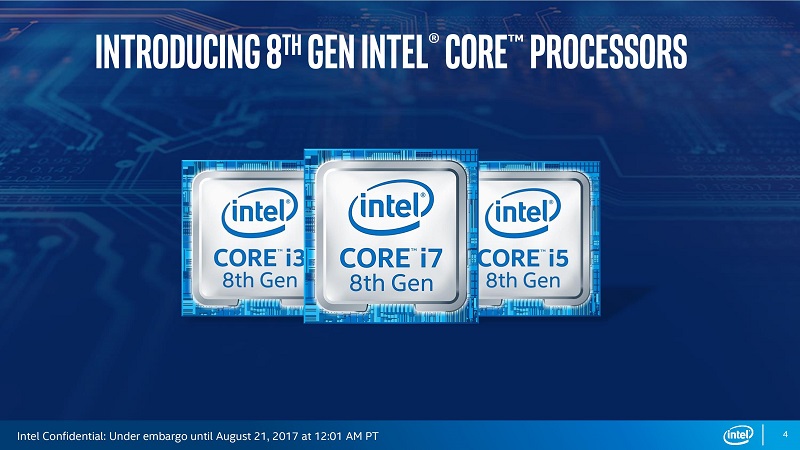 Intel Brings Turbo Boost to i3 8130U
Last year, Intel released new 8th Generation processors for the mobile market. The new Kaby Lake Refresh chips brought new low power quad-core CPUs to the laptop market at last. In doing so, it gave ultrabook users a new horizon to explore with nearly doubled performance. Following up on the quad cores, Intel is now releasing its first 8th generation dual core laptop CPU. The new Core i3 8130U will be the first of likely many chips to come.
The new i5 and i7 chips unlocked a new tier of performance, with the i5 8250U being the first quad-core mobile i5. The i3 8130U is similarly groundbreaking as well. It is is the first mobile i3 CPU to feature Turbo Boost technology. The chip has a 2.2 GHz for its two dual cores and 4 threads via HyperThreading. When the workload demands it, the clock speed can boost up to 3.4 GHz. Rounding out the package, we have 4 MB of L3 cache, an improvement over the usual 3MB and the new UHD 620 iGPU. This all comes together at the standards 15W ULV TDP. Its great to see the Turbo Boost at it helps with the many single-threaded tasks users have.

Turbo Boost At Mercy of Cooling System
There are some downsides to the new setup with Turbo Boost. The new base clock is just 2.2 GHz instead of the usual 2.6 to 2.7 GHz. This means the chip is dependant on a good cooling system to shine. A poorly designed cooling system could lead to unnecessary throttling and limit boost clocks. Despite that, as we've seen with the i5 8250U, you have to be hitting the CPU real hard and have poor cooling for performance to be lower. The chip is also still vulnerable to Spectre and Meltdown as silicon fixes aren't here yet.
The biggest challenges the new i3 faces are the Intel i5 8250U and AMD's Ryzen APUs. The i5 8250U costs just $297, a bare $16 more than the $281 for the i3 8130U. The minuscule savings means i5 units should barely cost more yet offer double the core count. This begs of the question as to whether or not OEMs will even offer the i3 except in the most budget of builds. Finally, a resurgent AMD will also place pressure with their new Ryzen APUs which are competitive in CPU performance and miles ahead for the iGPU.
Support eTeknix.com
By supporting eTeknix, you help us grow and continue to bring you the latest news, reviews, and competitions. Follow us on Facebook and Twitter to keep up with the latest technology, share your favourite articles, chat with the team and more. Also check out eTeknix YouTube, where you'll find our latest video reviews, event coverage and features in 4K!
Check out our Latest Video