Intel Launches Whiskey Lake and Amber Lake
---
---
---
Samuel Wan / 4 years ago

Intel Updates Mobile CPU With More 8th Gen CPUs
Earlier in the year, Intel announced plans for new mobile CPUs. Dubbed Whiskey Lake and Amber Lake, the new chips would replace and update the current Kaby Lake Refresh CPUs. After a few leaks earlier in the summer, Intel is now launching their new lineup. Whiskey Lake will address the 15W market while Amber Lake hits sub 5W systems. As expected, the new chips are largely a tweak of the current 8th Gen lineup.
Overall, the updates this time around are pretty tame. Fundamentally, the microarchitecture of the chips has not changed. The real updates are peripheral to the CPU. The new chipset now offers native USB 3.1 support and integrated 802.11ac 160 MHz WiFi MAC. Moving on, we have 6 chips in total. With 3 SKUs for each lineup launching, we have a nice balance of chips. Amber Lake is all 2C/4T from 1.1 GHz base to 4.2 GHz boost. Whiskey Lake has the i3-8145U as 2C/4T while the i5-8265U and i7-8565U are both 4C/8T. Depending on cTDP Up or cTDP down, the clocks will vary a good bit. Unfortunately, this will be up to the user to discover as each OEM is free to tweak the TDP themselves.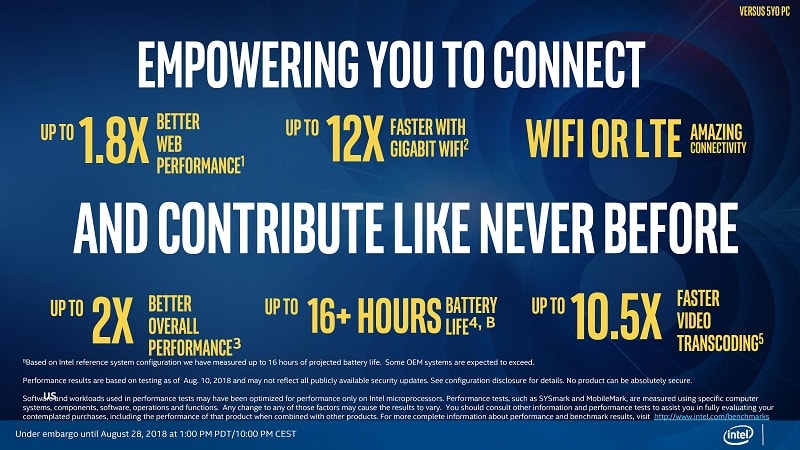 Latest Processors Feature Standard Gen9 iGPU
Despite the lack of upgrades, Intel has touted some major performance gains. Chipzilla is claiming a 2x overall performance, 1.8x web performance and 10.5x video transcoding. This might sound good but the comparison is made to Haswell-U i5 4200U against the new i5 8265U. That is a 5-year-old dual-core chip is compared to the latest quad-core chip. While the comparison might make sense since they are the same TDP class, the numbers really do speak for themselves. With a doubling in core count and increased boost, the performance just about only doubles. Due to the delay in 10nm, Intel's entire cadence has been thrown off.
A final note to make is that the performance numbers do not take into account the Spectre and Meltdown patches. These do have some impact on performance. Unfortunately, the new chips do not have the hardware fixes built in. Despite these shortcomings, we can expect the chips to be out in force. It has been a while since Kaby Lake Refresh so many OEMs will want to update. For one, we can expect the new chips in the new MacBook and MacBook Air.