Intel Unveils Slim Compute Card To Replace Compute Stick
---
---
---
Ron Perillo / 6 years ago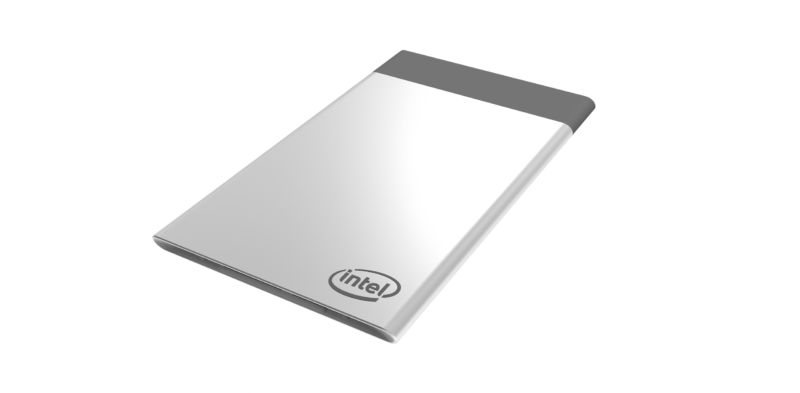 Intel has unveiled the slim Compute Card measuring only 94.5 x 55 x 5mm and is meant to replace Compute Sticks which are the size of a large thumb drive.  The slim design makes the Intel Compute Card very portable and is quite close to the size of a credit card which measures 85.6 x 53.98 x 0.76mm. Like the Compute Stick, the Intel Compute Card is an ideal upgrade for Smart devices such as television whose hardware inside could be a lot slower now after several years and having a discrete "smart" hardware that plugs in is an affordable and hassle-free upgrade.
No clear details about the internal workings have been made available by Intel yet although the compact device is supposedly going to contain the CPU, GPU, RAM storage and WiFi inside. Since it only has a 5mm thickness, connectivity will be handled through a USB-C variant that intel calls "USB-C plus Extension". This connector provides direct access to the USB and PCIe buses as well as the HDMI and DisplayPort video outputs. Unlike the Compute Stick (which is expected to be slowly phased out by next year 2018), the Compute Card is very versatile when it comes to connectivity and Intel claims that it will be available in a greater variety of storage and performance options.
There is no final word yet on pricing but more details and availability is expected to be announced around June 2017 with the actual release date targeted sometime in mid 2017.  Official OS support has also not been disclosed yet but Intel claims that any operating system that currently runs on low-end systems should be compatible, including Windows and Linux. It will be interesting to see how this performs compared to current "credit card" sized PCs in the market such as Arnouse Digital Devices' BioDigital PC9 which measures 84 x 54 x 6.5mm.