Intel Xeon Gold 6146 12-Core/24-Thread Processor Review
---
---
---
Bohs Hansen / 3 years ago
Introduction
---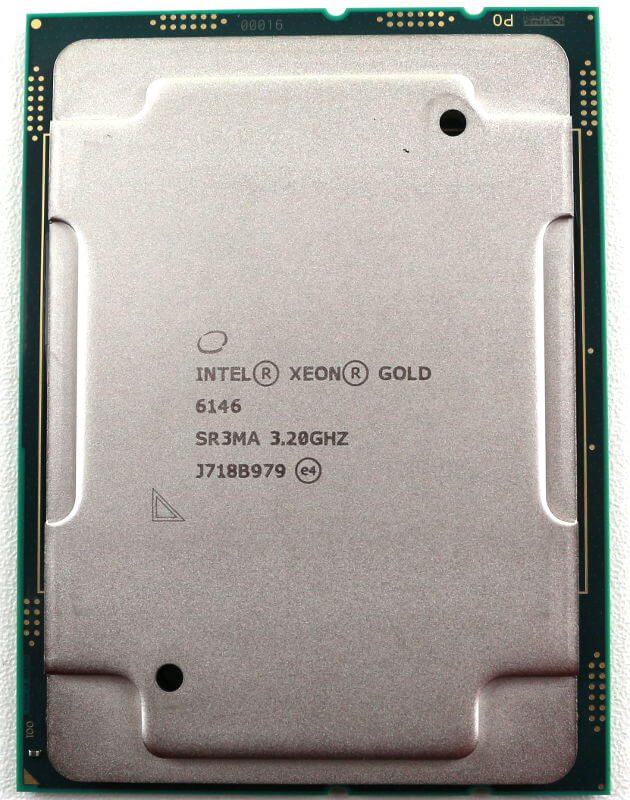 Desktop processors are great, for desktop usage. When you need to run your servers and high-end workstations, then you need something like Intel's Xeon Scalable Processors. Today I'm taking a closer look at the Xeon Gold 6146 (product link) from Intel, which is a 12-core/24-thread processor with a 3.2GHz base clock.
Intel Xeon Scalable Processors
These are Intel's latest iteration of Xeon processors which use the Skylake architecture. The official rating is 10% IPC gain over the predecessor, but that isn't what sets the new chips apart. The processors replace the now ageing Broadwell Xeon platform with up to 28 cores and 56 threads.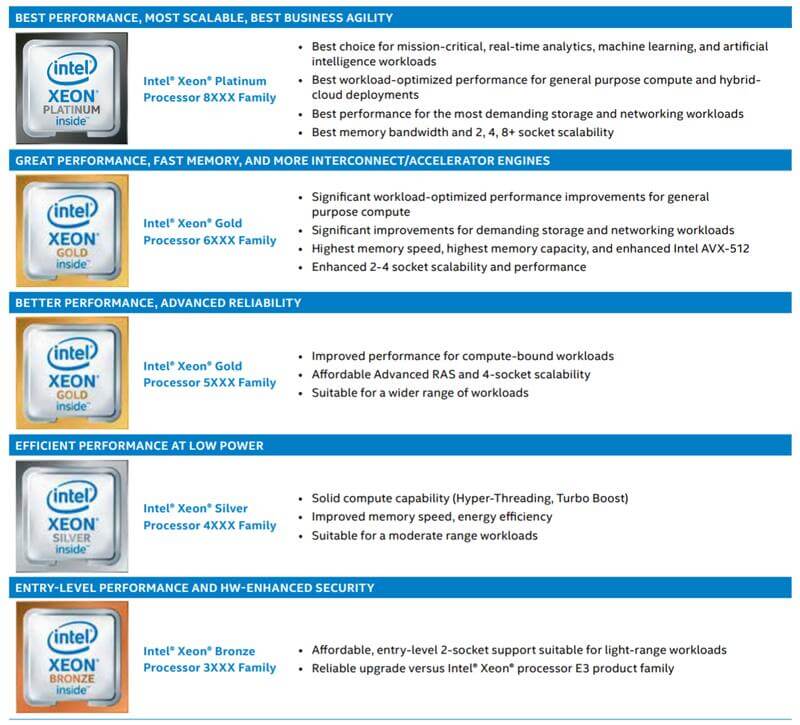 In addition to the host of regular Skylake optimisations, Intel is throwing in AVX 512 with 2 FMA per core. This should double floating point performance in the most optimal scenario. AVX 512 will be a Skylake-SP exclusive until Cannon Lake at the earliest.
Starting with Skylake-SP, the chip giant is moving to a new multi-core paradigm and calling the new design Mesh. Mesh has the entire multi-core architecture revamped to enhance flexibility.
This is the system Intel is using to connect all 28 cores in Skylake-SP. With Broadwell-EX, Intel connected each core to a ring bus which facilitated inter-core communication. Depending on the specific cores, the ring bus could be the bottleneck and larger cores required two ring busses. With Mesh, each logic block is connected using several interconnects multiple units. Due to the extra connections, inter-core communication is improved. Another benefit of the design is the improved scaling, hence the name. Adding a new core is as simple as plugging in a few interconnects.
Chipset and Socket
This generation of Xeon processors uses the LGA3647 socket which is the same used by Xeon Phi x200 (Knights Landing). The socket is quite large, as the name suggests, and it requires a new generation of coolers. At the time of this review, the processor generation is so new that the hardest part of this review was to get hold of a compatible cooler. The socket supports 6-channel memory controller, non-volatile 3D XPoint memory DIMMs, and Intel UltraPath Interconnect (UPI).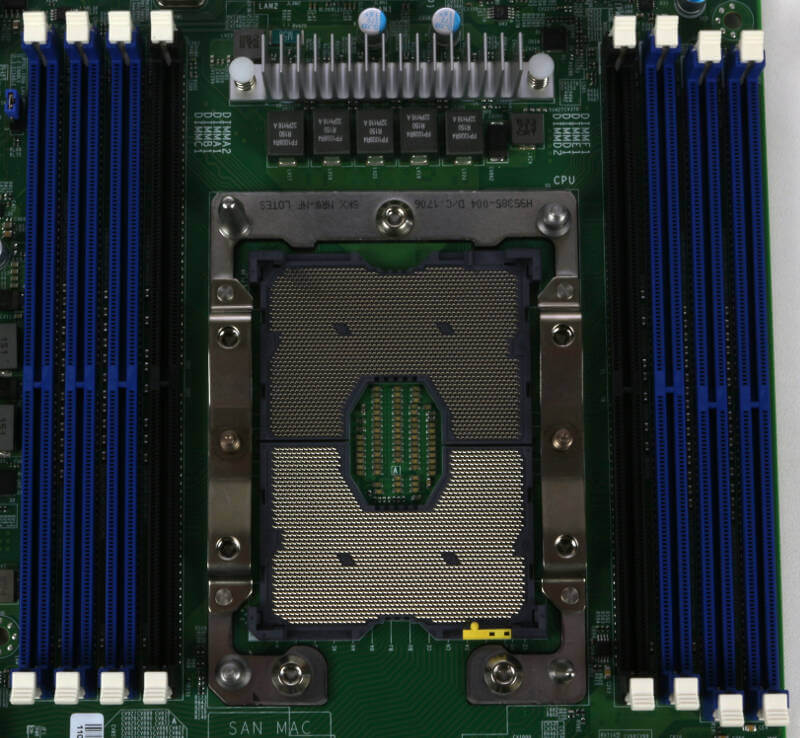 Both the CPU and the socket are almost new, we've only seen them once before. That's a lot of connection pins, but when we consider the amount of processing power and lanes available, it's no surprise. Some of the pins are used for the stackable architecture too.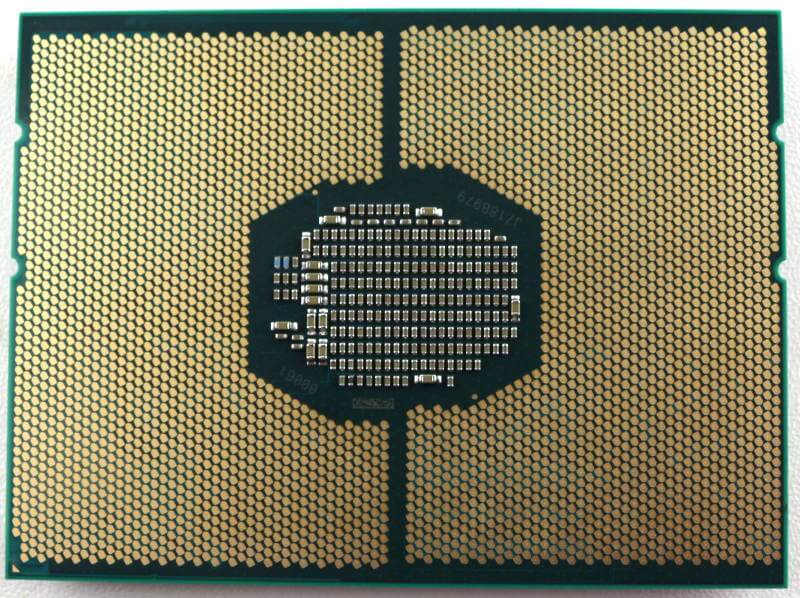 The chipsets used are the Intel C620-series, more specific the C621, C622, C624, C625, C626, C627, and C628. The number of differences isn't high, but not unimportant. The main differences are the Intel QuickAssist technologies supported, but also the Ethernet ports.

Xeon Gold 6146 Processor
Intel's Xeon Gold 6146 is from the 6XXX family which is the 2nd highest tier. Only the 8xxx Platinum series comes with a higher performance and more features. Among the highlights is a significant workload-optimized performance improvement for general purpose computing. Storage and network workloads are another highlight while we get top memory support and enhanced Intel AVX-512. The scalability of the series goes up to 4 sockets for high-end performance systems.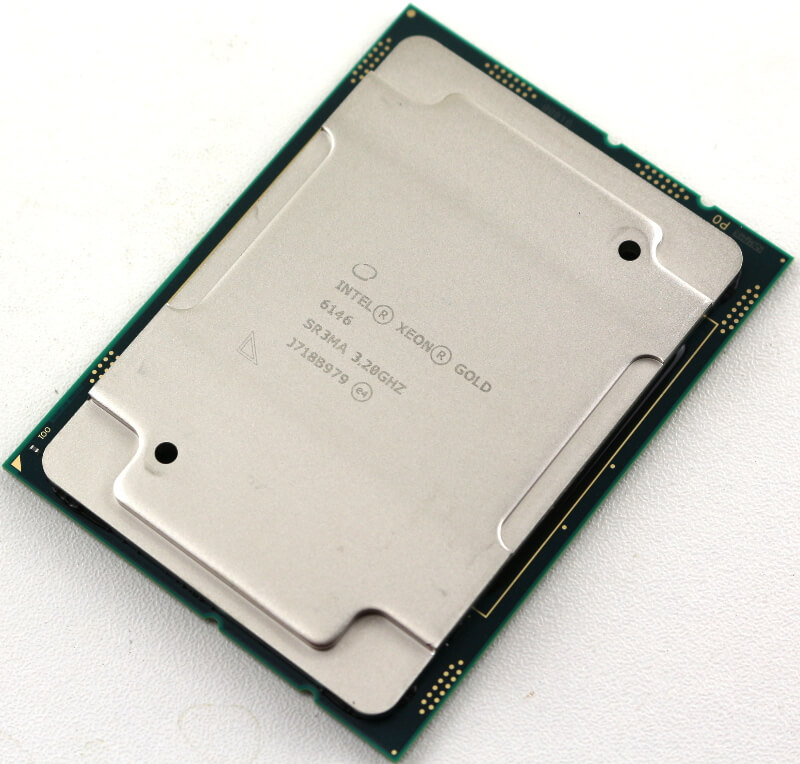 The Xeon Gold 6146 is a server processor built on a 14nm process. It features 12 cores and 24 threads, running at a base clock of 3.2GHz. The single-core boost max is rated at 4.2GHz turbo. Inside the chip, you'll find 24.75MB L3 cache packed in a 165W TDP package.
Features
Speed Shift Technology
Turbo Boost Technology 2.0
vPro Technology
Hyper-Threading Technology
Virtualization Technology (VT-x)
Virtualization Technology for Directed I/O (VT-d)
VT-x with Extended Page Tables (EPT)
TSX-NI
Instruction Set Extensions: SSE4.2, AVX, AVX2, AVX-512
2x AVX-512 FMA Units
Enhanced Intel SpeedStep® Technology
Intel Volume Management Device (VMD)
AES New Instructions
Intel Trusted Execution Technology
Execute Disable Bit
Intel Run Sure Technology
Mode-based Execute Control (MBE)
Packaging and Accessories
Now, this is a server and not a retails processor, so I don't have any packaging to show. This kind of processors come without accessories as including would be a waste. They are used by system builders which already have everything they need.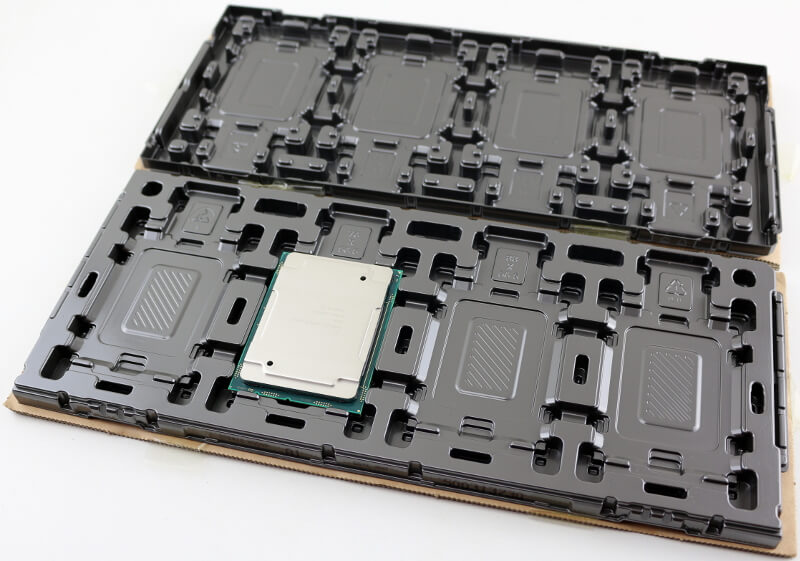 The processor, or multiple ones for that matter, are still well protected in the original tray.