InWin 303 Mid-Tower Chassis Review
---
---
---
Peter Donnell / 7 years ago
Introduction
---
InWin has quickly become the masters of chassis design, after a string of successes with their high-end and award-winning chassis products over the last couple of years. However, despite their impressive design, the major issue has been price, as InWin's flagship cases often cost well into the triple digits, but when you're crafting a huge chassis out of premium grade aluminium and tempered glass, they're never going to be affordable. InWin is well aware of this fact and now they're taking a shot at the sub £100 market by ditching the aluminium in favour of steel, but keeping the tempered glass so not to spoil their premium aspirations.
"The IN WIN team presents the 303, a simple, yet elegant computer chassis crafted from steel and tempered glass. The distinctively clean front panel is complemented with a bright LED design to balance the overall appearance." – InWin

"In Win has set a standard for being an innovative computer hardware company. Mission accomplished with the 303 since it has perfected a tool-less design by being able to remove the beautiful 3mm tempered glass side panel by just pressing the handle." – InWin
Equipped with space for (up to) ATX motherboards, extra-long graphics cards, a decent amount of storage and some very impressive cooling capabilities, the 303 is certainly sounding interesting, so let's jump in and take a closer look at what InWin can create when they want to focus on competitive pricing.
Out of the box, it is clear this is a little bit different from most other chassis and certainly unique from the current crop of InWin products. The left side panel is a huge sheet of thick tempered glass, which is playing hell with reflections in the pictures here, but it really does give you a nice view of the interior.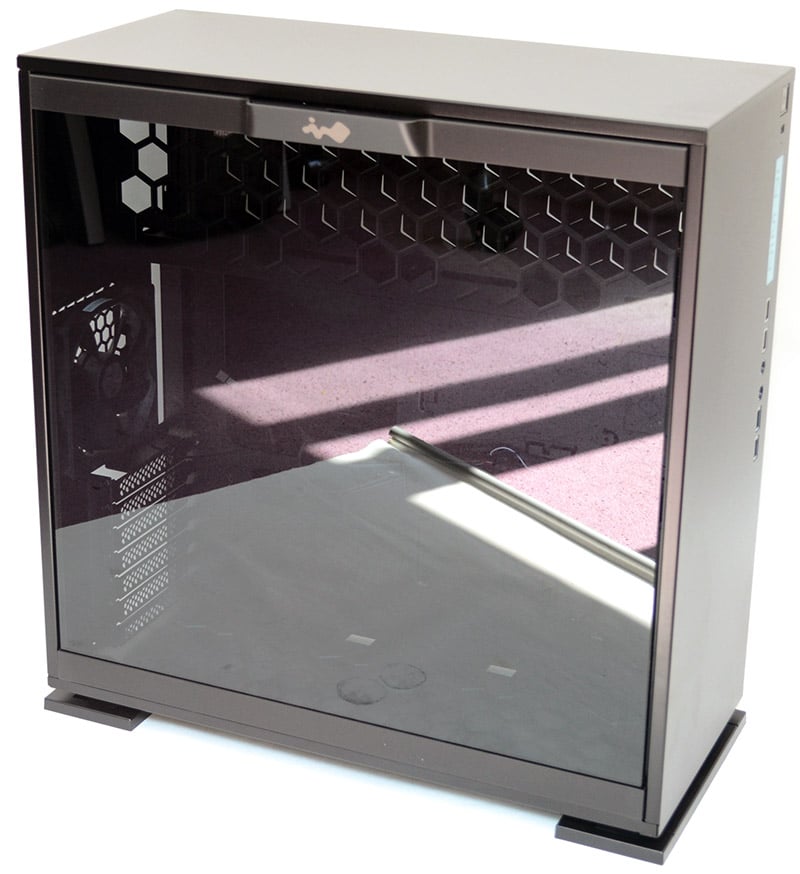 There is a small handle/button at the top, just push it down and pull towards you and you can lift the entire panel out without the use of tools; very handy!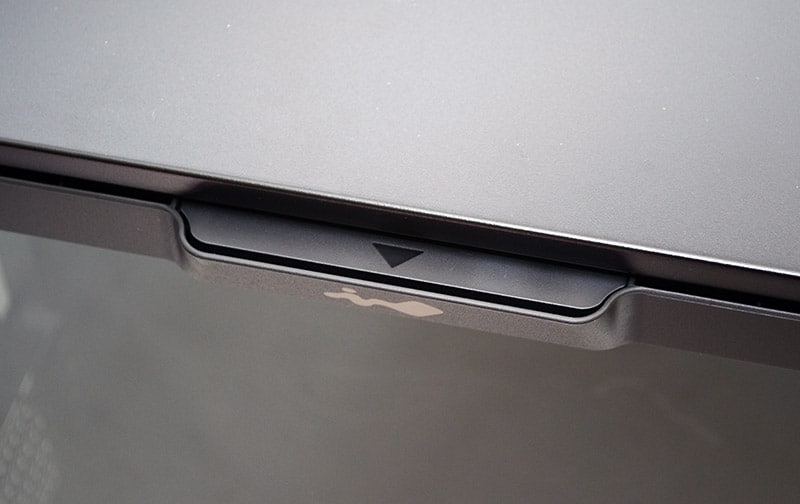 You can see a lot of interesting metal work going on through the glass too, but we'll get in and see that in detail shortly.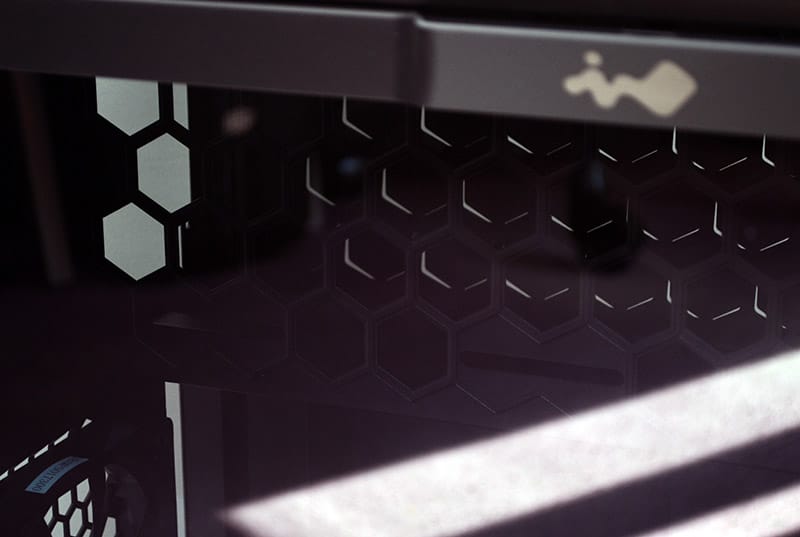 Down at the bottom, you'll notice full-width feet at the front and back, giving it great stability. What I really like is that the join between the feet and chassis is set back, giving it a floating appearance.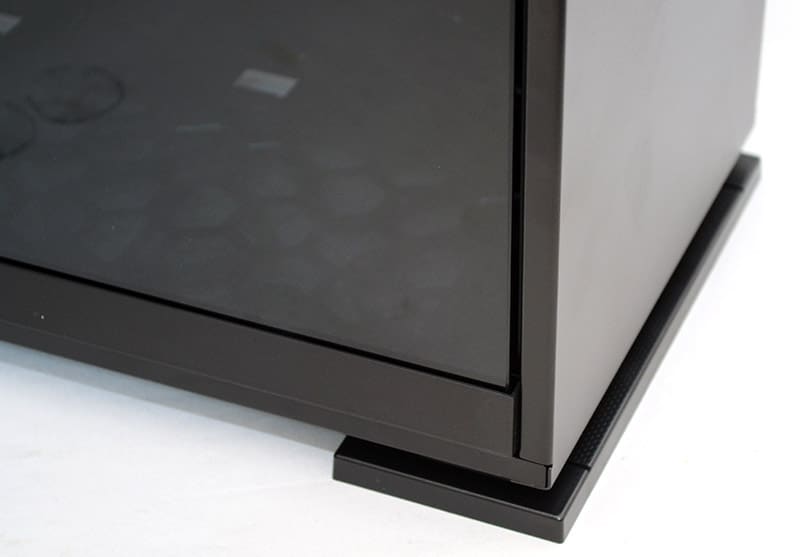 The right side panel is certainly unique, with a really funky pattern stamped into the steel panel to provide extra airflow to the top side PSU compartment and cooling mounts.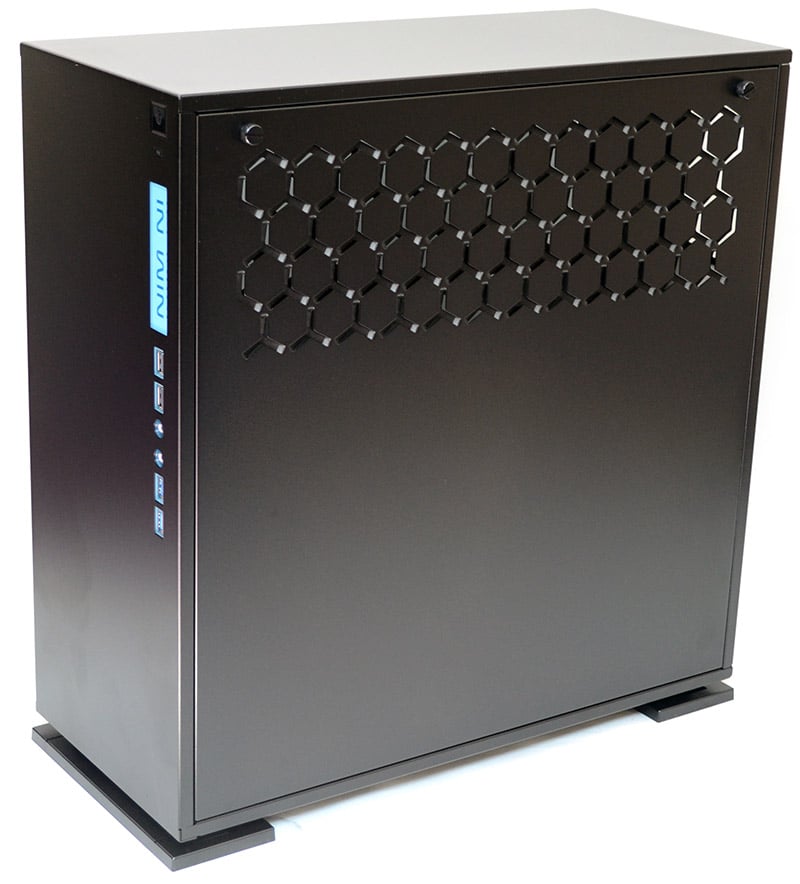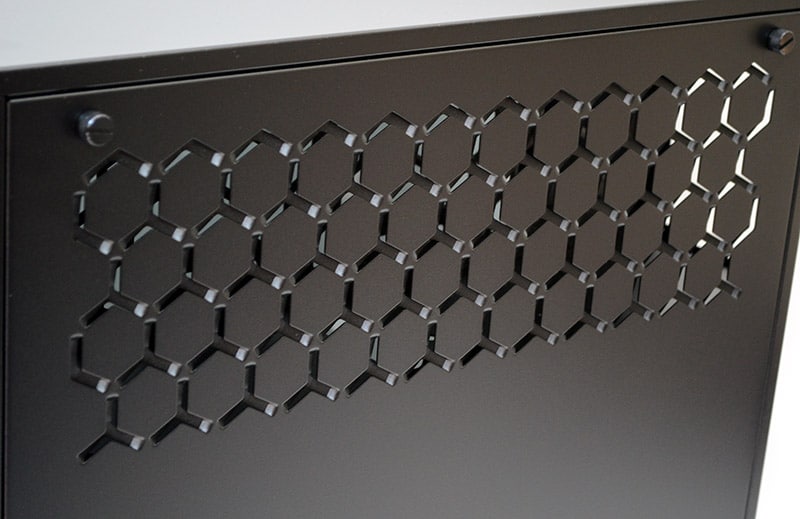 The front panel certainly has a bold impact, with a very square and monolithic design, if not for the bright blue detailing on the right edge.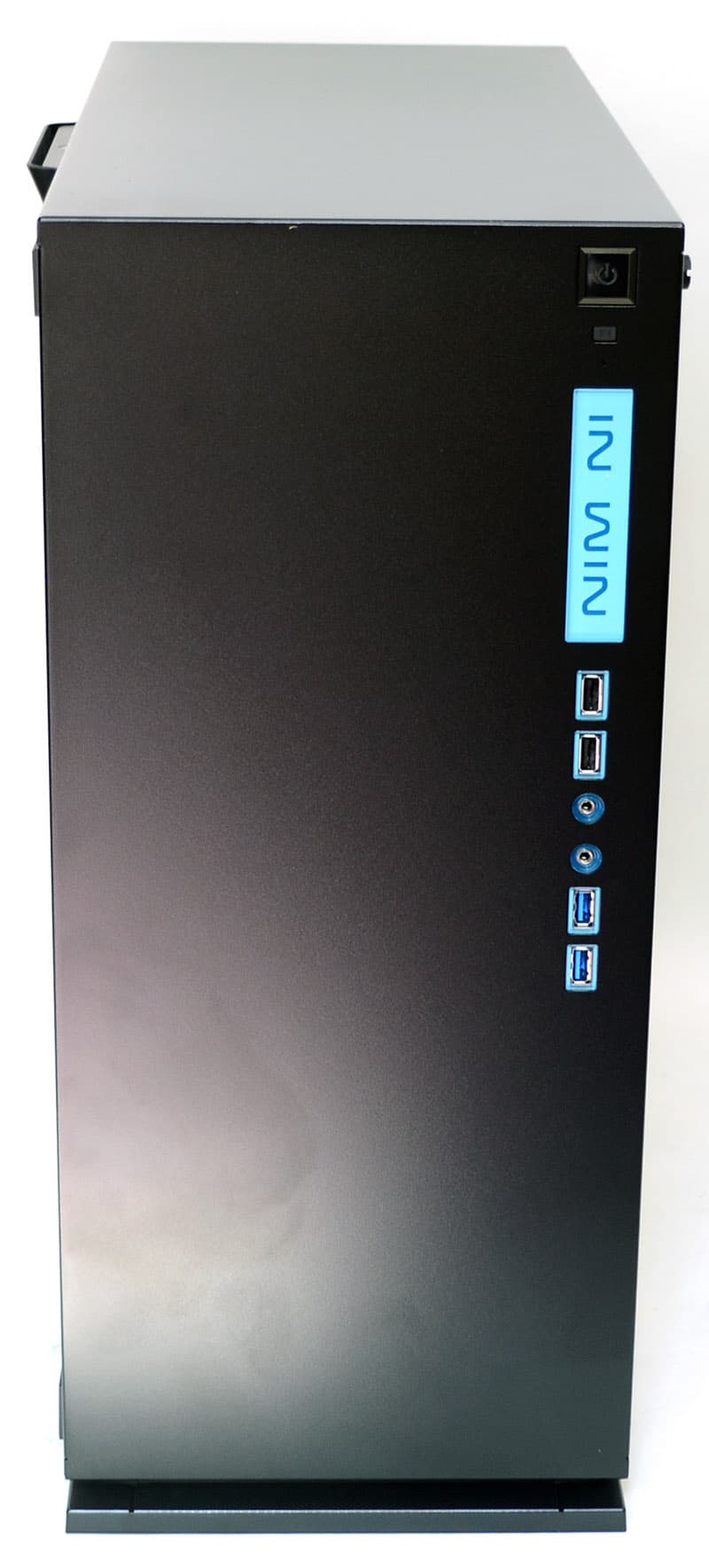 Tucked into the top, the usual power and reset buttons, as well as a blue In Win badge that is set into the frame, and to make it even cooler, it's LED backlit, and we'll see that powered up soon enough!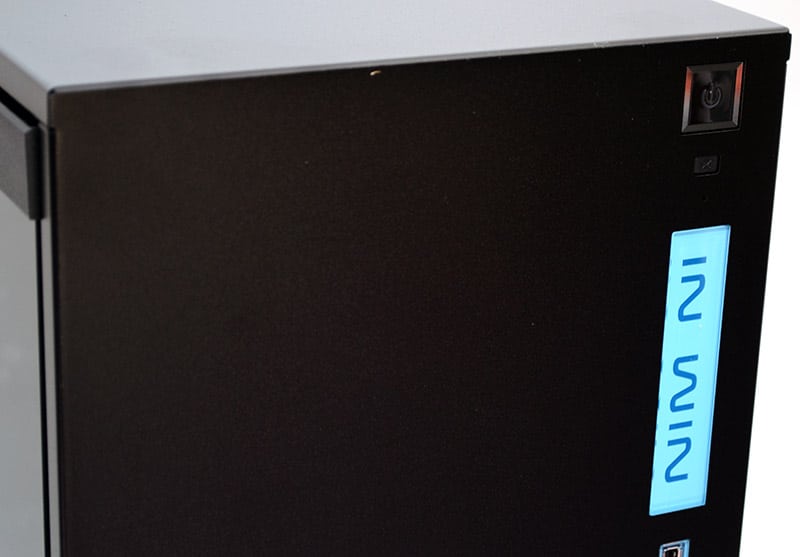 Further down, a pair of USB 2.0, USB 3.0 and audio jacks, but to make these more interesting you'll notice a little bit of blue detailing around them and they're also LED backlit!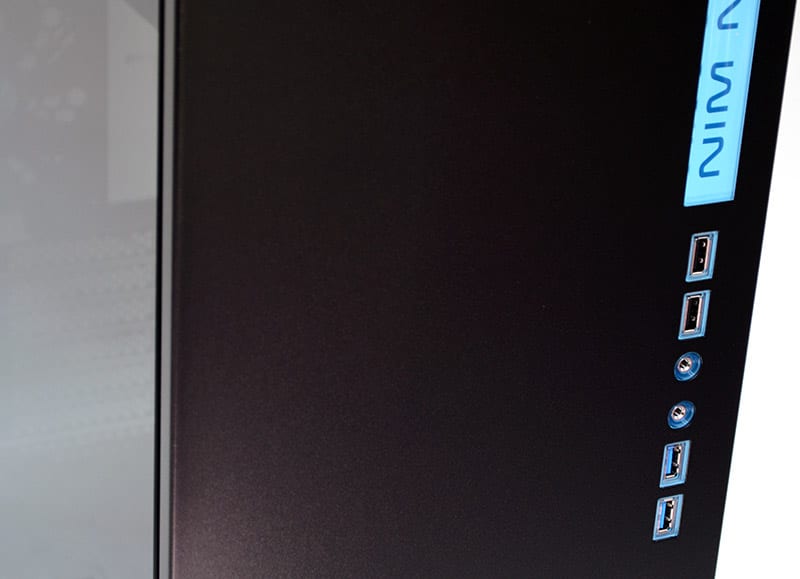 Around the back, things look pretty neat and tidy too, with a fairly smooth panel overall. There's a the PSU at the top, which is obviously side mounted, a pre-installed 120mm fan and some ventilated expansion slot covers; all the basics covered.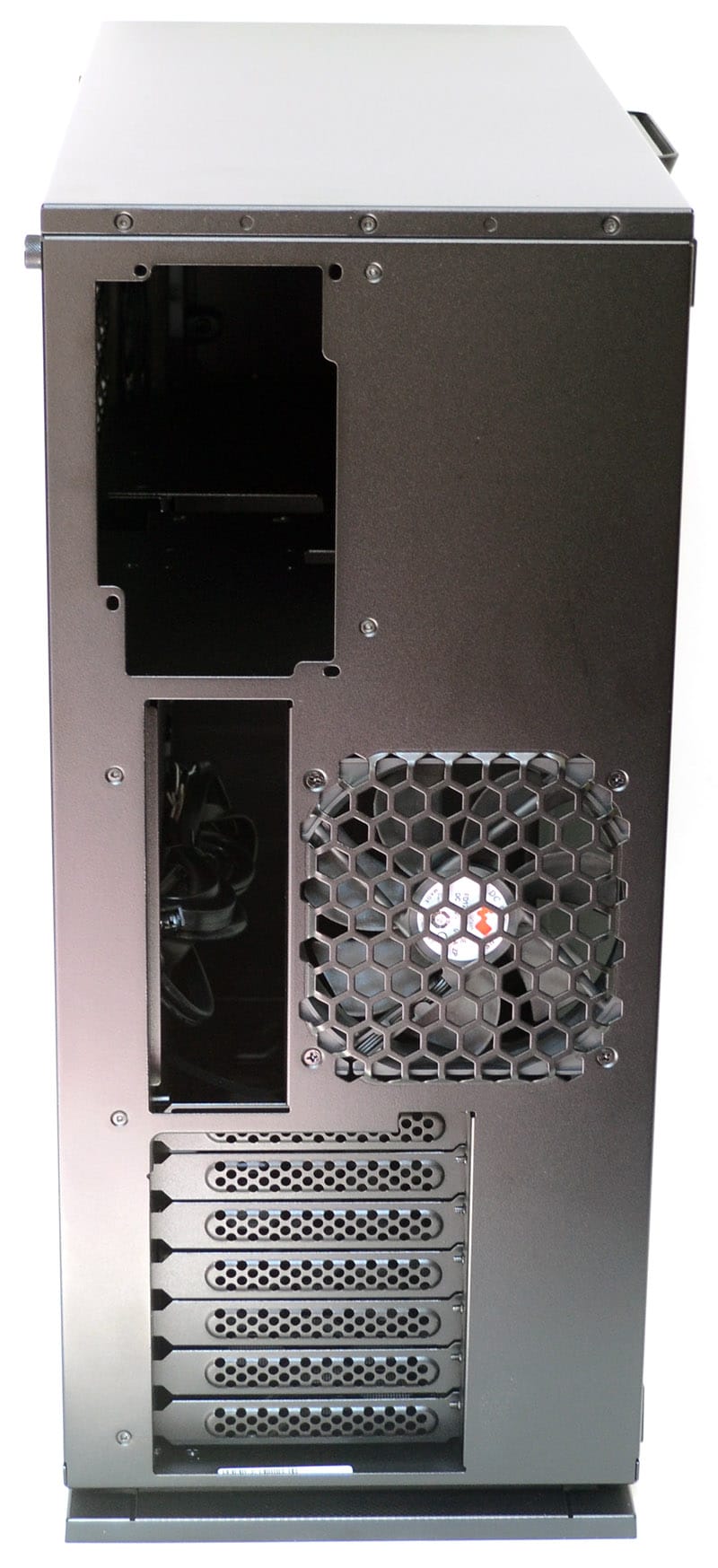 The expansion slot covers are all metal and all reusable, no snap-offs here!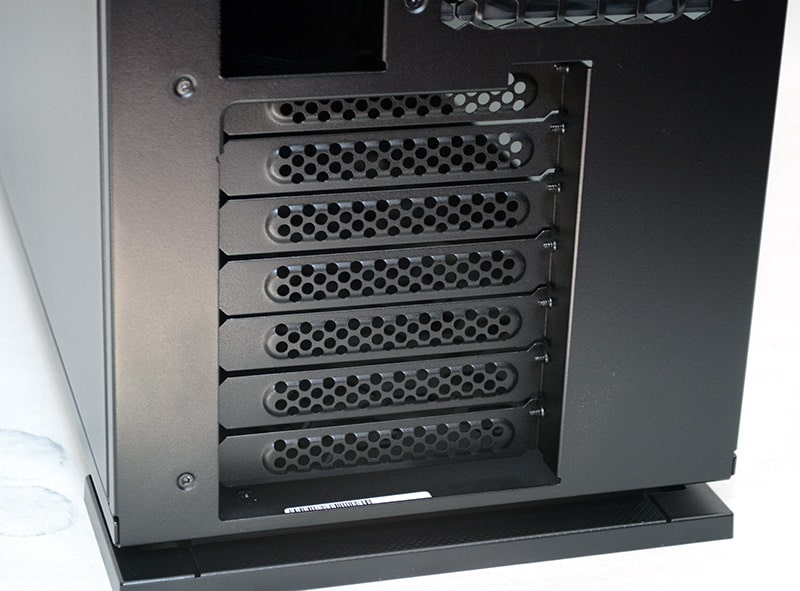 Looking through the PSU mounting, you can see a second tier of ventilation and mounts on the interior, matching the right side panel, a nice touch if you ask me.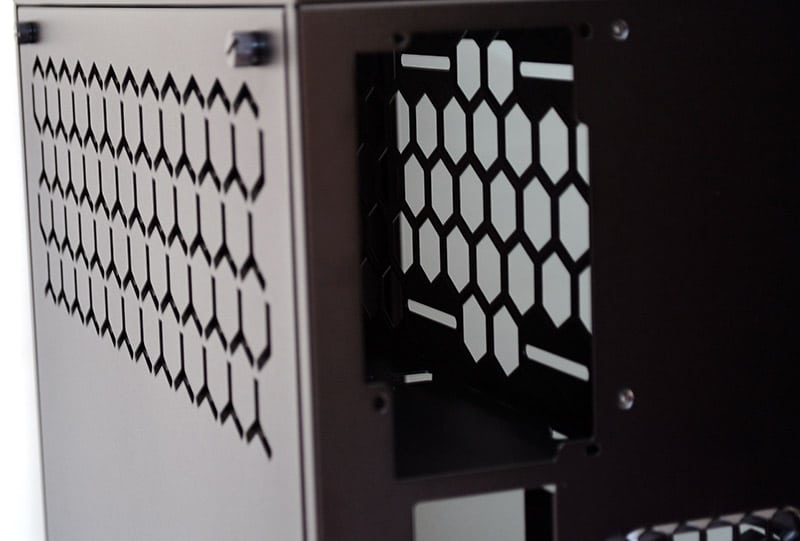 On the base of the chassis, those extra wide feet, giving extra stability and solid ground clearance from the base mounted ventilation.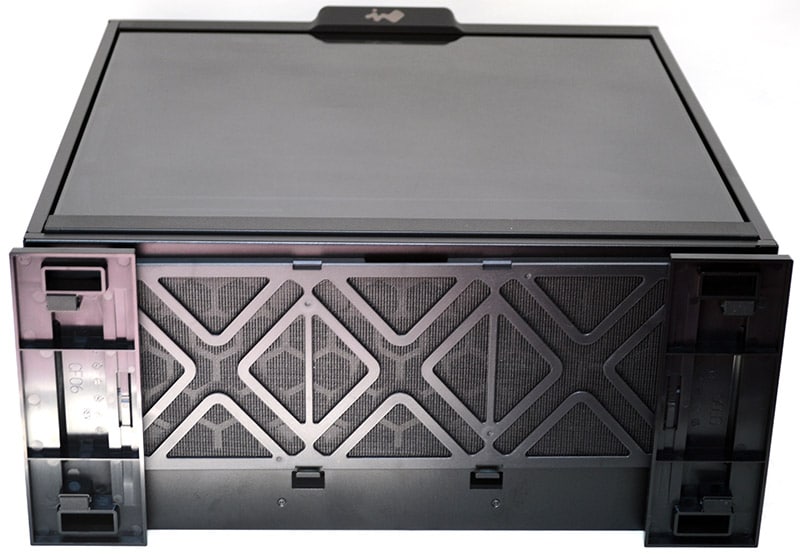 And my favourite feature so far, a full-length dust filter that slides out from the side, no more pulling your entire system out just to slide it out at the back like so many other chassis do for some stupid reason.