iOS 7.0.4 Jailbreak for iPhone, iPad and iPod Touch From Evasi0n Has Been Released
---
---
---
Gabriel Roşu / 9 years ago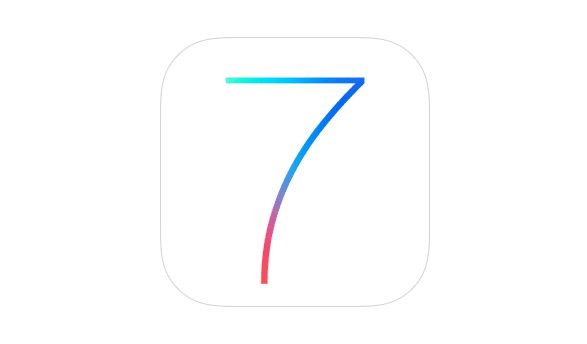 The Evasi0n 7, iOS 7.0.4 jailbreak for Apple iPhone, iPad, and iPod Touch has just been released, and just in time for Christmas Too! The move is quite surprising since we are just a few days away from Christmas and nobody thought we were going to see something like this until next year at least, but it seems that Evad3rs released the latest evasi0n jailbreak for Apple devices as a Christmas gift for all to enjoy. The latest evasi0n7 can jailbreak devices running iOS 7 through iOS 7.0.4.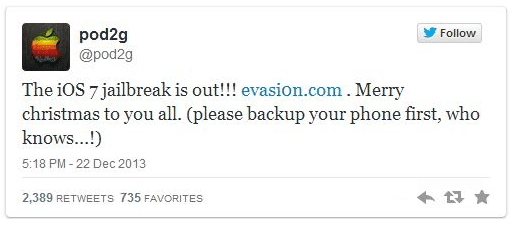 The jailbreak tool is available for both Mac and Windows and the requirements posted on Evasi0n website are:
5 minutes of your time!
A computer, running Windows (XP minimum), Mac OS X (10.6 minimum) or Linux (x86 / x86_64)
iTunes installed if you're running Windows
An iPhone, iPad or iPod running iOS 7.0 through 7.0.4 (you may check in Settings / General / About => Version)
A USB cable to connect the device to the computer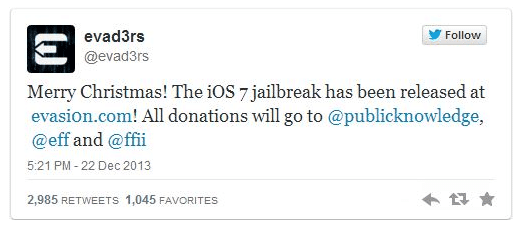 But do not forget about the precautionary measures as well, since we don't want to write an urgent letter to Santa for a new iPhone this year if something goes wrong. Therefore, Evasi0n posted the steps to avoid such misfortunes:
Backup your device using iTunes (or iCloud) before using evasi0n. If something breaks, you'll always be able to recover your data.
Please disable the lock passcode of your iOS device before using evasi0n. It can cause issues.
Avoid all iOS and iTunes related tasks until evasi0n is complete. Why not just enjoy a brief break from the computer to stretch your legs?
If the process gets stuck somewhere, it's safe to restart the program, reboot the device (if necessary by holding down Power and Home until it shuts down), and rerun the process./li>
If you get an error on OS X 10.8 saying that evasi0n can't be opened, control-click (or right-click) the app and on the revealed context menu, choose 'Open.' On the ensuing dialogue box, choose 'Open' as well.
Thank you WCCF for providing us with this information
Images courtesy of WCCF