Ivy Bridge heat problems remain even after IHS removal
---
---
---
Ryan Martin / 11 years ago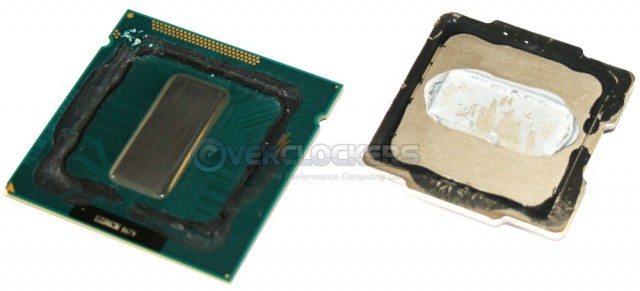 We recently brought you the news that I.M.O.G from Overclockers.com had come to the conclusion Ivy Bridge was a hotter chip due to the fact there was an additional layer of inefficient thermal paste between the processors Integrated Heat Sink (IHS) and the processor itself which affected cooling efficiency. Naturally the only way to test this hypothesis is with some empirical testing and that's exactly what a PC EVA forum member has done. Using a Core i7 3770K processor, with a Noctua NH-D14 CPU cooler and Prolimatech PK-1 thermal grease there was testing conducted with the IHS on and the IHS off to see if it gave any differences to thermal performance. The testing methodology involved using AIDA64 Extreme Edition for idle and load average temperature monitoring with Prime95 being used to generate the load temperatures. Testing was done at 4.5GHz with 1.2 volts on the core.
The results are summarised below in tabulated format: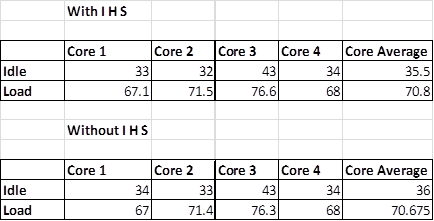 As you can see even with the "cheap" thermal paste and additional outer IHS layer removed the cooling performance is still identical within a traditional margin of error of 5%, therefore its safe to say the high temperatures have nothing to do with IHS and are simply a consequence of the way Ivy Bridge's revised manufacturing process works. In practice this now means Ivy Bridge will typically reach lower stable 24/7 clock speeds than Sandy Bridge but will offer similar performance (for example a 3570K at 4.8GHz is the same as a 2500K at 5GHz) and with slightly lower power consumption.
Source: My Drivers