Japanese Scientists Engineering Robotic Drone Bees for Pollination
---
---
---
Ron Perillo / 5 years ago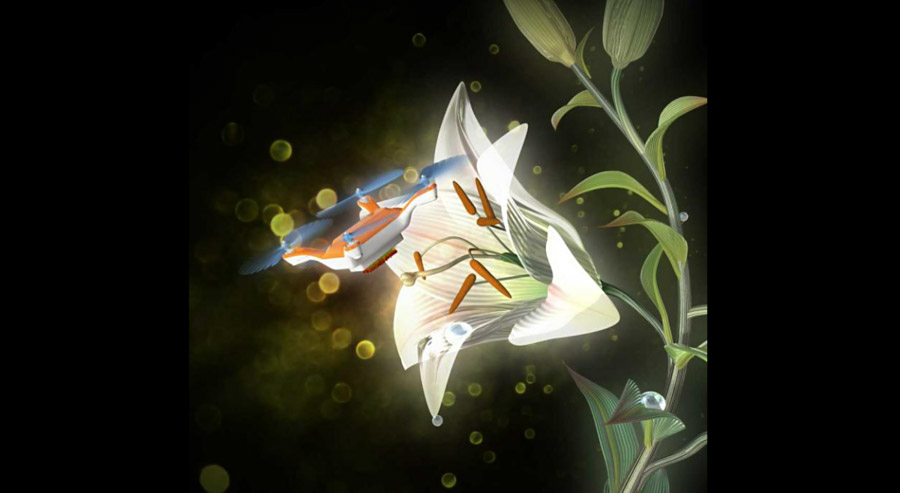 The worldwide decline of the honeybee population has many worried due to the important role they play in pollination. In fact, many call it a crisis with unspeakable repercussions should it continue to decline further. Scientists in Japan have been hard at work trying to solve this issue however, with the use of robototic artificial pollinators; robotic bees if you will.
Most of those who have seen the sixth episode from the third series of Black Mirror need not worry because these robotic bees are not quite that advanced yet.  For starters, they are quite a bit larger than average honeybees, 42mm vs 15mm on average, because these are essentially derived from readily commercial quad-copter drones to begin with. Also, these robotic bees are still manually controlled for now and have to be guided by a human operator to do the task. In order to polinate the flowers, the robotic bee is outfitted with paintbrush hairs on the underside covered with a special sticky gel formulated to pickup pollen without sticking to anything else it brushes into. Although crude sounding, this method has been effective for the researchers, who claim successful tests on lily and tulip flowers.
The next step in the project is to actually outfit the drones with visual-recognition capability so that it can discern between different flowers. Also, because of its size, the drones have to be made smaller and lighter so that it can pollinate a greater variety of flowers, including smaller and much more complex structures. A heavy drone can break and damage the flower unlike a bee if it is not agile enough. Pollination systems themselves are much more complex than it seems and insects have had billions of years to perfect their methods so artificial bees still have a long way to go. Automation and great advances in AI are required so that the robotic bees can come close to replacing the honeybee at its task.
The good news is that the Japanese scientists are not alone in their endeavors. Scientists from Harvard and MIT have developed much smaller RoboBees and have demonstrated it last year. It is also much more advanced, utilizing electrostatic adhesion to do its pollinating task rather than using a chemical solution.