Kaveri Hybrid CrossFire: A10-7850K/7700K With R7 240 & 250
---
---
---
Ryan Martin / 10 years ago
Setting Up Dual Graphics (Hybrid CrossFire) With Kaveri
---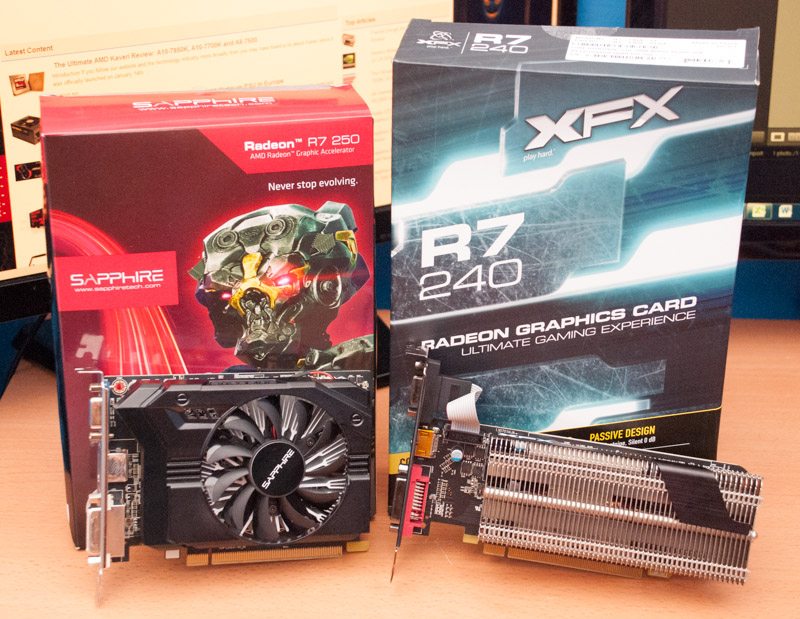 Before you even get started with the Dual Graphics/ Hybrid CrossFire setting up process you first have to select an appropriate graphics card appropriate for your APU. AMD's recommendations are seen below, however, we've chosen to do things slightly different. We paired up the A10-7850K with the Sapphire R7 250 2GB DDR3 graphics card and the A10-7700K with the XFX R7 240 1GB DDR3 passive graphics card, both pictured above. We feel if you're buying into the A8-7600 you're unlikely to want to CrossFire discrete graphics as the A8-7600's main selling point is its low power – adding a discrete graphics card ruins that advantage. All Kaveri APUs will work with any "Oland" based R7 series graphics card meaning in theory you can use the R7 240 (Oland Pro) and R7 250 (Oland XT) with any APU. Note that only Oland GPUs work, the R7 250X is "Cape Verde" and the R7 260(X) are "Bonaire" so will not.
You may also be thinking, why DDR3 models? Well this is simple. The APU uses system memory, your system memory is DDR3 and its speed determines the graphics memory speed of your APU graphics. If you use DDR3-2000MHz memory then you should use an R7 240 or R7 240 that also uses DDR3 memory of a similar frequency. Using a GDDR5 card will bring no benefit because both cards have to operate at the same frequencies to work as far as I am aware. Therefore if you have 5GHz GDDR5 you are no better off than with 2GHz DDR3 in Dual Graphics. This obviously means that the faster your system memory is, which is effectively the bottleneck in an APU system, the faster your graphics card can run and the better the overall performance is. However, the caveat to this is that APUs are often budget systems so you're unlikely to have expensive high speed memory, most people will opt for something in the 1600-2133MHz range as this is where it is most affordable.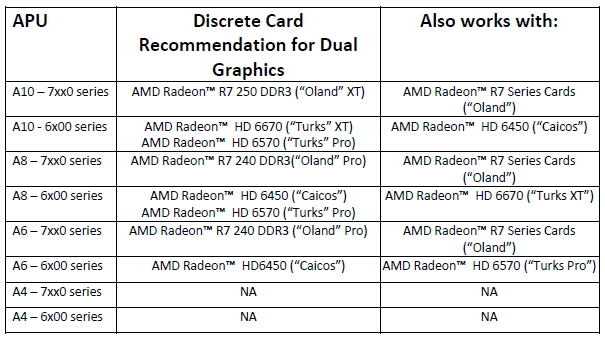 Once you've got your GPU the setting up process is relatively streamlined if you know what you're doing. You can use either the APU or the graphics card as your primary display device, it doesn't matter too much which way around you choose but both options have small differences. If you're using the APU you will not be able to overclock the graphics card but you can still run Dual Graphics. If you're using the PCIe device the following must be true:
The PCIe is set to your primary GPU in your BIOS; this means selecting that over the iGPU option
Your monitor should be connected to your PCIe graphics card
You must enabled the equivalent "iGFX Multi Monitor" option in your BIOS, or something that is equivalent
You must not have force iGPU enabled in the BIOS, this setting must be set to auto or disabled.
Note when choosing the APU as the primary display device a similar issue applies. You must have iGPU as the primary GPU and your monitor must be connected to the motherboard. You must also still have the "iGFX Multi Monitor" equivalent option enabled and the "force iGPU" equivalent option disabled or set to auto.
Once you've met the above parameters you can charge into your operating system. Upon arriving into your operating system you will need to install the latest AMD drivers for optimal performance, we are using the Catalyst 14.1 Beta 7 drivers provided to us by AMD.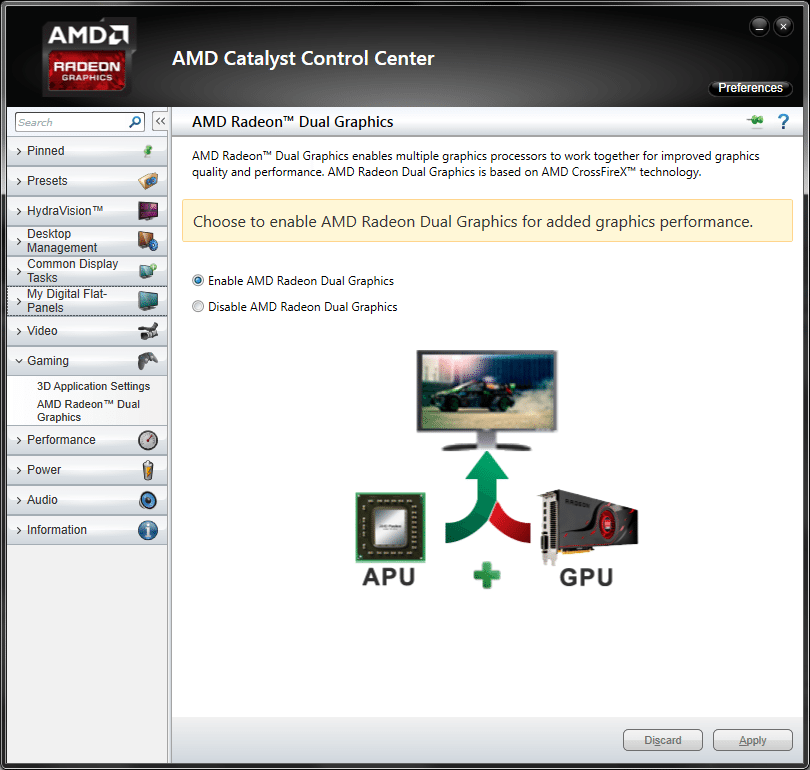 Once into your operating system AMD Dual Graphics should be enabled by default. If it isn't enabled, or you just want to double check, then you can do so by visiting the AMD Catalyst Control Centre. The AMD Radeon Dual Graphics tab is under the Gaming tab. If it does not appear it means your system is not set up correctly to enable it, so please refer back to the instructions at the top of this page to make sure your system is ready for it.
To enabled frame pacing you can do so from the 3D Application Settings drop down. See the below image for more details.