Kentucky Fried Chicken Launches New 'KFC Gaming' Brand
---
---
---
Ron Perillo / 4 years ago

What the Finger Lickin' Cluck?!
The gaming industry is worth billions of dollars, so naturally companies are expanding their brands to this market. One particular company however, seems to be an unlikely fit. Especially since they specialize in fried chickens rather than anything gaming related. However, it is now official. Kentucky Fried Chicken has their own 'KFC Gaming' brand, which the company launched over the weekend.
It is too early for April Fool's and the promotion looks legit. They even have a verified "blue check" Twitter account. According to the company, KFC and Gaming is a "match made in heaven". In fact, they have announced on Twitter that something big is coming soon from the brand. However, they are keeping details under wraps on what exactly that is.
Player One has entered the game.

KFC x Gaming, a match made in heaven.

Just a taste of what's to come, something BIG is coming… pic.twitter.com/047Rc2UJvm

— KFC Gaming (@kfcgaming) September 28, 2018
What is KFC Gaming Exactly?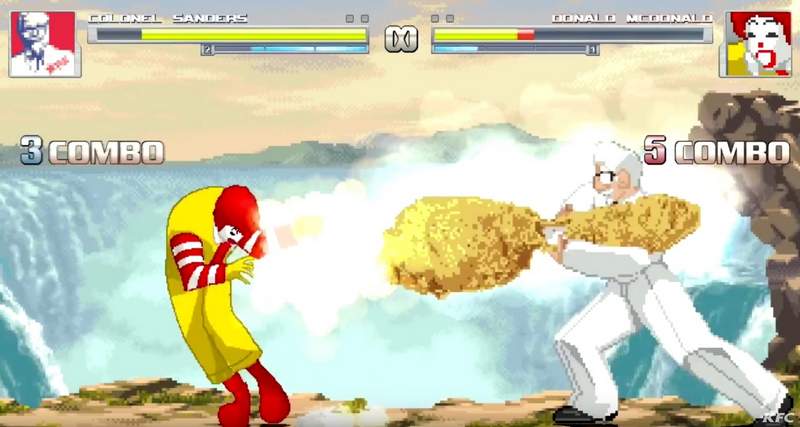 The announcement video contains a montage of Colonel Sanders in a variety of games. Some of which are obvious parodies, including a fighting game where he beats up a "Donald" McDonald. One scene shows the Colonel in a WWE game, while it also shows some Fortnite gameplay. Other than that, it is still not clear what they intend to do with the brand.
The Twitter and Instagram bios are also not very clear exactly on what they intend to do. It just says: "Your chicken wing man for all those Victory Royales, it's going to be Finger Lickin' Good!" 
The company is deliberately keeping things mysterious for now, stating that The Colonel himself told them that they can't reveal too much yet.
This is not the first time the company has flirted with cross-promoting to the gaming market. They have offered PUBG stream viewers KFC prize packs before. However, there is no reference to this  past event in the new KFC gaming promo video. Which most likely suggests this is something more than just a promotional stunt this time. Although their previous ones can be pretty crazy. We just have to wait and see.