Kickstarter Campaign 'Reading Rainbow' Most Successful Campaign To Date
---
---
---
Chris Hadley / 9 years ago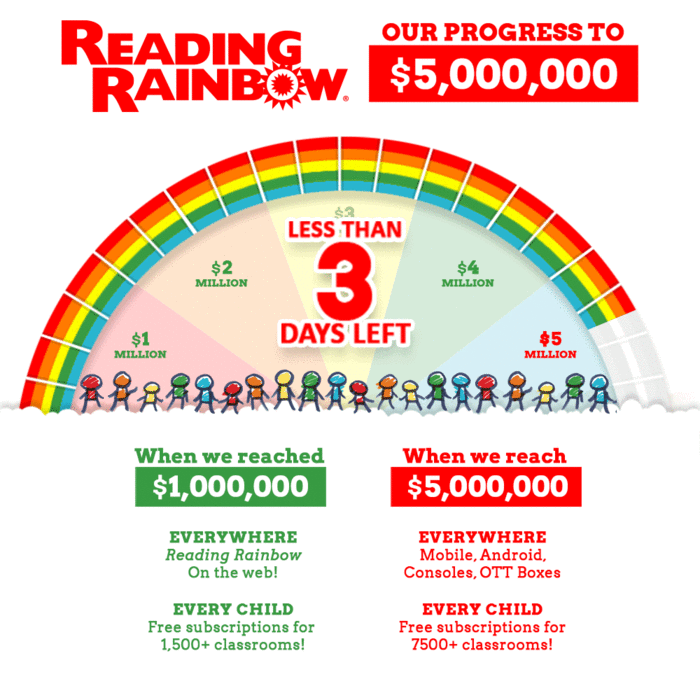 Back in the 80's, Reading Rainbow was one of the best known educational programs going, teaching kids of all ages how to read and when it came off air in 2006, many thought this would be the last we would see of one of the best educational programmes of recent times. This however has been far from the case as LeVar Burton has been busy working away behind the scenes to give it a more modern comeback. A couple of years back saw part of the homecoming with the launch of a mobile app for tablets and smartphones and whilst this is a great way to spread the tool out to the masses, Burton has wanted more so he turned to crowd funding site Kickstarter, asking for $1 Million to help him to develop Reading Rainbow for all platforms.
Compared to some of the most well know campaigns of recent times however, Burton could not have expected to get the amount of backing that he has had to date. In the space of 11 hours from the point of launch, Burton's campaign hit its target and since then it has gone on to reach close to $5 million with only a couple of days left to go. Not only this, but the campaign has seen support from over 90,000 backers – more than any other campaign to date – working out at a rough bid of around $50 person.
Hi. LeVar Burton here. You may know me as Kunta Kinte, from ROOTS, or Geordi La Forge, from Star Trek: The Next Generation.

You also may have grown up with me on Reading Rainbow.

It was my mother who taught me that, by picking up a book, I could "go anywhere" and "be anything." Ever since Reading Rainbow began in 1983, I have dedicated myself to fostering a love of reading in children, just as my mother did for me.

Over the past year, I have watched Kickstarter bring communities together to support artists and inventors. Again and again, I have been inspired by watching like-minded people team up to accomplish impossible dreams, and to change the world.

Now, I am hoping you will join me on my mission: to bring Reading Rainbow back for every child, everywhere.

Together, we can change the lives of millions of children. But you don't have to take my word for it: just keep reading!
With so much funding on tap, LeVar and his team are looking to push out the reading programme to as many schools and platforms as possible, with the aim to reduce the number of children that have difficulty in reading at their age levels.
If you want to find out more information on the Reading Rainbow Campaign or you want to help towards the eduction of children around the world (as that is effectively what you are doing, but on a massive scale) head over to its campaign page over on Kickstarter.