Kingston 64GB DataTraveler HyperX 3.0 USB Flash Drive Review
---
---
---
Andy Ruffell / 10 years ago
[wpcol_1half id="" class="" style=""]USB 3.0 technology is showing how much potential it has behind it, and we're seeing more motherboards featuring more ports than ever before and with the upcoming release of Ivy Bridge from Intel, we're told of native USB 3.0 support outside of Windows.
Kingston have developed USB 3.0 flash drives from the start, but recently have seena big push towards their HyperX range of products which offer unparalled performance and fantastic branding. To keep building the HyperX brand, they've now developed a USB flash drive that features the fastest speeds and largest capacities for a portable storage solution, like a USB flash drive.
The flash drive comes inside a plastic blister pack style casing with a clear view of the drive and its relevant features around it. We're told it's a 64GB, though 256GB capacities are available. The most striking thing that we find is the rated speeds of 225MB/s read and 135MB/s write.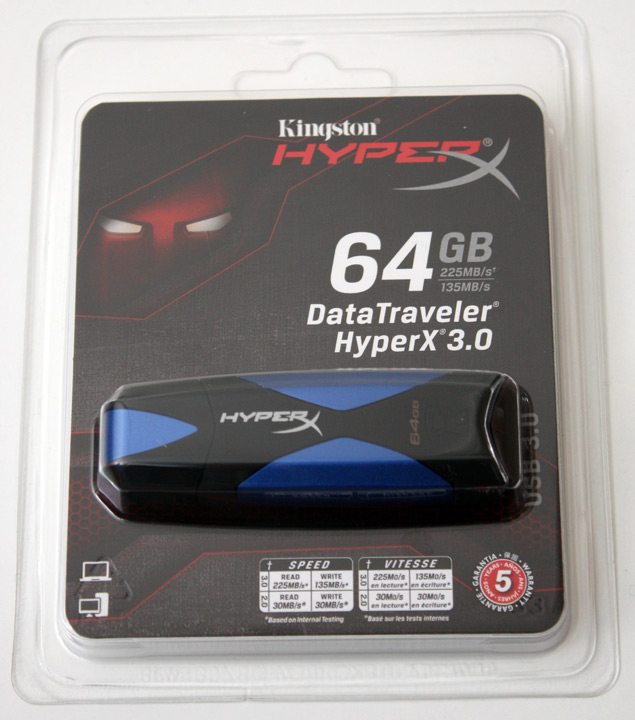 Once taken out of the packaging, we find that the backing card is actually an installation and warranty guide featuring many different languages. Also included is a key chain for attaching the flash drive to your keys and of course the flash drive.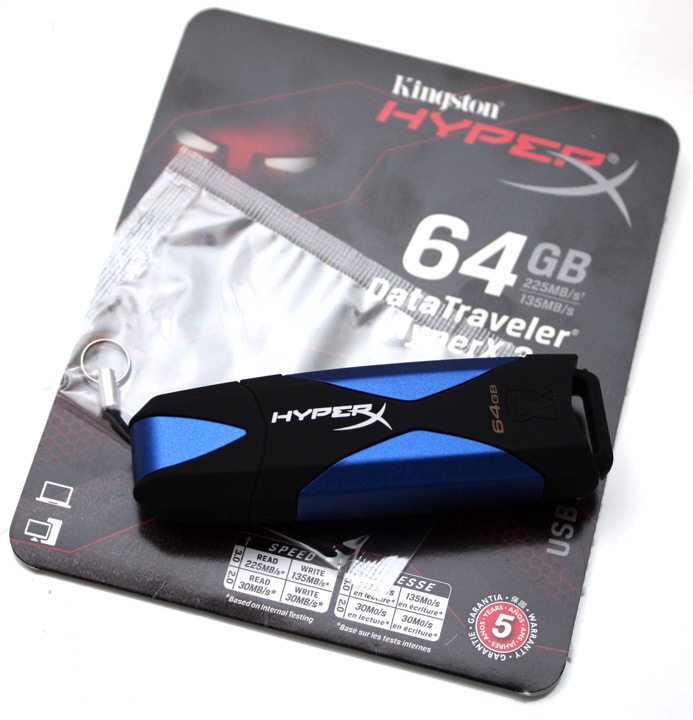 The drive itself features the patented blue and black HyperX colour scheme and HyperX branding. The capacity is also printed onto the drive, in this case being 64GB but larger sized capacities can be bought.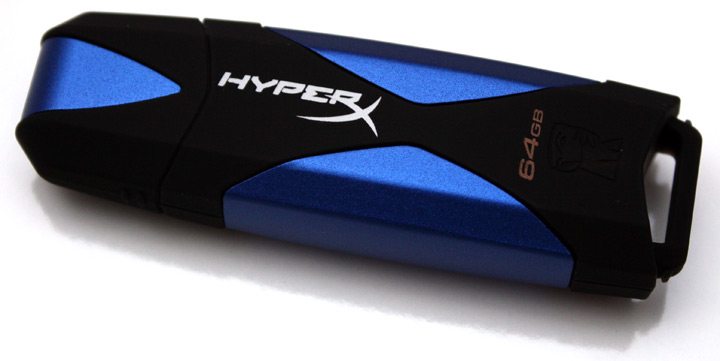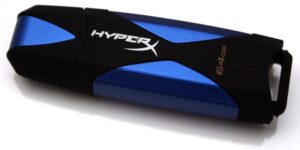 Being a USB 3.0 drive, the drive features a blue coloured USB connector, just in case their is any confusion.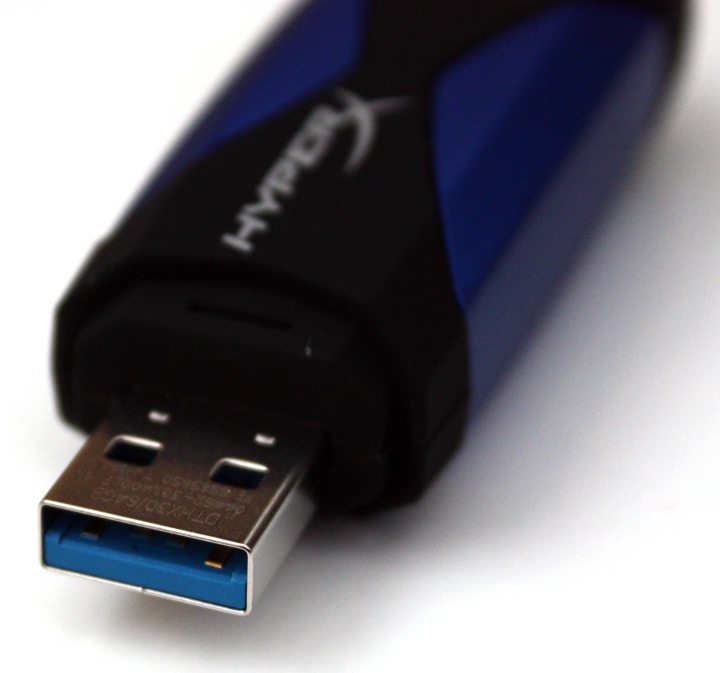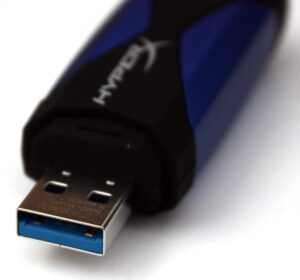 When looking at the performance of the drive, it's vital that you use the drive to its full capabilities.
Whilst it can function fine on a USB 2.0 port, you won't see the full potential of the drive, and therefore, we make sure to use the relevant USB 3.0 port and install the Asus Maximus IV Extreme-Z USB 3.0 drivers so that we can unlock the full performance of the HyperX flash drive.[/wpcol_1half]
[wpcol_1half_end id="" class="" style=""]Test system:
Asus Maximus IV Extreme-Z
Intel Core i7 2700k
Gigabyte GeForce GTX 580 SOC
Corsair H80
Corsahir HX1050W
Kingston V+100 128GB SSD
Lian Li T60
3 x AOC E2795VH
The first test that we wanted to run was ATTO as this will show the real performance of any drive thrown at it in terms of both read and write speeds. ATTO showed that the flash drive really can live up to its claims that we saw on the front of the packaging.
On the 1024 test, we find a write speed of 130MB/s and read speed of 232MB/s, which even though the write speed is 5MB/s under the rated speed, the read compensates by 7MB/s over the rated speed.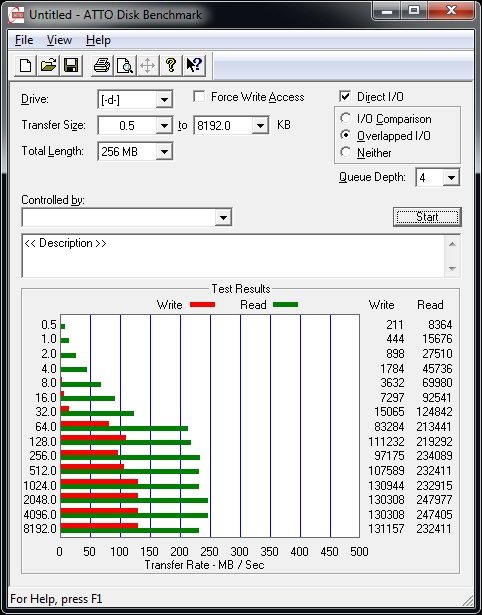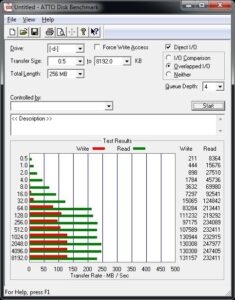 Moving on from ATTO, and we find ourselves testing the drive within CrystalDiskMark and looking at the sequential test, of which we saw strong results again at 247MB/s read and 141MB/s write speed, which is well above their quoted speeds from Kingston.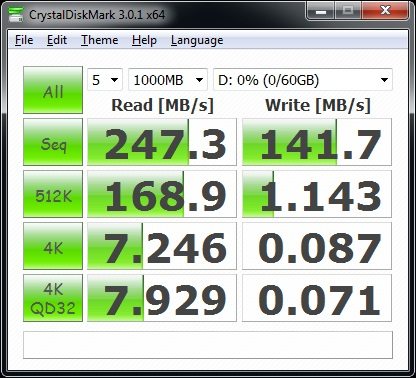 The drive itself looks amazing and has a rubber feel to it, which will allow for it to be protected from damage. The colour scheme is great and is worthy of an addition to the HyperX product range and that includes the performance too.
To be a HyperX product, you simply need to blow the consumers expectations out of the water and that's exactly what happened here with this flash drive. Even looking at the quoted speeds makes you chuckle inside, as it seemed like a load of marketing hype but the HyperX flash drive manages to live up to it and in some cases completely blitz past it, as we saw in CrystalDiskMark.
Price wise, you won't see much change out of £120, but it comes back to that age old saying "If you want the best, you'll have to pay for it" and so far, this really is the best in terms of looks and performance. It will be interesting to see what Kingston come up with next.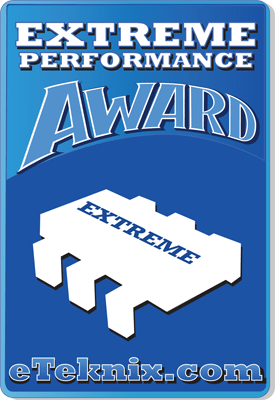 [/wpcol_1half_end]