LaCie 6big Thunderbolt 3 48TB DAS Review
---
---
---
Bohs Hansen / 4 years ago
Introduction
---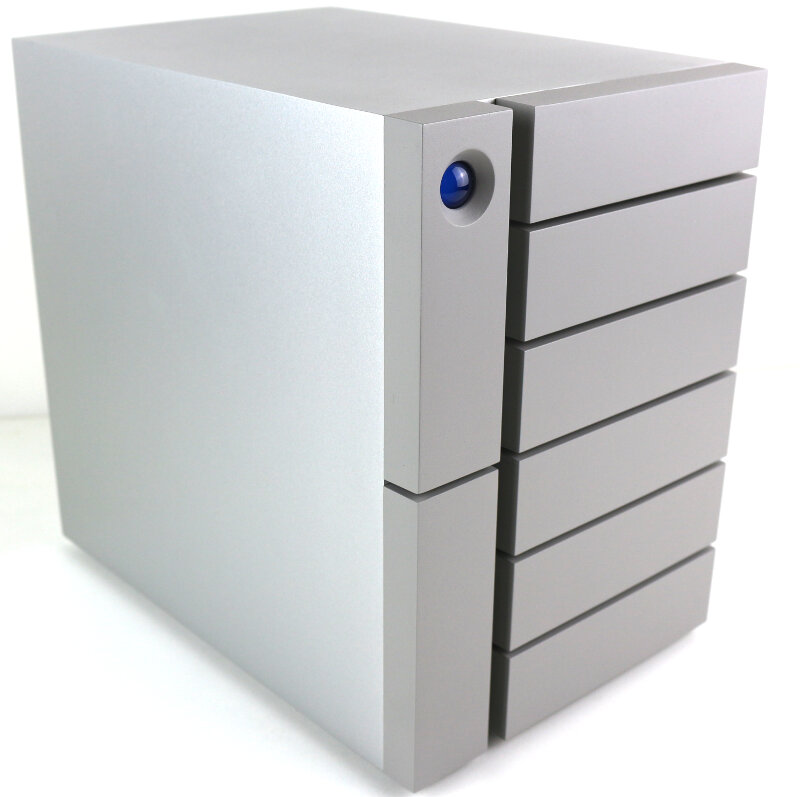 LaCie's big units with Thunderbolt 3 are something special; there's no doubt about that. Today I have the pleasure to take the 48TB model of the 6big for a spin in my testing area. But, we'll take a look at the unit itself and its features first. To whet the appetite, we're talking about a unit that features a 40Gbps connection and a throughput of 1400MB/s while offering up to 60TB capacity.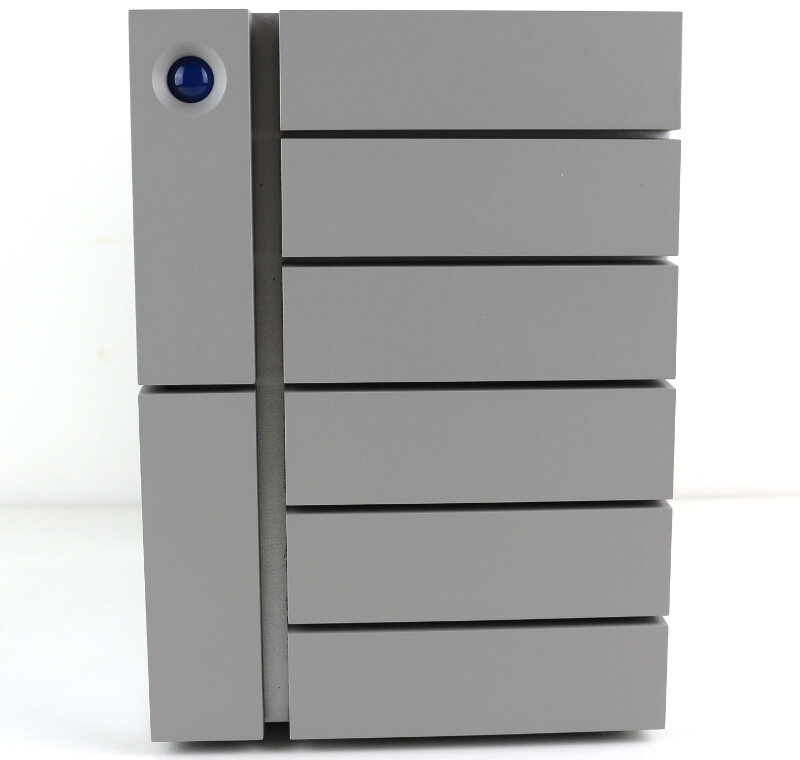 Design
The big series's visual appearance is a Neil Poulton design. As you may not know, Neil Poulton is a Scottish product designer. Mr Poulton specialises in the design of 'deceptively simple-looking mass-produced objects' and has won numerous international design awards. Of course, we've previously seen his work here at eTeknix while reviewing the LaCie Rugged and LaCie d2 drives.
Aluminium
Of course, the LaCie's 6big has a simplistic design, just as you'd expect it from Neil Poulton. However, it is an effective design and it features a gorgeous aluminium's chassis. Furthermore, that kind of material choice helps with the heat dissipation, which again allows the built-in fans to spin at a lower speed. Finally, the result is a more silent and cool running device; that is always a win in my book.
Connectivity
All connections, from system to power, are located at the rear of the unit. The drives are naturally accessible from the front from where you can gain access when needed. The drive caddies slide out like any other NAS or DAS device, allowing you to quickly replace a drive in case of a failure and get your RAID redundancy back to full strength.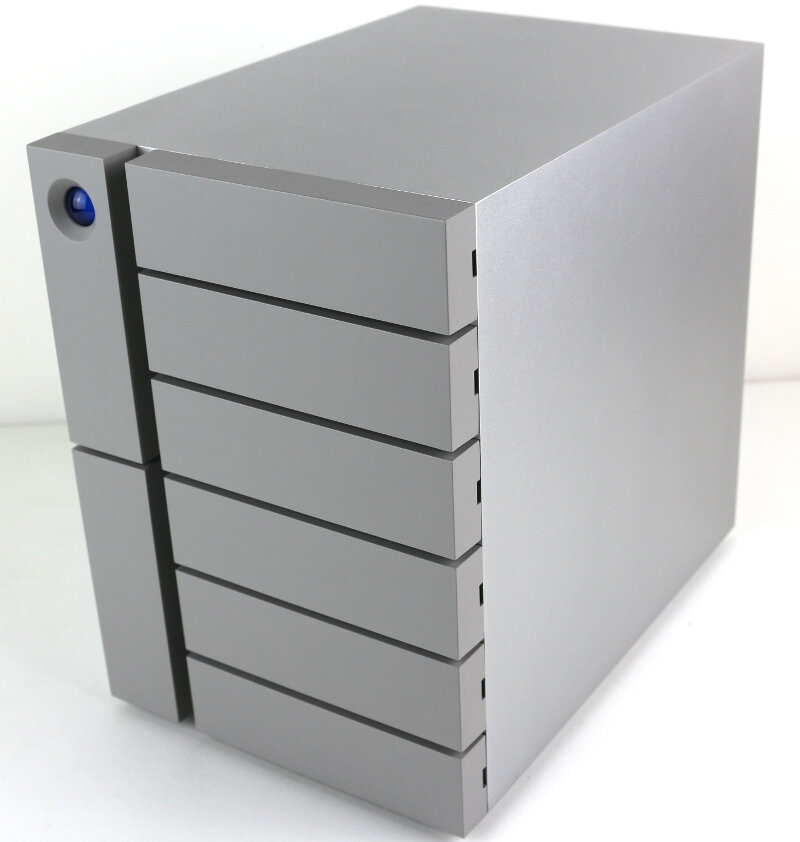 Drives, Capacity, and Speed
There are various models of the 6big units, and these DAS come pre-equipped with hard drives. Of course, the drives aren't just pre-installed in the unit, as they've also been configured to run in RAID 5 mode. Overall, this configuration allows you to use the unit as soon as you have unpacked and connected it. As for available models, you can get the units with 4TB, 6TB, 8TB, and 10TB drives, making it 24TB, 36TB, 48TB, and 60TB raw capacity. However, the actual available space depends on the drive setup, as with all storage units.
LaCie is using quality 7200RPM 24/7 drives only in the big series, which in return offers a reliable product with a performance to match. However, some units come with Enterprise NAS drives while other ones come with IronWolf and IronWolf Pro drives. Although, the model I'm testing today has six 8TB Enterprise NAS drives, which is a drive with a proven reliability a very low failure rate.
When it comes to the performance, the 6big is at the top with up to 1400MB/s throughput. Of course, that goes for the read operations as well as write operations. Of course, how well it performs will depend on your array configuration.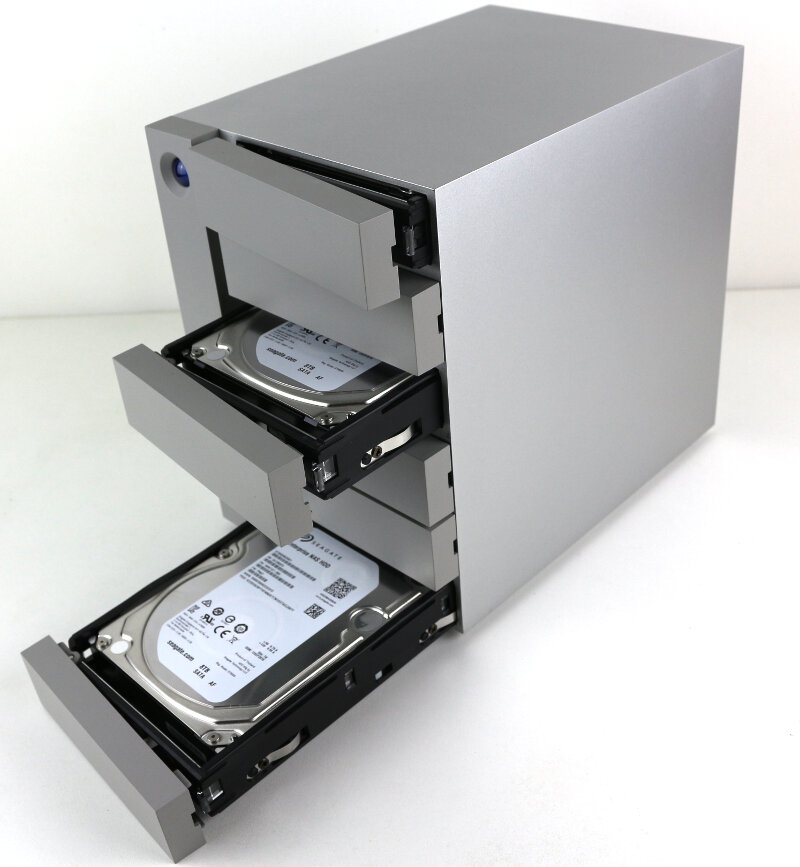 Dual Thunderbolt 3 Connection Options
LaCie added two types of connections to the 6big, but it's the Thunderbolt 3 option that's the primary one. Thunderbolt 3 comes with a lot of advantages which it doesn't take long to spot. Of course, the first thing you notice about Thunderbolt 3 is the speed, up to 40 Gbps on a single cable, that's impressive and it isn't just a theoretical speed.
Furthermore, another great function is the ability to daisy chain up to six devices on a single port. That creates a simple setup where you only need to connect a single cable to your system to connect up to 6 devices. Best of all, these devices don't need to be just storage and input devices such as with USB and it includes Monitors with resolutions of up to 5K. Of course, such a feature is particularly useful for people with portable systems, as a single cable can work as a full docking solution.
With two ports, the LaCie 6big fully supports all of this. There is but only one thing to keep in mind: Connected devices will share the available bandwidth of the cable. But that is a given, in any instance.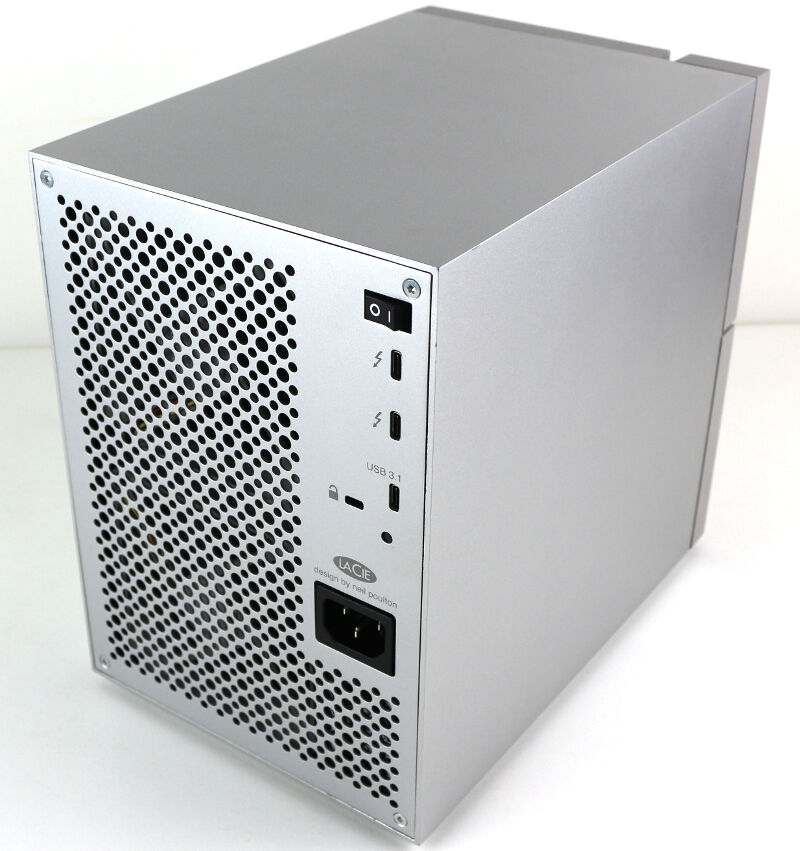 Optional USB Connection Option
While Thunderbolt 3 isn't that widely available yet, Apple users will find it in all the latest systems. While it is a bit more sparse in the DIY Windows/Linux world. However, there's one brand that's taking the lead in the area, and that is Gigabyte. Of course, they aren't the only company offering Thunderbolt 3, but they're a clear leader in the field.
As a content creator, which is the demographics the 6big is targeted at, you'll need to deliver digital results to customers. A lot of the time that happens digitally, but sometimes they'll just stop by your office to get the latest build or version of your product. Of course, that's one scenario where it's likely that their laptop won't have the Thunderbolt option and you'll have to add extra copy jobs forward and back to get the files onto his system. For just this scenario, LaCie added the USB 3.1 option and both a Type-C and Type-A connection cable. While another situation could be that your workstation with Thunderbolt 3 dies, but you still need access to your stored data.
While the speed here is limited to 5Gbps, it's a great backup to have. It's also all that it is intended to be. Sure, LaCie could have added a Gen.2 controller, but that would have increased the price, and it just isn't needed.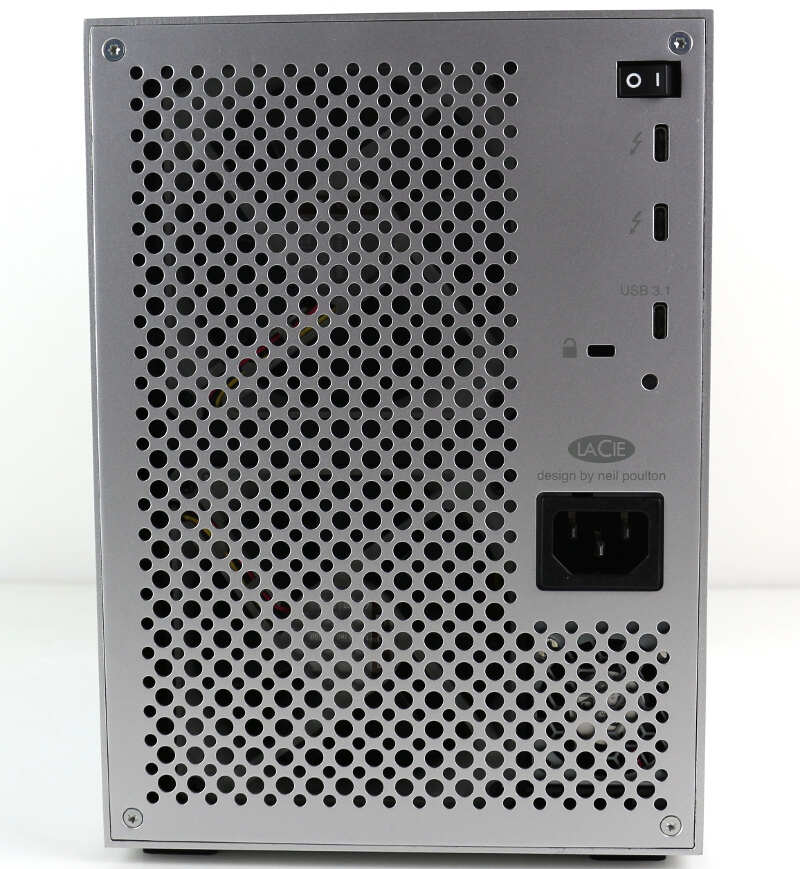 A DAS built for Redundancy
LaCie built a truly redundant unit with just a single exception. Your data is protected from drive failure through RAID and its redundancy, but that's not all. The 6big features two cooling fans that both can handle the cooling on their own. That means, that if one should fail, the other one will spin a little faster and ensure continuous uptime for your data. The only exception to the full redundancy is the power supply of which there's only one. If that fails, your system will be down for 1-2 days until the replacement parts arrive.
However, should a part fail, then you won't have to wait long to be back to a full setup. LaCie's 6big series feature advanced shipping of replacement parts, thus allowing you to be back to full protection in no time and with minimum hassle.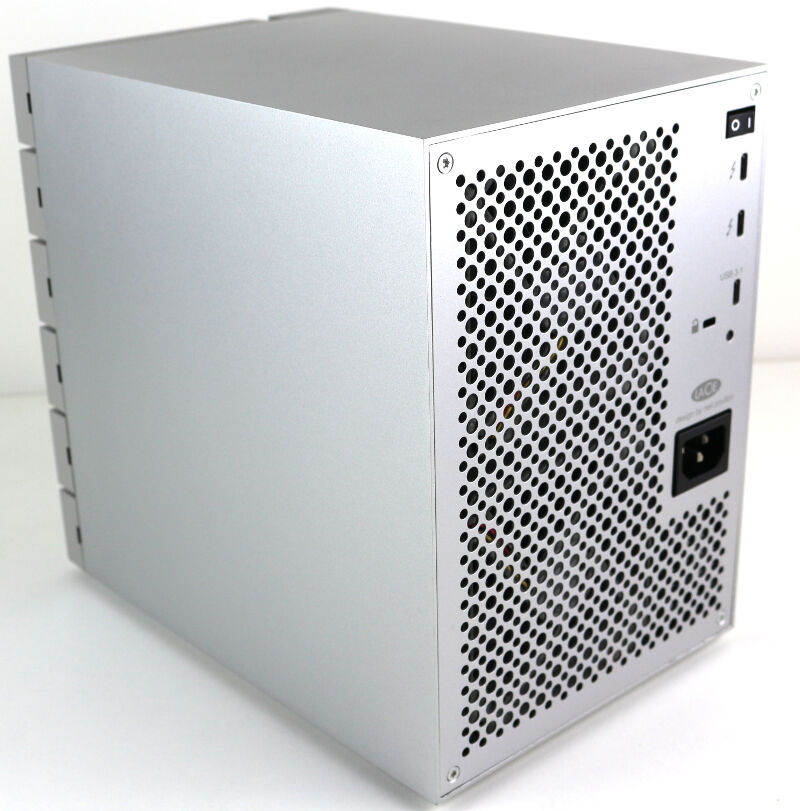 Warranty
There is no doubt that the 6big is a premium device, whether when we just look at it or when we read about it specifications and features. In the paragraph above, we learned that all the parts come with advanced shipping of replacement parts in case of a worst-case scenario. That goes for the whole 5-year warranty period. That's a long time where you're safe from hardware failure with quick replacement in the case. But you shouldn't expect to ever need it, not with the kind of quality you get.
So, you want even better speed and capacity
It doesn't have to stop at the LaCie 6big with its 60TB size option and 1400MB/s throughput. LaCie also has the 12big that is just what you think it is. The same kind of quality with double the amount of drives. The LaCie 12big is also one of the few devices that can reach the maximum performance of the 40Gbps Thunderbolt 3 interface. Of course, with double the drives pre-installed, the price of the units go up. Still, if you need a lot of storage that's fast, then it's what you'll want to have.
Feature Highlights
40Gbps Thunderbolt 3 speeds for 4K video editing.
Hardware RAID controller and 7200RPM Enterprise-class drives
Up to 1400MB/s throughput and 60TB capacity
Enables videographers to work directly with RAW files and see full-resolution edits in real time
Daisy-chain up to five additional Thunderbolt 3 devices through the dual ports
Supports RAID modes 0, 1, 5, 6, 10, and 50