LaCie 6big Thunderbolt 3 48TB DAS Review
---
---
---
Bohs Hansen / 4 years ago
Introduction
---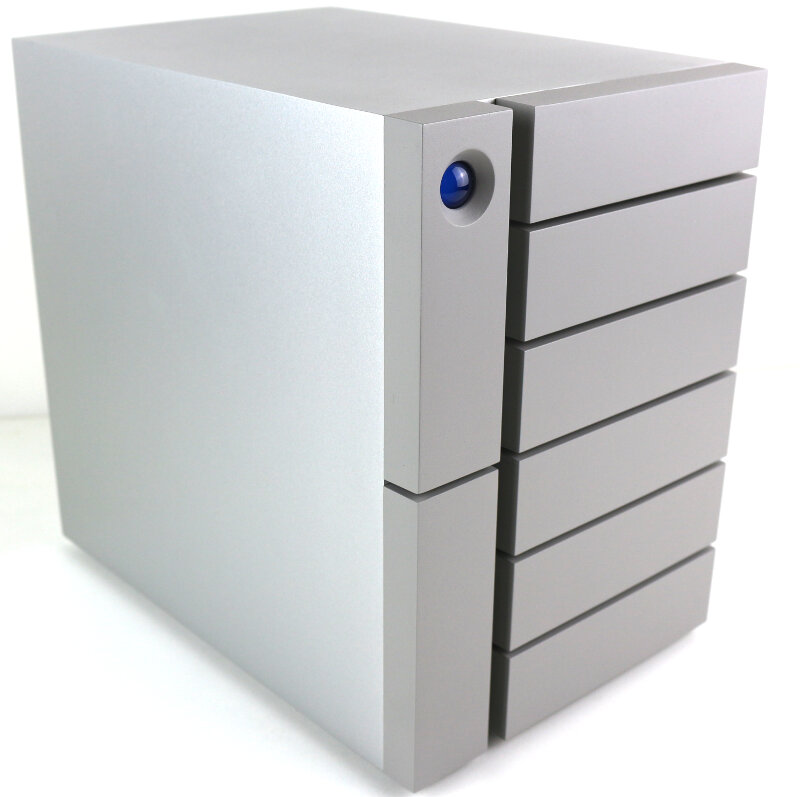 LaCie's big units with Thunderbolt 3 are something special; there's no doubt about that. Today I have the pleasure to take the 48TB model of the 6big for a spin in my testing area. But, we'll take a look at the unit itself and its features first. To whet the appetite, we're talking about a unit that features a 40Gbps connection and a throughput of 1400MB/s while offering up to 60TB capacity.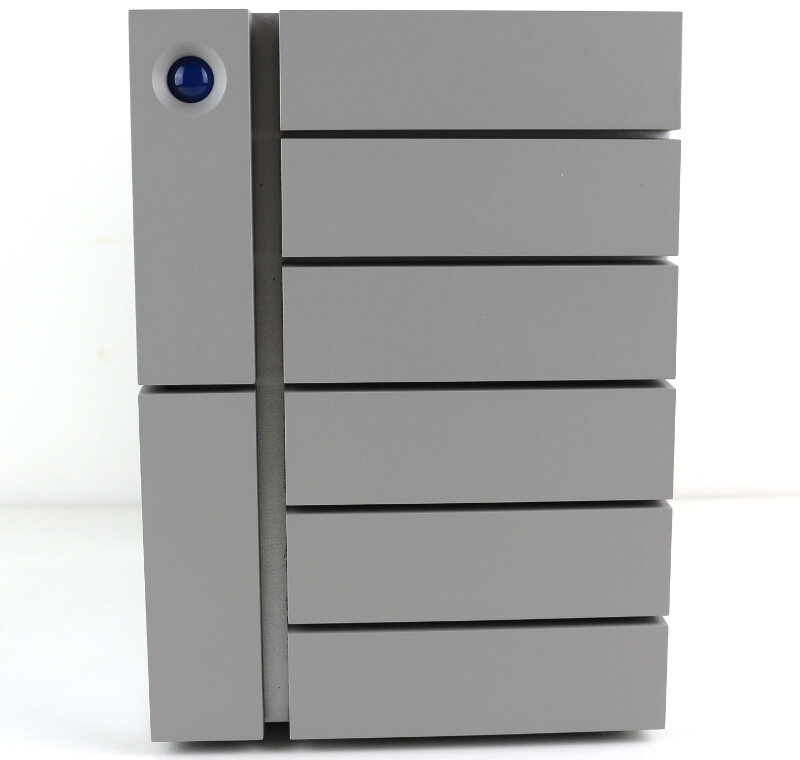 Design
The big series's visual appearance is a Neil Poulton design. As you may not know, Neil Poulton is a Scottish product designer. Mr Poulton specialises in the design of 'deceptively simple-looking mass-produced objects' and has won numerous international design awards. Of course, we've previously seen his work here at eTeknix while reviewing the LaCie Rugged and LaCie d2 drives.
Aluminium
Of course, the LaCie's 6big has a simplistic design, just as you'd expect it from Neil Poulton. However, it is an effective design and it features a gorgeous aluminium's chassis. Furthermore, that kind of material choice helps with the heat dissipation, which again allows the built-in fans to spin at a lower speed. Finally, the result is a more silent and cool running device; that is always a win in my book.
Connectivity
All connections, from system to power, are located at the rear of the unit. The drives are naturally accessible from the front from where you can gain access when needed. The drive caddies slide out like any other NAS or DAS device, allowing you to quickly replace a drive in case of a failure and get your RAID redundancy back to full strength.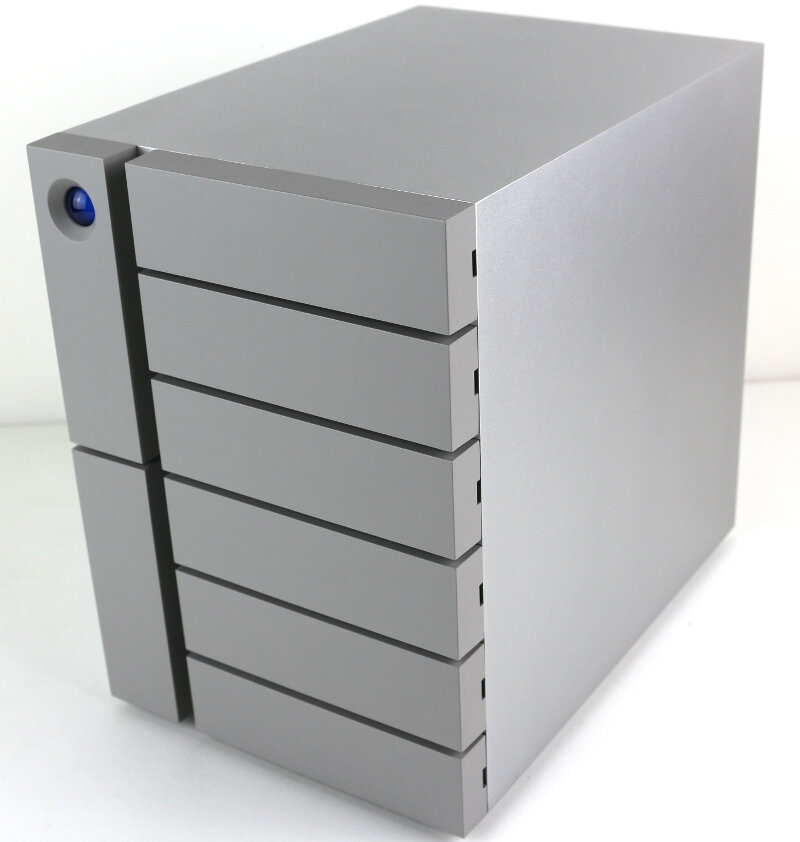 Drives, Capacity, and Speed
There are various models of the 6big units, and these DAS come pre-equipped with hard drives. Of course, the drives aren't just pre-installed in the unit, as they've also been configured to run in RAID 5 mode. Overall, this configuration allows you to use the unit as soon as you have unpacked and connected it. As for available models, you can get the units with 4TB, 6TB, 8TB, and 10TB drives, making it 24TB, 36TB, 48TB, and 60TB raw capacity. However, the actual available space depends on the drive setup, as with all storage units.
LaCie is using quality 7200RPM 24/7 drives only in the big series, which in return offers a reliable product with a performance to match. However, some units come with Enterprise NAS drives while other ones come with IronWolf and IronWolf Pro drives. Although, the model I'm testing today has six 8TB Enterprise NAS drives, which is a drive with a proven reliability a very low failure rate.
When it comes to the performance, the 6big is at the top with up to 1400MB/s throughput. Of course, that goes for the read operations as well as write operations. Of course, how well it performs will depend on your array configuration.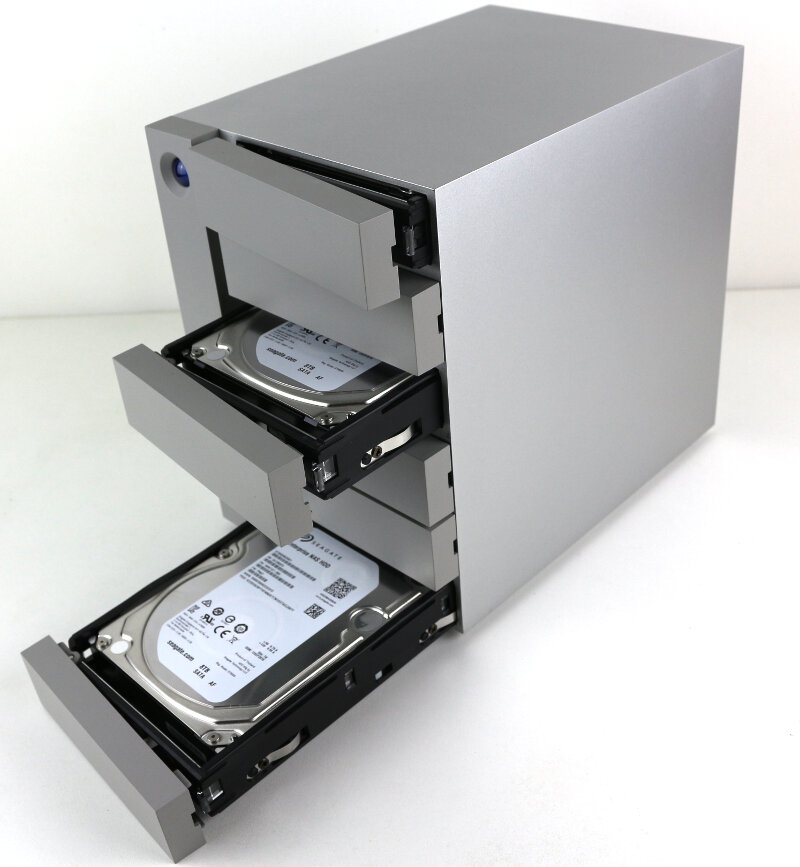 Dual Thunderbolt 3 Connection Options
LaCie added two types of connections to the 6big, but it's the Thunderbolt 3 option that's the primary one. Thunderbolt 3 comes with a lot of advantages which it doesn't take long to spot. Of course, the first thing you notice about Thunderbolt 3 is the speed, up to 40 Gbps on a single cable, that's impressive and it isn't just a theoretical speed.
Furthermore, another great function is the ability to daisy chain up to six devices on a single port. That creates a simple setup where you only need to connect a single cable to your system to connect up to 6 devices. Best of all, these devices don't need to be just storage and input devices such as with USB and it includes Monitors with resolutions of up to 5K. Of course, such a feature is particularly useful for people with portable systems, as a single cable can work as a full docking solution.
With two ports, the LaCie 6big fully supports all of this. There is but only one thing to keep in mind: Connected devices will share the available bandwidth of the cable. But that is a given, in any instance.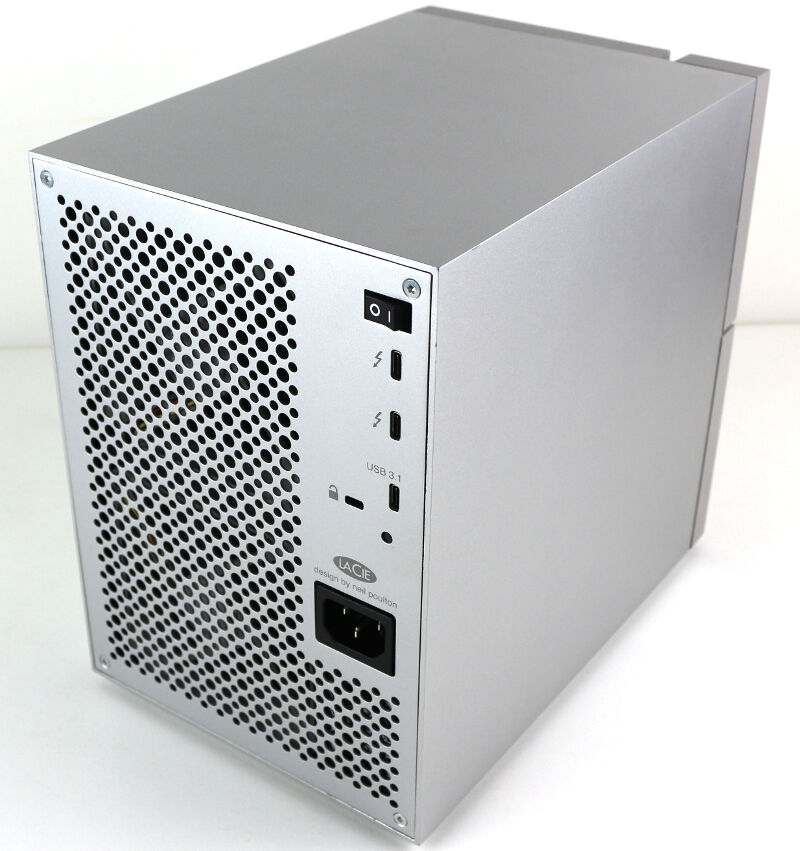 Optional USB Connection Option
While Thunderbolt 3 isn't that widely available yet, Apple users will find it in all the latest systems. While it is a bit more sparse in the DIY Windows/Linux world. However, there's one brand that's taking the lead in the area, and that is Gigabyte. Of course, they aren't the only company offering Thunderbolt 3, but they're a clear leader in the field.
As a content creator, which is the demographics the 6big is targeted at, you'll need to deliver digital results to customers. A lot of the time that happens digitally, but sometimes they'll just stop by your office to get the latest build or version of your product. Of course, that's one scenario where it's likely that their laptop won't have the Thunderbolt option and you'll have to add extra copy jobs forward and back to get the files onto his system. For just this scenario, LaCie added the USB 3.1 option and both a Type-C and Type-A connection cable. While another situation could be that your workstation with Thunderbolt 3 dies, but you still need access to your stored data.
While the speed here is limited to 5Gbps, it's a great backup to have. It's also all that it is intended to be. Sure, LaCie could have added a Gen.2 controller, but that would have increased the price, and it just isn't needed.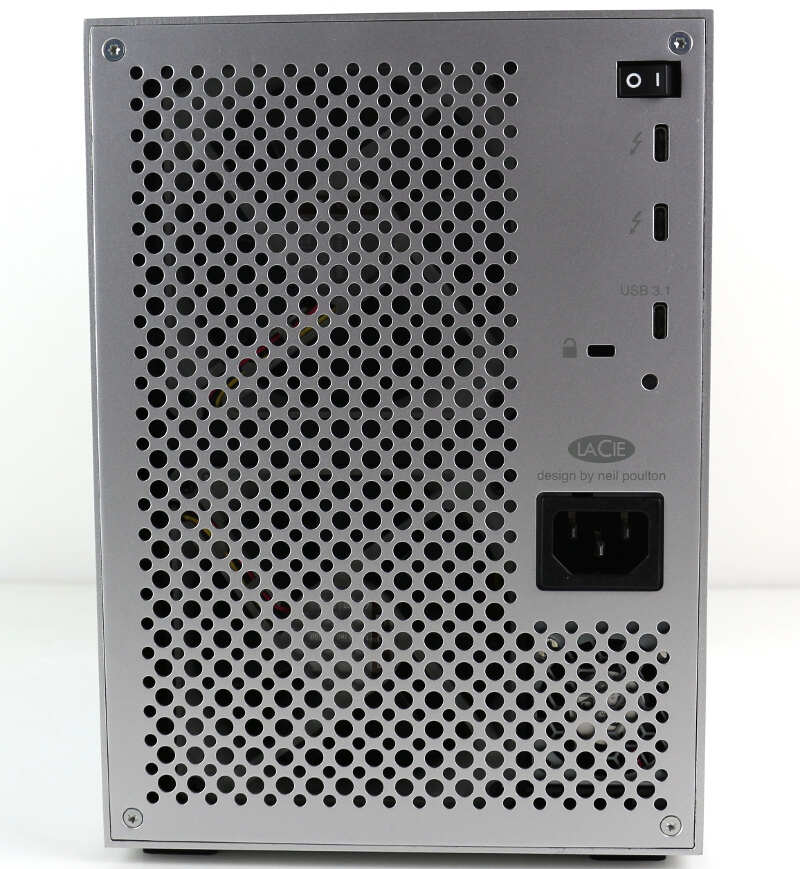 A DAS built for Redundancy
LaCie built a truly redundant unit with just a single exception. Your data is protected from drive failure through RAID and its redundancy, but that's not all. The 6big features two cooling fans that both can handle the cooling on their own. That means, that if one should fail, the other one will spin a little faster and ensure continuous uptime for your data. The only exception to the full redundancy is the power supply of which there's only one. If that fails, your system will be down for 1-2 days until the replacement parts arrive.
However, should a part fail, then you won't have to wait long to be back to a full setup. LaCie's 6big series feature advanced shipping of replacement parts, thus allowing you to be back to full protection in no time and with minimum hassle.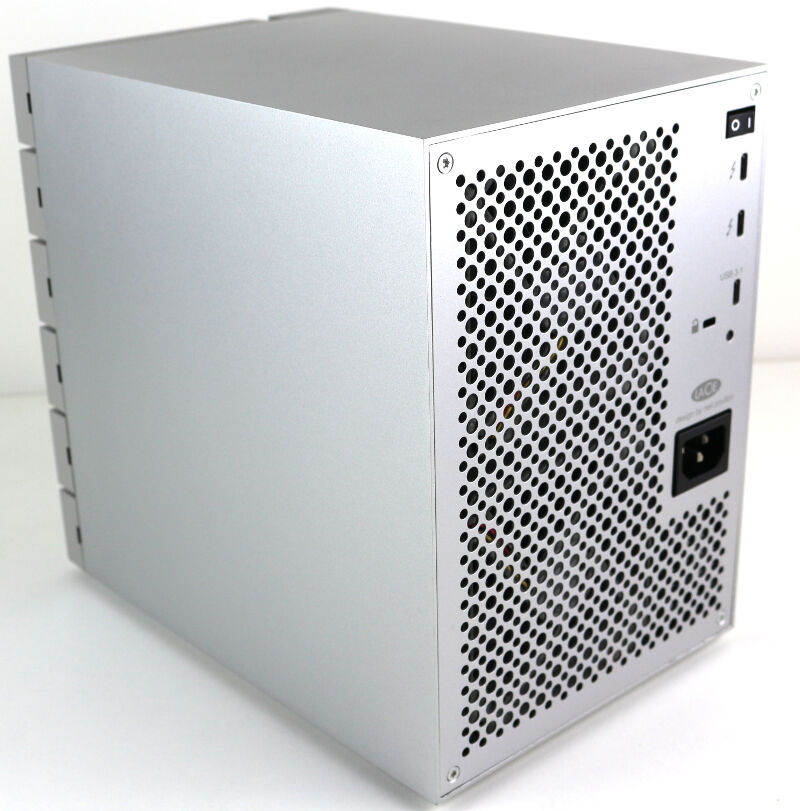 Warranty
There is no doubt that the 6big is a premium device, whether when we just look at it or when we read about it specifications and features. In the paragraph above, we learned that all the parts come with advanced shipping of replacement parts in case of a worst-case scenario. That goes for the whole 5-year warranty period. That's a long time where you're safe from hardware failure with quick replacement in the case. But you shouldn't expect to ever need it, not with the kind of quality you get.
So, you want even better speed and capacity
It doesn't have to stop at the LaCie 6big with its 60TB size option and 1400MB/s throughput. LaCie also has the 12big that is just what you think it is. The same kind of quality with double the amount of drives. The LaCie 12big is also one of the few devices that can reach the maximum performance of the 40Gbps Thunderbolt 3 interface. Of course, with double the drives pre-installed, the price of the units go up. Still, if you need a lot of storage that's fast, then it's what you'll want to have.
Feature Highlights
40Gbps Thunderbolt 3 speeds for 4K video editing.
Hardware RAID controller and 7200RPM Enterprise-class drives
Up to 1400MB/s throughput and 60TB capacity
Enables videographers to work directly with RAW files and see full-resolution edits in real time
Daisy-chain up to five additional Thunderbolt 3 devices through the dual ports
Supports RAID modes 0, 1, 5, 6, 10, and 50
———————–
A Look at the Package, Accessories, and Device
---
The Packaging
You should bring your muscles when you pick up the package with your new LaCie 6big. It's heavy, but that's not surprising considering what's inside. The box itself is as simple as the unit. On the front are the main feature highlights as well as a description of what it is.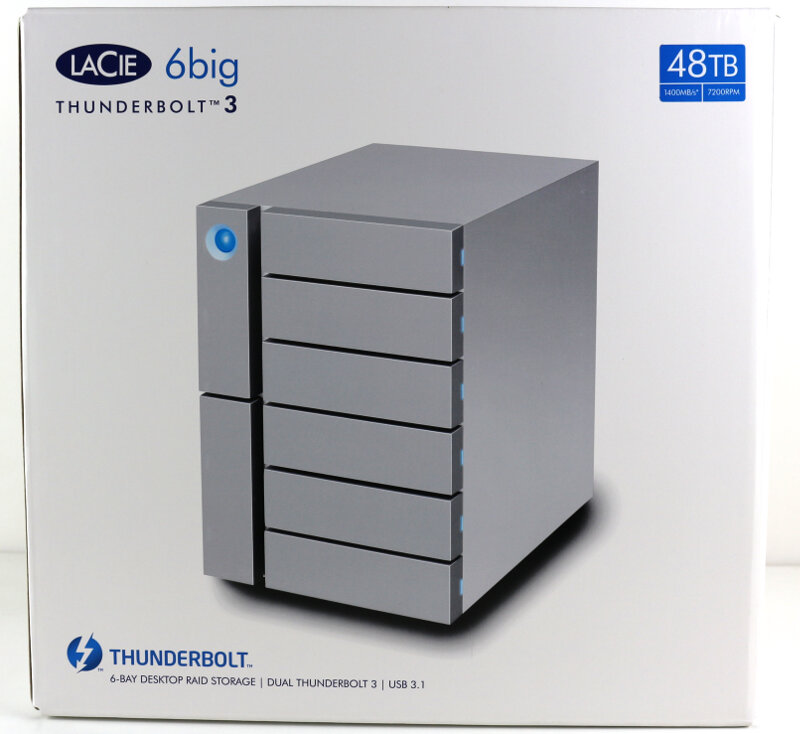 The side of the box features a view of the units rear side, including a description of what everything is used for and is.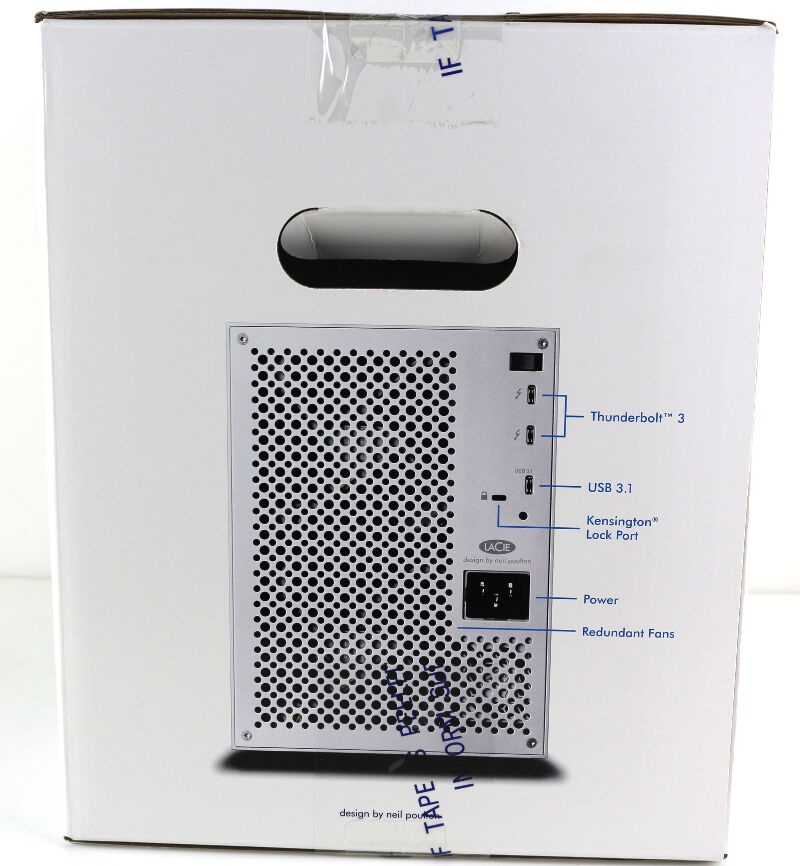 On the other side is a full feature and specification list.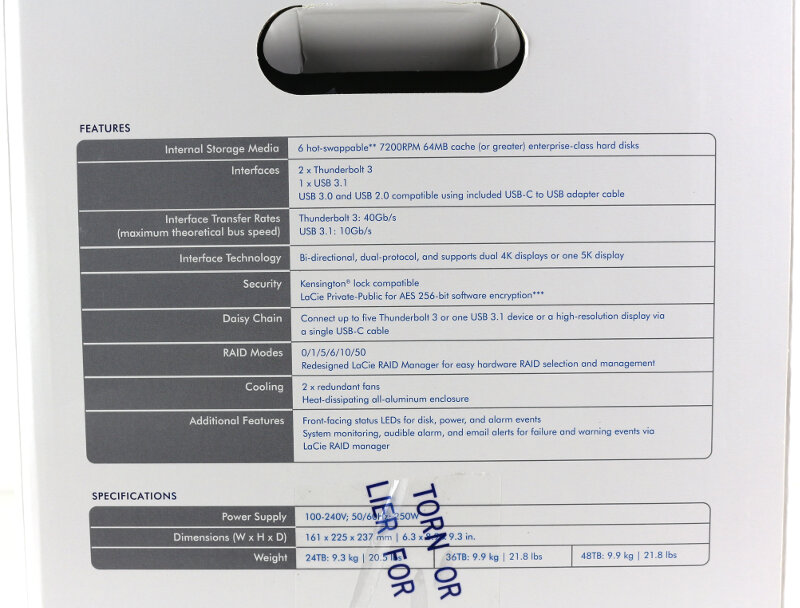 Besides the DAS itself, there are two boxes with accessories inside.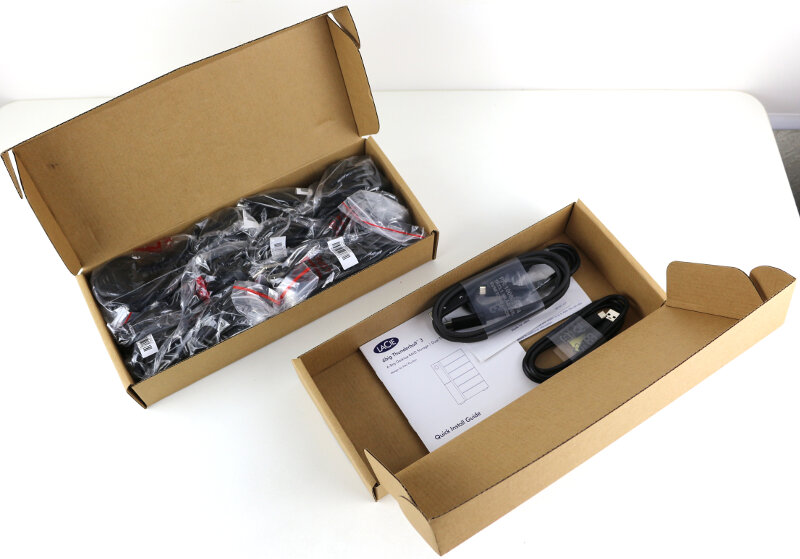 One box has warranty notes and installation guides as well as Thunderbolt 3 and USB cables.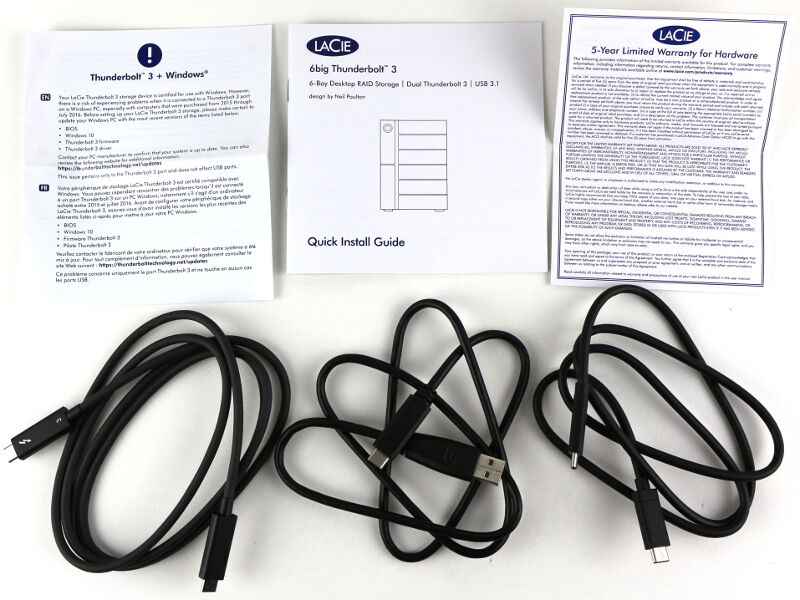 There are six power cables in the other one. That sounds like a lot, but it allows you to take your LaCie 6big with you on your travels. No matter where you go, you'll have a power cable to connect it.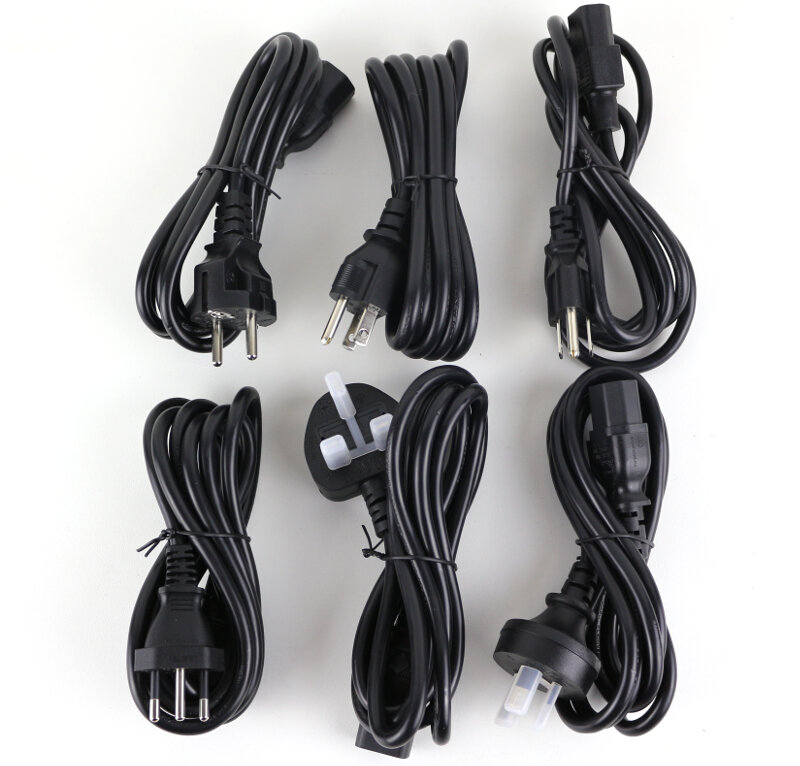 A Closer Look
The front is quite simplistic. There are six drive trays to the right and a single LED which also functions as a standby button. The trays are easily removed in case of a drive failure or general upgrade.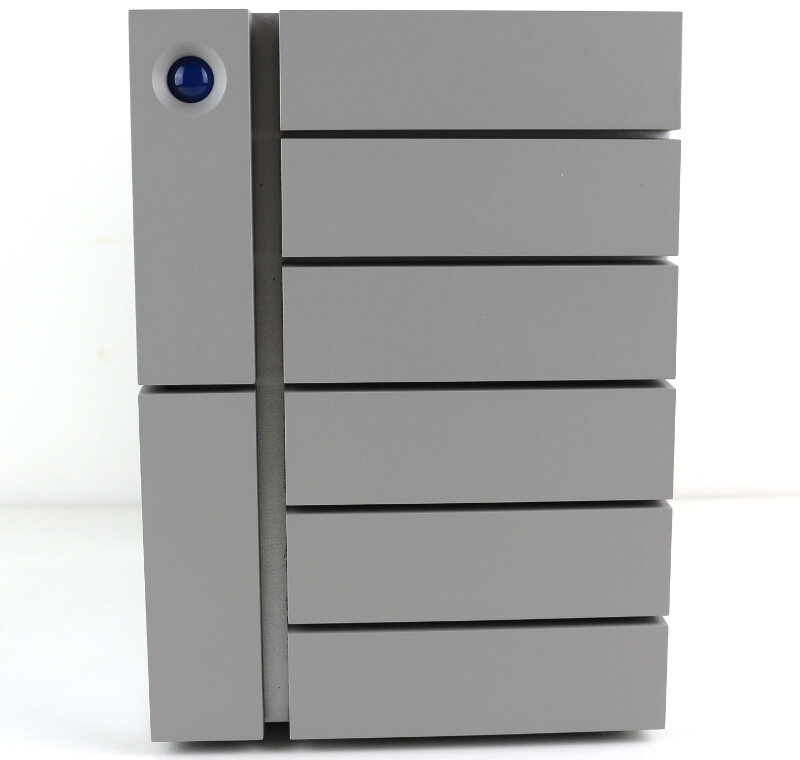 The rear side is where all the connections are. There's a power switch to turn the whole unit off, two Thunderbolt 3 ports, and a USB 3.1 Type-C port. There's also a Kensington security system and naturally the power connector. Behind the mesh are the two redundant fans which handle the air flow.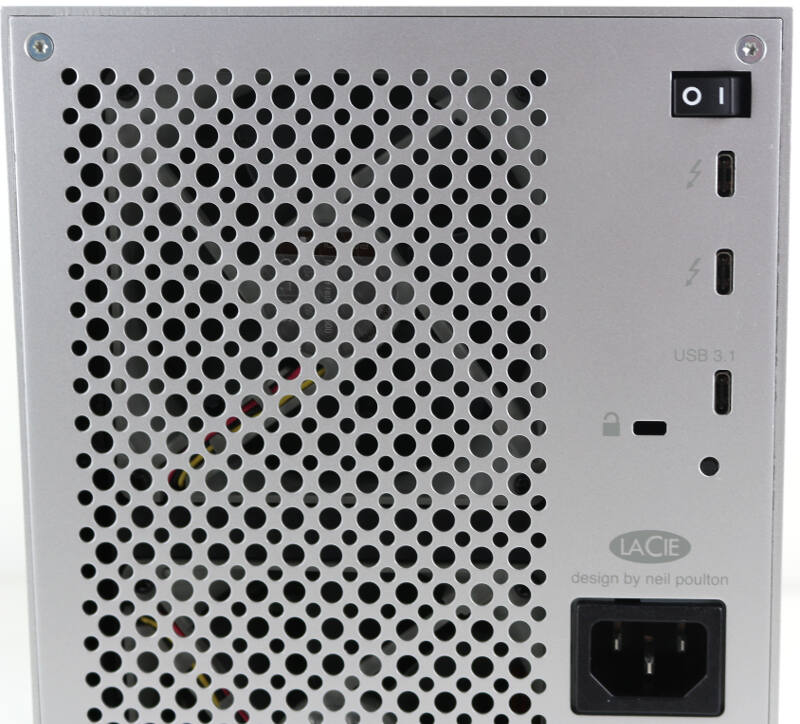 There are a few air intake holes on the bottom along with four large rubber feet.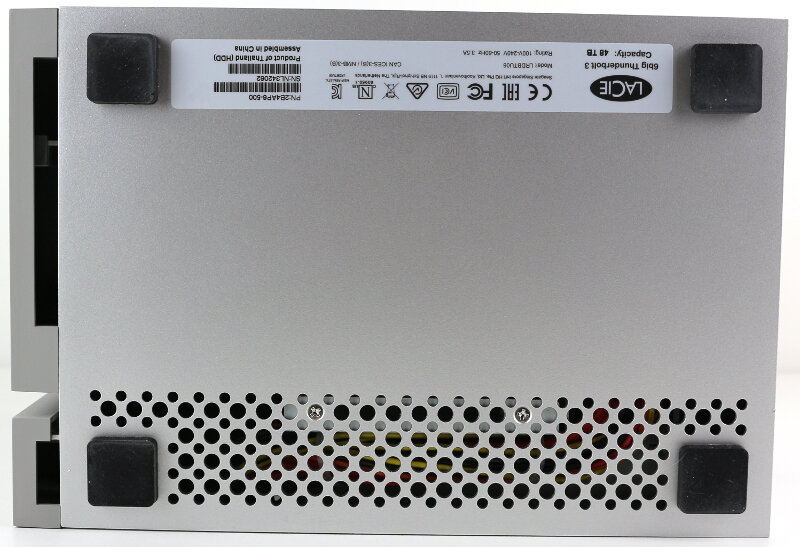 The drive trays hold the included drives, naturally. In this case, we get the Seagate Enterprise NAS HDDs with 8TB capacity, 7200RPM, and 256MB cache.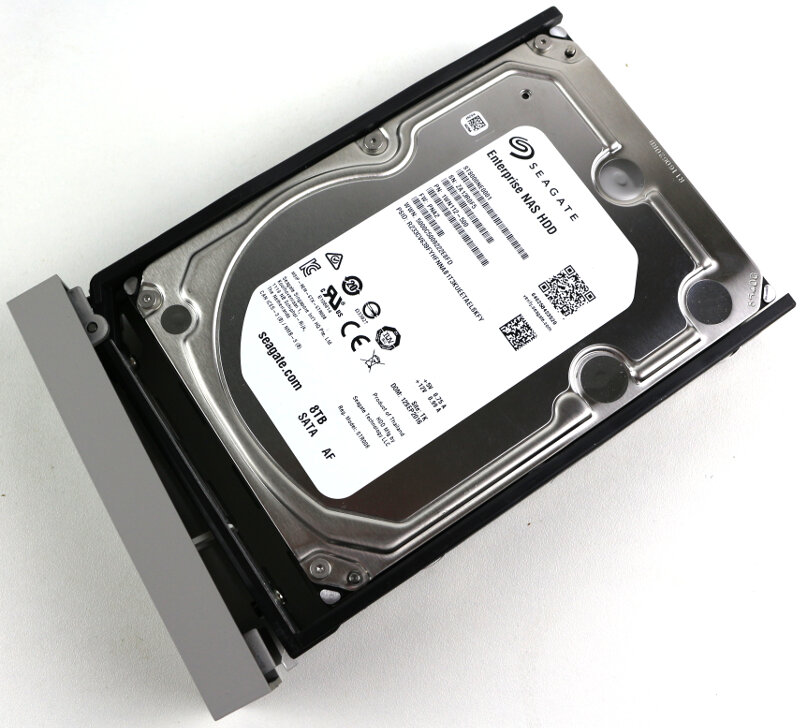 Each drive tray has ventilation holes on the bottom to make sure that the hard drives get plenty of fresh air. There's no point in drawing a lot of air in if it can't reach the places it has to cool. We can also spot 2.5-inch drive mounts, so that's an option down the line too.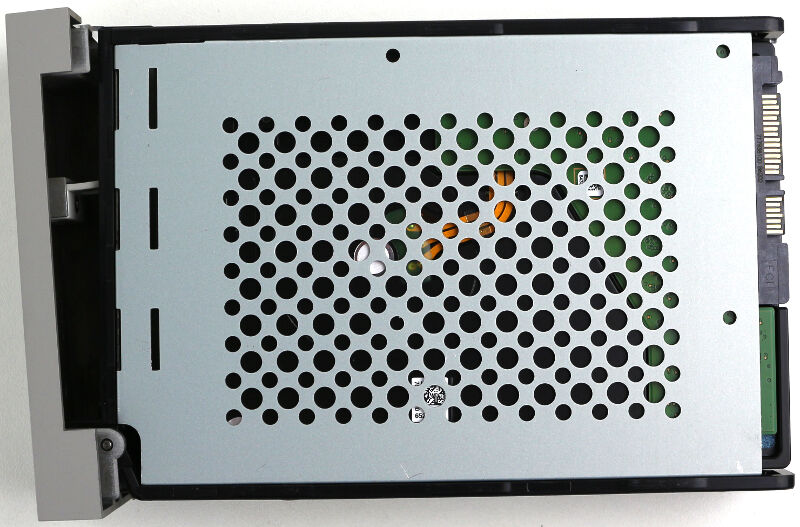 There isn't much to say about the included Thunderbolt 3, USB Type-C, and USB Type-A cables. But they feel like they're made of great quality and will last a long time.
———————–
Optional Accessories
---
There isn't a lot of available accessories for the LaCie big series, but there's one, and it's worth highlighting. The Pelican Protective Case. The case is perfect if you're on the road a lot and need to take your 6big with you.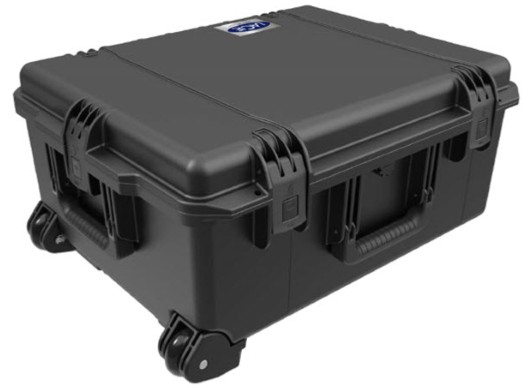 There's plenty of room inside the case for the device itself, a couple of extra rugged drives, and all the cables for power and connections. Not only is it an easy way to have it all in one place, it's also the most secure way to transport it all.
It is built with HPX resin and injection moulding which protects it against dents, shatter, and sub-zero temperatures. It's also watertight and dustproof. The inside is foam-lined, and you don't even need to carry it. The case features inline wheels and a telescope-handle. The downside, it will be another $400. But that's $400 well spent when it means the difference between your data arriving safely or not.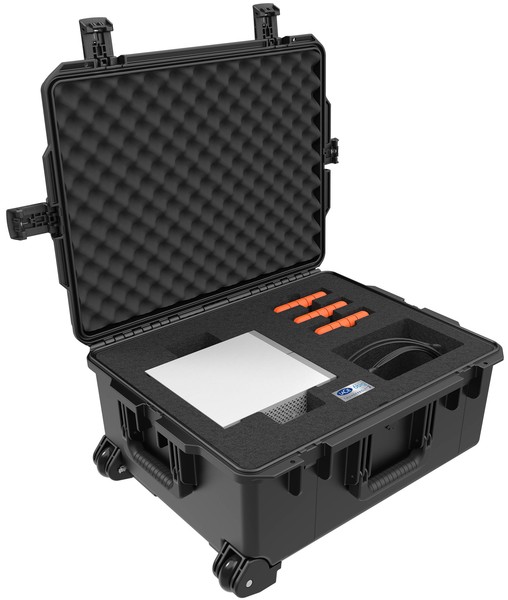 ———————–
Software: LaCie RAID Manager
---
The configuration and maintenance is done through the included software: Lacie RAID Manager. It's a straightforward tool to use, and you might not even need it. At least for a while. The unit comes pre-setup with a RAID 5 configuration. That makes it ready to use right out of the box.
You can, of course, view the status and edit in the configuration.
Notifications
There's also a notification system built right into the dashboard. A feature that we're used to from our NAS and network devices these days.
There's also the full notification list where you can download or clear the logs.
We aren't at our workstation at all times, and when we are, we surely aren't sitting and watching for notifications in a tool. That's no problem at all as LaCie's RAID manager can send you an email in case of an event. You can specify which kind of events you want to be emailed, whether you only want errors, warnings, or both.
Disk Information
We can have a look at all the installed drive's status too in this software.
It includes drive details such as the ones seen here.
Settings
There are various settings too, and you should take a look at these. You might not want to change them, but that's up to you.
A vital feature is the firmware upgrade functionality. With just a few clicks, you can download and apply new firmware upgrades and make sure you got the best performance with the least bugs possible at all times.
After the upgrade, you should see two green checkmarks, and you're ready to roll with your brand new and super fast external storage solution.
———————–
Test Setup and Methodology
---
Testing a DAS (Direct Attached Storage) is relatively simple from the methodology. I will start by connecting the device to the fastest possible interface, in this case, Thunderbolt 3. I will then run a series of performance tests on all possible drive setups. As the LaCie 6big comes with drives, I'll naturally be using those.
I will run four Anvil's Storage Utilities and two AIDA64 tests along with AS SSD Benchmark, ATTO Disk Benchmark, and CrystalDiskMark. These results in combination will give us a broad view of the device's capabilities. Normally I would have an IOmeter test too, but I found it to be unreliable in combination with external storage devices. That's a drive/bus issue, but it makes the test obsolete.
LaCie's 6big offers RAID 0, 1, 5, 6, 10, and 50 modes and I will be testing all of them with the above apps. Comparison charts and full benchmark results will be attached on each of the following pages.
Hardware
Patriot Hellfire NVMe SSD

Software
AIDA64 Storage Benchmark
Anvil's Storage Utilities
AS SSD Benchmark
ATTO Benchmark
CrystalDiskMark
Windows 10 Pro
———————–
AIDA64 Disk Benchmark
---
AIDA64 is a streamlined Windows diagnostic and benchmarking software for home users with a broad range of features to assist in overclocking, hardware error diagnosis, stress testing, and sensor monitoring. The app has unique capabilities to assess the performance of the processor, system memory, and disk drives and is compatible with most Microsoft Windows operating systems. It also has a disk benchmark tool, and that is the one I'll be using.
1) RAID 0
2) RAID 1
3) RAID 5
4) RAID 6
5) RAID 10
6) RAID 50
Read Access Times
The Access time tests are designed to measure the data access performance by reading or writing small 0.5KB data blocks at random locations on the drive surface.
1) RAID 0
2) RAID 1
3) RAID 5
4) RAID 6
5) RAID 10
6) RAID 50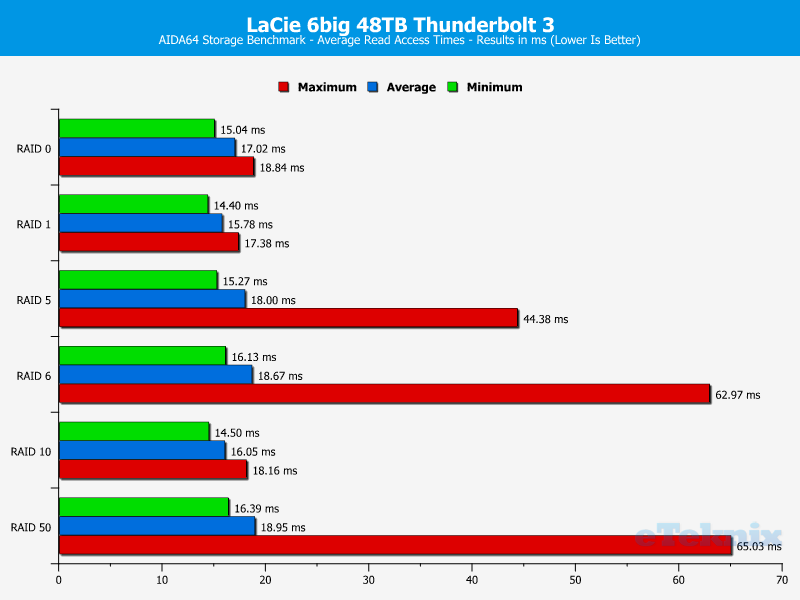 Write Access Times
1) RAID 0
2) RAID 1
3) RAID 5
4) RAID 6
5) RAID 10
6) RAID 50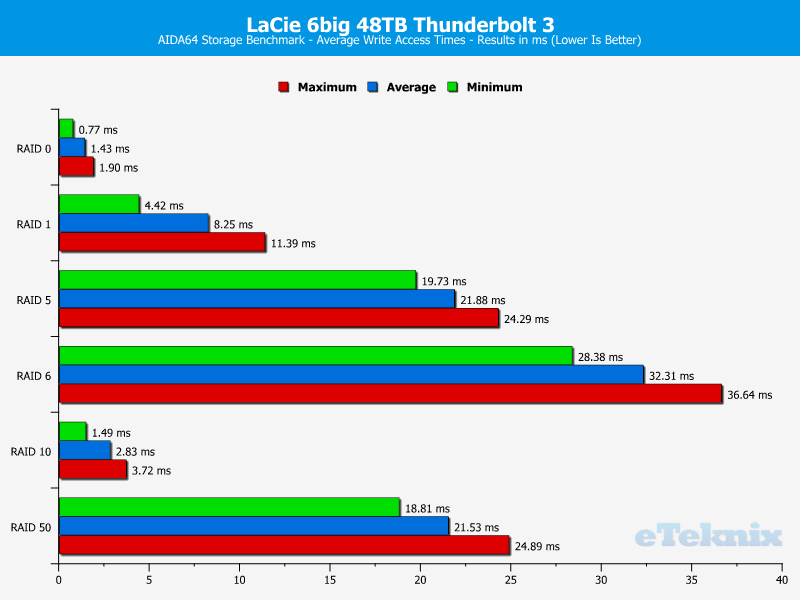 ———————–
Anvil's Storage Utilities
---
Anvil's Storage Utilities is a complete benchmark solution used to test any writeable storage drive. It also has a drive endurance test that consistently reads and writes data to the selected medium to deliver days, months, and potentially even years of use in a shorter period.
Application Data
1) RAID 0
2) RAID 1
3) RAID 5
4) RAID 6
5) RAID 10
6) RAID 50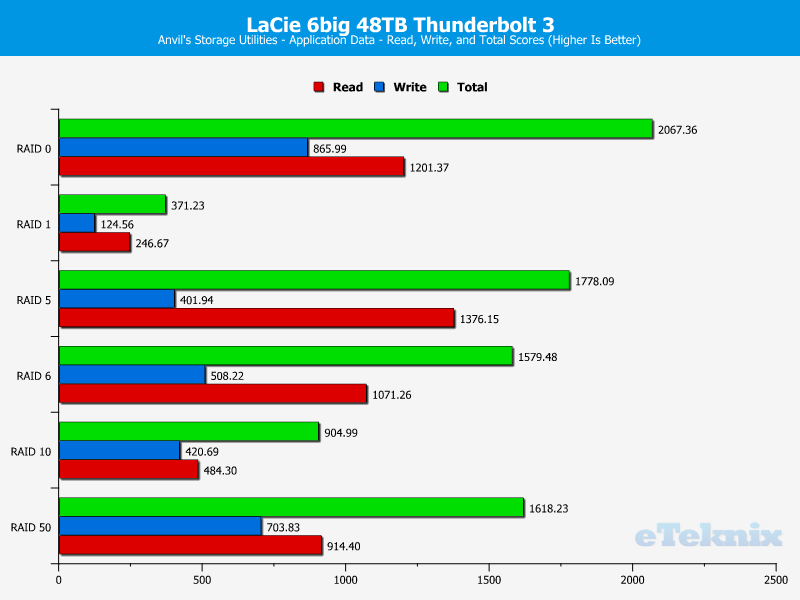 Database Data
1) RAID 0
2) RAID 1
3) RAID 5
4) RAID 6
5) RAID 10
6) RAID 50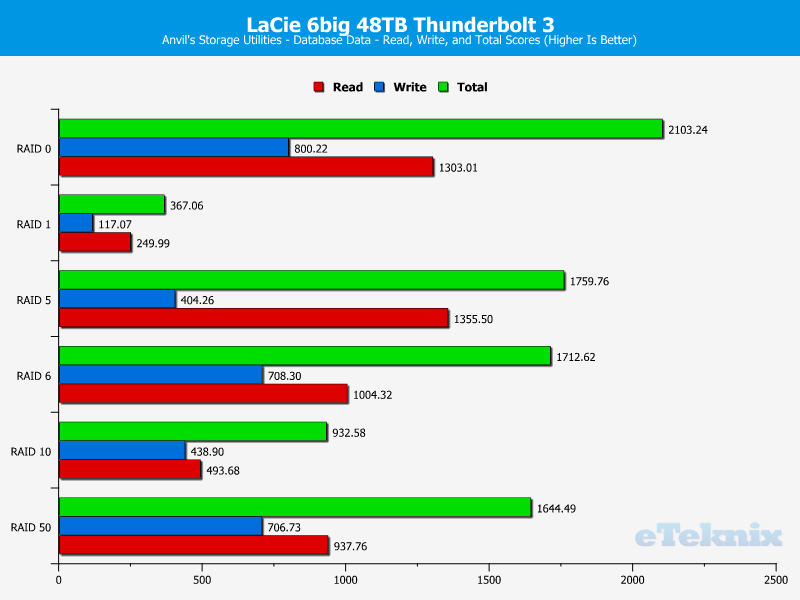 Compressible Data
1) RAID 0
2) RAID 1
3) RAID 5
4) RAID 6
5) RAID 10
6) RAID 50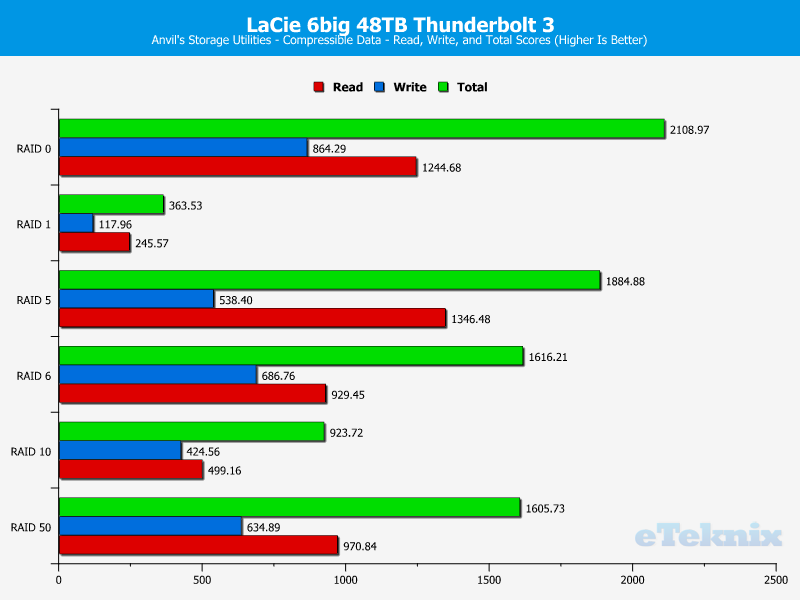 Incompressible Data
1) RAID 0
2) RAID 1
3) RAID 5
4) RAID 6
5) RAID 10
6) RAID 50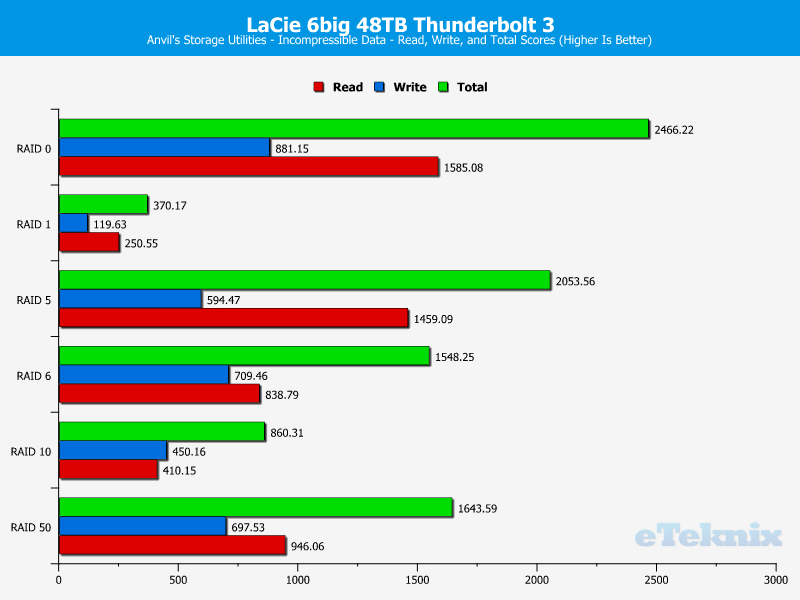 ———————–
AS SSD Benchmark
---
The AS SSD software determines the performance of Solid State Drives (SSD). The tool contains five synthetic and three practice tests. The synthetic tests determine the sequential and random read and write performance of the SSD, and they aren't using the operating system cache.
Sequential Performance
1) RAID 0
2) RAID 1
3) RAID 5
4) RAID 6
5) RAID 10
6) RAID 50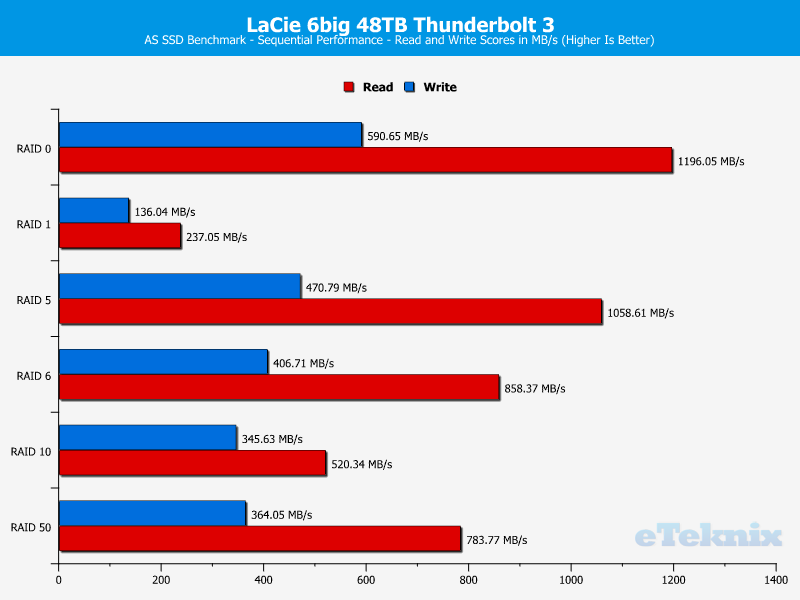 Random Performance
1) RAID 0
2) RAID 1
3) RAID 5
4) RAID 6
5) RAID 10
6) RAID 50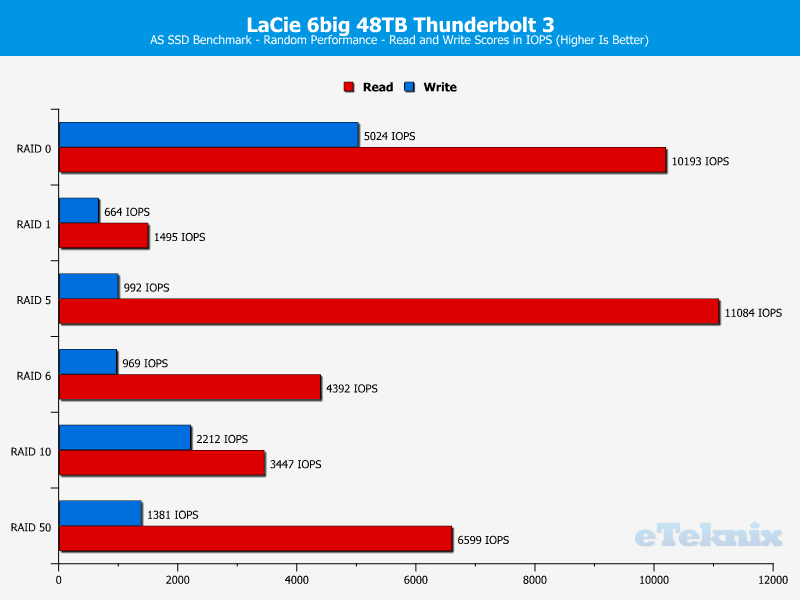 Access Times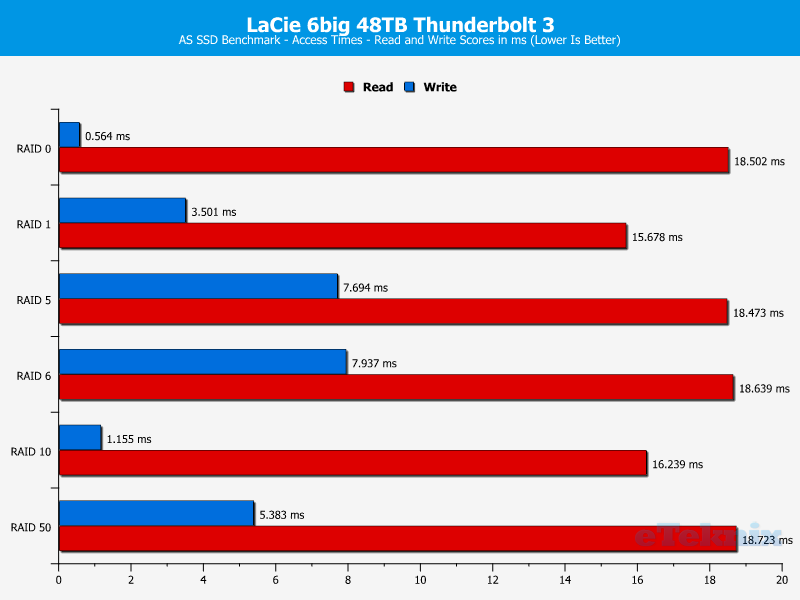 Benchmark Scores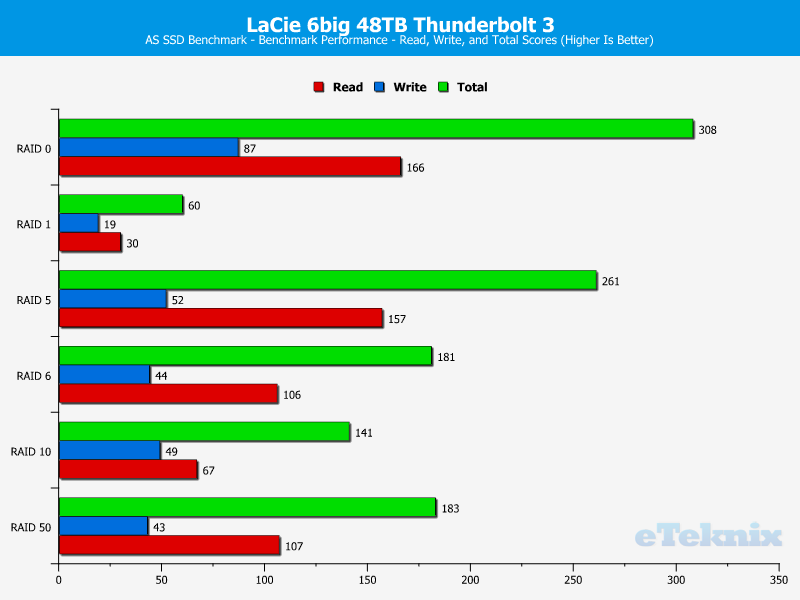 ———————–
ATTO Disk Benchmark
---
The ATTO Disk Benchmark performance measurement tool is compatible with Microsoft Windows. Measure your storage systems performance with various transfer sizes and test lengths for reads and writes with several options to customise, including queue depth, and overlapped I/O.
1) RAID 0
2) RAID 1
3) RAID 5
4) RAID 6
5) RAID 10
6) RAID 50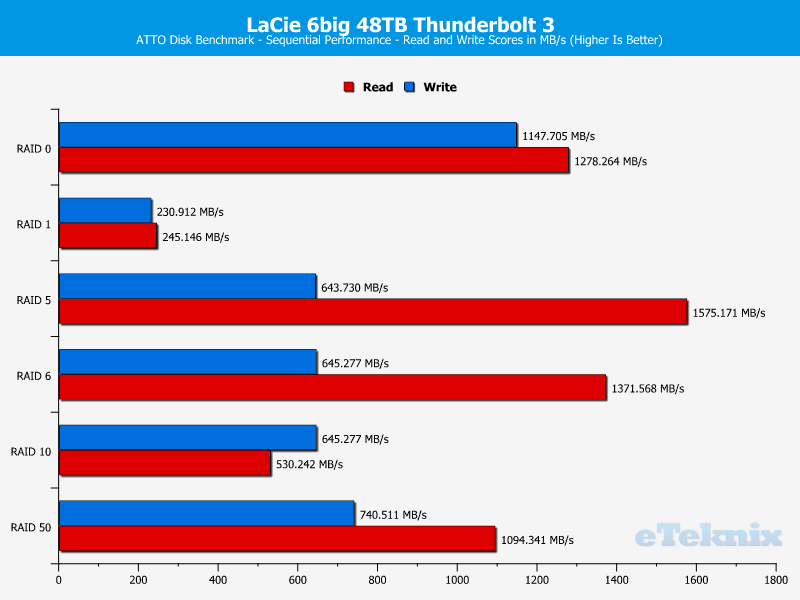 ———————–
CrystalDiskMark
---
CrystalDiskMark is a small HDD and SSD benchmark utility that allows you to measure a drive's sequential and random performance.
1) RAID 0
2) RAID 1
3) RAID 5
4) RAID 6
5) RAID 10
6) RAID 50
Sequential Performance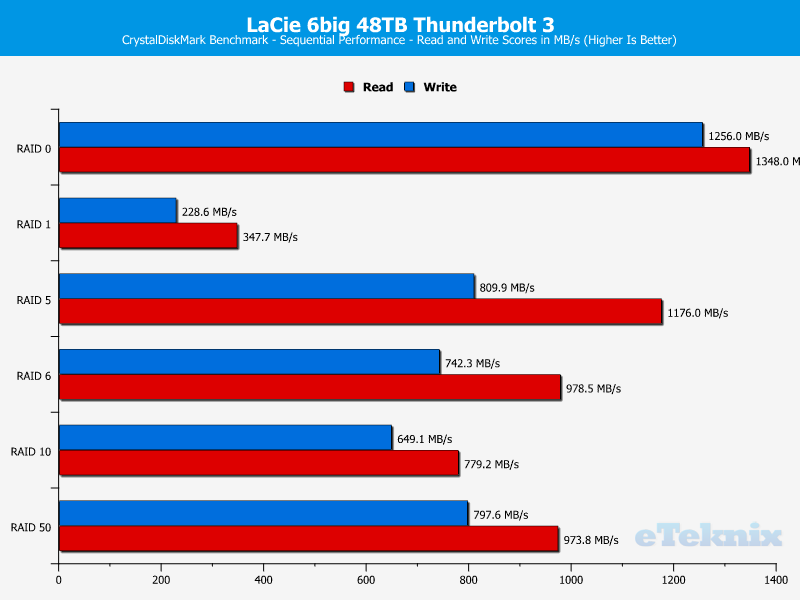 Random Performance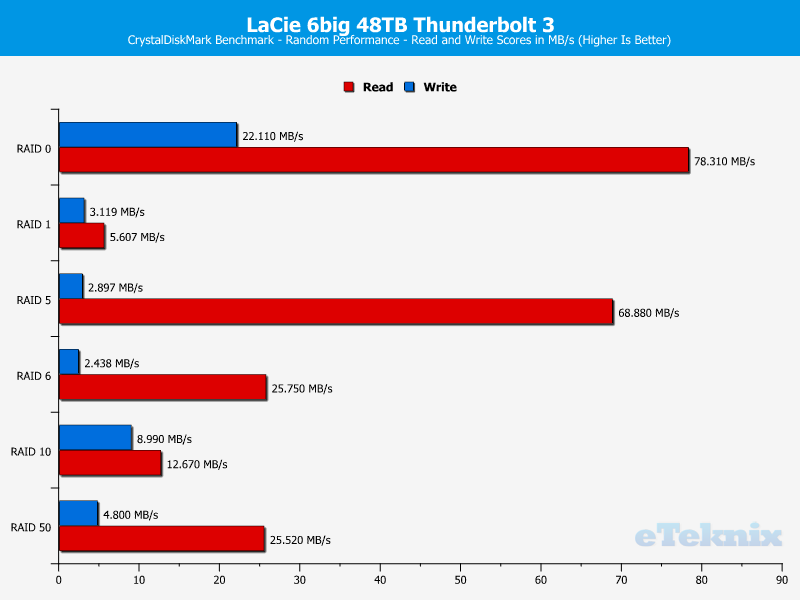 ———————–
Pricing, Conclusion, and Final Thoughts
---
Pricing
The LaCie 6big 48TB model with Thunderbolt 3 and USB-C can be yours for £5024.87 or $4354.96 at the time of writing. That might sound like a lot, but you need to keep in mind that it comes equipped with enterprise-grade drives.
Summary
Let me dive right into it and start by saying, it was a true pleasure to test and review LaCie's 6big. It is a beautiful unit with a simplistic yet effective design. That's always a pro in my book as people familiar with my work will know. Of course, the enclosure doesn't just look good, it also helps with the cooling thanks to the full aluminium chassis. The front is kept clean with just the drives while all connections are located on the rear.
A nice touch is the single LED which is used on the front of the device. While individual LED lights for each drive and connection option can be advantages, it isn't always the best option. When you need to find the root of your issues, LEDs can be useful. But the 6big is built to last and doesn't need this. Okay, that's probably not why, but it matches. A more likely reason for this is that a DAS with is placed close to your workstation and that you don't want a lot of flashing lights in the edge of your vision field.
Impressive Features and Performance
Of course, the main connection for the LaCie 6big is the Thunderbolt 3 connection. Not only does it allow for up to 40Gbps throughput, it also features the daisy chain ability where up to 6 devices can run on a single host port. Also, as a backup solution and for single usages, the 6big features a USB Type-C port. Finally, with USB, you have the ability to connect it to pretty much any host system out there. That includes everything from TVs to computers.
There are multiple capacity options available. It starts with a modest 24TB model (4TB drives) and goes in four steps up to 60TB capacity (10TB drives). Today I tested the 48TB model (8TB drives), but they all have one thing in common. They utilise enterprise class 7200RPM drives, pack five years of warranty with advanced replacement shipping, and impressive performance figures. Of course, with up to 60TB storage and 1400MB/s throughput, you got one of the best external storage solution possible.
If that still isn't enough for you, then you should take a look at the LaCie 12big. That unit doubles almost all aspects, including speed. In fact, the 12big will max out the possibilities of the Thunderbolt 3 connection.
The Software
LaCie's RAID manager is very easy to use. Once installed on your system, it will let you configure all aspects of the 6big with just a few clicks.
Pros
Up to 60TB capacity
1400MB/s throughput
Dual Thunderbolt 3 and backup USB 3.1 connections
Hardware designed for redundancy
Designer-created aluminium enclosure
Cons
"LaCie's 6big delivers an impressive performance which is perfect for 4K/5K/3D jobs. At the same time, it looks good and stylish."
We would like to thank LaCie for this review sample.