LaCie Rugged Secure 2TB Encrypted and Portable HDD Review
---
---
---
Bohs Hansen / 5 years ago
Introduction
---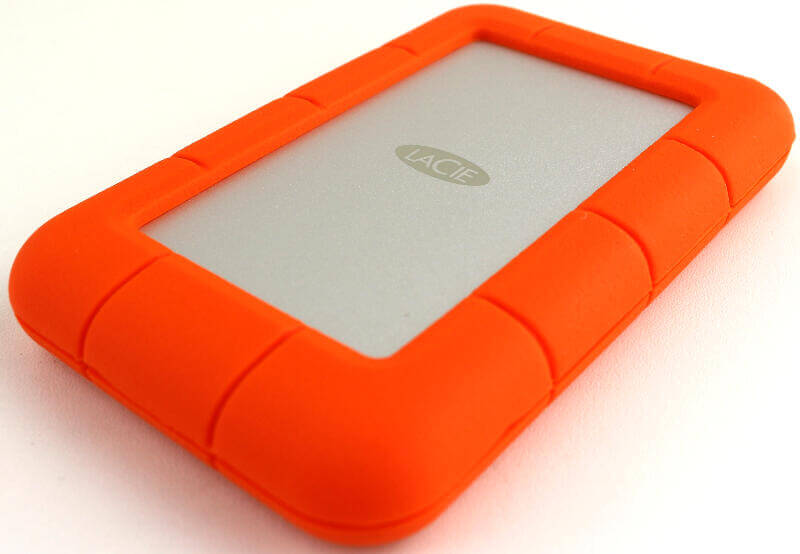 LaCie Rugged Secure 2TB Encrypted and Portable HDD Review
When you're looking for something that is secure against physical as well as digital threats, then you need something special. LaCie's Rugged Secure (product link) is just such a thing, and today I'm taking a closer look at this drive. The Rugged Secure combines all the awesome features of the Rugged series with AES 256-bit hardware encryption. Rain, dust, bumps, and spying eyes, it has protection against it all.
LaCie Rugged Series
The Rugged series by LaCie is well-known by most. Its design and features are legendary, and it's most likely the go-to device for a lot of active people. The actual size of the Rugged drives may vary a bit, depending on the model, but the overall design stays the same. It was created by the industrial product designer Neil Poulton, and it's been a trademark for the series since the beginning. His designs have won countless awards, including the prestigious IF Design Award and the Red Dot Design Award on multiple occasions. Neil Poulton specialises in the design of 'deceptively simple-looking mass-produced objects', and LaCie's Rugged series is no different.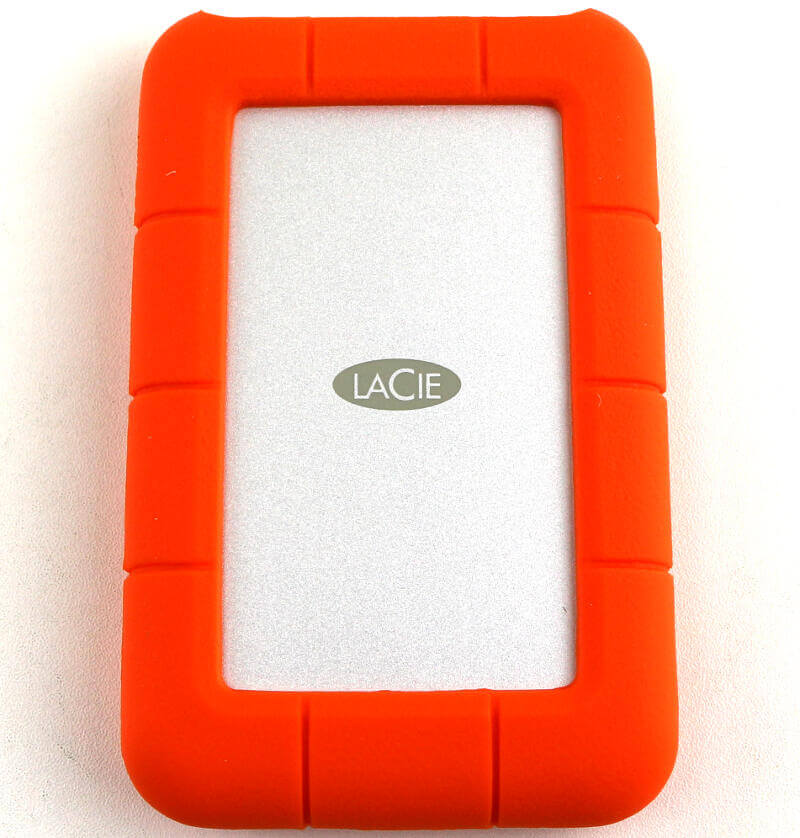 All-Terrain Storage
The Rugged Secure doesn't have an official IP rating, at least not according to the specifications. It still has the resilience of an IP54 rated product, or close to it. The connection port is exposed on this version of the series which means that dust protection can't be guaranteed at all times. At least that's my guess. It is still rain resistant, and it can withstand drops from a height of up to 1.2 metres. It's also very crush resistant. The Rugged Secure can withstand being rolled over by a 1-ton car. The rubber sleeve around the drive will also offer a great shock resistance in general.
Special Feature: Hardware AES-256 Encryption
The special feature in this version of the Rugged is the AES-256 256-bit hardware encryption. Keeping your files safe and secure is more important than ever at this time. With the recent changes in Europe regarding data privacy, it's vital for companies to protect their customer data. Data breaches and loss can be fined, but there's no need to risk that. By encrypting your data, no one can access it despite finding a lost drive or stealing it from you. They might get the hardware, but not the data.
It can be used as a normal drive without encryption, but then you might as well get the normal Rugged portable HDD. Once you enable the protection and set your password through the LaCie Toolkit, you'll be prompted to enter it every time you connect or power-on your system.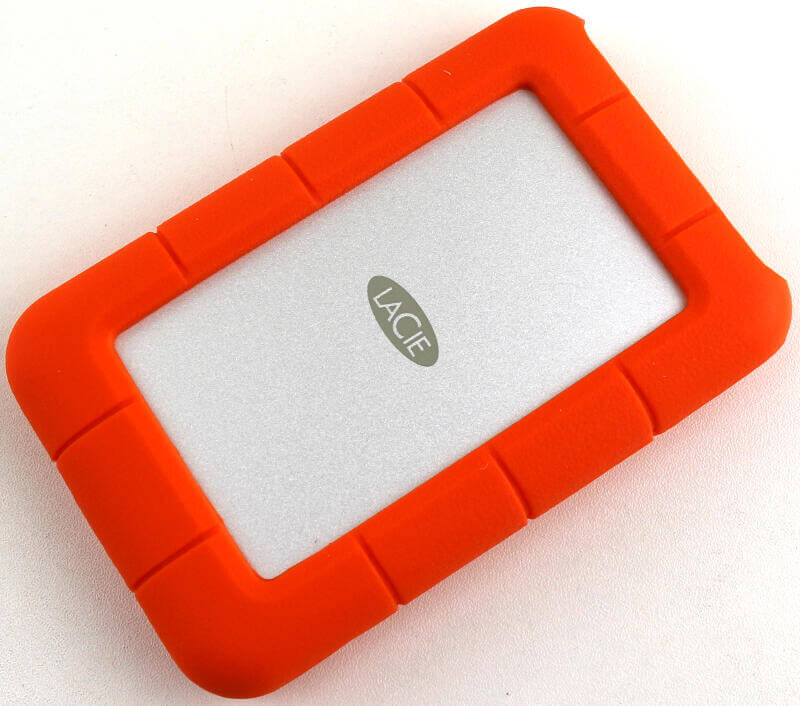 Connection and Cabling
The Rugged Secure features a USB 3.0 port on the drive itself. It is a Type-C port which is compatible with Thunderbolt 3 hosts too. LaCie included a Type-C and a Type-A connector cable, so you aren't limited by the availability of a Type-C port on your host system.
The drive is bus-powered, so there's no need for an external power supply. That's convenient for everyday usage, but it's even more convenient when you take it with you on the go. The fewer things you have to bring and less weight to carry is a bonus at any time.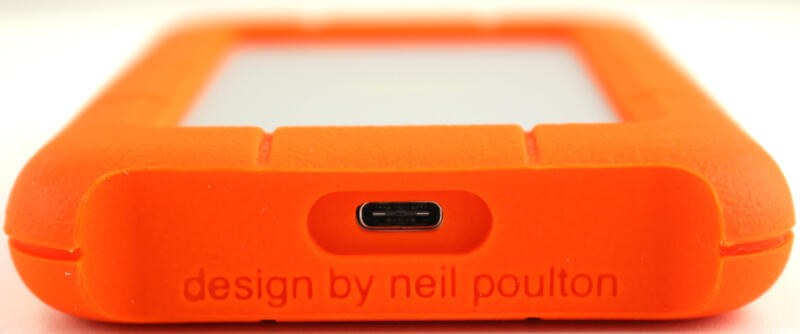 Peace of Mind with Seagate Rescue
There is a default 2-year warranty on the Rugged Secure, but that's not all. LaCie also included a 2-year Seagate Rescue Data Recovery Services plan. With it, you get professional help to recover your data in the event of a failure. While it isn't important for most home users who don't store anything that vital, it is for business users. Losing data can cost a lot for a company, in lost hours, pay, and possible lost customers. When there's a lot at play, safety is key. The LaCie Rugged Secure delivers that on all fronts; from a rugged design over hardware encryption to data recovery service. A complete package.
Performance
When it comes to performance, there are two official ratings depending on where you look. One is 110MB/s, and the other is 130MB/s. Both are on par for a 2.5-inch hard drive which is what's inside this tiny file locker.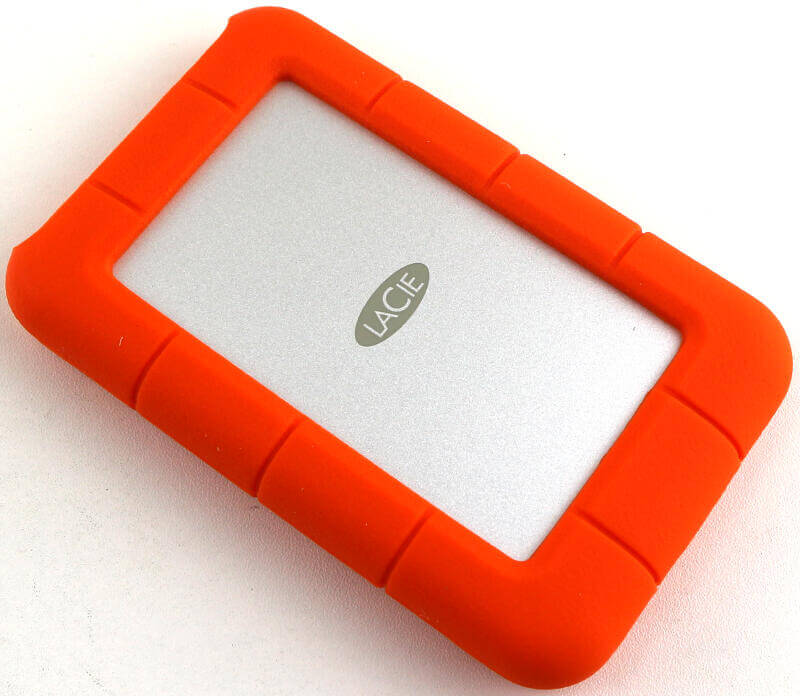 Bonus Content
There's further bonus content included. There's a coupon for the Adobe Creative Cloud All Apps plan for 1-month. The coupon is worth $74.99 or £75.85 and offers a lot. You get access to the entire collection of 20+ creative desktop and mobile apps. That includes Photoshop CC, Illustrator CC, and Adobe XD CC. There's also 100GB of cloud storage for your portfolio and up to 10TB cloud storage.
The idea is, of course, to get you hooked, so you continue to subscribe after the first month. That's the same as with any free trial deals. But if you were planning on getting it anyway, then it's a nice bonus. It gives you the freedom to try it all out, find out what you need, and then limit yourself to that.
Physical Size and Weight of the Drive
A portable drive needs to be small and light. It shouldn't be a hassle nor a worry to bring your files when you need them. Since the drive is bus-powered, there's no need to carry an extra power supply. That's already a bonus.
The drive isn't much larger than a 2.5-inch drive, despite the great protection. With measurements of 86 by 135 by 19 millimetres, it won't take up a lot of space. The 270 grammes shouldn't weigh you down on your trips either. For comparison reasons, I've put it next to a standard 3.5-inch drive in the photos you see below.
Feature Highlights
Seagate Secure encryption technology with AES-256 hardware encryption
USB-C connector with universal compatibility with Thunderbolt and USB
Drop-, shock-, crush-, and rain-resistant for all-terrain use
Drop resistance: 4-ft (1.2m)
Crush resistance: 1-ton car
Water resistance: rain
2-year limited warranty
2-year Rescue Data Recovery Services plan

Package and Accessories
The LaCie Rugged package is a simple one, as those for most storage drives are. The front displays the series name, the drive, the capacity, and special features. Everything you'd want to know before you even pick it up.
On the rear side of the box are some more details about the special features. That includes the hardware encryption, connectivity, resistance, and included Rescue Data Recovery Service.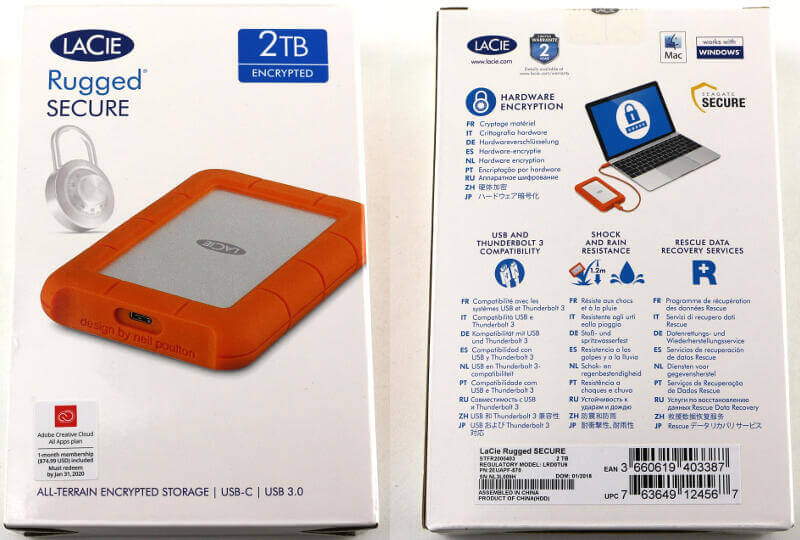 The sides (not pictured) have an actual-size representation of the drive on one side and the specifications on the other side.
When you slide the content out, it splits into two: the drive and the accessory pack. The accessory pack also displays a quick-setup guide for the drive.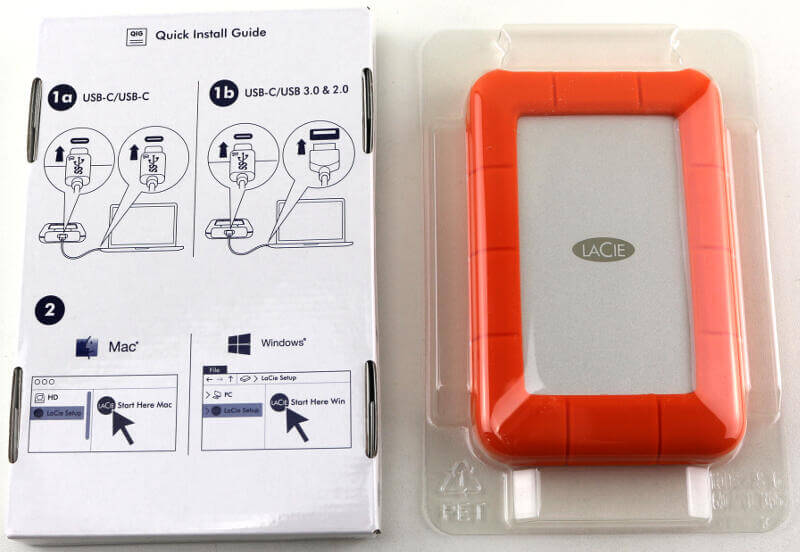 Inside the package, you'll find two connection cables. The orange cable is for the latest USB Type-C (USB-C) and Thunderbolt 3 systems. Legacy systems gain support through the black cable which allows you to connect the drive to any USB Type-A port.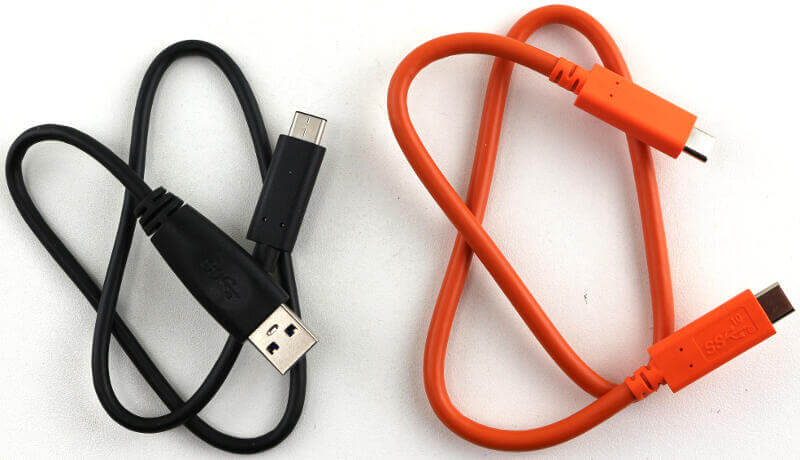 There are a bunch of small notes included too. For the bonus content, there's a note for the Adobe Creative Cloud and one for the Seagate Rescue Plan. There's also a backup note with the Secure Code and Reset Code for the drive itself.