Latest Nvidia Maxwell Mobile GPUs Now Available
---
---
---
Bohs Hansen / 9 years ago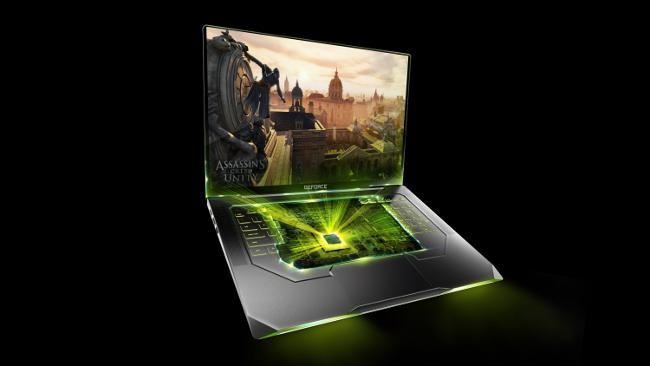 Nvidia recently released their new flagship GPUs in form of the GeForce GTX 970 and 980 and they've taken the gamers and reviewers by storm. Everyone has been impressed with how they perform, but Nvidia still had a card up their sleeve that they didn't reveal during the GAME24 event. Nvidia just introduced us to the mobile variant, the GeForce GTX 970M and GeForce GTX 980M notebook GPUs. Nvidia has been greatly successful with their first generation of Maxwell GPUs and they're once again taking the lead in the mobile sector with the second generation. Not only does the new architecture bring great new features in form of complex lighting, they also do all this at a decreased power consumption; one can see why these chips are ideal for gaming notebooks.
The new mobile GPUs deliver 80% of the performance the desktop variant do, as comparison just two generations ago this was just 40%. They allow for easy 1080p gaming with Ultra settings in advanced and graphic hungry games such as Battlefield 4 and Metro: Last light, but the cards don't stop their performance there and can render even higher resolutions. Nvidia managed to push the playable resolutions all the way up to 2500×1400 pixels on Ultra settings.
The GPUs also support Dynamic Super Resolution (DSR) technology that allows the GPU to render the image in a better resolution and then scale it down to the visible; this should give a clearer image and should be a great feature since most laptops don't feature such high resolutions.
BatteryBoost also got an improvement, when the power is disconnected and running on battery it will lock into a maximum frame rate of 30 to 60 fps; this allows the GPU to work at optimum while you're having a longer gaming session in wireless form. This can be further customized through the GeForce Experience for your individual gaming needs; Nvidia has worked closely with OEM partners to achieve this.
The Anti Aliasing also gets amped and the mobile version now supports the same Multi-Frame Anti-Aliasing (MFAA) as the desktop version. This is said to give 30% more AA performance at the same quality. As mentioned above the Voxel Global Illuminations (VXGI) technology is support as well and allows the mobile GPU to offer real-time dynamic global illumination for the first time.
All the features, performance and efficiency combine to make Maxwell the world's most advanced GPU architecture and over a dozen SKUs are now available with GeForce GTX 980M and 970M power. MSI has the GT72, GS70 and GS60 models. Asus is offering the G751. Gigabyte has the Auros X7 and P35 models. Boutique venders like AVADirect. MainGear and OriginPC are also selling gaming powerhouses with these new GPUs.
Thank you Nvidia for providing us with these information
Images courtesy of Nvidia