Latest Sapphire TriXX Unlocks AMD Fury Voltage Control!
---
---
---
Peter Donnell / 8 years ago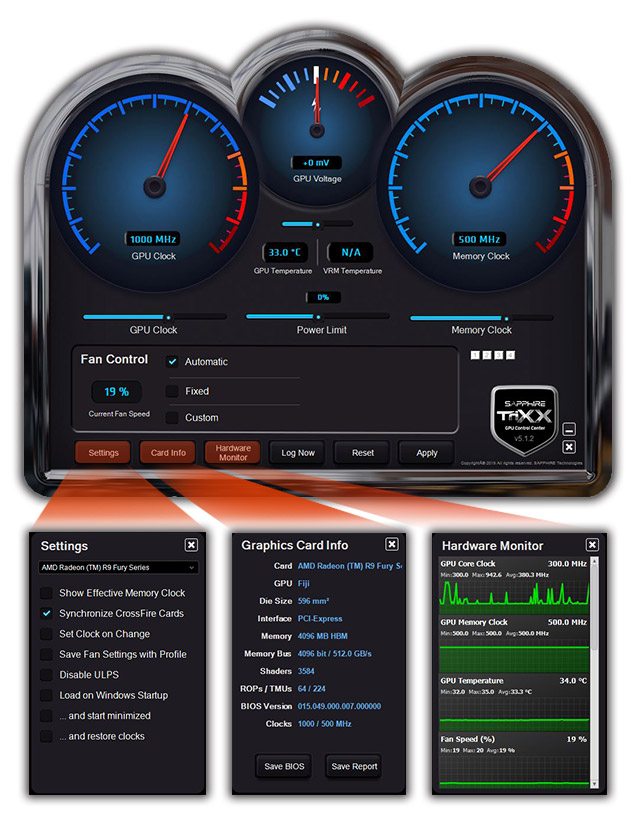 The AMD Fury cards have certainly been an interesting chapter for AMD this year, offering some unique innovations that are certain to change the future of the graphics cards market. What's been holding these cards back, however, is their overclocking potential and slowly but surely, that trend is changing.
The latest release of Sapphire Trixx (v5.2.1.) has just been released, and that's great news for Fury owners, as it unlocked the AMD Fury Voltage Control. This is a vital component in fine tuning overclocks and as reddit user Buildzoid says, these cards should be able to handle a bit of punishment. Of course, as with any overclocking and voltage tweaking, proceed with caution, especially on hardware so new and relatively untested in terms of overclocking.
"Ok here's some basic data so you don't blow up your cards. Max out the power slider. Even if the VRM for Vcore hits 125C you can shove 500W through it. Also it will throttle the card if it gets too hot. The IR 3567B running the default BIOS won't let you blow the VRM. +100mV is safe across the board. +200mv is safe if you keep the core bellow 60C I would not expect clock scaling going past 150/175mV depending on you card. Yeah that's basically the least "safe" looking overclocking advice you will ever read however the fact is that the Fury/Fury X PCBs are ridiculously over built." – Buildzoid
Here's what Sapphire had to say about the new software, which doesn't only bring the voltage feature, but also some other cool features for a wide range of AMD cards.
SAPPHIRE TriXX Utility
Rev up the performance of your AMD Radeon™ or FURY based graphics card with the latest new-look version of SAPPHIRE TriXX. Change settings for the best performance of any compatible graphics card in different applications or games and save up to four sets and easily switch between them.

Enthusiasts can adjust fan speeds, core voltages and clock speeds to tune up performance to the max in your favourite games by overclocking, and save those settings for the next time you play the game. Safe recovery means you will never get stuck in settings you can't change!

Not gaming today? Then save another set of changes with low fan speeds to run super quiet while you are watching a video – or revert to default settings for general purpose computing. Whatever you want to do – TriXX makes it easy.

TriXX not only monitors basic parameters such as fan speed and GPU temperature but also GPU load, voltages and memory performance. TriXX can also create a log file for future analysis, and you can save the current VGA BIOS.

Check back for updates – TriXX is regularly updated to provide support for new releases of graphics cards and GPU families as well as enhancements to the tool.

New features

New look and interface
Now supports over-volting on Radeon R300 series
Now supports HBM memory overclock on FURY cards
Now supports over-volt on FURY cards
Minimise TriXX to task bar

Main Features

Overclock your AMD RADEON™ or FURY based graphics card
GPU Core Clock
GPU Voltage
Video Card Memory Clock
Save your Favourite Settings with up to 4 Profiles.
Adjust your Graphic Card's Fan Settings with Automatic, Fixed or Custom Fan Speeds
Information Tab with all you need to know about your Graphic Card including GPU, Interface, Memory, Driver Version, BIOS Version, Clocks, Shaders and more…
Multi-GPU support (CrossFireX)
Windows Sidebar Gadget option
If you're ready to rock and get the most out of your AMD hardware, head on over to the official Sapphire site to download Trixx.