Leaked AMD A10-7850K Kaveri APU Cinebench Benchmark Revealed
---
---
---
Gabriel Roşu / 8 years ago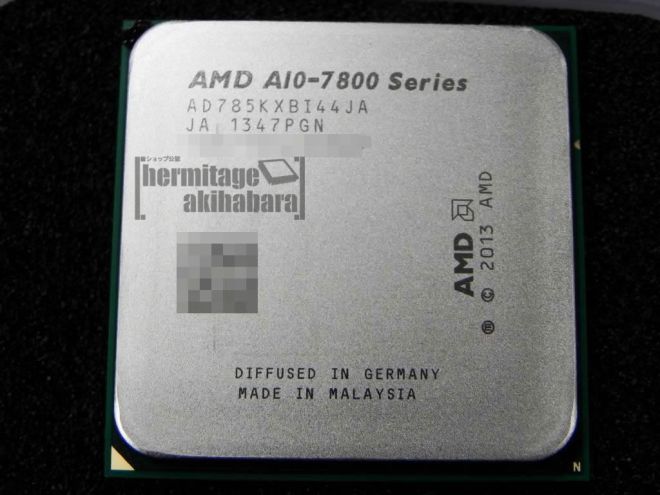 AMD Kaveri APUs are expected to launch early next year housing SteamrollerB CPU cores and GCN 2.0 graphics. 3DMark scores have also been leaked of the flagship AMD A10-7850K APU, making it 40% faster than Haswell Core i5-4570K. The latest leak comes form a Japanese website leaked Cinebench R15 CPU benchmarks of A10-7850K as well.
It is said that AMD A10-7850K Kaveri APU will feature four SteamrollerB CPUs cores and GCN 2.0 Radeon graphics with DirectX 11.1 and AMD Mantle support. The CPU is expected to be 20% faster compared to Richland while the GPU will have a 30% performance gain over Richland. Kaveri APUs have a major advantage over Intel CPUs in terms of graphics since they come with discrete Radeon graphics iGPUs.
| | |
| --- | --- |
| | |
We can see that AMD A10-7850K will be compatible with Socket FM2+ (906) and will come with 4 MB L2 cache. It will also house GCN 2.0 Radeon R7 graphics with 512 Stream processors and the new Turbo Core 3.0 technology. AMD A10-7850K is manufactured using the 28 nm process, other than that not much is revealed. However, the screenshot tells us that the software failed to recognize the AMD A10-7850K's iGPU, therefore any accurate information cannot be provided. The A10-7850K is reported to be 40% faster than Intel Core i5-4570K in 3DMark and 8% in PCMark 8. The disappoint comes in terms of CPU performance which is measured through Cinebnech R15.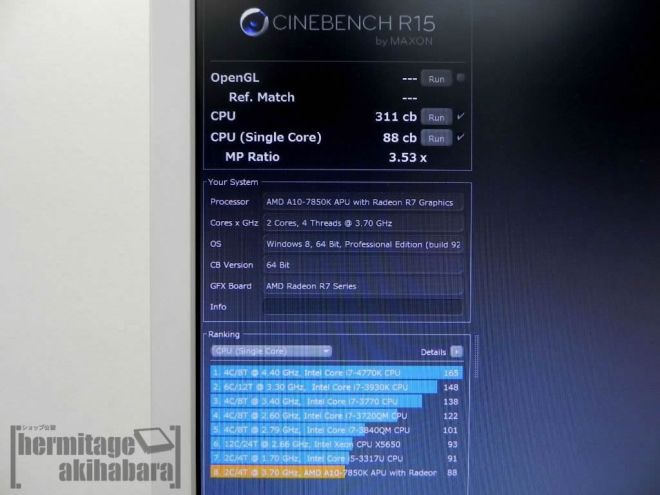 AMD A10-7850K managed to score only 88 points in Cinebench R15 which is even slower than Intle Core i5-3317U (Low Voltage) SoC. Intel's Core i7 4770K scores nearly double compared to A10-7850K. As long as the SteamrollerB cores do not bottleneck the GPU and compromise the performance in games, I think its good to go. Lets just wait for real world performance numbers.
Thank you Chip Loco for providing us with this information
Images courtesy of Chip Loco