Lexar Announces 256GB High-Performance 633x microSDXC UHS-I U3 Card
---
---
---
Bohs Hansen / 5 years ago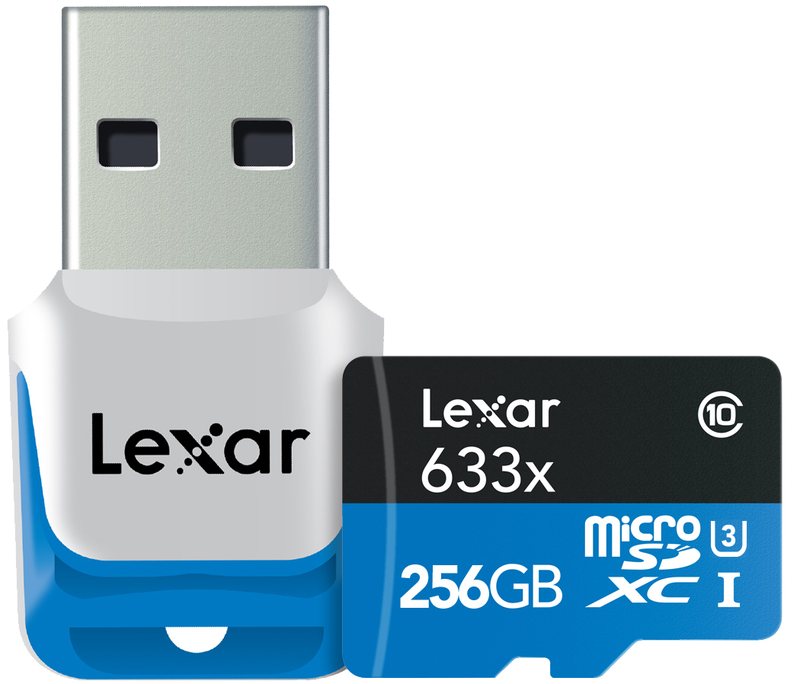 Lexar has announced a 256GB capacity of their High-Performance 633x microSDXC UHS-I (U3) memory card at Photokina 2016. These memory cards are designed for sports camcorders, tablets, and smartphones where the 633x microSDXC UHS-I card can deliver read transfer speeds up to 95MB per second and can capture more than 36 hours of HD video, 67,600 photos, or hold 58,100 songs.
The microSDXC card in itself is a tiny thing and it is quite impressive to have 256GB capacity in such a small form factor. It also comes with a USB 3.0 reader included which allows for quick and easy file transfer from the card to a PC or Mac computer.
"We've seen the storage demands of our customers grow by leaps and bounds, especially with the massive popularity of 4K video—so we designed this 633x high-capacity microSD card to meet that need," said Steffi Ho, product marketing manager, Lexar. "In today's world, whether you're shooting 4K action footage with a sports camcorder or downloading your entire music library onto your smartphone, the storage space and speed provided by the 256GB Lexar microSDXC card will prove invaluable."
All Lexar product designs undergo extensive testing in the Lexar Quality Labs, facilities with more than 1,100 digital devices, to ensure performance, quality, compatibility, and reliability – and so has this tiny card with great capacity. The card includes a limited lifetime warranty and a one-year limited warranty for the USB 3.0 reader. The new card will be available shortly and is tagged with an MSRP of £246.99. That's not really cheap, but definitely a more than fair price for such a card.
Feature Highlights
Premium memory solution for sports camcorders, tablets, and smartphones
Quickly captures, stores, plays back, and transfers media files, including 1080p full-HD, 3D, and 4K video
Leverages UHS-I Technology for a transfer speed up to 95MB/s
Stores more than 9 hours of 4K video or 36 hours of HD video; 67,600 photos; or 58,100 songs