LG Launches 2.57mm-Thick 77″ OLED Wallpaper TV for $20,000 USD
---
---
---
Ron Perillo / 4 years ago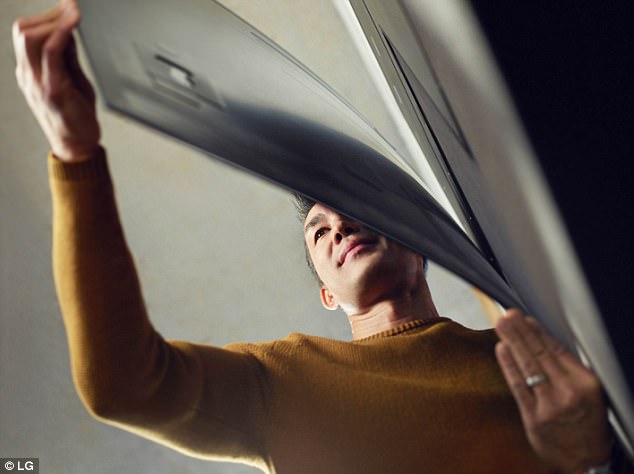 LG definitely works fast. After announcing that they have a 77″ OLED panel last week, they now announce the new 'Wallpaper TV' W-series using it. The new screen is just a fifth of an inch thick (2.57mm), and is so light that it only needs magnets to mount. The LG 77W7 Wallpaper TV is equipped with an enhanced version of webOS v3.5, with plenty of smartTV functions. The new panel also boasts 25 percent brightness over the previous generation LG Signature Edition OLED models.
The Wallpaper TV series screen supports 4K UHD video and multi-format high dynamic range technology. This includes HDR10, YouTube VP9, DolbyVision HDR and Hybrid Log Gamma. The latest LG Signature series TVs also support Dolby Atmos sound, delivering advanced positional and immersive audio. There is also built-in Wi-Fi and provides four HDMI ports for connectivity despite the thin frame.
Price and Availability
The new LG Signature W Series 77-inch OLED W TV will be available for $20,000 USD and is now for sale. If that sounds too much, then users can also opt for the smaller 65-inch version that costs less than half at only $8000.
There are also eight other models that are part of the LG OLED family for 2017. These are not as thin but feature OLED screens as well:
LG SIGNATURE OLED TV Picture-on-Glass G7 Series
77-inch class (76.8-inches diagonal) model 77G7,

$14,999

65-inch class (64.5-inches diagonal) model 65G7,

$6,999
LG OLED TV Picture-on-Glass E7 Series
65-inch class (64.5-inches diagonal) model 65E7,

$5,499

55-inch class (54.6-inches diagonal) model 55E7,

$3,999
LG OLED TV C7 Series
65-inch class (64.5-inches diagonal) model 65C7,

$4,499

55-inch class (54.6-inches diagonal) model 55C7,

$2,999
LG OLED TV B7 Series
65-inch class (64.5-inches diagonal) model 65B7,

$4,499

55-inch class (54.6-inches diagonal) model 55B7,

$2,949