Lian-Li UNI AL120 Addressable RGB White 120mm 
---
---
---
James Cusworth / 2 months ago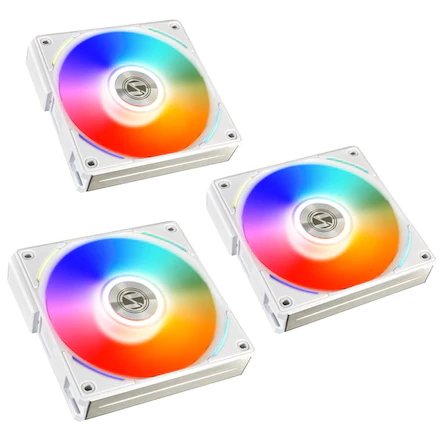 The Lian Li UNI FAN AL120 features a clever and unique design, with the fans including contact pins and being connected via a simple plug-in system. Multiple fans no longer have to be connected individually, which saves a lot of time and prevents cable clutter. The 360 view offers an excellent look which ever way you have the fan.

Additionally a fluid dynamic ball bearings ensure smooth operation and improve durability. Since friction is reduced, the fans can run at higher speeds without greater energy consumption. The UNI AL120 fans have a maximum full speed of 1900 rpm with up to 28.3 dB (A) under full load. They also run quiet with 64.5 CFM airflow and 2.62 mm H2O static pressure at full speed
The Lian Li Uni Fan AL120  has been designed and manufactured with style in mind. Whilst each fan frame has a reflective, brushed aluminium frame on both sides, a rear metallic medallion illuminates at the centre. With its cable hidden under the X-style fan support, your gaming PC's set-up will flaunt a sleek and tidy aesthetic.
Each fan includes 32 digitally addressable RGB LEDs. This is operated via software and enables users to set both fan speed and illumination effects. Alternatively you can add to a triple pack which includes the manual controller. The new design and software allows you to control the lighting effects at the fan blades and the edge of the frame individually or combined. 
The new and improved L-Connect software allows control of up to 64 fans and upto 4 controllers. 
Now £82.99

---
eTeknix use affiliate links, which means we may earn commission from our links.