Linksys Announces WRT32X AC3200 Gaming Router
---
---
---
Bohs Hansen / 4 years ago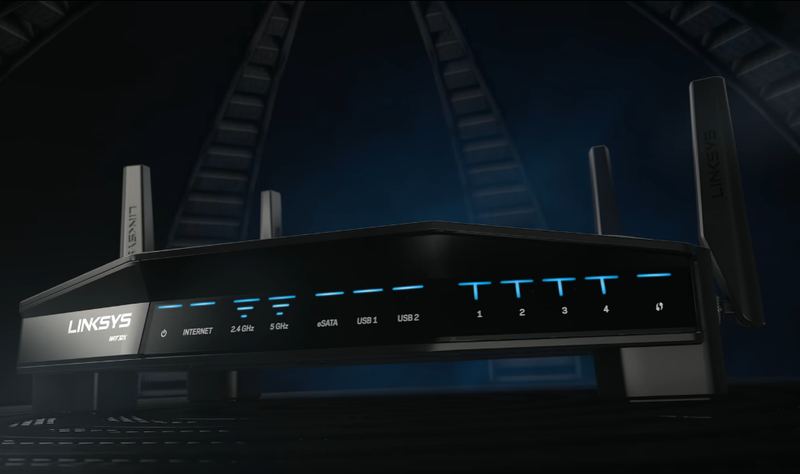 Linksys announced their newest router, the WRT32X. This time, the company didn't make all of it by themselves, they teamed up with Rivet Networks, a company well known for their KillerNIC products. By combining Linksys' experience in building quality routers with Killer Prioritization Engine (KPE), the WRT32X provides the only router truly optimised for high-speed gaming for users with Killer-enabled gaming PCs.
"Serious gamers are spending money on game play and expect to have technology that provides significant advantages to beat their opponents," said Vince La Duca, global product manager at Linksys. "The Linksys WRT32X provides advantages that no other routers have – and that is the Killer Prioritization Engine. The router, when paired with a Killer-enabled PC, provides a powerful end-to-end connection to prioritize gaming traffic to reduce peak ping times up to 77%; Providing a real advantage for faster kills over opponents that use regular "so-called" gaming routers."
Killer Prioritization Engine (KPE)
There are a lot of gaming-branded products on the market that don't offer any improvement to your gaming experience. However, that shouldn't be the case here and especially not if you're using a system with a Killer network connection.
The KPE optimises traffic for low latency and less lag. It ensures that the Killer-enabled PC's gaming, audio, and video is fast and smooth. The router doesn't forget about non-Killer systems and also manages their online traffic for uncompromised connection joy.
"Integrating Killer Networking technology to the WRT32X is a huge win for gamers," said Bob Grim, vice president of marketing and business development at Rivet Networks. "For the first time, Gamers will have a router that is designed specifically to work with their Killer-enabled PCs to identify and prioritize important gaming network traffic and ensure their online gaming experience is fast and smooth no matter what else is going on in their home network."
Improved and Customised WRT Firmware
Linksys is known for their WRT devices, and the firmware usually looks the same. There are small improvements and features added over time, but the basics stay the same. That is a little different for the WRT32X which features a new and custom-built firmware. Not only is it new, but it is also an exclusive for the WRT32X router.
The GUI is used to promote important network settings for gaming, provide network usage statics. The GUI design will appeal to gamers, and it matches the edgy design of the WRT hardware. The new GUI also has a unified responsive design across the desktop, tablet and mobile device.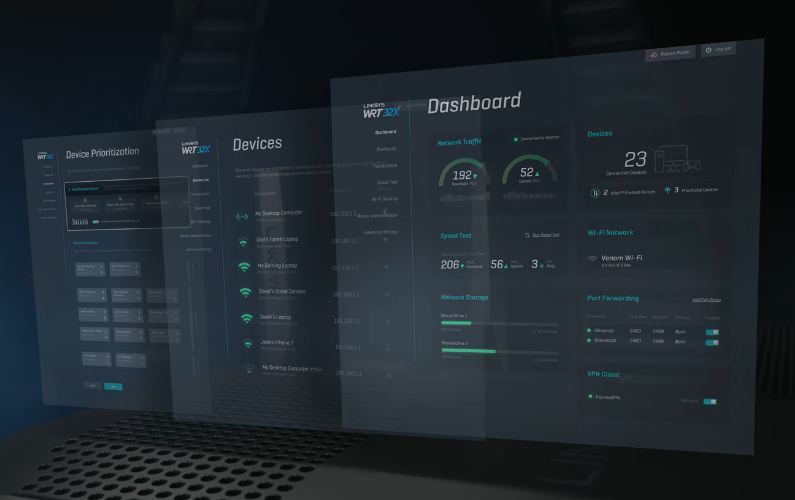 Extra Control for Killer-Enabled PCs
Users on a Killer-enabled PC will also now see a "router" tab on Killer's Control Center App on the PC when the WRT32X is attached. Such a feature provides easier access to router KPE controls for settings while gaming without launching the router GUI. That's truly an awesome feature, despite its simplicity.
Linksys WRT32X Hardware
Inside the new Linksys WRT32X are a dual-core 1.8GHz processor, 512MB DDR3 RAM, and 256MB flash memory. You get a dual-band wireless network with N600 on the 2.4GHz band and AC2600 on the 5GHz band thanks to the AC3200 802.11ac Wave 2 Dual-band 3×3 wireless radio.
There are four Gigabit Ethernet LAN ports and a Gigabit Ethernet WAN port for your wired connection. There also are USB 3.0 and USB 2.0/eSATA combo ports for your printers and storage devices.
WRT32X Key Benefits
Wi-Fi router built purely for gaming identifies, prioritises gaming network above all else to give users an edge
Synchronization with Killer-enabled PCs gives gaming traffic a priority on wired and Wi-Fi connections
Prioritization engine powered by Killer Networking delivers up to 77% reduction in peak ping for faster response time
Blazing fast 1.8GHz Dual-Core processor for simultaneous high-speed data processing
Custom-built gaming user interface and firmware specially tuned for online gaming traffic
Exclusive optimisation for Killer Networking gaming clients found in computers from Alienware, Gigabyte, MSI, Razer and more
Pricing and Availability
You can already pre-order the new Linksys WRT32X, but the official launch isn't until September. The asking price is USD 299.99, which isn't cheap, but it's more than fair when you look at what you get.