Linksys EA6900 AC1900 802.11ac Router Review
---
---
---
Chris Hadley / 8 years ago
Introduction
---

When it comes to home networking there are a number of big names that come to mind and fortunately I have been able to put a number of products from these names to the test, however there has been one particular brand that I have been keen to get in touch with and establish a line of communications – namely Linksys. Believe it or not it is not always as simple as firing an email at someone and instantly getting products sent back in return as some may believe. After a few months of patiently waiting and after having a meeting with a few representatives from Linksys at this years CES in Las Vegas, I can finally say that I'm glad to have Linksys onboard and I look forward to having a good sniff through the stack of products that they have to offer.
Link some of the other big names in the consumer networking market – Netgear and TP-Link being just a couple of the other big names, Linksys have a massive following and also have a big history to back a successful line of products. After being formed in 1998, Linksys was bought out by Cisco Systems in 2003 and in the next ten years that followed, their name became synonymous with the WRT line of networking products. To put it in a simple way, if you was into your home networking, then Linksys' WRT54G was the way to go – the OpenWRT project which was founded to develop the hacked router caused the popularity to explode to a new level. On a personal Level I have owned a number of Linksys routers over the years, in particular the WRT54g, WRT54Gs and the ADSL2+MUE modem amongst others. The power and flexibility that was on offer set these products head and shoulders above all else. In the more recent years, Linksys went under a second acquisition as Belkin then purchased the company in the early stages of the last year, ready to take them to the next level. Today Linksys is branded under its own name with the enthusiast and power user at the heart of their design, whilst Belkin branded items target the home and entry-level user.
As we all know, wireless networking over the last couple of years has been going through a radical set of changes, at a similar rate as the core desktop components and sin the last five years we have seen wireless speeds rise from 54Mbps right up to the Gigabit WiFi speeds of over 1000Mbps that we are no seeing today. In simple terms we are looking at well over 20x times the wireless bandwidth that we saw only ten years ago. As technology has moved on and our homes have become more enriched and entangled in our digital lives, the amount of power and speed that we have been demanding from our home networks has risen to greater and greater levels, thus the reason why we have seen such a rapid growth in wireless technology.
The EA6900 router that I'm taking a look at today is one of the latest generation Gigabit wireless routers to come to market and with this it brings some of the fastest wireless speeds that we have seen to date. Like many other current wireless routers, we get a pair of dual band radios, offering both 2.4GHz and 5GHz wireless networking capacity with 802.11n speeds of up to 600Mbps on offer from the 2.4GHz band and the latest 802.11ac connectivity on the 5GHz band with a whopping speed of up to 1300Mbps on offer – yes that is faster than the current standard for LAN connections. Surrounding the super speed wireless connections the EA6900 also offers up four wired Gigabit Ethernet and Gigabit WAN port for super speed broadband connections, dual USB ports (1x USB2.0 & 1x USB3.0) for sharing storage and printers across the local network, topped off with a compelling user interface which offers up all the functionality that one would need from a high-end consumer router, but in an easy to use interface.
On paper things are looking good, but for me the real question is knowing if the Linksys that many of us knew in their hey-day has been kept close to heart or has this brand sadly become just another name on the shelf.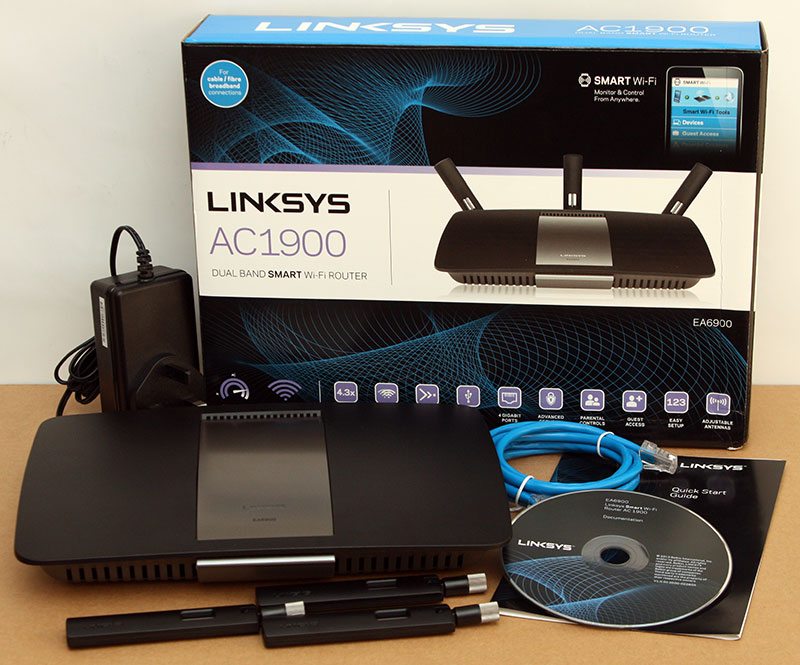 Inside the box, which itself gives us a good insight into what the router looks like and has to offer, we get a simple and to the point item list. Alongside the router and power cord we get three external antenna, a single CAT5e patch lead, a system resources CD and a quick setup guide to get things up and running. The packaging also points out that, like a few other routers that are now available, we have the option of downloading a mobile smart application for setting up and managing the router without the need for a desktop system.