Linksys LGS108P 8-Port Gigabit PoE+ Desktop Switch Review
---
---
---
Bohs Hansen / 6 years ago
Introduction
---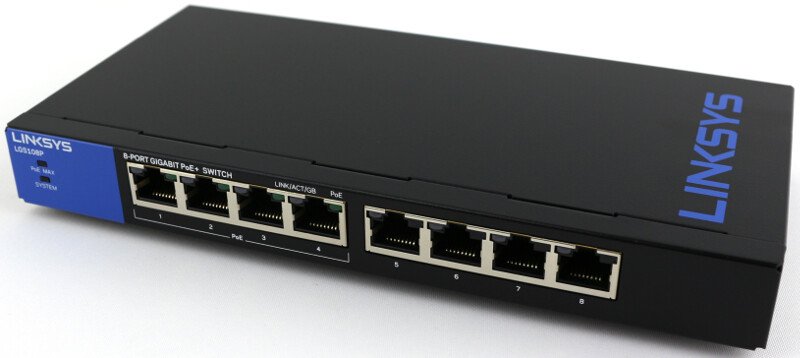 Small and medium office setups can benefit greatly from Power over Ethernet (PoE) enabled devices and when used clever, it's also something that can reduce the cable clutter and improve the setup a lot. An easy way to control this is with a PoE enabled switch and today I'm taking a look at just that. Linksys' LGS108P is an 8-port desktop switch with four PoE capable ports and double the switching capability.
Linksys unmanaged PoE+ switches come in three sizes. The 8 port desktop model that I'm looking at today, a bigger 16-port desktop model, and a 24-port rack model. They all have similar specifications, just scaled according to the number of ports.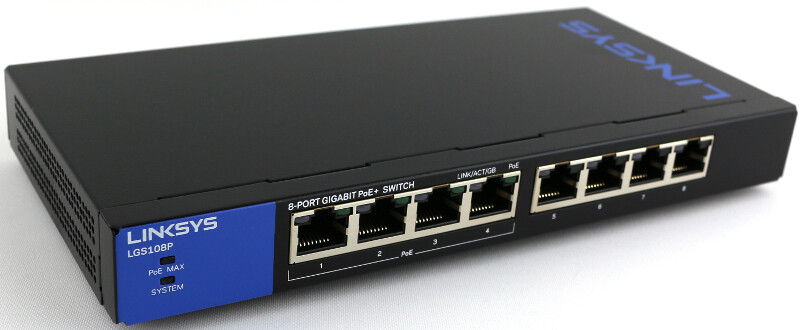 The LGS108P has a switching bandwidth of 16 Gbps and it can handle up to 8000 entries in the MAC address table. All eight ports are autosensing Gigabit Ethernet RJ45 ports and the four PoE+ ports have a total power budget of 50W.
Being an unmanaged switch has advantages and disadvantages alike, so it really depends on your usage whether you want one thing or another. One of the advantages is the full plug and play setup where there is no need for any configuration changes or settings to be made. Plug it in, turn it on, and you're good to go. This saves time and effort.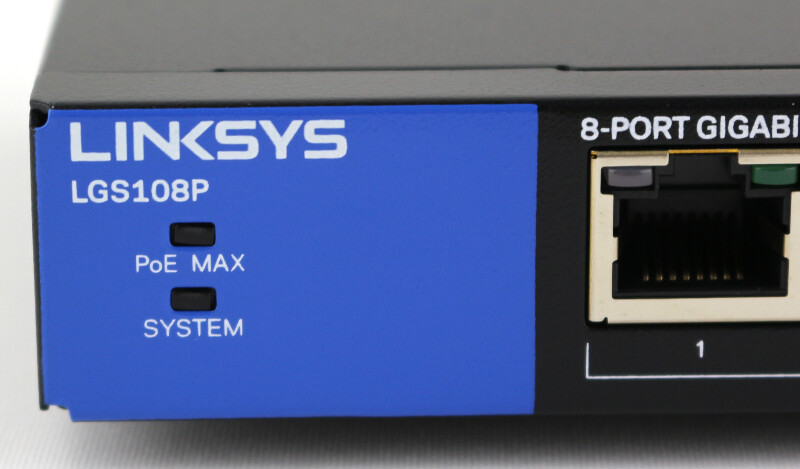 It still features a Quality of Service (QoS) function which prioritizes traffic to particular devices or activities and helps maintain mission-critical data throughput regardless of network congestion.
While the LGS108P is a PoE+ (802.3at) switch, it's fully compatible with default PoE as well as other common IEEE standards such as 802.3 , 802.3u, 802.3x, 802.3ab, 802.3az, and 802.3af. Overall, a simple and compact PoE+ switch that fits on your desktop and doesn't make any noise.
Feature Highlights
Wired connection speeds up to 1,000 Mbps
8 Gigabit Ethernet autosensing ports
Power over Ethernet (PoE) support
Easy plug & play connection
QoS
Meets EEE (Energy Efficient Ethernet) 802.3az standard
Specifications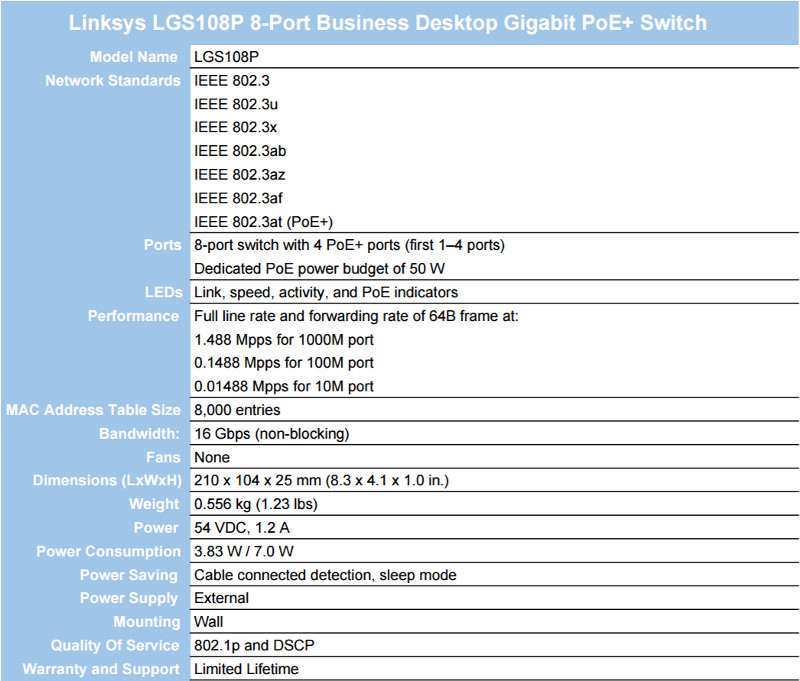 Packaging and Accessories
As a business product, the LGS108P comes in a simple box with a label that tells us what's inside.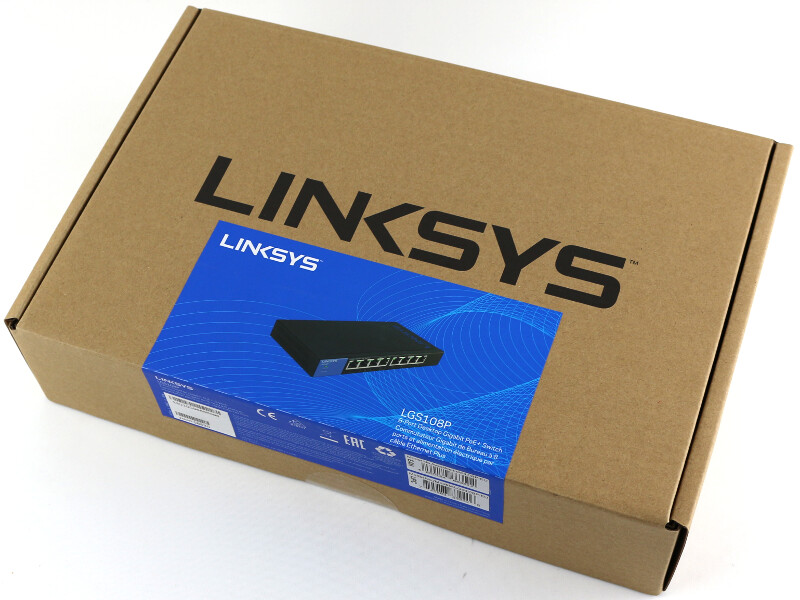 The label itself shows a picture of the included device as well as a section that explains what it is.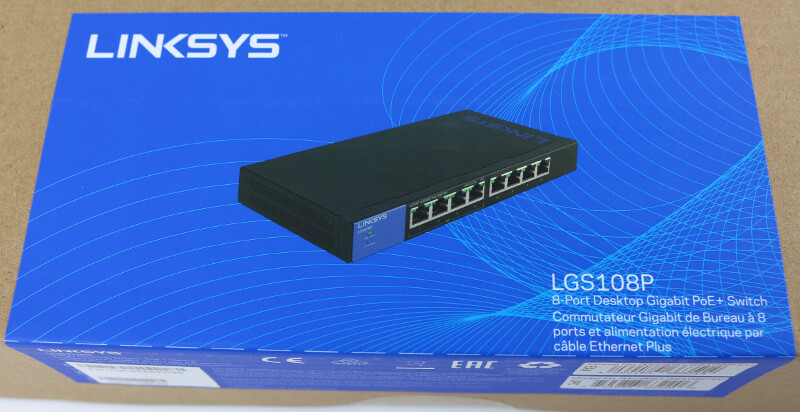 Inside is the switch itself, but also a documentation disk and a quick install guide. They're great to have, but they probably won't be used by many.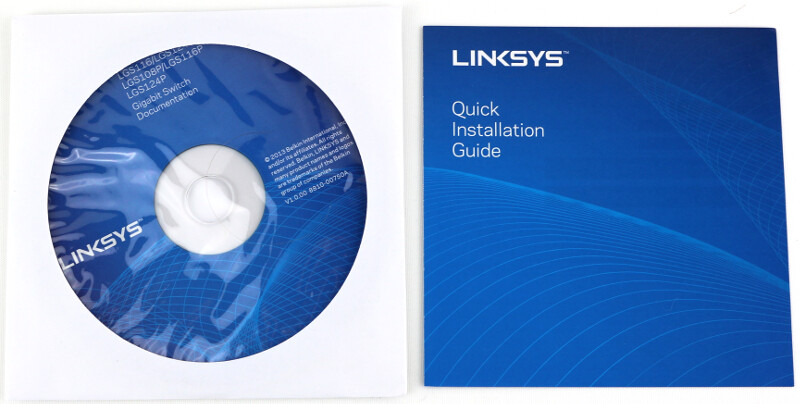 The included power supply brick uses a default PC power cable and supports 110 to 240V input and is as such easily usable all around the world.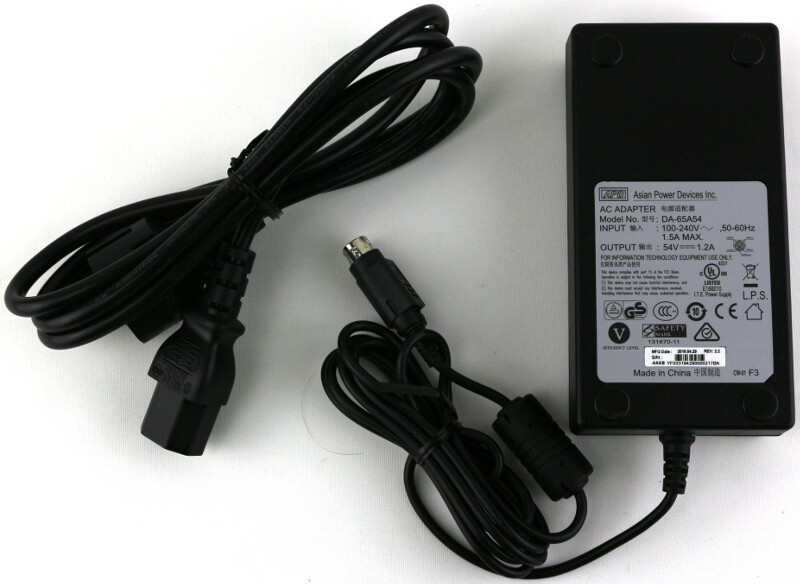 Linksys also included two screws for wall mounting the switch.