Linksys Max-Stream AC600 Wi-Fi Micro USB Adapter Review
---
---
---
Bohs Hansen / 5 years ago
Introduction
---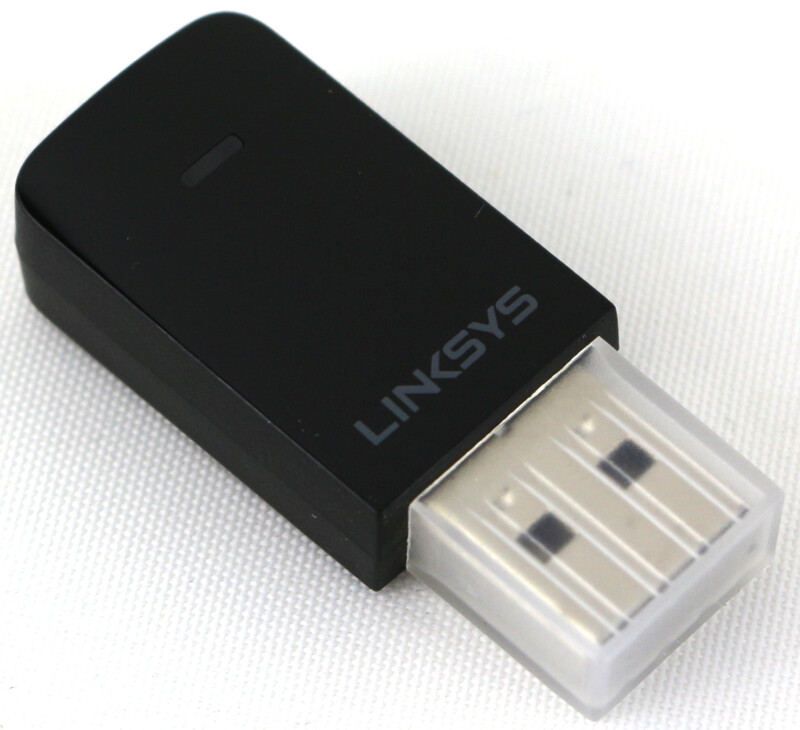 We mostly take a look at high-end network gear with the newest and fastest wireless speeds, but speed isn't always the feature that matters the most. Sometimes size matters more, and that's why I'm taking a closer look at Linksys WUSB6100M Max-Stream AC600 Wi-Fi micro USB adapter; a compact Wi-Fi adapter with MU-MIMO and beam-forming technologies.
The small adapter is an excellent way to upgrade a notebook or PC with the latest technologies, but notebooks might be the obvious choice due to its small size and weight. The WUSB6100M adapter measures as little as 40.64mm by 18.034mm by 11.938mm (Length by Width by Height) and it weighs less than 6 grammes. That makes the tiny USB stick highly portable, and you won't notice that you have to pack it extra. Another benefit of such a small size is that it won't stick far out of your system. Whether your setup is stationary or portable, having a large USB drive hanging from your system can easily be something that gets in your way.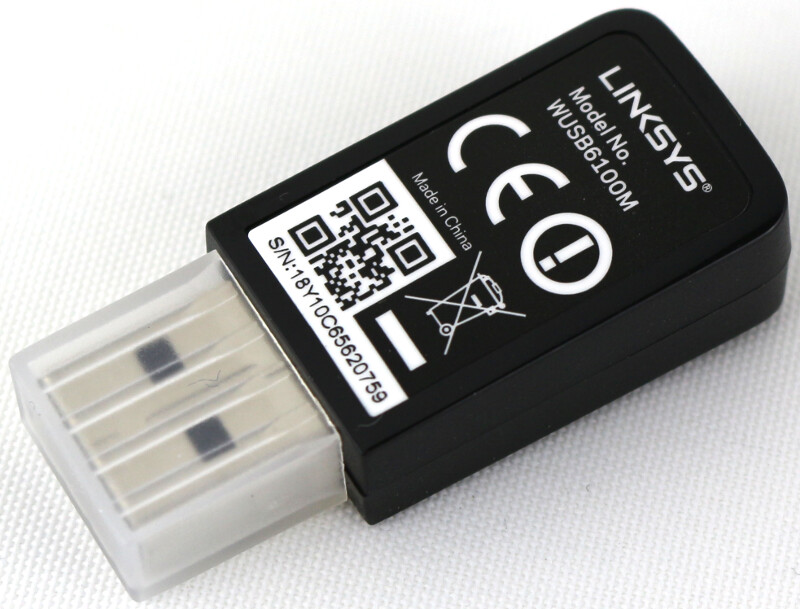 Within the tiny wireless USB adapter are a dual-band 2.4GHz and 5GHz system that can deliver up to 150Mbps on the old band and up to 433Mbps on the newer 5GHz band. It also comes with advanced technologies such as MU-MIMO and beamforming. Both will help you with the performance despite the small size. Because there is one small issue with such a small device, the internal antennas have to be small too.
Your routers overall speed improvable by upgrading older wireless devices that connect to it. A router will lower the throughput to match the slowest device connected to the band, and that can cripple current and faster setups. Upgrading with an AC MU-MIMO wireless adapter will make sure that the system with it equipped won't slow down other devices. Naturally, the adapter comes with WPA2 for a strong security, and it also features easy WPS setup. Rated for compatibility with Windows only, but there might be unofficial Linux support too.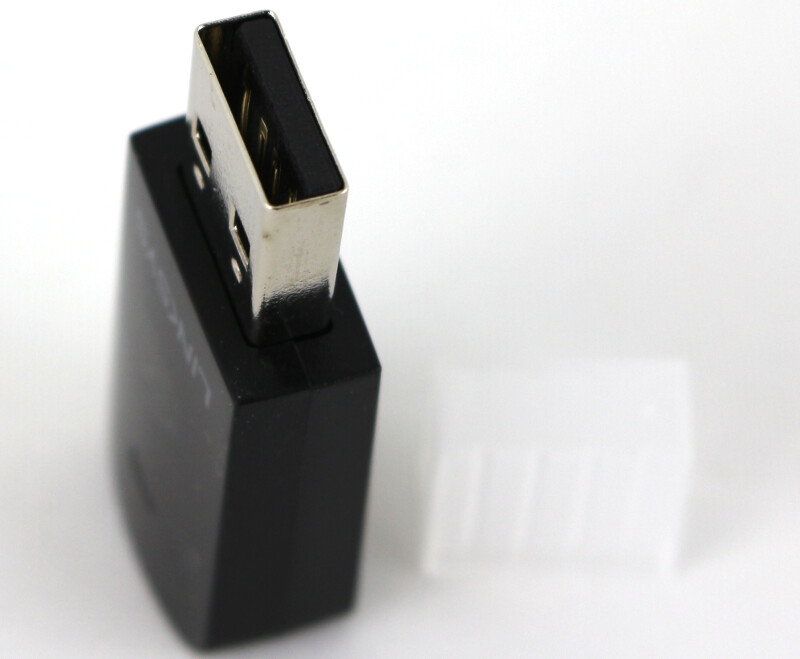 The adapter itself only requires a USB 2.0 connection, so having a system with older hardware won't limit its usability. Linksys is backing the WUSB6100M Max-Stream AC600 Wi-Fi micro USB adapter with a 2-year warranty here in Europe.
Specifications
Package and Accessories
The package has all vital information right on the front, from features to performance.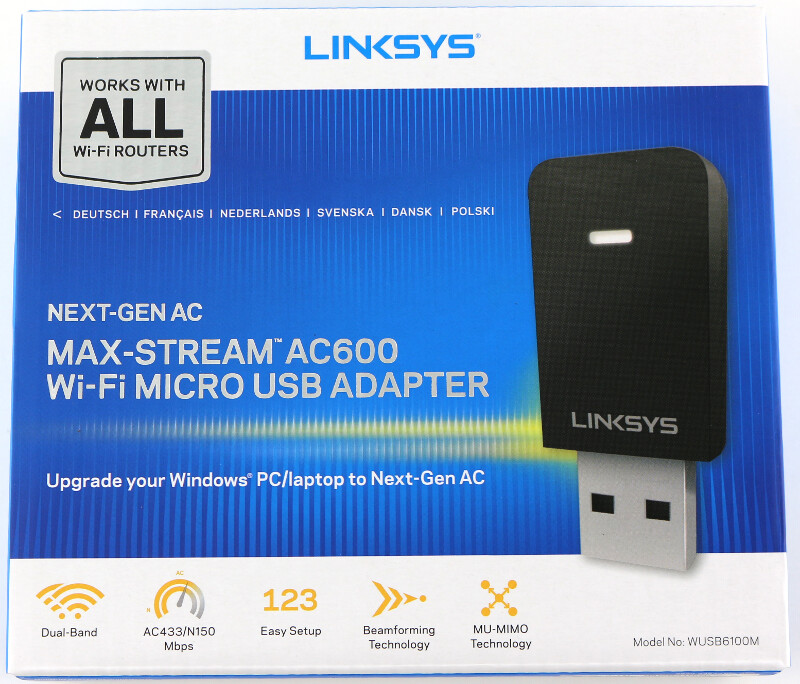 The rear side explains the usage scenarios for this particular Wi-Fi adapter in English, German, and French.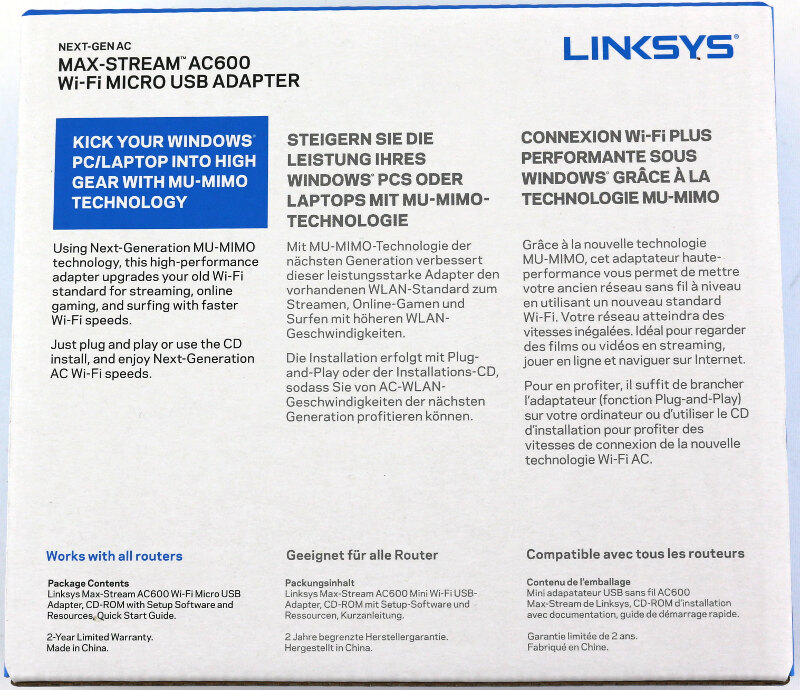 Inside is a quick start guide as well as a disk with documentation and software.