Linksys RE6700 AC1200 Amplify Wi-Fi Range Extender Review
---
---
---
Bohs Hansen / 7 years ago
Introduction
---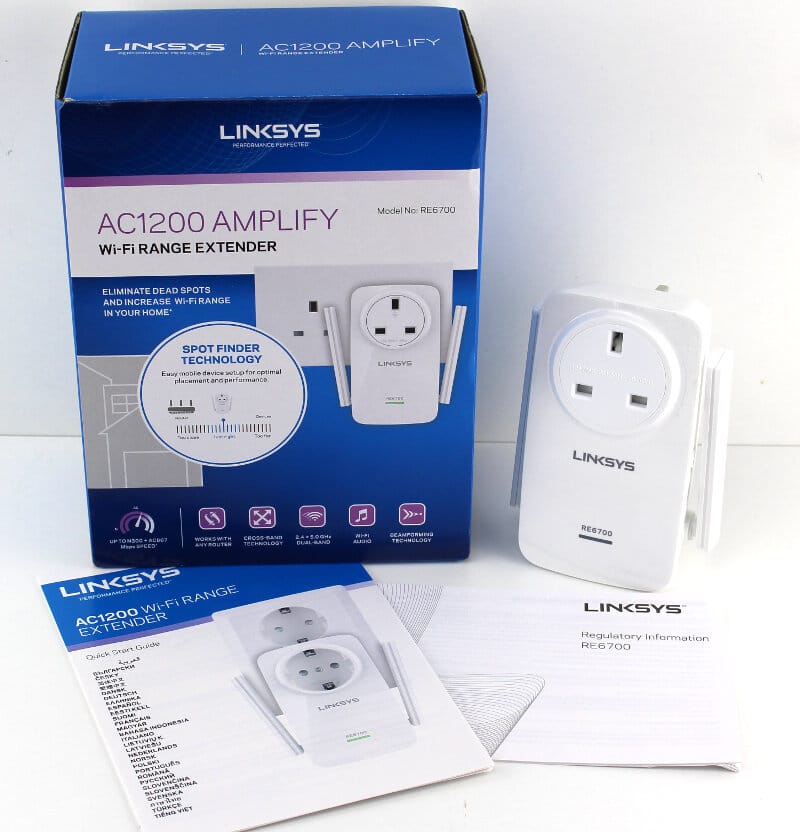 Wireless networks are great, that is as long as you are close enough to your router to get a signal strength you like. If you router shouldn't be strong enough to reach the furthest parts of your home or you just need a stronger signal, then you might want to invest in a range extender. Today I'm taking a closer look at the Linksys RE6700 AC1200 Amplify Dual-Band Wi-Fi Range Extender, or just Linksys RE6700 for short.
I've tested a few range extenders lately, but most of them were 2.4GHz mode only. That isn't ideal for today's devices that usually come with dual-band features and high-speed 5GHz network. The Linksys RE6700 is a dual-band device that can provide up to 300 Mbit/s on the 2.4GHz band and up to 867Mbit/s on the 5GHz band, making up the AC1200 rating. The RE6700 features a range extension all the way up to 1000 square meters, an area that should be more than enough for most homes.
One of the great thing with wireless range extenders is that they are compatible with pretty much any hardware that you already have. They simply hook themselves up on your existing network, with minor configurations, and extend the coverage and signal strength of your existing network. It couldn't be simpler to get a better wireless network.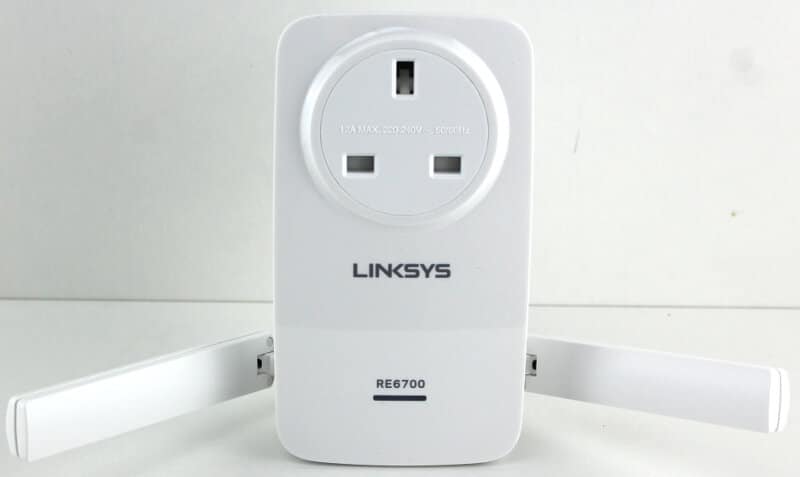 Linksys included the amazing Spot Finder technology in the RE6700 that allows you to find the perfect location for the range extender with ease. The range extender has a spot finder meter built into its web interface where you can use it from your PC or mobile devices. Turn the RE67000 on and find the perfect location for your new range extender in just 3 simple steps.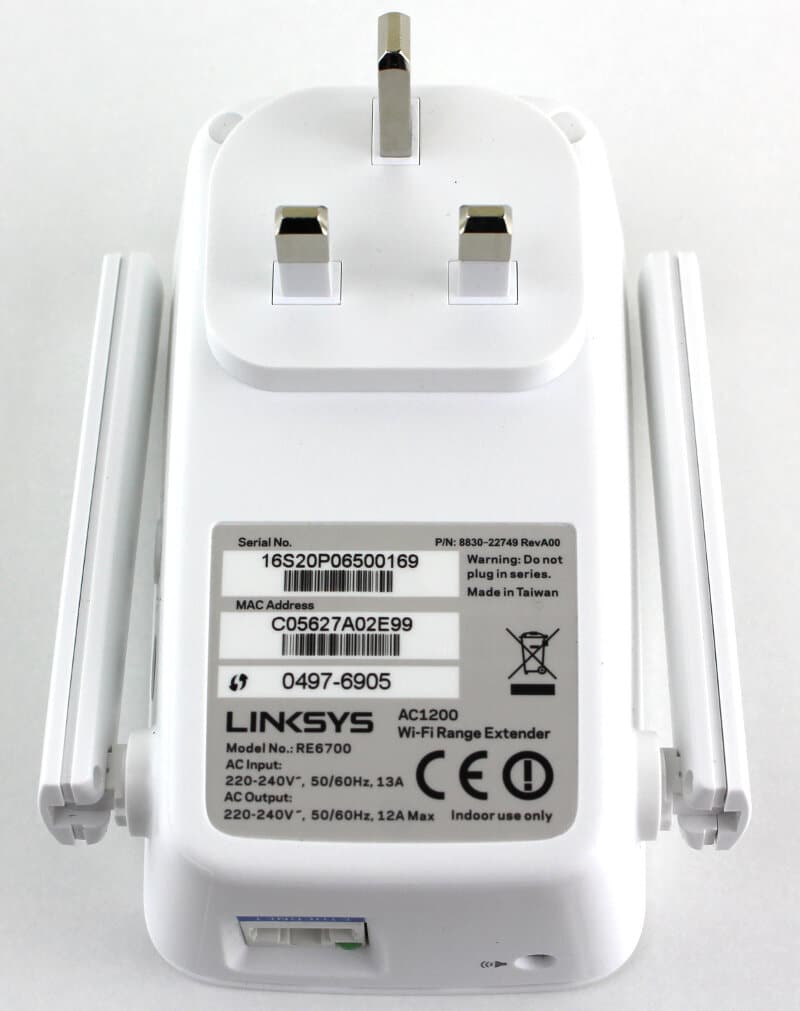 A downside to many wireless network range extenders is that they take up a power outlet that you otherwise might need. Linksys made sure that this won't be an issue on the RE6700. The added power outlet pass-through for prevents the worry about blocked power outlets in your home that you otherwise need for other devices.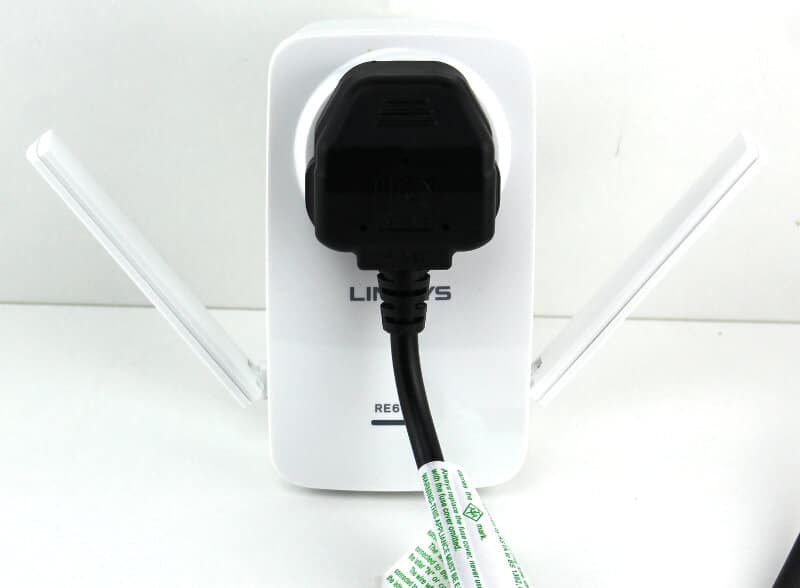 The RE6700 also features beamforming technology that makes sure that you have the best signal to connected devices simply by strengthening the signal in the direction of connected devices. The crossband technology allows for the simultaneous use of both bands rather than relying on one radio band to do all the work. This allows information to be obtained on one band and transmitted on the other, resulting in reduced dropped data packets, faster media transfer speeds, and a stronger, more consistent signal throughout your home.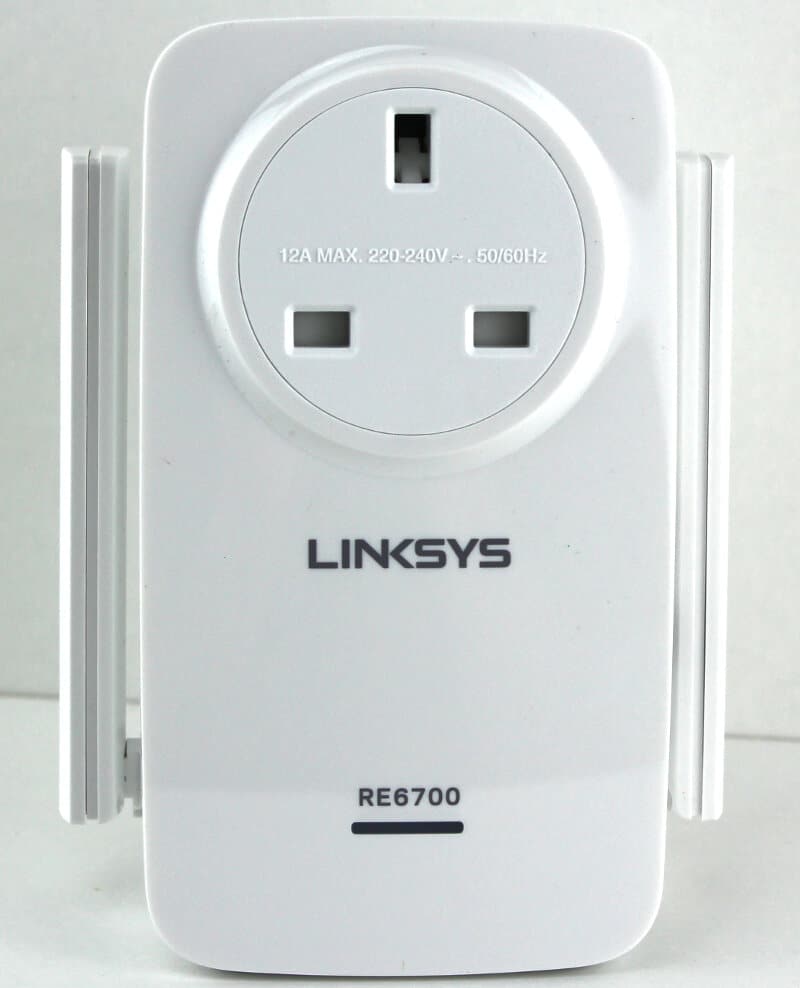 You might think that we are done with the features now, after all, this is just a range extender. But there is more to show on the RE6700. Linksys also included a 3.5mm audio jack that allows you to connect speakers directly to the range extender and stream music wirelessly from your iOS or Android smartphone, tablet, or laptop. Continuing, Linksys also added a Gigabit Ethernet port to the range extender that allows you to connect devices that don't have their own wireless adapter.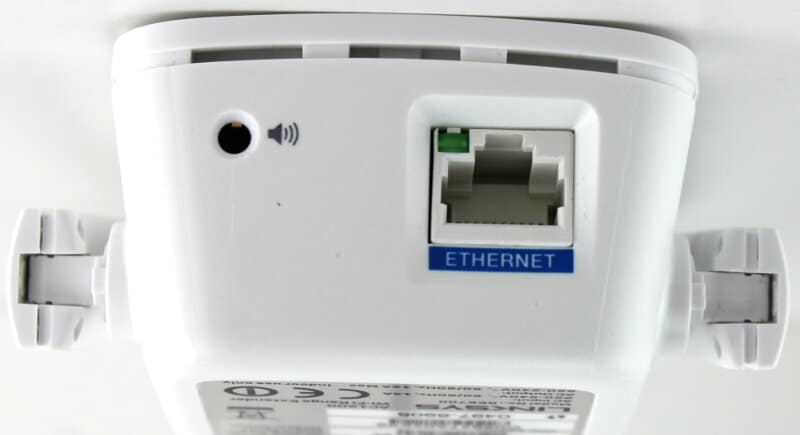 Linksys added both a power button and a WPS button to the RE6700. The power button is a nice touch, allowing you to turn the extender function off without having to unplug it. The WPS button allows for easy connection setup between the range extender and your router. A click on the WPS button on each device and the two will be automatically paired. There is also a tiny hole for the reset button in case you need to reset the configuration.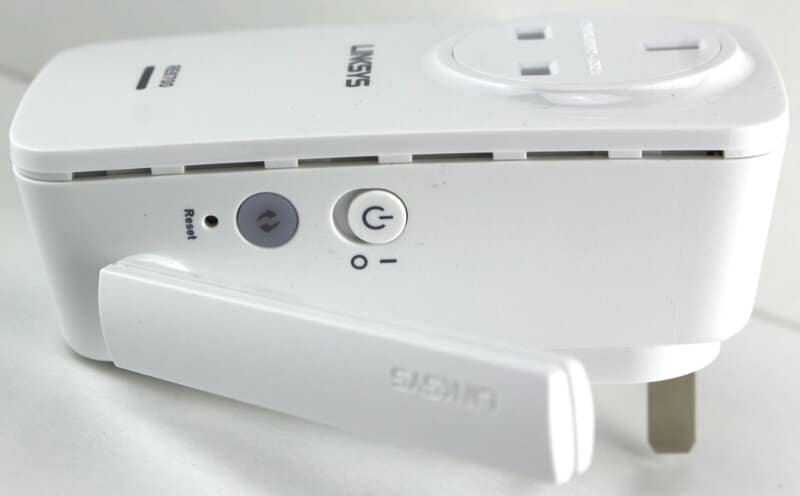 Feature Highlights
Increase your current router's Wi-Fi range to up to 10,000 square feet
Enjoy Wi-Fi speeds up to AC1200Mbps (N300 + AC867)
Spot Finder Technology makes optimal placement easy
An integrated power outlet allows you to maintain availability of the wall plug
Beamforming and Crossband technologies focus and strengthen signals to help reduce dead zones
Stream music wirelessly throughout your home with Wi-Fi audio
Works with virtually any router
Packaging and Accessories
Linksys packed the Amplify AC1200 Wi-Fi range extender in a colourful box that displays all the main featuers right on the front.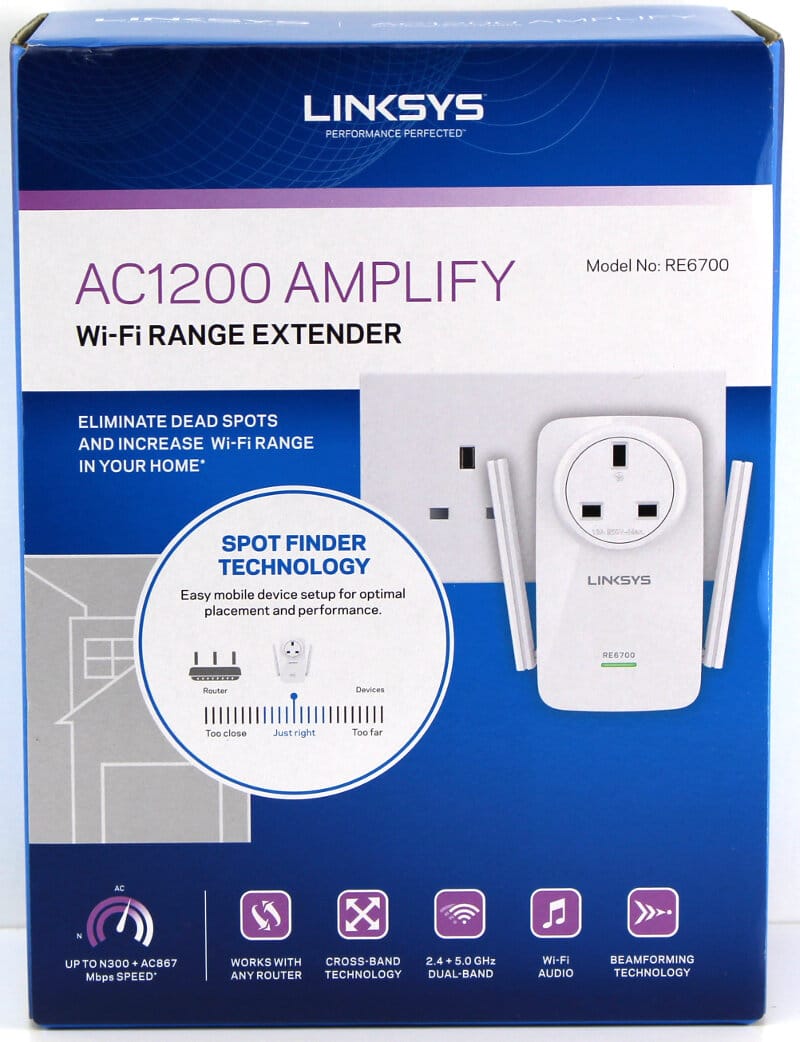 The rear explains the technology behind it a little more while also explaining a little about the built-in streaming feature.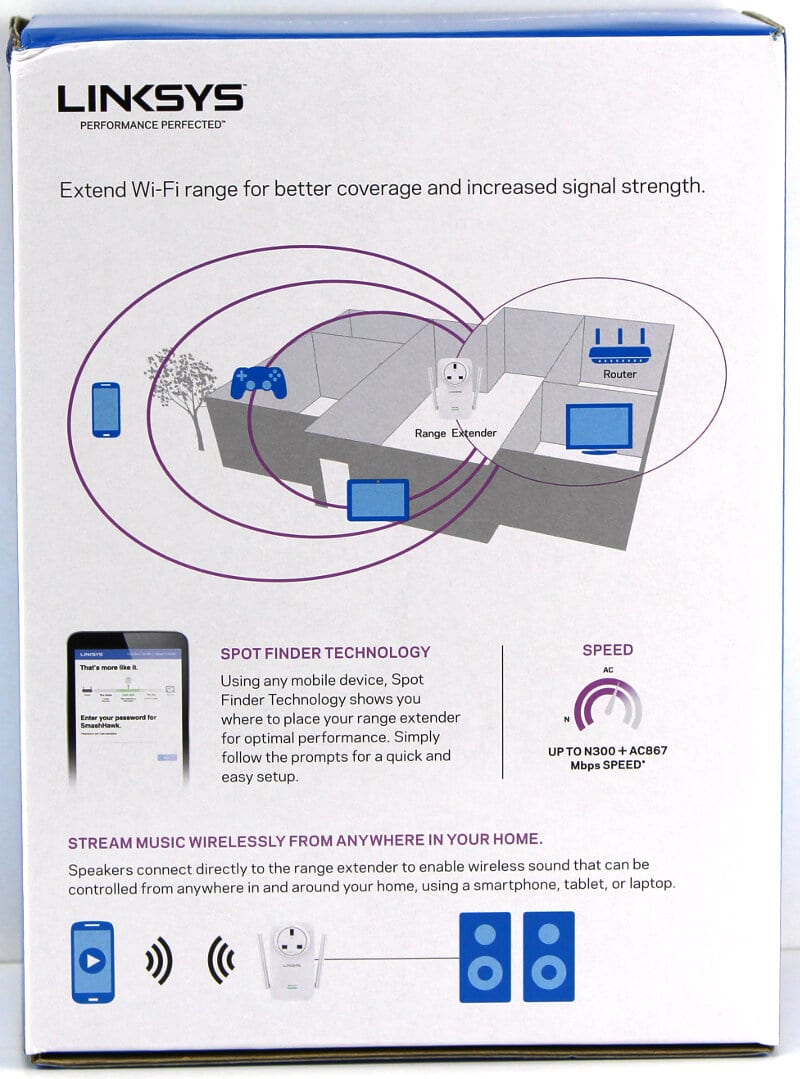 The added features such as audio jack and Gigabit Ethernet port are also displayed on the box itself.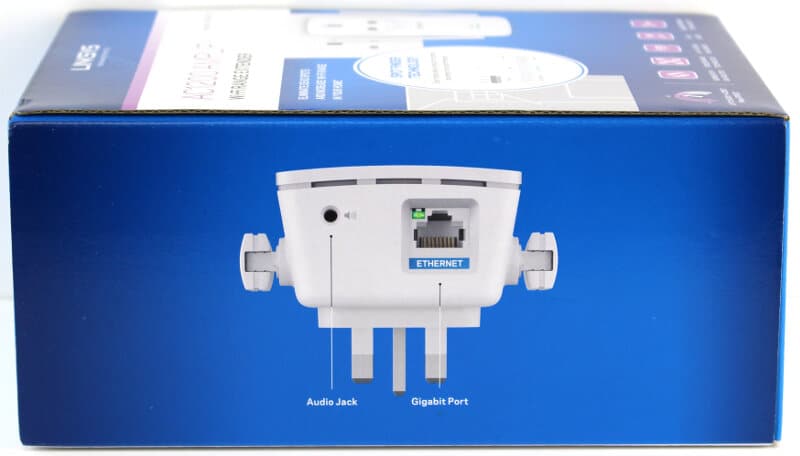 Inside we find the range extender itself, a quick start guide, and a regulatory information leaflet.