Linksys WRT – A Legend Is Reborn As Shipments Begin
---
---
---
Chris Hadley / 7 years ago

When it comes to iconic computer hardware, software and peripherals, there a numerous points on the technology time-line that stand out and when we focus more closely on consumer networking, there is without a doubt only one product that stands above everything else. This is of course the blue and black WRT54G the Linksys brought to the market way back in December 2002 – that's just over 11 years ago. What started out as a single router eventually turned out to be a one of the greatest success stories in Linksys' history. Due to their [at the time] high levels of performance, flexibility, ease of use and much more, this line of routers has seen deployment not only in the home but all across the world in numerous different situations – be it in an office or directly out in the field. When DD-WRT came to light in later years, customisation and modification of these routers went berserk as users found multiple ways to get that bit extra from their kit – I should know as I was one of those users.

This router has made such an impression on the market and it has shown its worth so much that even today we find that some of them still in use today.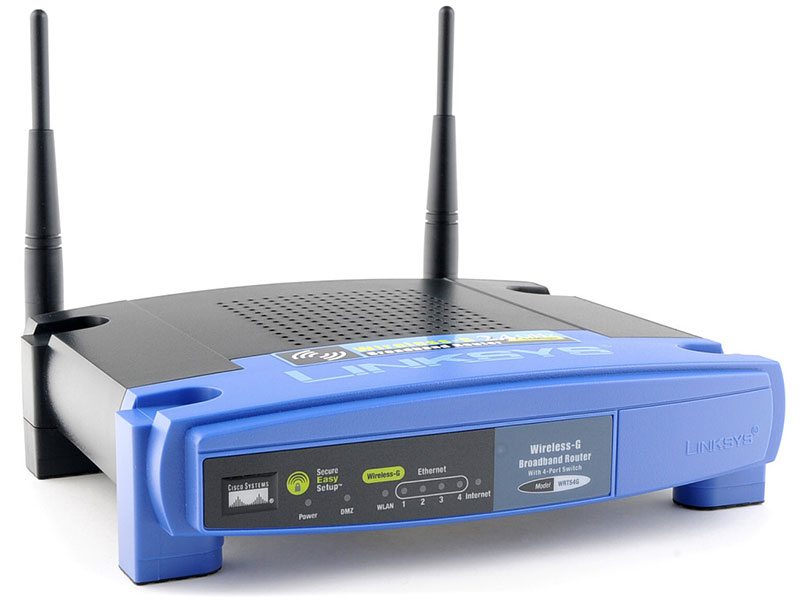 As time as moved on though and wireless technology has evolved to a point where it is now faster than Gigabit LAN, Linksys now as a part of Belkin have been working to rekindle the essence of the WRT product line and gives the world once more the ultimate wireless router that will put virtually every other product out there on the market to shame. The WRT1900AC has been born.
Earlier in the year at CES we caught a glimpse of what the new router had to offer and what is clear above all else is that Linksys want people to know that this router owes all its heritage and design to the former market leader. First things first though, just take a look at it, I mean it's not everyday that I say that I love the look of a product so much, but when it comes to rekindling the good ol' times, Linksys have hit the proverbial nail right on the head with this one. Not only do we get the classic blue and black plastic housing, we get a more modern twist on the design with broad angles and the image that this unit means business.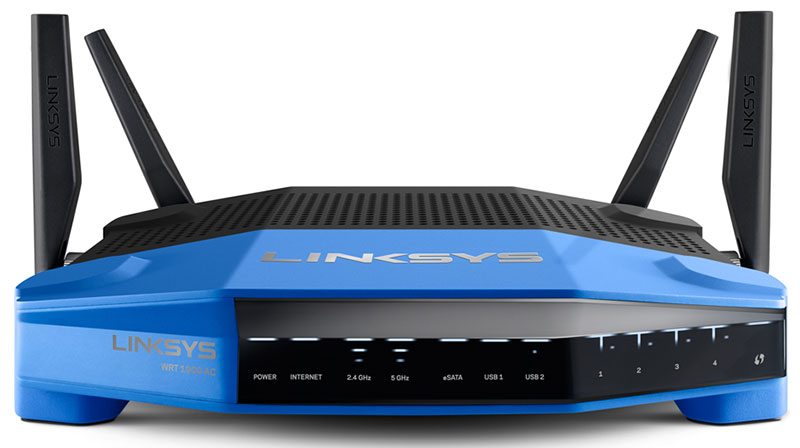 So what's new with the WRT1900AC? Well before we even get on to the hardware side of things I have to mention the firmware. What made the WRT54G what it is today was the open source aspect of its firmware and OpenWRT was a project that was based around hacking into the original WRT lineup to introduce more power and more features into the already powerful hardware. Linksys are fully aware of this appeal and as a result they have been working very closely with OpenWRT to ensure that the 1900AC is capable of giving users the option to chose between the default firmware or to use the open source alternative.
Knowing that the WRT-Cult are going to want more from a new router, Linksys have beefed up the specification of the 1900AC to include a dual-core 1,2GHz CPU, 128MB flash memory, 256MB of DDR3 RAM,  USB and eSATA ports, four Gigabit LAN and a single Gigabit WAN port, four external & replaceable antennae and on top of all that, dual-band wireless offering speeds of up to 1300Mbps 802.11ac on the 5GHz band and 600Mbps 802.11n on the 2.4GHz band. All in all we are looking at some of the best specifications on the market today.
On the software side of the router, the features keep on coming in. Out of the box the WRT1900AC ships with Linksys' latest Smart WiFi setup and management tools, with a more intuitive and flexible user interface as well as the option to remotely manage the system from anywhere in the world through either a web interface or the optional mobile application. Other features both new and old include the ability to share connected storage devices and printers to the local network through the USB3.0 or 2.0 port or even eSATA ports, share content via FTP to external connections, Dynamic DNS setup options such as No-IP, DynDNS and TZO, various operating modes such as router / gateway / range extender or bridge, parental controls, guest networks and parental controls.
Further more there is the obvious ability as mentioned to upgrade to OpenWRT firmware where there are a host of additional features on hand, giving the WRT-Cult all the power that they want and will need for many years to come.
Whilst shipments have just started, sales of the WRT1900AC wil not commence until the 13th April with Best Buy stocking units with an MSRP of $279.99. Alternatively you can purchase the new router from Linksys directly through their online store. Now whilst the price may seem expensive; and compared to other routers it is a lot more to pay, if you're a WRT fan and follower such as myself then this is just a small price to pay for what is likely to be the best bit of networking kit that we are likely to see all year.
Finally all I have to say is watch this space for a review where I aim to put the new WRT1900AC router to the test to see how the spirit of WRT has been reborn.
Source: Press Release